Anchors and Activity: Craggin Classic Devil's Lake
Climbers from all over joined the AAC in Wisconsin for another unbeatable weekend
Devils Lake, or De Wakacak (Spirit Lake) to the native ancestral Ho-Chunk peoples, has some of the best and most unique rock climbing in the midwest. The Baraboo Quartzite that makes up the cliffs surrounding the lake is practically bullet proof, preventing any bolts from being placed even for anchors. Regardless, this is a climber's paradise in the middle of Wisconsin and last weekend's Craggin Classic featured clinics specially tailored to the unique landscape.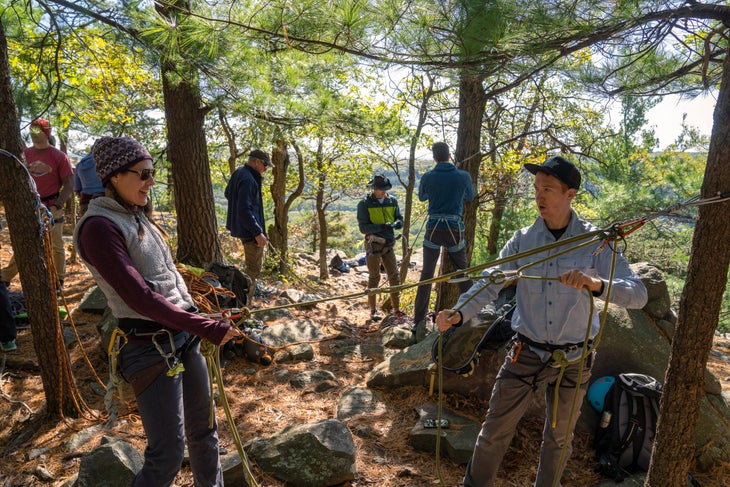 "I came to the [Devil's Lake] Craggin Classic for the first time a few years ago so I could learn how to make good top rope anchors." participant Jackie Neu said as she hiked up the trail to the East Rampart (the busiest crag at the lake), "I had learned the basics from friends but wanted the reassurance of having learned from a professional as well." This year's event had an emphasis on anchors with three different clinics being all about how to build safe top rope anchors. The top of the 60 to 70-foot cliff band is easily accessible by trail to create anchors from trees, boulders, and crack features, making it the perfect spot to practice these techniques. 
On the other end of the East Rampart Jordan Cannon taught Climber Movement and Projecting. Here climbers learned how to rest and climb efficiently on the slick quartzite while connecting with other members of the midwest climbing community. Many participants travelled hours to meet like-minded climbers and hone their skills.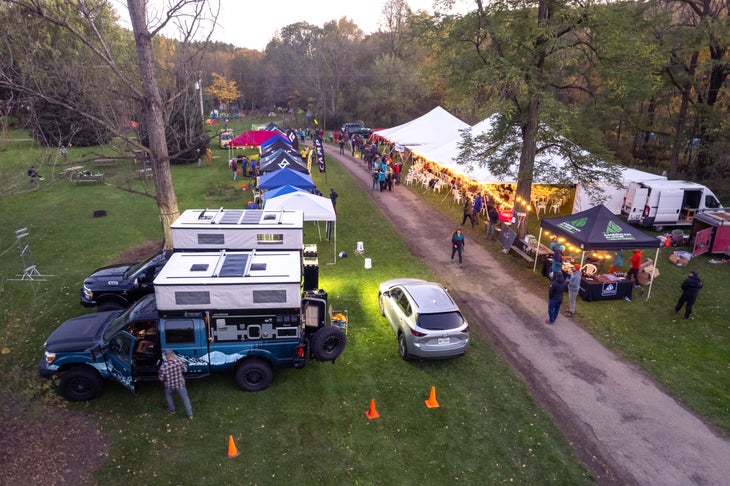 After a long and beautiful day of climbing in the park among the changing autumn leaves, climbers headed back to the campground for some well-earned beers. This tight-knit community of stoked climbers spent the evening rosy-cheeked in the cold, laughing as they cheered and taunted friends to try one of the many festival games (one such game had climbers coiling a rope as fast as they could over a helmet that had a 2-foot pole attached to the top). Once night had fully set in the party heated up with a DJ who kept the energy going until the early hours of the morning. 
On Sunday morning the same climbers who had been partying the night before rose early to join the Wisconsin Climbers Association to do trail work in the park. Devils Lake State Park sees over 3 million visitors a year and the area is popular with hikers and other nature enthusiasts as well. By doing their part to keep the trails clean and safe, climbers ensured they'd be able to come back for years to come. 
The AAC Craggin' Classic series will be continuing at iconic climbing locations through the fall, followed by Climber/Photographer Levi and AAC Staffer Heidi in Four Wheel Campers. Next Stop: Shelf Road.