Interview: Olympic Bouldering Chief Route-Setter Percy Bishton
Heading out the door? Read this article on the new Outside+ app available now on iOS devices for members! Download the app.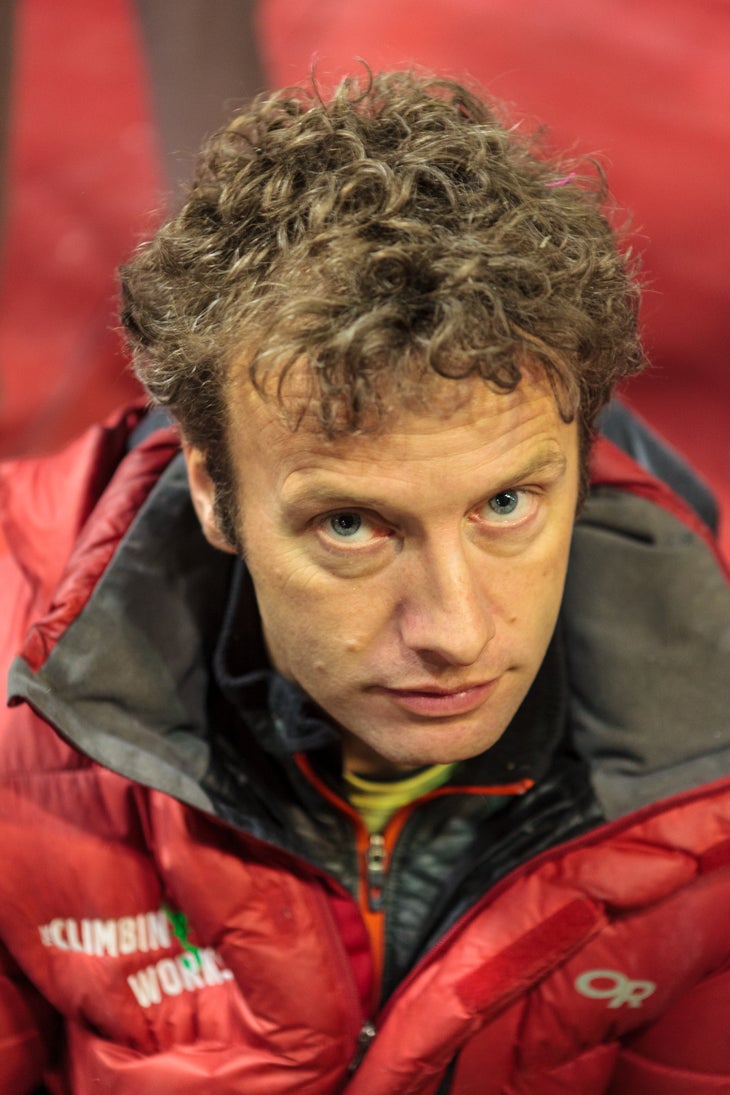 On January 23rd, the IFSC appointed Percy Bishton, 48, from Sheffield, England, as the chief route-setter for bouldering in the 2020 Olympics. Bishton has been setting routes for international climbing competitions since 1994 and has set over 50 international events. He also co-owns The Climbing Works, one of the largest bouldering gyms in the world.
Bishton currently lives in the heart of the Peak District just outside of Sheffield. He has been climbing for 35 years and was one of the first people to work full-time as an indoor route-setter 24 years ago, when he started setting for The Edge climbing gym in Sheffield (which closed in 2014). As the bouldering section at the gym started to fill up, Bishton got together with a couple friends and opened a bouldering-specific gym (The Climbing Works) in 2006.
Bishton will be setting for the Innsbruck boulder World Cup in June and the Tokyo Olympics in August. We caught up with him to see what his goals  are for the Olympic routes and learn about the setting process.
How does one become a route-setter?
Percy Bishton: You just have to do really badly in school. I mean, I didn't do that badly in school. I just wanted to go climbing and it was a good way to use climbing, which is a sport that I love doing anyway, to make some money really. Route-setting is a job in it's own right and there are lots of different courses and schemes and qualifications you can get depending on which country you're in, so it's become a lot [more] formalized—but I don't know, I think if you want to get into it, the best thing to do is to get someone to let you have a go [at it]. You'll very quickly work out whether you have an aptitude for it or not. What we tend to find is that a lot of people don't realize how physical the job is and how tiring it is. It's physical, it's working with tools it's working at height, yeah it can be pretty tiring.
And how did you get involved with competition setting?
I did quite a few comps when I was younger. I realized that, while I enjoyed it, it wasn't my favorite part of climbing. Setting on the other hand—creating stuff for others to compete on—really captured my imagination. That's how it started. I did a course organized by the national federation (the British Mountaineering Council) for competition setters and then I was hooked. National comps led on to completing the international setters course, as it used to be. I did mine with a load of famous climbers like Tony Yaniro and Francois Legrand, under the watchful gaze of trainer Jacky Godoffe. After this I started setting international [events] as a chief setter. My first one as chief setter was at Fiera di Primiero in Italy in 2004.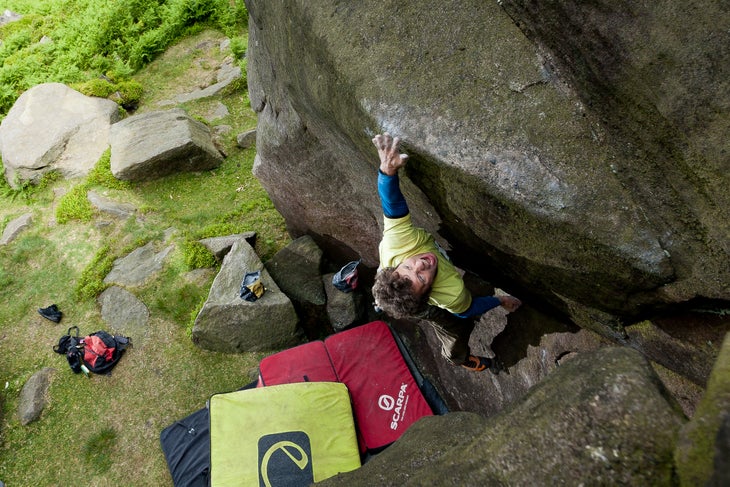 What will the process of setting for the Olympics be like?
People think we have bits of graph paper with routes mapped and ideas, but it doesn't happen like that—certainly not for me, and not for the other people who I'll be working with. It's a very organic and creative process. We arrive, we look at the wall, we have all the holds and volumes and things laid out in front of us, and we just choose something that we like and start to make up a boulder, basically. If it's cool we keep going with it until it's amazing. If it doesn't work then we take it down and try something else.
How long does it take to set comp routes?
It depends, really. For most comps, and for the games actually, we have five days to set all the problems for the competition. Sometimes it happens pretty much straight away—you can put the holds on, and you've got something that's amazing straight away. But that very rarely happens. Normally, there's a lot of tweaking, and there's endless testing. [In] the five days we'll spend setting, the amount of time we spend putting holds on is tiny compared to the time we're trying the moves again and again and again, trying to get something which is just right.
Will you consider the athlete roster when setting the Olympic boulders?
Yeah, the combined format at this Olympic Games means that we have to consider that there are the best speed climbers in the world, the best boulderers, and the best lead climbers. They're all there mixed together, and they're all doing each other's disciplines. I don't know that there are that many athletes who are truly specialists in all three disciplines. We have to be careful if there are athletes who are very specialized in speed and are fairly new to bouldering and lead. We [need to] create something so they can at least climb because, obviously, we don't want athletes to be standing on the mat looking at the wall for four minutes in the middle of The Olympic Games. It doesn't make a very good viewing.
But I suppose you do want it to be hard enough to get some sort of separation between the climbers?
Totally. From a route-setting point of view, [the Olympics is] a much harder job than it would be for, say, a boulder world cup, where you don't need to be too concerned—you can push the level really hard and the climbers will still be able to do something with the climbs. If we push too hard at the games it may be that some of the climbers, or quite a lot of the climbers, can't move on the climbs and that's no good. So yeah, it's tricky.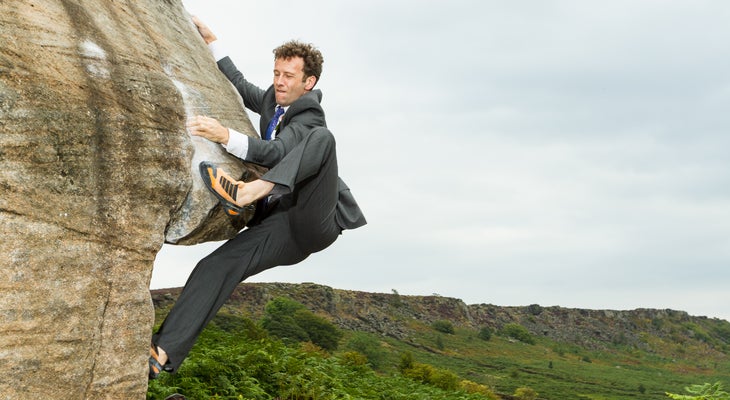 How late in the process are the problems still being tweaked?
They can get changed right up to five minutes before the competition starts, but the reality is we'll do the route-setting and then it's done. Normally we don't change anything. What can sometimes happen is, [if the boulders are too hard in the qualification round], we can take that into account and make the boulders for the next round slightly easier. Normally when we test the boulders we have options in place, so we've tested different orientations of holds or hold placements. We have an idea of how to make stuff harder or how to make stuff easier if we want to. To be quite honest with you, we very rarely change anything. It's quite easy to become flustered, and in the heat of the moment, to make decisions which might not be the best ones to make.
When will the five days of setting for the Olympics take place?
The venue where the climbing will be is shared with three-by-three basketball and that competition takes place first. The setting will have to happen before the basketball and then we'll take all the holds away. I think there's about a week, or just over, between the end of the setting period and the start of the climbing competition.
Are there any measures taken to keep the routes secret from the competitors?
Yeah. The route-setting and testing takes place when the venue is closed to the public. … The climbers don't see anything until they come out of isolation.
Does anything in particular inspire your setting?
I've always climbed on the gritstone in the Peak District, and it's a fairly unique style of climbing. There's not a lot of very obvious holds, there's a lot of subtle movement. I suppose if anything influences my setting style it would be gritstone climbing for sure—just stuff that's quite subtle as opposed to yarding on good holds. I think my setting style is a lot more inspired by the climbing that I do outside.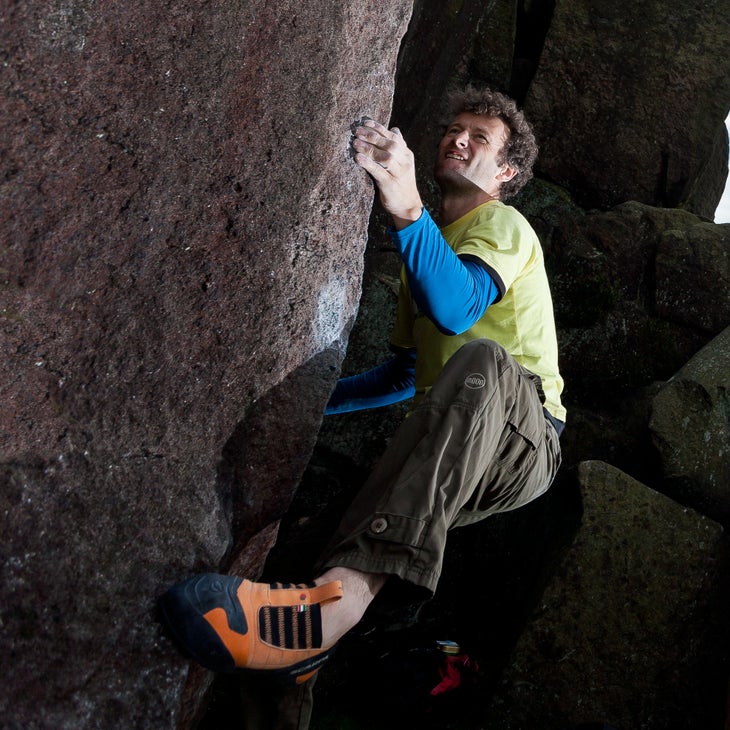 Do you have a specific style that you like to climb or set?
I like when you try a boulder problem outside and it takes you a long time to work it out, and then the feeling of satisfaction when you finally get it and figure out how it works. And I like stuff to be physical. I think that bouldering can be a full-contact sport. If you're not having to [say, use your] thigh, then it kind of doesn't have that special spark for me. I set all sorts of weird things and strange contortions, so that's my style if anything.
What are your goals for the Olympic setting?
I don't really have any specific goals. From a route-setter's point of view, I want all the problems to be completed by one or more athletes. It kind of sucks to have impossible boulders in comps. I think that everything needs to be done. I also want it to be a climbing competition. I don't want it to be something where we're only looking at climbers' gymnastic ability or how strong they are. It's nice to create a "field of play" if you like, a set of boulders which will test all of their climbing skills. For me, it's a climbing competition. I just want to make sure that the best climber wins because, you know, that's kind of the plan.