Meet the 2019 USA Climbing Overall National Team
An in-depth look at the eight competitors who will represent the United States in the upcoming season of international events.
Heading out the door? Read this article on the new Outside+ app available now on iOS devices for members! Download the app.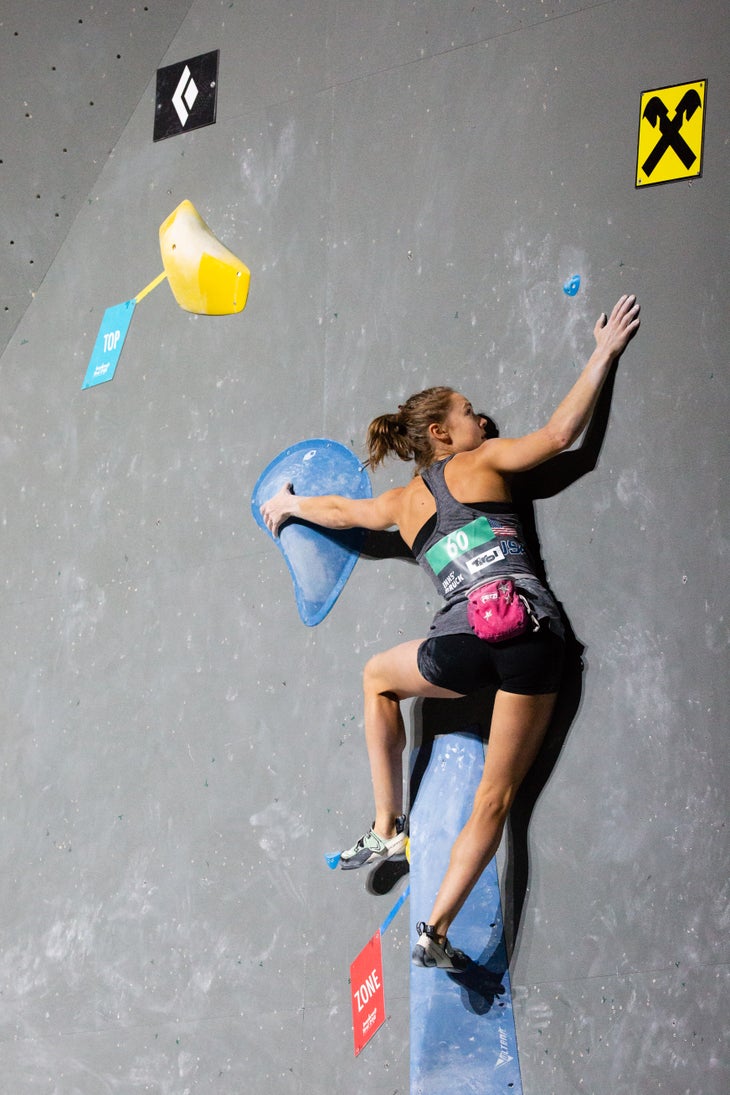 Buried in the Olympic hype and ESPN production of the recent USA Climbing competitions was that the events systematically fashioned and configured a US Overall National Team. Throughout a season that included the National Cup Series as well as Bouldering Nationals and Sport and Speed Nationals, competitors accrued points relative to their placement in the standings—with the top eight scorers over the course of the season ultimately making the cut.
The solidifying of an Overall Team was a drama-filled process that came down to the wire. Some of the most decorated American competitors barely missed out on a team spot, and it's hard not to feel sympathetic for them. And neither John Brosler nor Piper Kelly, although dominant in the speed discipline, received hallowed spots on the squad.
Those eight competitors who did make the Overall Team now find themselves vaulted further into fans' consciousness, as they prepare to take part in the upcoming World Cup season and various Olympic qualifying events with the ultimate goal of representing the United States at the Tokyo Games in 2020. And, upon signing a USA Climbing Code of Conduct pledge that includes interesting tidbits like an 11:00 pm curfew at competitions and 48-hour alcohol abstinence prior to a training camp (for competitors of legal drinking age), members of the Overall Team are provided team apparel that includes a duffel bag and uniforms from The North Face (jersey, pants, jacket, t-shirt, sweatshirt, beanie, shorts, and hat). They will also be fully covered for airfare, hotel accommodations, and food at most of the upcoming World Cup events.
The USA Climbing document says that athletes on the team will be covered for expenses at:
IFSC World Cup: Meiringen, SUI (Bouldering)
IFSC World Cup: Chongqing, CHN (Bouldering, Speed)
IFSC World Cup: Wujiang, CHN (Bouldering, Speed)
IFSC World Cup: Vail, USA (Bouldering)
IFSC World Cup: Villars, SUI (Bouldering)
IFSC World Cup: Chamonix, FRA (Lead, Speed)
IFSC World Championships: Hachoiji, JPN
IFSC Combined WCH: Location TBD (If qualified)
IFSC World Cup: Kranj, SLO (Lead)
QQE: Talouse, FRA (If qualified)
USA Climbing will also cover the expenses for these remaining World Cup events if they are able to secure funding:
IFSC World Cup: Moscow, RUS (Bouldering, Speed 
IFSC World Cup: Munich, GER (Bouldering)
IFSC World Cup: Briancon, FRA (Lead)
IFSC World Cup: Xiamen, CHN (Lead, Speed)
IFSC World Cup: Inzai, JPN (Lead)
Here's a closer look at the eight competitors on the 2019 Overall Team roster.
Men
Zach Galla
Galla was awarded a spot on the US National Team as a result of his victory at the inaugural Combined Invitational in January. While that event had other big storylines—such as Brosler setting a new American speed record, and 15-year-old Colin Duffy hanging with an older and more experienced field—it was first and foremost a breaking out party for Galla. Galla had been buried in the middle of the pack at the previous year's national championships (fifth place at 2018 Bouldering Nationals; sixth place at 2018 Sport Nationals); few pundits likely imagined he'd be the winner of the country's first major combined event. But since the Olympics and its qualification events will be conducted in the combined format as well, 18-year-old Galla is the American male competitor with the most Olympic potential at this point.
Clutch Moment of the Season
Grinding through three tense speed heats and winning the bouldering portion of the Combined Invitational—which positioned him to win the entire competition without even having to make progress on the wall in the Sport portion.
Nathaniel Coleman
Coleman entered the 2019 season with a legendary resume; he had not just won the previous three Bouldering Nationals, he had done so without falling in the finals of the 2017 and 2018 events. That sort of dominance in competition climbing—amid a boom period, no less—is unheard of. As this 2019 season progressed, he encountered a few hiccups—taking second place (barely) to Galla at the Combined Invitational, and taking second place (barely) to Sean Bailey in this year's Bouldering Nationals, and failing to make finals at this year's Sport Nationals. That's likely not the groundwork that someone as historically successful and ferociously competitive as Coleman wanted to lay heading into the maelstrom of Olympic qualification. But it's wise to look at this year's woes as exceptions and anomalies to prowess that has otherwise proved to be unduplicated.
Clutch Moment of the Season
Winning the 2018 Battle for the Fort competition at Colorado's Ascent Studio last December in dominant fashion, topping three out of four total boulders in a stacked field that also included Galla, Ethan Pringle, Ben Hanna, and other bouldering powerhouses.
Sean Bailey
Bailey did not win this year's Combined Invitational or the Sport Nationals, but he nonetheless enters the upcoming IFSC World Cup season with the single most valuable intangible asset: experience. He has been one of the few American mainstays on the World Cup circuit for years, placing fourth at a lead event in Villars, Switzerland, in 2016, fifth at a lead event in Briançon, France, in 2017, and second place at a bouldering World Cup in Vail, Colorado, in 2018, among other high finishes. And the fact that most of the upcoming World Cup competitions—as well as most of the Olympic qualifiers—will be contested abroad should not be downplayed. Bailey is already well-accustomed to the rigors of traveling, preparing, and performing well in foreign countries. He is also a product of coach Tyson Schoene's Vertical World Climbing Team, a squad widely recognized as the first gym-based team in the United States. That puts Bailey and any success he has at the Olympic level in a unique historical context.
Clutch Moment of the Season
Sticking the triple clutch dyno across a burly set of overhanging red scoops on the final boulder of Bouldering Nationals; the live crowd practically blew the roof off Oregon's Deschutes County Fairgrounds at the acrobatic display of power. The dyno was not only the highlight of the competition, but arguably the highlight of the entire 2018-2019 USA Climbing season.
Drew Ruana
Ruana, also an alumnus of the Vertical World Climbing Team, has been something of a quiet crusher in major competitions over the past several years. He has not received the widespread recognition that standing atop the highest podium garners, but his consistency has been unwavering: third-place at 2018 Bouldering Nationals; second place at 2018 Sport Nationals, third place at 2019 Bouldering Nationals; sixth place at 2019 Sport Nationals. He has also experienced his fair-share of victories, however. For instance, he won the 2017 Youth Sport Nationals, and more recently tied Gregor Vezonik for first place in the finals of last November's Bayou City Classic at Momentum Silver Street in Texas. Ruana always musters enough grit to keep himself in the hunt for a victory at every competition, so it's not hard to imagine him getting on a hot streak and winning big under the IFSC stage lights this spring.
Clutch Moment of the Season
Setting the tone at the Bouldering Nationals by landing a blind leap around an arête on the opening boulder in the qualification round—a move that Kai Lightner had also just stuck. It got the crowd psyched early, but specifically for Ruana, it hinted at a steady, stellar showing that culminated in a spot on the podium (third place).
Women
Kyra Condie
Condie's success over the past couple of years has been a joy to watch, perhaps because she has been so open on social media about the ups and downs of competing; she has been honest about struggling with the "mental game" at events, and also engaging with enthusiastic Instagram posts about training accomplishments. ("So stoked!!! Life goal completed!! One arm pull up—no jump and no kip!!"). Best of all, she has been measurably improving, which she demonstrated by making her first IFSC Bouldering World Cup final at Tai'an, China, in 2018. In terms of her potential to perform well at the Olympic level, her biggest victory to date was the 2019 Combined Invitational. It was a showcase of incredible climbing. For example, on a very aerial finals boulder, Condie repeatedly stuck crux moves—such as a big dyno—that shut down other elite competitors. That tenacity and success, combined with her social media relatability, makes Condie perhaps the single most compelling American in climbing's emerging Olympic age.
Clutch Moment of the Season
Condie needed to finish in the top three at the sport portion of the Combined Invitational to win the entire competition. Not only did she accomplish that mission, but she bested the seven other finalists in the sport portion to claim a decisive victory.
Ashima Shiraishi
At the end of the 2019 Bouldering Nationals, while being interviewed by commentator Meagan Martin, Shiraishi said that bouldering is "really tricky" for her and not her "main discipline." Of course, this was mere moments after Shiraishi had put on a masterful performance, topping almost every boulder of the weekend and claiming victory over legends in their own right, like Alex Puccio and Alex Johnson. If bouldering is indeed not Shiraishi's main discipline, she has done a poor job of showing it. Of course, she has also found success at the highest level of sport climbing, including winning a national championship in 2017 and placing second at a lead World Cup event that year in Xiamen, China. If there is any area of pause in analyzing Shiraishi's nearly flawless resume, it comes in her speed prowess. Although she has been bettering her run times, she still often struggles to make the final rounds in speed heats. (She placed 53, for example, in the speed qualification round at the combined portion of the World Championships in 2018). Luckily for her, the combined format means that earning high marks for bouldering and sport could compensate for her languid speed times. Because of all this, Shiraishi has to be viewed as one of America's biggest hopefuls heading into the Olympic qualifying season.
Clutch Moment of the Season
Topping all five boulders—three of which were flashes—in the qualification round of Bouldering Nationals. Shiraishi also flashed three boulders in the ensuing semi-final round and three in finals.
Brooke Raboutou
Over the course of Raboutou's competition career, much has been made of the fact that both of her parents are former champions. But less well-known is that her mother, Robyn Erbesfield-Raboutou, was touted as the main American hopeful when sport climbing made its first big push for Olympic inclusion decades ago. Erbesfield-Raboutou even podiumed at an international competition in the 1990s called the Pre-Olympics. So it is fitting that her daughter, Brooke, has assumed the mantle and continues the Olympic journey for the family. And despite such history and heritage, Brooke Raboutou is a modern competition climber in every sense. She is the quintessential all-arounder, consistently making finals in all three disciplines. She also grew up—quite literally—on Team ABC, the competition climbing squad founded by her parents. She earned second place at the Combined Invitational; if the chips had fallen a little differently there—if Condie had slipped ever-so-slightly on one of those aforementioned crux moves—it would have been Raboutou standing highest atop the podium, and she would be the competitor heading into the IFSC season with the most gravitas.
Clutch Moment of the Season
Beating national record holder Piper Kelly in the penultimate heat of the speed portion at the Combined Invitational. Raboutou's time of 9.57 seconds proved that she is among the fastest of the non-speed specialists and a legitimate threat in all three disciplines.
Margo Hayes
It was touched on in the recap of the recent Sport and Speed Nationals, but it's worth reiterating: Something just would not have felt right if Hayes had not made the cut for the US National Team. In the past year, non-climbing media outlets have run myriad profiles of her; effusive praise from the press has ranged from how Hayes is "revolutionizing rock climbing" to how she is "shattering gender barriers." That's a lot of pressure to put on the shoulders of a 21-year-old—and a lot of hype for Hayes to live up to. But she has done her part on the competition side of things: After winning Sport Nationals in 2016, Hayes kept herself consistently in finals at nearly every major American event—and won Sport Nationals again in 2019. Hayes is already a mainstay (deservedly so) in the mainstream media due to her outdoor achievements, but can you imagine the stratospheric coverage and revelry she'd garner if she was competing for an Olympic medal?
Clutch Moment of the Season
Wisely opting for a toe-hook and a static reach to a faraway sloper midway up the finals route at Sport Nationals. Most other competitors chose instead to attempt a risky dyno—and nearly all failed to land it. Sticking that crux move was a large factor in Hayes winning the comp and securing her spot on the Overall National Team.