Olympics Lead-up: Who to Watch at the Toulouse Combined Qualifier
Heading out the door? Read this article on the new Outside+ app available now on iOS devices for members! Download the app.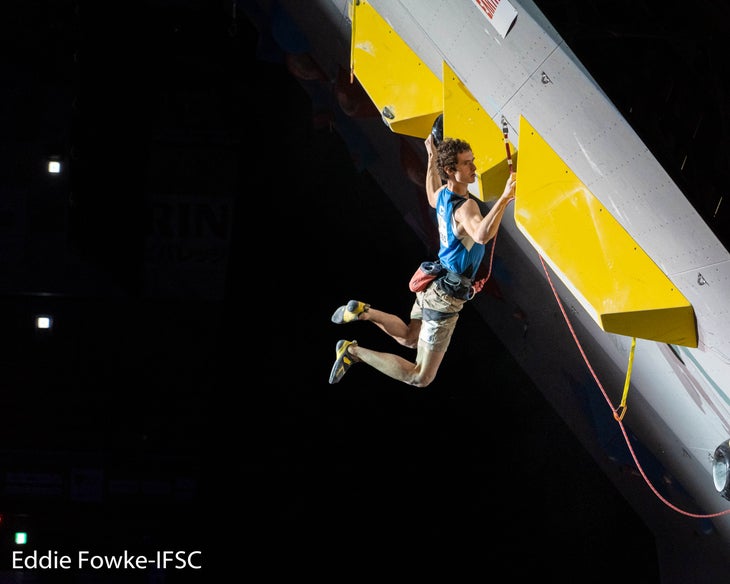 This weekend, while most Americans are reeling from Thanksgiving feasts and gridlocked in holiday traffic, the eyes of the competition climbing world will be the an Olympic qualification event taking place in Toulouse, France.
Featuring 22 male competitors and 22 female competitors, the Toulouse event will be the second in a string of international qualification proceedings for the Tokyo 2020 Games. It was preceded by this summer's World Championships in Hachioji, Japan, and the entire qualification process so far has been a mess. But on a more positive note, Toulouse will mark the final section of the Olympic qualification pathway that will see a sizeable group of competitors earning berths to Tokyo 2020—six per gender, to be exact. (After this event, the various Continental Championships will award only one berth per gender).
Let's take a closer look at some of the biggest names to watch in Toulouse, and how they might fare in the latest portion of the ongoing battle royal for the coveted 2020 Olympic invites.
Adam Ondra
There is no one more famous on the starting roster for Toulouse than the Czech Republic's Adam Ondra—arguably the greatest climber of all time. The flipside is that there is no one else on the roster for Toulouse whose initial attempt to qualify for the Olympics—at the aforementioned World Championships in Hachioji—went so shockingly badly. It's not that Ondra's climbing in Hachioji was subpar…he won the standalone lead discipline and earned a respectable sixth place in the bouldering discipline there. But during the combined discipline, he did poorly in the speed climbing portion and got a technicality in the lead climbing portion that resulted in him not even advancing to the final round. Aside from incurring a serious injury, it was just about the most nightmarish result that Ondra could have had in his first shot at Olympic confirmation. The salt in the wound is that Ondra has been releasing a high-production video series called the "Road to Tokyo" on his Youtube channel for months chronicling his preparation for the Tokyo 2020 Olympics. At the time of this writing, there have been 40 episodes, but the reality is that Ondra is not on that hallowed road to Tokyo yet, at least not officially. And with a stacked field in Toulouse, there is no guarantee that he ever will be. Make no mistake: Ondra should be able to rally and earn an Olympic berth at Toulouse. But his woes at Hachioji prove that anything can happen. Either way, his plight alone makes the upcoming event at Toulouse must-see viewing.
The American Women
Team USA will be represented by Kyra Condie, Ashima Shiraishi, and Margo Hayes in the women's division at Toulouse. Each of these competitors has a compelling story and any one could find herself with a provisional Olympic berth by the end of the competition. Kyra Condie is coming off of a lead season with mixed results (14th in Kranj, Slovenia; 44th in Briançon, France; 33 in Villars, Switzerland, among other placements). However, those results mask the fact that Condie is a bona fide crusher in the combined discipline; she was the champion of the inaugural American Combined Invitational at the beginning of this year, and she won the women's combined discipline at the Pan American Championships last year. Her compatriot, Margo Hayes, did not take part at the first Olympic qualification event in Hachioji, so Hayes' current fitness for the combined discipline is a wild card to fans and analysts. Hayes did place fifth at that American Combined Invitational, so there is irrefutable evidence that she can excel at the multiple events on any given day. The third in the extraordinary triad, Ashima Shiraishi, is riding the wave of a solid 2019 World Cup season (having earned fifth place at a lead World Cup event in Briançon, France, and ninth place at a bouldering World Cup event in Chongqing, China, in particular). The diverse accomplishments of these three American women put Team USA, on the whole, in good standing but make it impossible to pick a favorite. At the end of the day, a maximum of only two American women can qualify for the Tokyo Olympics, and Brooke Raboutou has already snagged one of those spots. That means things are likely to get very interesting with this incredible trifecta once the action in Toulouse kicks off.
Jain Kim
One of the most stirring stories of this World Cup season was the comeback of South Korea's Jain Kim. She began 2019 as one of the favorites in the lead discipline, then withdrew from competition to mend a finger injury, and then returned in top form right as the season was winding down. Although the return was thrilling, the injury could not have happened at a worse time; it impacted Kim's ability to perform at the first Olympic qualification opportunity, and presumably robbed her of valuable Olympic-related training. Now fully healed, Kim will be one of the most legendary and accomplished names across both disciplines to start in Toulouse. She still has her perpetual struggles, most noticeably in the speed climbing portion of the combined discipline. But if there is anyone in the women's division who might be motivated by having a figurative chip on her shoulder, it is Kim. She got a raw deal with the unfortunate timing of the finger issues. At Toulouse, she'll have the chance to snag an Olympic invite and remind everyone why she was once considered to be the greatest competition climber ever.
Nathaniel Coleman and Sean Bailey
In some ways, it is not fair to package Americans Coleman and Bailey together. Their respective 2019 World Cup seasons were, at times, quite different (for instance, Bailey earning 8th place at the lead World Cup at Xiamen, China, where Coleman earned 38th; or Coleman finishing in 12th place at the bouldering World Cup at Wujiang, China, where Bailey finished in 41st). On the other hand, both athletes have recently been open on social media about their mindsets heading into the event at Toulouse—and that couples them in a unique way. Coleman wrote on Instagram that his mind has been "fixated" day and night on the competition: "My brain likes to do this thing where it prepares for the future by creating every scenario possible and then living through it. What if I do well in Toulouse? What would my life be like for the next 6 months? What if I don't do well? How will I feel, and almost more importantly, how will those I'm connected to feel?" Bailey indicated on Instagram that he has been training in Tokyo for the past month and is "psyched to be heading to Toulouse for another shot at this Olympic thing." A maximum of two American men can qualify for the Tokyo Olympics, and one can't help but wonder if Coleman and Bailey might be inexorably coupled together in that sense as well when the dust settles after the Toulouse spectacular.
Meichi Narasaki
As a result of the murky qualification process that we won't dwell on here, Japan's national federation will be sending four men to Toulouse: Kokoro Fujii, Meichi Narasaki, Rei Sugimoto, and Keita Dohi. If this year's World Cup season packed with high placements by various members of Team Japan taught us anything, it is that any of Japan's competitors can stand atop the podium at the end of a big event. But we have to separate that plethora of Japanese competitors in this preview somehow, so let's do it this way: At the summer's World Championships in Hachioji, Meichi Narasaki finished one place higher than Kokoro Fujii in the combined discipline. Narasaki also had stellar placements in multiple disciplines this year—sixth place at the lead World Cup event in Xiamen, China, and tenth place at the bouldering World Cup event in Vail, Colorado. That is not to say that other competitors from Team Japan—Fujii among them—did not have great results in various disciplines too. But Meichi Narasaki's older brother, Tomoa, has already qualified for the Olympics, having won the combined discipline at the World Championships. Thus, there is a chance that Japan could see a pair of brothers earning Olympic berths if Meichi Narasaki performs well, and that is the type of ancillary storyline that makes this competition at Toulouse extra intriguing.
The Olympic qualification event in Toulouse will kick off on November 28. Stay tuned to Climbing.com for the livestreams and coverage of the competition.
John Burgman is the author of High Drama: The Rise, Fall, and Rebirth of American Competition Climbing, which chronicles the history of American competition climbing. Available March 3, 2020.