Olympic Rock Climbing, Everything You Need To Know
Heading out the door? Read this article on the new Outside+ app available now on iOS devices for members! Download the app.
Olympic rock climbing took the world stage for the first time ever, becoming an Olympic event, as part of the 2020 Tokyo Games (held in 2021 due to the pandemic). Note: the technical and official name for the Olympic event was "Sport Climbing," rather than "Rock Climbing," although the latter is how most climbers knew and understood the competition.
The Disciplines
Athletes in the climbing event for the Tokyo 2020 Olympics competed in three separate disciplines for a single set of medals. In previous reportage, we at Climbing.com have been referring to it as climbing's version of the triathlon, and that is pretty accurate. The three disciplines were speed climbing, bouldering, and lead climbing. "Three disciplines, one goal," according to the Olympics' promotional literature.
The decision to pursue a combined event was due to limitations placed on the sport by the Olympic Committee. The International Federation of Sport Climbing (IFSC), the international governing body for the sport of competitive climbing, was only given a single set of medals to award the winners. Instead of excluding any disciplines, the IFSC created the combined format. It is important to note that climbing is part of the 2024 Paris Olympics, but with lead climbing and bouldering remaining as a combined event, while speed climbing is its own separate event.
The IFSC ran their first combined-format event during the 2018 World Championships in Innsbruck, Austria. USA Climbing then ran its own Combined Invitational six months ago and it went wonderfully. It was hyped by ESPN, it made stars out of winners Kyra Condie and Zach Galla, and it proved that the various disciplines can make for enjoyable theater when forced to coexist.
The Venue
The three climbing disciplines were contested at the Aomi Urban Sports Park, located in the waterfront Bay Zone of Tokyo, Japan, beginning on August 3, 2021. In terms of the climbing walls at the park, speed climbing was contested on an IFSC-standard 15-meter speed wall. The bouldering wall was four meters in height, and the lead wall was be 15 meters high.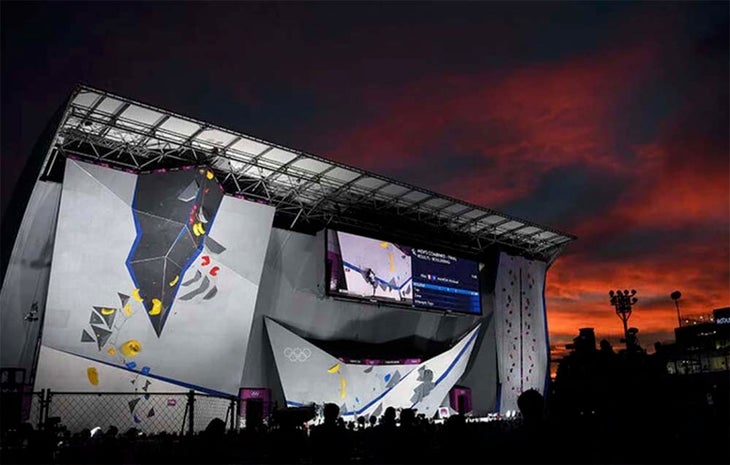 The Scoring
The Olympic finals consisted of six men and six women, whittled down from a field of 20 men and 20 women in the qualification round (there were no semi-finals). The final standings at the end of the event was be determined by a multiplied score of athletes' placements in all three disciplines—with the lowest score earning the gold medal.
Speed Climbing
The speed climbing portion was contested in one-on-one heats under a bracket tournament structure. A competitor did not necessarily have to reach the fastest time of the day to advance in the tournament—he or she merely had to be faster than the opponent during each given heat. That being said, the men needed to clock runs under 6 seconds to advance to later heats (with the current world record being 5.208 seconds), and the fastest women needed to clock runs under 8 seconds (with the current world record being 7.10). Of note is that a false start resulted in a competitor's immediate disqualification, leaving the door wide open for some upsets.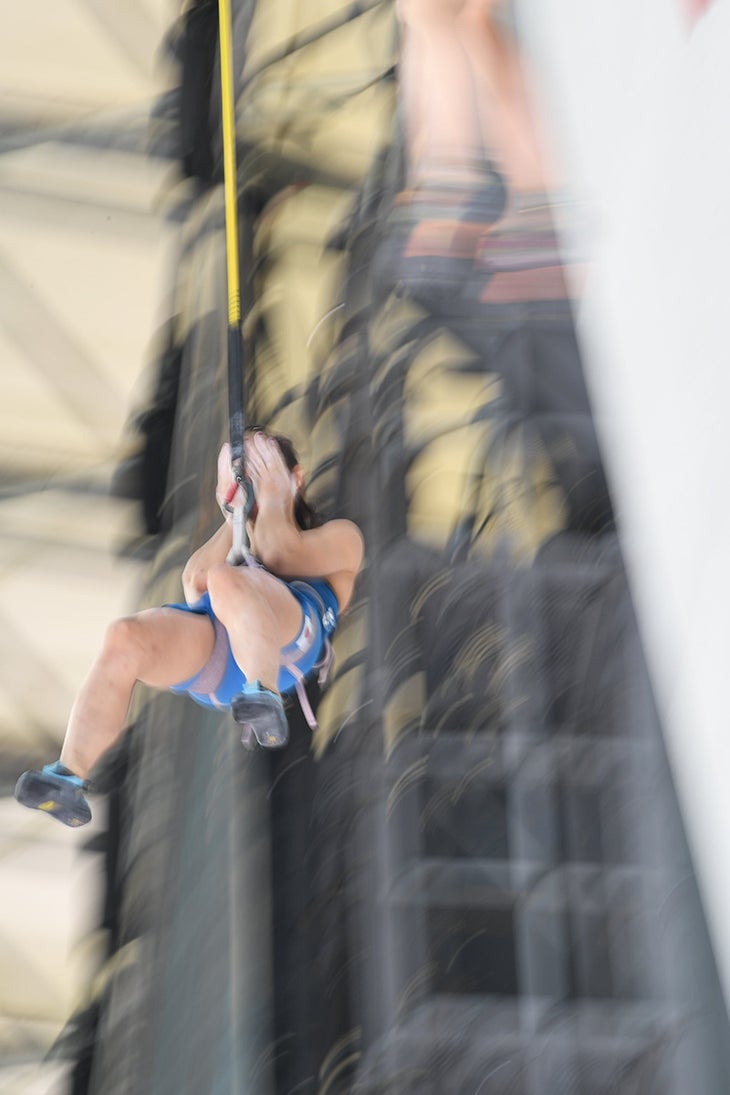 WOMEN'S OLYMPIC SPORT CLIMBING SPEED FINAL RESULTS
1. Aleksandra Miroslaw (Poland)
2. Anouck Jaubert (France)
3. Miho Nonaka (Japan)
4. Akiyo Noguchi (Japan)
5. Janja Garnbret (Slovenia)
7. Jessica Pilz (Austria)
7. Brooke Raboutou (USA)
8. Seo Chaehyun (South Korea)
MEN'S OLYMPIC SPORT CLIMBING SPEED FINAL RESULTS
Alberto Ginés López (SPA)
Narasaki Tomoa (JPN)
Mickael Mawem (FRA)
Adam Ondra (CZE)
Colin Duffy (USA)
Nathaniel Coleman (USA) 
Jakob Schubert (AUS)
Bassa Mawem (FRA) DNS
Bouldering
In the bouldering portion, competitors each had four minutes to reach the top of each boulder in a set of four. Credit was given for securely reaching the top hold in a controlled manner with both hands. If a competitor didn't reach the top of a given boulder, separate credit was awarded if the competitor at least reached a "zone hold" midway up a given boulder. The number of attempts also contribute dto a competitor's bouldering score. The leaderboard was determined first by the number of tops, then attempts, and then zones. In other words, a competitor who topped a boulder in two attempts had a better score than a competitor who topsped the same boulder in six attempts, and they both had a better score than a climber who only reached the boulder's zone hold.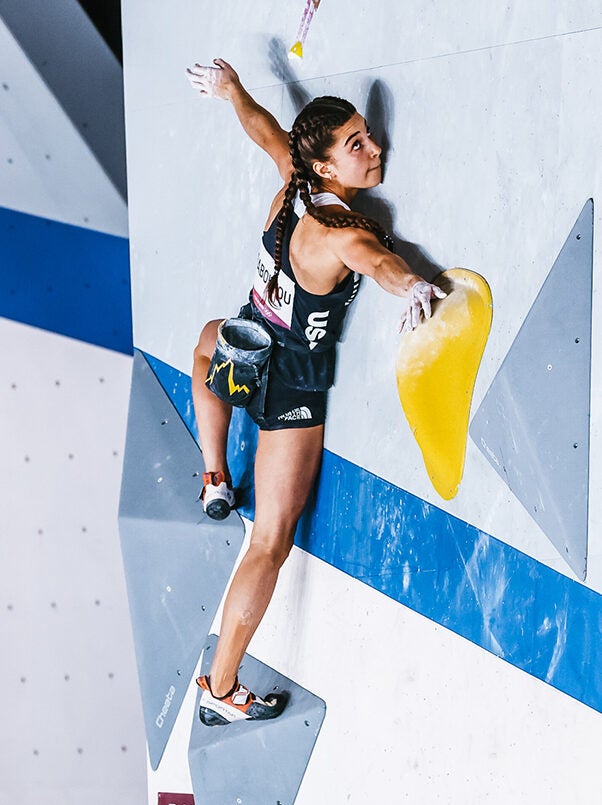 WOMEN'S OLYMPIC SPORT CLIMBING BOULDER FINAL RESULTS
Janja Garnbret (Slovenia)
Brooke Raboutou (USA)
Miho Nonaka (Japan)
Akiyo Noguchi (Japan)
Jessica Pilz (Austria)
Anouck Jaubert (France)
Seo Chae-hyun (South Korea)
Aleksandra Miroslaw (Poland)
MEN'S OLYMPIC SPORT CLIMBING BOULDER  FINAL RESULTS
Nathaniel Coleman (USA) 
Mickael Mawem (FRA)
Narasaki Tomoa (JPN)
Colin Duffy (USA)
Jakob Schubert (AUS)
Adam Ondra (CZE)
Alberto Gines Lopez (SPA)
Bassa Mawem (FRA) DNS
Lead Climbing
The lead climbing portion offered the easiest scoring structure: each hold controlled on the lead wall represented a point. The competitor who reached the highest spot on the wall received the most points and thus won the discipline. Unlike bouldering, the lead climbing portion only allowed one attempt per competitor. When the competitor fell, that competitor's attempt was over.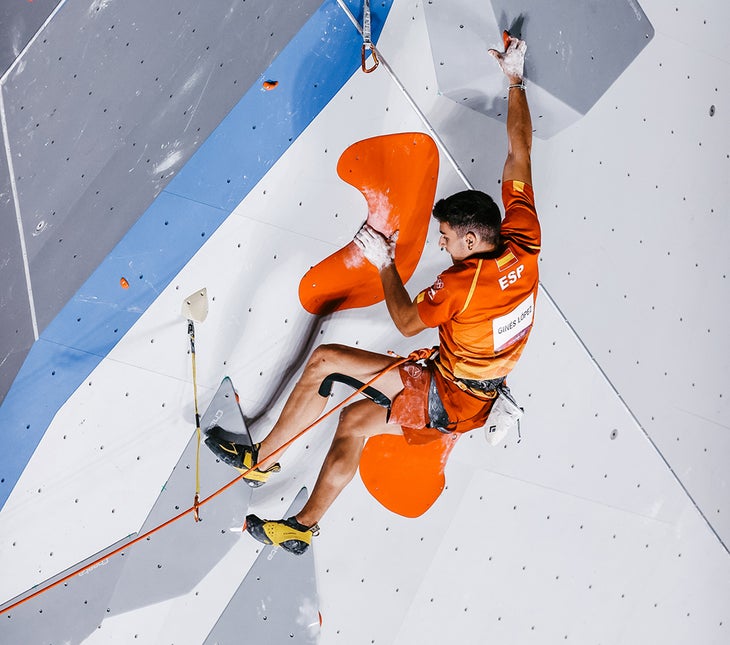 WOMEN'S OLYMPIC SPORT CLIMBING LEAD FINAL RESULTS
Janja Garnbret (Slovenia)
Seo Chaehyun (South Korea)
Jessica Pilz (Austria)
Akiyo Noguchi (Japan)
Miho Nonaka (Japan)
Brooke Raboutou (USA)
Anouck Jaubert (France)
Aleksandra Miroslaw (Poland)
MEN'S OLYMPIC SPORT CLIMBING LEAD FINAL RESULTS
Jakob Schubert (AUS)
Adam Ondra (CZE)
Colin Duffy (USA) 
Alberto Gines Lopez (SPA)
Nathaniel Coleman (USA)
Tomoa Narasaki (JPN)
Michael Mawem (FRA)
Final Results
As mentioned above, each athlete's overall standing was determined by multiplying their placements for each event, with lower scores ranking higher. Hypothetically, if a competitor placed third in speed climbing, first in bouldering, and fifth in lead climbing, that competitor's final combined score would be 15 (3x1x5). If another competitor placed second in speed climbing, second in bouldering, and third in lead climbing, that competitor's final score was 12 (2x2x3) and thus they would have won win the previous climber—12 being a lower score than 15.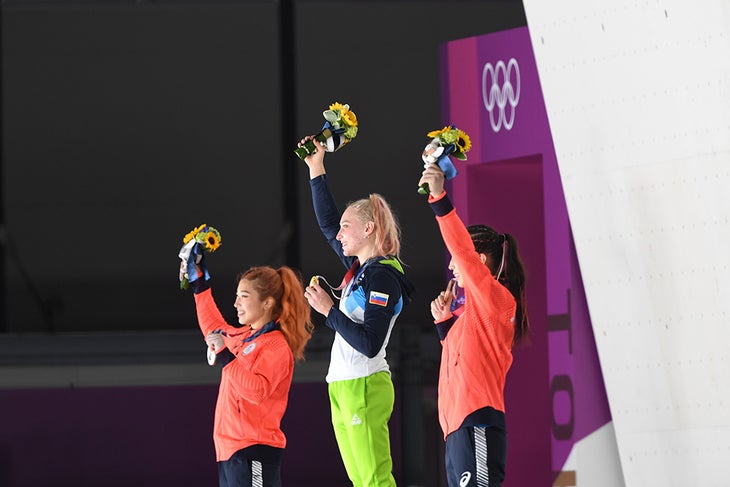 WOMEN'S SPORT CLIMBING OLYMPIC FINAL RESULTS—THE MEDALS
Janja Garnbret (Slovenia) GOLD
Miho Nonaka (Japan) Silver
Akiyo Noguchi (Japan) Bronze
Aleksandra Miroslaw (Poland)
Brooke Raboutou (USA)
Anouck Jaubert (France)
Jessica Pilz (Austria)
Seo Chae-hyun (South Korea)
MENS SPORT CLIMBING OLYMPIC FINAL RESULTS–THE MEDALS
Alberto Gines Lopez (SPA) GOLD
Nathaniel Coleman (USA)  SILVER
Jakob Schubert (AUS) BRONZE
Tomoa Narasaki  (JPN)
Mickael Mawem (FRA)
Adam Ondra (CZE)
Colin Duffy (USA)
Bassa Mawem (FRA) DNS
MEET THE 16 OLYMPIC SPORT CLIMBERS WHO COMPETED
40 climbers came to Tokyo to compete in the Olympics; 16 have advanced to finals. Some of these climbers—like Adam Ondra and Janja Garnbret—are battle-tested competitors who were identified as potential medalists as soon as climbing's inclusion in the Games was announced in 2016. But other competitors—like Mickael Mawem, whose stunning performance in qualifiers shocked the pundits, and Seo Chae-hyun, the 17-year-old South Korean lead climbing prodigy—are newer stars, their names and stories still largely unfamiliar to the viewing public. Here, meet the 16 athletes who've made the Olympic finals. 
Women
Janja Garnbret (Slovenia)
Though just 22 years old, Janja Garnbret is already one of the most pedigreed competition climbers of all time. Since her first appearance on the adult World Cup circuit in 2015, the Slovenian has been the competitor to beat in both lead and bouldering. In 2019, she swept the bouldering World Cup series and won the World Championships in both bouldering and lead. 
In this week's qualifying rounds, Garnbret—who is not a speed specialist—climbed somewhat sloppily in both speed heats, leading the announcers to speculate whether the pressure of the Olympic stage was getting to her. Those theories were thoroughly debunked in the bouldering round, where Garnbret was dominant, flashing all four problems with evident ease. (No other competitor even topped all four.) Her prowess on the boulders more than compensated for her relatively disappointing 4th place finish in lead. It's a strong field, but Garnbret is certainly a gold medal favorite here.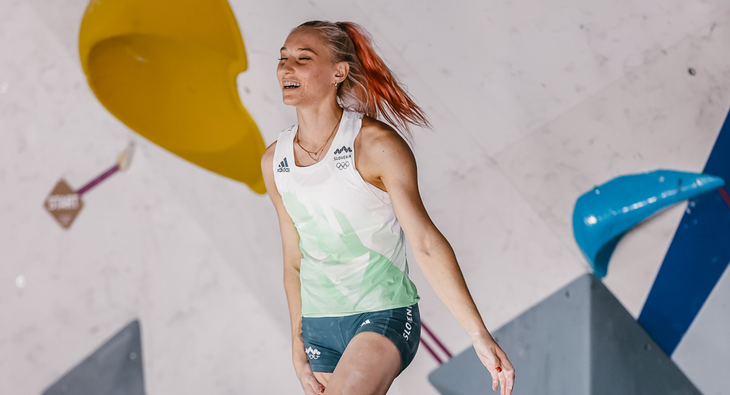 Seo Chae-hyun (South Korea)
At 17, Seo Chae-hyun is one of climbing's youngest Olympians (though not the youngest: she's got a month on Colin Duffy). Because of her age and her limited exposure to competitions over the last 18 months, many people were unsure what to expect from Chae-hyun in the Olympics. She is recognized as a gifted lead climber—in 2019, her first season on the adult circuit, she medaled in six lead events, taking four golds, one silver, and one bronze—but until Tuesday's qualifying round, her bouldering and speed capabilities remained largely untested on the international stage. 
What did we learn during the qualifiers? We learned that speed isn't her forte (she placed 17th) but that she's a dang strong boulderer. Her 5th place finish on the boulders set her up nicely for her main event, lead, which she won with style, finding elegant beta through burly sequences that stymied many of the world's strongest competitors. Can she medal? Absolutely. 
(Fun fact: Chae-hyun doesn't just climb inside; when she was 14, she took a trip to Colorado and took down one of Rifle's hardest routes: Bad Girls Club, 5.14d.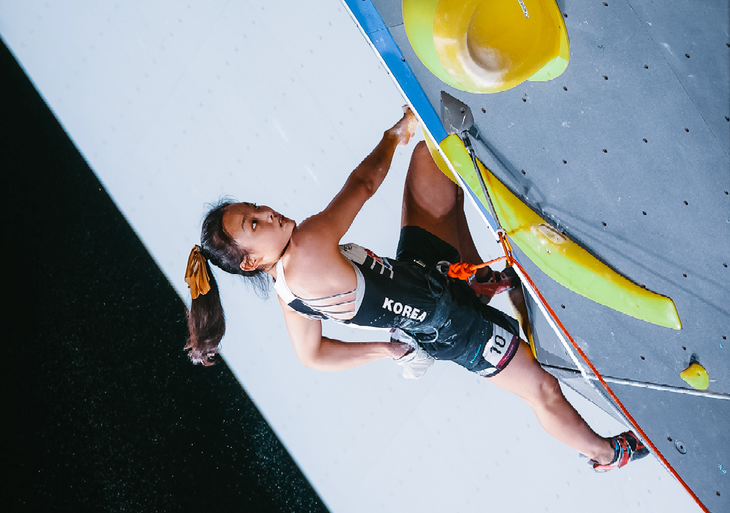 Miho Nonaka (Japan)
Born in Tokyo in 1997, Miho Nonaka started climbing at the age of eight; according to her website, her main motivation to improve was her desire to out-perform her two older sisters. She succeeded. She competed in her first World Cups in 2014, won her first boulder World Cup in 2016, and for the next few years racked up a hefty collection of medals, eventually winning the overall Bouldering World Championship in 2018. Known as an adept all-arounder, Nonaka clearly demonstrated her medal-potential during the qualification round, placing 4th in speed, 8th in bouldering, and 3rd in lead.
Akiyo Noguchi (Japan)
Born in Tokyo in 1989, Noguchi started climbing at the age of 11—training mostly on a home wall her father built on their family's cattle farm. At age thirty-two, she's a seasoned competitor. She began winning World Cup medals in 2007 and won at least three each year after that until COVID-19 disrupted the 2020 season. In her home country, she's something of an elder statesmen; she won nine consecutive Bouldering Japan Cups, from 2005 to 2014.
Like Adam Ondra, Noguchi is has traditionally performed far better in bouldering and lead climbing than in speed, a disadvantage in the combined format. But evidently she's been training: during the qualification round she managed a respectable 9th place (compared to Ondra's 18th). This took some of the pressure off the bouldering and lead rounds, in which she placed 3rd and 6th, respectively. Noguchi has said that she will retire from competition climbing at the end of these Games.
Brooke Raboutou (U.S.)
Brooke Raboutou was born in 2001 to a climbing family. Her parents were leading competitors during the 90s and are the masterminds behind ABC Kids Climbing—a program that also produced fellow Olympian Colin Duffy—and her younger brother is currently one of the world's strongest outdoor boulderers. Raboutou was climbing V10 and 5.13b by age nine; she sent her first 5.14b at age eleven; last year, when the Olympics were postponed, she sent two V14 boulder problems, Muscle Car and Jade, both in Colorado. Earlier this year, in preparation for the Olympics, she took a semester off from college—she's a marketing major at the University of San Diego—and focused on training. It seems to have paid off. During Olympic qualifiers, she placed 12th in speed, then absolutely crushed it on the boulders, gaining three tops (two of them flashes) and a zone. Her 2nd place finish in bouldering took some pressure of lead, where she placed 8th.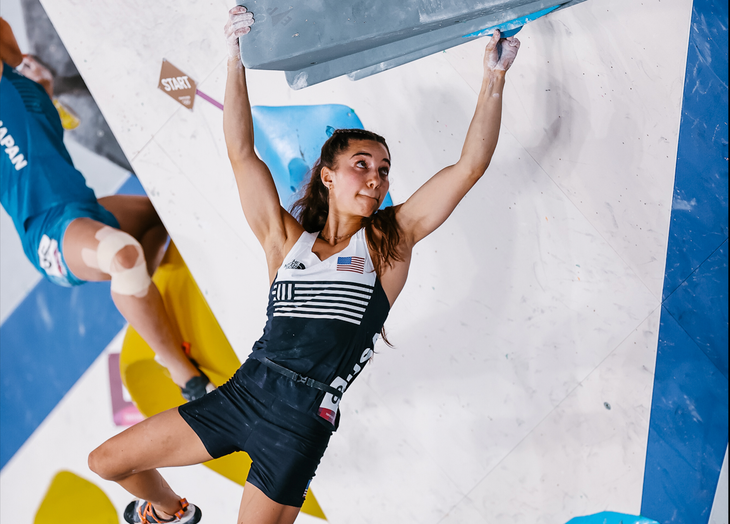 Jessica Pilz (Austria)
Hailing from Haag, Austria, Jessica Pilz started climbing when she was just nine years old. Now 24, she's one of the most accomplished lead climbers in the women's field, and she has also made finals in six Bouldering World Cups. In 2018, she won the Lead Climbing World Championship—beating Janja Garnbret on time. Like Raboutou, Pilz is both a university student and a professional athlete, and she "aims to become a role model for the next generation of climbers." Unfortunately, Pilz fully ruptured her A-4 pulley at a Bouldering World Cup in Salt Lake City in late May—an injury that has undoubtedly forced her to balance the requirements of recovery with those of training.  But it seems to have worked. She had tape on her finger during qualifiers, but climbed well, especially in lead where she finished 2nd. She was 11th and 9th in speed and bouldering.
Aleksanda Miroslaw (Poland)
Aleksanda Miroslaw is the reigning women's speed-climbing World Champion. And she is fast. During her best heat during qualifiers, she came short of the women's speed world record by just .01 seconds. She'd have liked that 1/100th of a second, but even without it she won first in speed, which has carried her to the final. Miroslaw is the quintessential speed specialist, but doesn't perform at the same level on the boulders (20th in qualifiers) and the lead wall (19th). To medal, she'll need to win speed and then make some gains in the non-speed events.
Anouck Jaubert is a 27-year-old speed specialist from Grenoble, France. She has appeared on dozens of World Cup podiums as a speed climber, and she earned her spot on the French team after an 11th place finish in the combined event at the 2019 World Championships in Hachioji, China. In the speed round of the Olympic qualifier, Jaubert posted a time of 7.12 seconds, second only to Miroslaw. Jaubert followed up this strong speed performance by placing 13th in bouldering and 15th in lead. We'll expect a battle between Miroslaw and Jaubert for the speed title in finals—and with it the chance to podium. 
Men
Mickael Mawem (France)
Born in Nimes, France, in 1990, Mickael Mawem was a relative unknown outside of France coming into the competition—rarely included in discussions about serious medal contenders. Mawem qualified for the Olympics by finishing 7th in 2019's Climbing World Championships, and he's especially strong in bouldering and speed—a combination of talents that have rocketed him to the top of the qualification field. He took 3rd in speed and—stunning the pundits—1st in bouldering, well ahead of luminaries like Tomoa Narasaki, Adam Ondra, and Jakob Schubert. After following up with a respectable 11th in lead, Mawem is, unsurprisingly, now considered a serious medal contender. Fun fact: Mawen's older brother, Bassa Mawem, also qualified for finals—more on him, and his injury, below.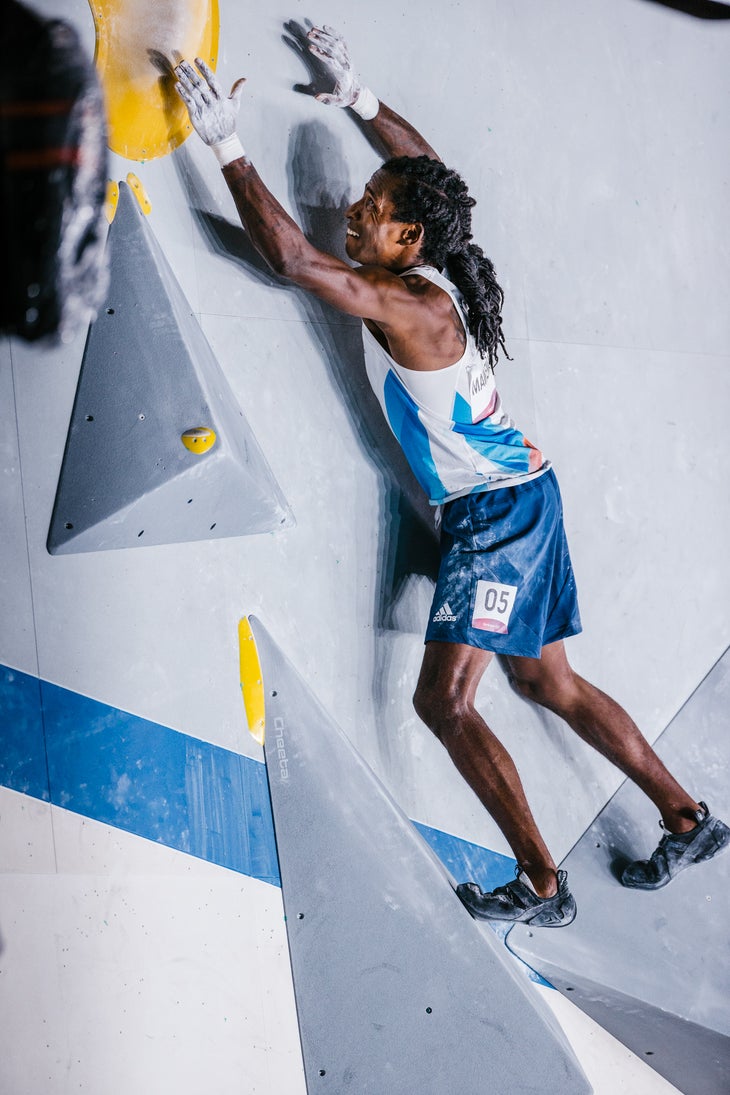 Tomoa Narasaki (Japan)
Tomoa Narasaki started climbing at the age of 10 in a gym owned by the family of Sachi Amma—a former World Cup climber. Now 25-year-old, Narasaki is widely considered a leading gold-medal contender. Over the course of his career, he's won numerous Bouldering World Cup events and medaled in several lead competitions. Unlike most of the big names in the men's field, Narasaki is a very accomplished speed climber; indeed, he holds the Japanese record for speed (5.73 second). His 2nd place finish in both speed and bouldering during the qualification rounds, combined with his respectable 14th place finish in lead, have situated him well for finals, where he's long been a favorite.
Colin Duffy (U.S.)
Born in Colorado in 2003, Colin Duffy was a highly decorated youth climber before he qualified for the Olympics by winning the 2020 Pan-America Championships. He is a member of Team ABC, the crusher factory that also helped produce Brooke Raboutou. At just seventeen, Duffy is the youngest competitor in the men's field, which is probably why the media has repeatedly referred to him as the "wild card" candidate. It's a term that, thanks his performance in qualifiers, is already outdated. Duffy has clearly demonstrated his ability to hang with the best athletes in each of the three disciplines, finishing 6th in speed, 5th in bouldering, and then absolutely crushing the lead round, where he finished 2nd—half a move behind Austria's Jakob Schubert, who won his first Lead World Cup the same year Duffy turned six.
Jakob Schubert (Austria)
At 30 years old, Jakob Schubert, a two-time World Champion, has long been considered a serious medal contender in the Olympics. A native of Innsbruck, Austria, Schubert has supplemented his decades-long competition career with a tick list of the some of the world's hardest outdoor climbs, including redpoints of Perfecto Mundo (a 5.15c in Margalef, Spain) and La Force de Tranquil (a V15 in Magic Wood, Switzerland). 
Schubert's qualification round was full of highs and lows. After placing 12th in speed (not his discipline) he needed to do well in bouldering and lead in order to reach finals. Yet he was once of the only male competitors not to send the first boulder problem; and things got worse when he failed to make the zone on the second problem and then failed to top problem three. But when he arrived at the final boulder, Schubert demonstrated his experience: he stayed calm and fired it. Then he went on to place first in lead.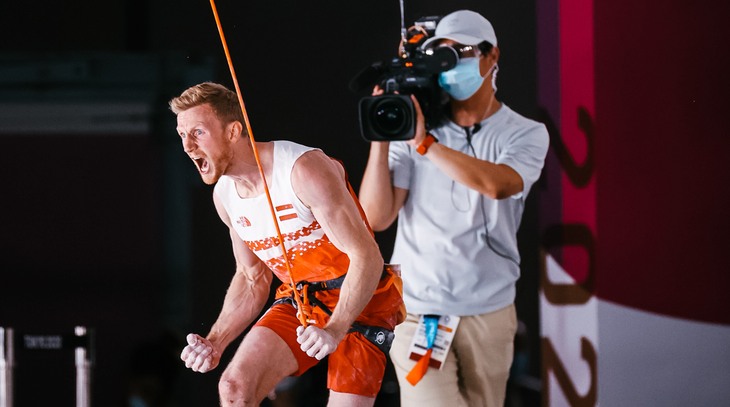 Adam Ondra (Czech Republic)
Born in Brno in 1993 and widely considered one of the best climbers of all time, Adam Ondra, now 28, has as been pushing the upper limits of the sport since his early teens. He's a consummate all-arounder on the rock, with V16 boulder problems, 5.14 big walls, a 5.15a flash, and a 5.15d first ascent under his belt. He is also the only male athlete to have won World Championships in Lead and Bouldering in the same year.
Like Schubert, Ondra put on a nail-biting show in qualifiers. His poor speed performance (18th) was no surprise; he's been outspoken about his dislike of speed and of the combined format that requires climbers to compete in all three disciplines. But he struggled in the middle part of the bouldering round and, like Shubert, faced a must-send scenario at the final boulder. Thankfully, he sent the problem, looking comfortable on problem's slippery jambs, and cinched a 3rd place finish. In lead, his favorite discipline, Ondra climbed conservatively, and approach that tired him out earlier than he wanted but still got him 4th place, which was enough to get him into the finals.
Alberto Ginés López (Spain)
Born in 2002, Alberto Ginés López is another rising star in the sport. When the 2020 Olympics were announced in 2016, Ginés López, then fourteen, relocated from his hometown of Cáceres to Barcelona so that he could focus on competitions and qualify for this event. After wracking up medals in the youth circuit, he graduated into adult World Cups in 2019 and had an amazing rookie season, taking two medals (silver and bronze) in six events. But because of his youth, Ginés López is yet another Olympic dark horse who, thanks to his great performance in qualifiers, will probably never again wear that adjective. After taking 7th in speed, he had a disappointing bouldering round, finishing 14th. But he rallied on lead, beating several legends including Alex Megos and Adam Ondra. A crowd-pleasing competitor who often seems exuberant and joyful under pressure, Ginés López has a promising future, both in these Games and in the sport. 
Bassa Mawem (France)
At 33 years old, Bassa Mawem (Mickael Mawem's older brother) is the oldest climber on the Olympic roster and one of just two climbers with children. Most elite climbers literally start climbing as toddlers, but Mawem didn't begin until he was 13; despite this, he has managed to become an adept practitioner of all three of climbing's competitive disciplines, and he's been a fixture on the international and European comp circuits for the last decade. Speed, however, is his specialty—and his speed was on full display during qualification round, which he won with a blistering time of 5.45 seconds. After securing his spot in finals, however, Mawem ruptured a tendon in his left bicep on the lead route—an injury that will keep him from competing in finals.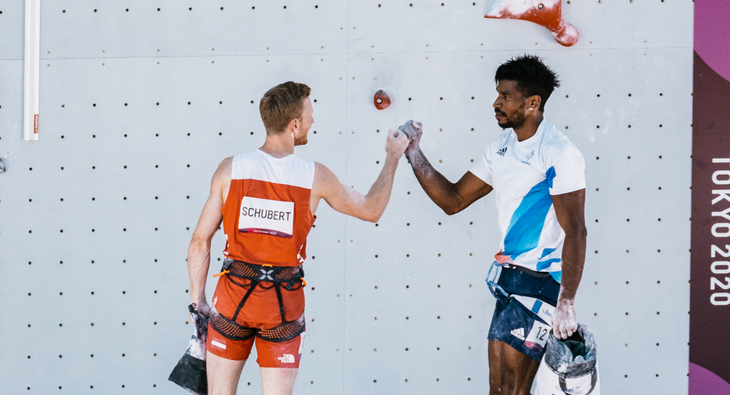 Nathaniel Coleman (U.S.)
Born in Utah in 1997, Nathaniel Coleman is widely known in the American comp scene for his stellar mental game and his smooth yet powerful climbing style. Like Duffy and Narasaki, he's a well-rounded athlete. At the Olympic qualification event in Toulouse in 2019, Coleman won an Olympic berth by placing 6th in speed, 6th in bouldering, and 4th in lead. He had some highs and lows during qualifiers. After marking a personal best during speed, which put him in 10th place, he struggled to find a rhythm in the bouldering. He managed to top problem three, but he was visibly frustrated when the slippery hand jams on problem four stymied him just below the finishing hold. He told USAC that, "After bouldering, I had lost all hope" of reaching finals. "But I don't know, that somehow let me just climb freely on the lead route, and it felt great." He finished 5th in lead, securing him a seat in the finals.