Coleman Surprises, Wins Sport Climbing Boulder Final. Full Results.
Heading out the door? Read this article on the new Outside+ app available now on iOS devices for members! Download the app.
This article is free and is part of our comprehensive Olympic coverage. Sign up with a Climbing membership, now just $2 a month, and you get unlimited access to all of our Olympic news and analysis, plus you'll enjoy a print subscription to Climbing. Please join the Climbing team today and don't miss a single move.
The Olympic men's bouldering final was anyone's game, a clash between some of the sport's all-time greats and its rising stars.
Coming into the round, two-time Champion Tomoa Narasaki (JPN) was considered a favorite for both the bouldering round and the combined gold—but he had serious rivals. Adam Ondra (CZE) struggled on Tuesday's qualifying boulders, but he has also won a Bouldering World Championship, and he's been in top form recently, winning two Bouldering World Cup golds earlier this year. Jakob Schubert (AUS) also had difficulties on the qualification boulders, facing a potential make-or-break on problem four, but he has medaled in nine bouldering World Cups and a win in today's finals was well within his capabilities. And then there was France's Mickaël Mawem…. Three days ago, Mawem wouldn't have been on this list of favorites; but when he blasted his way to first in Tuesday's bouldering qualifier, he announced himself as a major contender.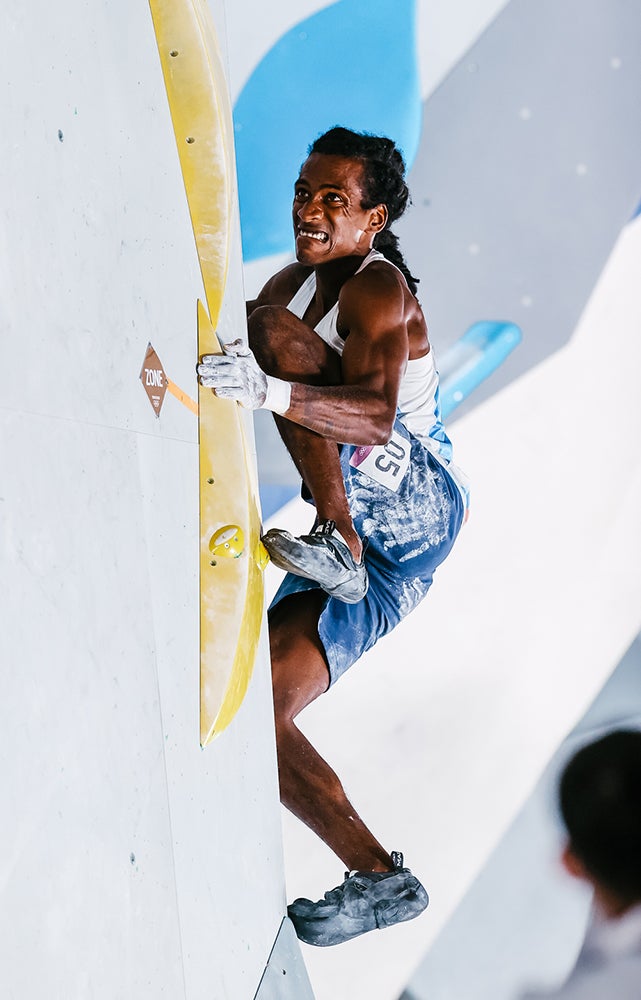 Meanwhile, there were the less pedigreed wildcards—and they are strong. Nathaniel Coleman  (USA) has won four USA Bouldering Open National Championships and medaled in several Bouldering World Cups. His compatriot, Colin Duffy, though historically less accomplished in bouldering than in lead, proved himself more than capable of hanging with the celebrities during the qualification round. And Alberto Ginés López (ESP), known for his prowess in lead, he has a gilded track record in the Bouldering Youth World Cups, taking home four golds and two silvers from 2017 to 2019—and he came into the bouldering round with momentum, having just beaten favorites Tomoa Narasaki and Mickaël Mawem in speed.
So how did it go?
Boulder number one. The first boulder featured a technical traverse on terrible feet, a left-facing ramp of miserable yellow sidepulls, and an awkward jump to the finishing hold. Nathaniel Coleman, the second competitor out of the gates, was the first to find the top, and by flashing the problem he set a high bar for the others. Jakob Schubert, Colin Duffy, Tomoa Narasaki, and Mickaël Mawem stepped up, also flashing the problem. But Adam Ondra, who looked incredibly comfortable on his flash attempt, had a foot slip on the last move. He sent the problem on his second go, but it was a mistake that added pressure to the later boulders.
Boulder number two. A coordination problem with grey volumes and blue holds, boulder two put real separation into the men's field. Again Nathaniel Coleman found the top, linking the stylish run-jump-campus sequence into a dyno-toehook combo to the finishing hold—but this time his success was not so easily imitated. Adam Ondra didn't even make the zone, the only competitor not to do so. Mickaël Mawem, Jakob Schubert, Colin Duffy, Alberto Ginés López, and Tomoa Narasaki all found the zone, but none were able to stick the final move. Going into problem three, it was USA's Nathaniel Coleman in the lead with two tops and two zones in four attempts.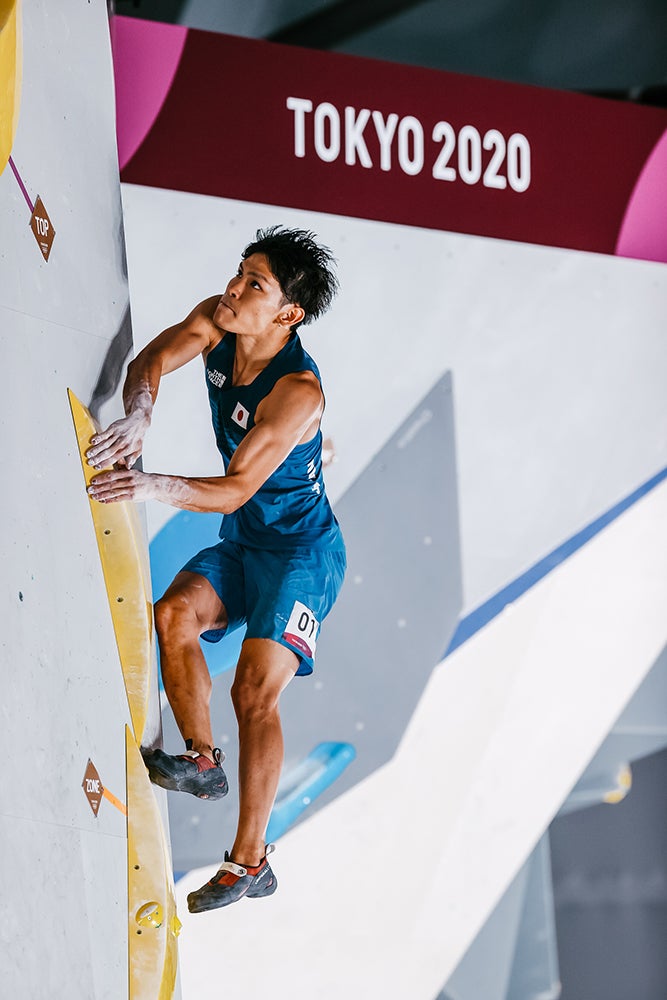 Boulder number three. The most aesthetically interesting problem of the Games so far, boulder three featured a Japanese Rising Sun made of grey volumes and small yellow edges, requiring a combination of power and technique. Crimping and heel hooking through a flywheel of volumes, Nathaniel Coleman reached the zone on his first try but wasn't able to convert his momentum into a top—leaving first-place within reach of the others. But the problem was just a bit too hard above the zone, failing to further separate the competitors, and no one was able to better Coleman's zone score.
At the end of the day, it was the underdog American athlete, Nathaniel Coleman, who took first—nicely offsetting his sixth place finish in speed and situating him as a strong medal contender in the combined competition.
SPORT CLIMBING BOULDER FINAL ROUND RESULTS
Nathaniel Coleman (USA) 
Mickael Mawem (FRA)
Narasaki Tomoa (JPN)
Colin Duffy (USA)
Jakob Schubert (AUS)
Adam Ondra (CZE)
Alberto Gines Lopez (SPA)
Bassa Mawem (FRA) DNS


Sport Climbing Men's Finals at the 2020 Olympics Tokyo, Japan.

Photo: Jess Talley, Jon Glassberg/Louder Than 11

Sport Climbing Men's Finals at the 2020 Olympics Tokyo, Japan.