Is Olympic Lead Climbing Boring, And Could Its Future Hinge on Routesetters?
Smart setting is giving bouldering the traction it needs to stay an Olympic sport. Can lead keep up?
Heading out the door? Read this article on the new Outside+ app available now on iOS devices for members! Download the app.
Whether they realize it or not, audiences of the Tokyo Olympics this week aren't just watching the climbers. They're watching the wall. And it's the wall that could decide the sport's future. 
For all its looks, climbing isn't an individual sport. It's a complex interaction between two minds, more like chess than middle-distance running. There's the player you see—the athlete sweating it out in the spotlight—and there's the one you don't, the elite group of puzzle-makers standing in the shadows. At the end of the day, it doesn't matter how skilled the athletes are; a climbing competition is only as entertaining a show as its team of routesetters can devise.
"[Routesetters] are the backbone of the event," explains Aubrey Wingo, a senior setter at the Boulder Rock Club in Boulder, Colorado, who has 10 years of experience setting for local and regional competitions. This week, that proverbial backbone is supporting a lot of extra weight. After all, the team in Tokyo is the first to ever set an Olympics. "I think that there is an increased pressure to make it visually exciting. The movement, the thrill—that's the reason people are going to watch," Wingo says.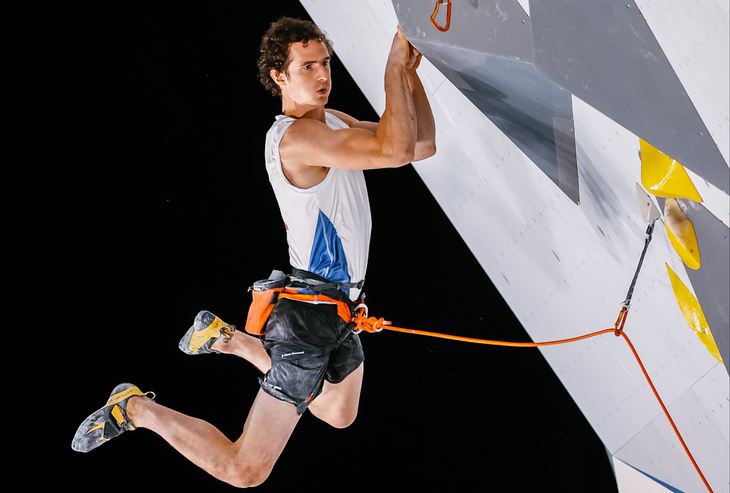 Where Lead Falls Short
And so far, people are watching. A recent article in The Guardian pointed out that "sport climbing"—the term the Olympic Committee uses to describe the combined disciplines of speed, bouldering, and lead climbing—was the most Googled sport on Wednesday, the day of its Olympic debut. But while the Guardian goes on to wax poetic about the thrill of speed climbing and the delights of bouldering dynos, it fails to mention lead climbing in any detail. 
Other mainstream news outlets and networks found their fascinations similarly fixed on climbing's faster, more dynamic disciplines. Most articles describe speed first, bouldering second, and lead third—if at all. 
Though speed and bouldering are arguably the farthest from climbing's outdoor origins, their popularity makes sense: They're bite-sized. They're easy to understand. And, man, do they look cool. As for lead? 
In comparison, it's slow. The steepness of the wall is hard to grasp, the holds mean little to an outsider unfamiliar with crimps or slopers, and the climbers make the climbing look easy. There's no way to tell how hard these routes are. But then again, compared to Simone Biles's daredevil vaults or Katie Ledecky's 4-minute quarter-mile swim, how hard is lead climbing really? 
It doesn't really matter; in the current format, the audience has no way of contextualizing lead climbing's difficulty. And that's a problem. After all, the International Olympic Committee (IOC) wasn't shy about the fact that its newest additions—skateboarding, surfing, and climbing among them—were chosen in part to attract younger audiences. As studies have shown, young audiences today have painfully short attention spans, and consume most of their media via colorful, fast-moving, engaging video. If climbing is going to keep up with Generation TikTok, it's going to have to fit the format. It needs to look cool and move fast. It needs to turn heads. And right now, responsibility for those outcomes falls to the routesetters.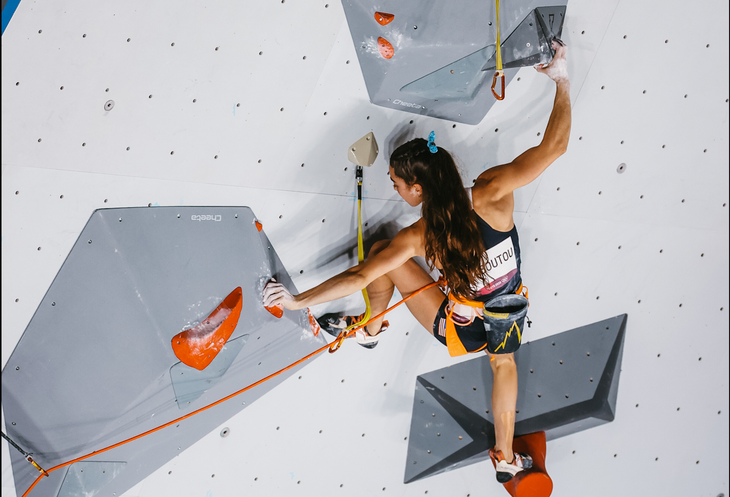 Setting the Next Big Thing
"Certainly with this being climbing's Olympic debut, there's the added pressure of making it something exciting and captivating so the sport grows and people continue to engage with it," says Jonathan Brandt, a USA Climbing Level 5 Certified Routesetter. He's currently the head of setting at The Climb gyms in Tennessee, and earlier this summer he set for the IFSC Boulder World Cup in Salt Lake City, Utah. Brandt says visual showiness comes secondary for setters—their first priority (after safety) is to create a route that performs well, gives athletes a chance to show off their skills, and creates an even spread of results. 
Low-percentage, head-turning sequences are one tool for achieving that spread. 
"These athletes have the skills to turn around, [look at a route,] and immediately recognize how they are going to create that dynamic movement to secure the next hold," says Wingo. "So it's a part of the competition for the setters to attempt to perplex them. At the same time, this is the first time the world at large is experiencing climbing.  And to sell it, you have to give them a show—and that comes with dynos." 
The trouble with dynos and other big, parkour-like movements is that they're tough to come up with.
"I think it's hard to set the next 'big thing' and just as hard to forerun it," says Wingo. After all, those movements are insanely difficult, not to mention hard on setters'—and climbers'—bodies. Injury risk is top of mind, but there's always a chance that an athlete will blow a shoulder on a big dyno, pop a knee while whiffing a run-and-jump, or—in the case of Bassa Mawem's lead qualifier this Wednesday—rupture a biceps tendon while reaching into an overhead sidepull. 
It's a fine balance to create routes that are low-percentage enough to be exciting, but safe enough for athletes to pull-off injury free. But finding that balance, particularly in lead, could be critical to the future of the sport, especially as the disciplines become extricated from one another in Paris and, hopefully, beyond. Alone, each discipline is more vulnerable to getting cut. 
"I think that, in some aspects, we may slowly creep toward that more exciting movement [in lead]," Brand says. "But there's a huge difference in that a bouldering competitor may have four minutes to try a showy or exciting or low percentage move several times, but in lead you only have one. Oftentimes the climber is onsighting, and you don't want them to have to onsight more than they can chew." The upshot: Setters can only make lead so exciting within the given format. Will it be enough for a Guardian headline? Maybe not.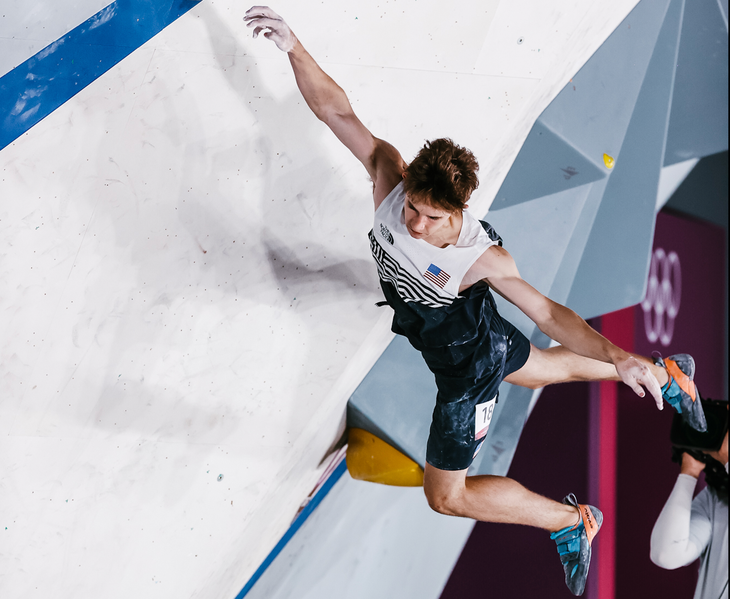 Is It a Formatting Error?
"Bouldering and lead absolutely have to work better to be more appealing, but those developments should come [with] changes to format and scoring," says hold designer and international routesetter Chris Danielson. Right now, he says, the scoring system isn't intuitive, and the isolation and onsight components slow the climbing way down. 
"Those challenges are a much greater weight on the sport, how it's perceived by the masses, and how it evolves," Danielson explains. "Climbing is about exploring, pushing forward, going places we haven't gone, and developing ourselves." That spirit should be applied to pushing the boundaries of format. 
Why not format the Olympics like Psicobloc, where side-by-side competition adds suspense and huge falls up the stakes? Why not make the routes easier and the times shorter, forcing the athletes to think and move faster? Or skip the vertical panels and make the whole thing inverted, ala the Dominion Rock Boulder Bash (which has also featured a pretty sick campus race)? If we're really trying to keep climbing close to its roped roots, why not add a rope ascent or technical skills race, just like arborist or rope access competitions? Or hell, why not just scrap the whole lead portion and make American Ninja Warrior an Olympic discipline instead? 
Sure, some of those suggestions may be a little off the deep end (pardon the Psicobloc pun), but the point is: Competition climbing needs to modernize if it's going to stay put. 
The Value of Good Looks
Right now, Olympic setters are working within the confines they have. And there's one other tool in the toolbox aside from showy movement: visual aesthetics. One look at the lead qualifiers—a rising plume of citrus-colored baubles for the men, and an abstract sculpture of geometric volumes daubed in red, green, and yellow for women—makes it clear that massive volumes, carefully curated color schemes, and even the shapes of the walls themselves are all critical to holding the viewer's eye.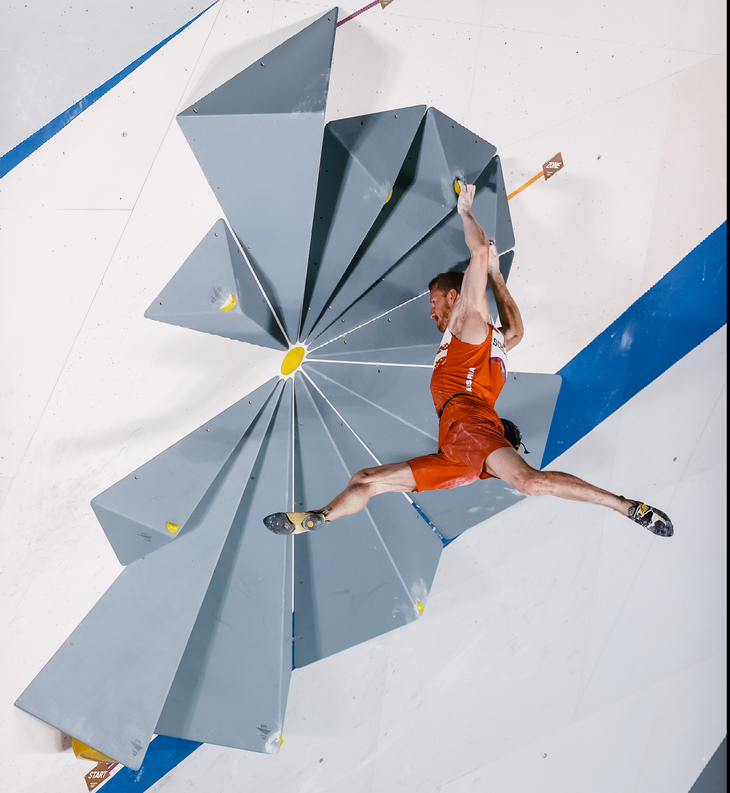 "At a high setting level, like setting for the Olympics, I'm not going to say aesthetics are equal to a route's performance, but they're very, very important to the spectacle climbing makes for viewers on a world stage," says Brandt. 
The visual artistry of setting has also become paramount in gyms, Brandt says, where cleanliness and bright colors help draw newcomers to the sport. Indoors as in out, people prefer to try climbs that inspire them.  
"[As a setter], I need a climber to turn around and say, 'hell yeah, this looks dope,'" says Wingo. 
Sans a format overhaul, the aesthetic component of setting will likely become more important in future competitions, giving setters a way to make climbing eye-catching to the layperson spectator while still keeping it safe and fun for the athletes. 
But in the meantime, lead has one other thing going for it. 
"The upside? Finals will be in order of the athletes' qualifying rank," says Wingo. With that format, she says, the audience watches a climber fall on a hard move, only to watch the next athlete surpass them, and the next get higher still. "And then you get the rush. I love that rush. And I hope people can feel the same way."