Let Sport Climbing's Olympians Cry In Private!
Janja got off to a terrible start, speed PRs fell, Seo proved she was worthy, Nonaka hurt her wrist, and other news from today's women's sport climbing qualifiers.
Heading out the door? Read this article on the new Outside+ app available now on iOS devices for members! Download the app.
With barely any time to decompress since yesterday's action, climbing at the Olympics continued this morning with the women's qualification round. Keep in mind that the Olympics are contested as a unique Combined discipline, and results and recaps for the separate Speed, Boulder, and Lead portions have already been published. With that being said, let's talk about all the Highs and Lows from a women's round that will undoubtedly go down as one of the most fascinating chapters in Olympic history. 
HIGHS
Garnbret gives us theater: To put it bluntly, Slovenia's Janja Garnbret had among the worst-possible starts to the qualification round. She stumbled on both Speed runs and finished that portion in 14th place. But, as if awakened by such troubling initial performances, she went on a tear in the ensuing Boulder portion and flashed all four problems. Climbing's own Alison Osius aptly called it a "perfect performance" from Garnbret. But then, in the Lead portion, Garnbret did not continue to look as extraordinary. Sure, she climbed incredibly well, but her final Lead highpoint of 30 was ultimately bested by three other competitors. This caused the event's commentator to proclaim, "She is human, after all," and in that we had our Olympic denouement. See, Garnbret's qualification round was like a three-act play, ultimately resulting in us perhaps appreciating her even more than we already do (if that's possible)…not because she is superhuman, but because she is human, after all. Her talent was never magical; she fought for the gains and earned every accolade through hard work, grit, and dedication. She is so good that it's easy sometimes to forget that. But this round was a wonderful reminder.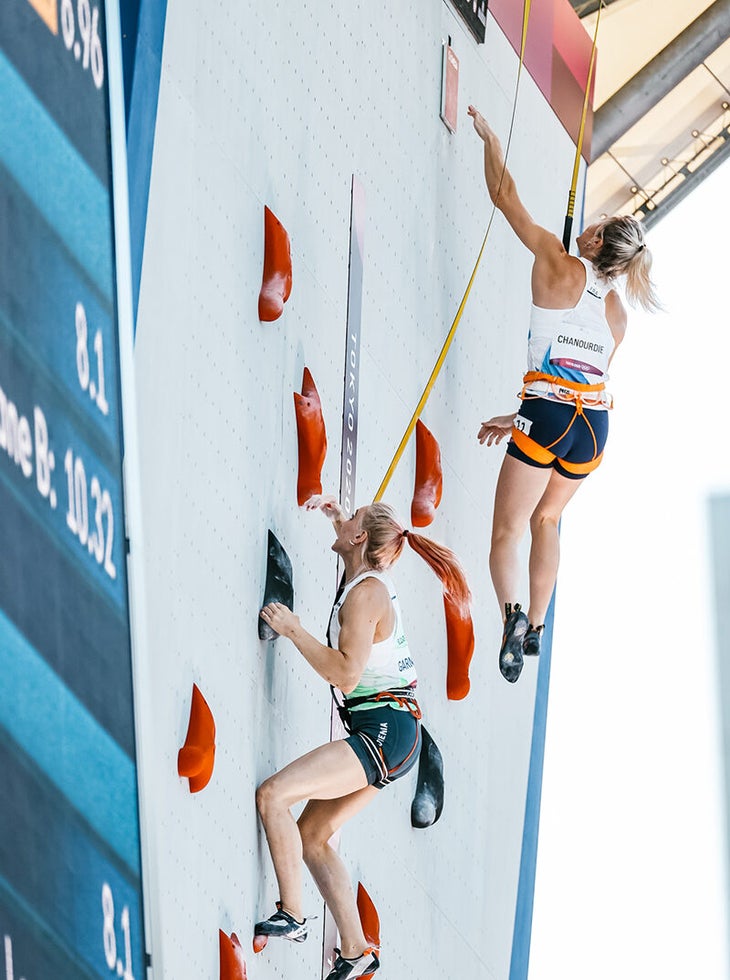 Seo answers all questions: South Korea's Chaehyun Seo was a mystery heading into this Olympic qualification round. Due to the pandemic, she had not been present in international competition—including World Cup events—for well over a year. There were a lot of questions and unknowns about how she might have improved in that time. But once the Speed portion kicked off, she won both of her races; the races weren't elimination heats in the qualification round, but the pair of victories were strong statements from Seo. Then the Boulder portion began and Seo topped the first two problems. At this point, it was clear that this was a better version of Seo than viewers had ever seen. Finally, she capped it all off by winning the Lead portion and becoming the first woman to have a confirmed spot in the Olympic finals. The fact that she—like Colin Duffy—is only 17 years old makes the whole qualification performance even more impressive.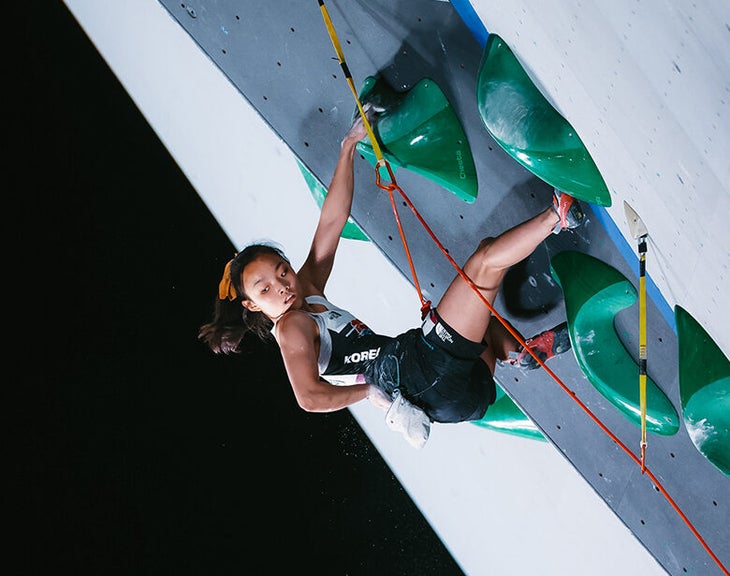 Speed PRs cause déjà vu: I thought all the personal best times clocked in yesterday's men's Speed round were going to be anomalies…until the second race of today's women's round; France's Anouck Jaubert clocked a new personal record of 7.29 seconds in a run against Russia's Viktoria Meshkova (competing for the Russian Olympic Committee, per Olympic designation). In the following race, Austria's Jessica Pilz set a new personal record as well (8.63 seconds). Then Team USA's Brooke Raboutou clocked her own new best (8.81 seconds) in a race against Canada's Alannah Yip—who also PRd (8.17 seconds). I could keep going…16 personal bests were set throughout the round. Yip even went on to break the hallowed 8-second mark, and Poland's Aleksandra Miroslaw claimed the Olympic Record with a run of 6.97 seconds. Most impressively, there weren't any false starts in the men's or women's qualification rounds. 
Better boulder keeps viewers engaged: I had a number of casual climber-friends message me yesterday saying that the first men's boulder was a bit of a "snoozefest." It was slabby, and it lacked dynamic movement, so I understood where they were coming from—especially when watching it bleary-eyed at 5:00 in the morning. Luckily, the first women's boulder was more visually exciting. It had a slabby start too, but the methodical low portion transitioned into a neat coordination hand-catch and foot-stomp in the midsection. It helped that Viktoria Meshkova and Australia's Oceana Mackenzie topped it early, perfectly showcasing the requisite dynamic movement. Team USA's Kyra Condie topped it as well, as did compatriot Brooke Raboutou en route to qualifying for the finals. 
Rogora never gives up: There was a special moment on the fourth women's boulder, when Italy's Laura Rogora hung by her fingertips from the boulder's large prism volume and worked doggedly to find a secure heel hook. She hung…and adjusted her feet…hung some more…readjusted her feet. It was probably only a few seconds in total, but it felt like she was grinding out the sequence for minutes, refusing to stop her hanging search for a stable position. She didn't end up topping the boulder, but that instance—that fight—was a neat capstone to a very seesaw round that saw tops and tears and everything in between from Rogora.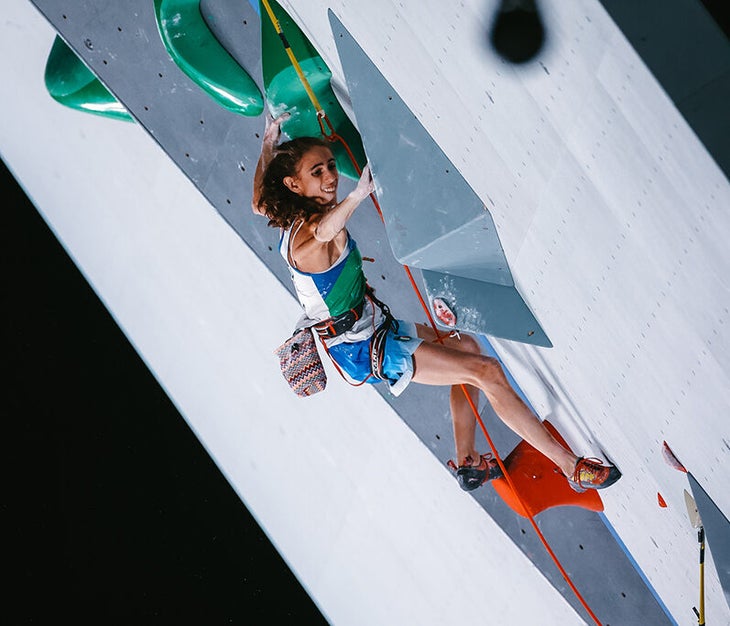 LOWS
Nonaka's wrist worries onlookers: At the end of the Boulder portion, Japan's Miho Nonaka fell in an unsuccessful attempt on the fourth problem and walked away rubbing her wrist. It was obvious that she was in some sort of pain—perhaps not severe, but enough to wince. Then, when she came out for the Lead portion, the wrist was taped. She still managed to climb superbly and advance to the finals in third place, but the wrist has to be a concern. Consider that Nonaka is also dealing with a knee injury suffered on the World Cup circuit earlier in the summer, and she is not too far removed from a series of shoulder injuries that took her out of action for almost an entire season. Darn, Nonaka just can't seem to catch a break when it comes to various joint tweaks. As we have done many times in the past, let's collectively hope she is recovering right now and this newfound injury doesn't pose any lingering problems. 
Kaplina's slip proves costly: There were a number of heartbreaking moments throughout the round, but few sick in my mind as vividly as Iuliia Kaplina (competing for the Russian Olympic Committee) slipping just as she reached up to hit the Speed buzzer in her second run against Great Britain's Shauna Coxsey. Kaplina was visibly upset with herself. Furthermore, since she's considered a speed specialist, this has to be considered a particularly damaging mistake to her final score. Regardless, she has a lot to be proud about—including an overall placement of 17th in the qualifying round, with her Speed world record still intact. I hope those are her takeaways from Tokyo rather than the buzzer miss.    
The zone goes low: As interesting as the first women's boulder was, the zone hold seemed oddly "easy"—just a basic pistol squat up from the starting volume. Most competitors cruised right to it, and considering there were a lot of tops on that boulder, moving the zone to a different place on the wall could have helped separate the field.
Camera lingers too long: I mentioned above that Kaplina was visibly upset after missing the Speed buzzer, and Laura Rogora teared up during the bouldering round too. There were heightened—visible—emotions elsewhere as well. More crying, sorrow and disappointment too powerful to be suppressed. I wish the cameraperson would have let the competitors cry in private. Yes, there are some instances of disappointment in sports that should be captured, but there are also moments when compassion and tact should eclipse a video opportunity…especially given the past pandemic year that all the competitors have been through. Sometimes it's better to cut-away from the agony of defeat.  
MISCELLANEOUS
To that point about the heightened emotions, it is worth applauding all the Olympian climbers—men and women—who did not advance to the finals. It's hard to imagine athletes having to train during a stranger, scarier time, let alone having to stay focused on an Olympics that was very much in jeopardy for a while…but they did it, all of them. They devoted themselves to the dream, committed their time and energy to it, and gave the Olympics everything they had. Each and every one of them are part of history now, regardless of whether or not they ever step on an Olympic stage again. 
On another note, it's interesting to see that the cutoff score for the men's qualification round was 550 multiplied points (Nathaniel Coleman, in eighth place). In the women's round, the cutoff score was 390 multiplied points (Anouck Jaubert). I don't see this as a High or Low, just a cool bit of number nerdiness. 
Lastly, it was mentioned repeatedly on the broadcast that South Africa's Erin Sterkenburg was introduced to climbing through her school's PE program. Let's hope that PE teachers around the United States (and the world) were listening and are now fast at work conjuring up ways to integrate climbing into their own school curricula.