Meet the Olympic Climbers You've Never Heard Of
Ondra, Raboutou, Noguchi, Garnbret and Megos are household names, but lesser-known are the Olympic climbers from afield.
Heading out the door? Read this article on the new Outside+ app available now on iOS devices for members! Download the app.
This article was published in the summer edition of Gym Climber, available free at your local climbing gym.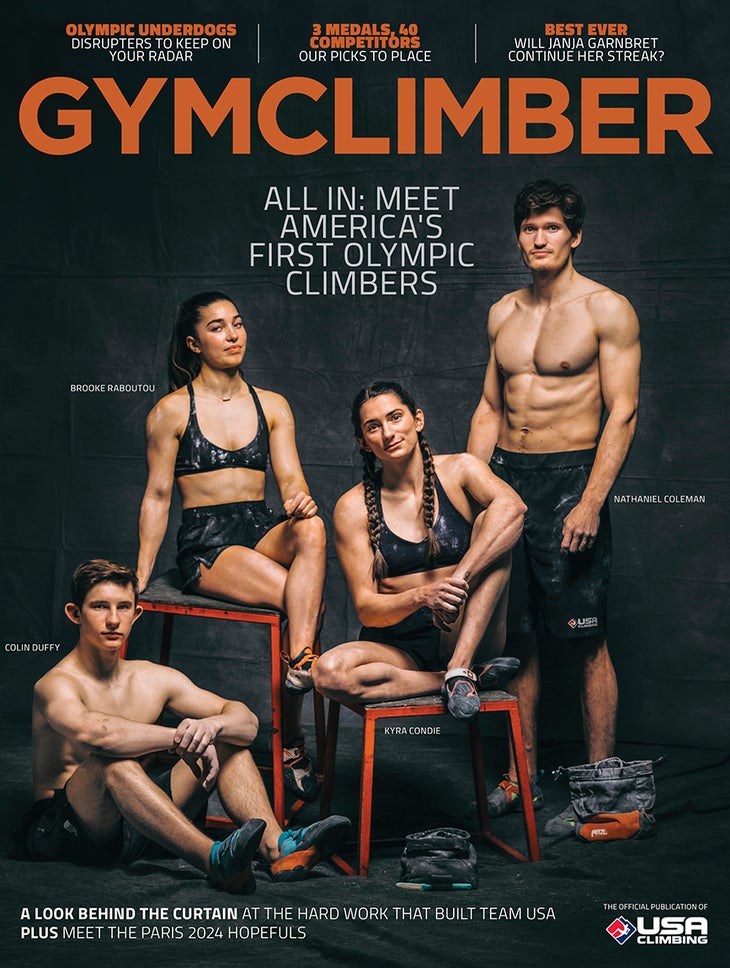 Japan, France, Germany, Slovenia, the United States. Akiyo Noguchi, Janja Garnbret, Alex Megos,
Adam Ondra, Nathaniel Coleman. The Olympic roster is packed with recognizable countries and names.
The majority of climbing's first 40 Olympians have competed at IFSC events for years, and come from nations with a long history of competitive climbing. Of the 19 countries represented, 17 are part of North America, Europe, and Asia. Those three continents have hosted almost every major international competitive climbing event in two decades. That said, two outliers are fielding Olympic climbing teams this summer ….
South Africa
The African nation qualified one female and one male climber, Erin Sterkenburg, age 18, and Christopher Cosser, 20. Each scored first place in the IFSC African Championships in Cape Town last December. South Africa is the single Olympic team representing the world's second-largest and second-most populous continent.
While athletes from South Africa have been competing in away IFSC events since 2011, competitive climbing is relatively new on the African continent. The African Championships was the nation's first live-broadcasted climbing competition, and besides South Africa, only Uganda sent competitors. Simon Ofoyuru and Credo Kasemiire of Uganda, attending their first competition, scored 14th and 8th in the men's and women's fields, respectively. Uganda's first indoor rock gym was built in 2018.
Erin Sterkenburg
Sterkenburg dominated her bracket, winning the trifecta of Bouldering, Speed, and Lead with a perfect score. Now the Durban native will represent her country and the African continent at the Olympic Games, all in the midst of her final year of high school.
She was introduced to climbing only in 2017, after joining her high school's climbing club during freshman year. The African Championships was just her third IFSC event, after Youth Worlds in Moscow and Arco in 2018 and 2019.
"It's still a bit surreal that I'm going to the Olympics," she says. "I'm so excited to compete, and a little nervous, but most of all I'm just so grateful to have the opportunity to go, and come back having learned so much and share that with the country."
Sterkenburg travels to Johannesburg once a month to train Speed, since her gym in Durban has no Speed wall. "I'm most focused on Lead, and Bouldering is a close second. Speed is definitely not what I'm good at," she adds, laughing. "But I'm working on it!" She hopes to study in America after graduating high school at the end of 2021. "I'm thinking about architecture or engineering, but I don't know yet."
Fresh on the scene compared to well-known females like Janja Garnbret and Akiyo Noguchi, Sterkenburg says, "That's what's craziest to me. Those people are my idols, and now I'm competing against them. I've been watching them in comps since I started climbing. I'm so excited to watch them climb in real life, and be able to talk to these climbers, who have achieved such crazy things. I'm also sure it'll make me push myself even harder.
"I don't have any expectations. I just want to climb my best," she says. "On that day, I just want to feel like I climbed the best I could have."
Chris Cosser
Born in Johannesburg, Cosser has been climbing since 2012 and attended the IFSC Youth World Championships annually after his first time, in 2014. The Youth World Championships is the only international event South Africa has attended as a team in years past.
In 2019, after finishing high school, Cosser traveled on the competition circuit, attending the majority of European World Cups and his last Youth World Cup, in Arco, earning 14th overall in the Youth World Championships in Arco that year. Since then, however, he had not competed until the African qualifying event.
Cosser is also a strong climber outside and has sent boulders up to 8B (V13) and sport routes up to 8b+ (5.14a). On a recent trip to Cape Town, he took down seven boulders of 8A (V11) and above.
"On paper, I'm a stronger boulderer, but I actually prefer sport climbing," he says.
"I'm more psyched on the indoor scene at the moment, but I start burning up and not being that psyched to come to the gym if I don't climb outside as well," he said. "It's a fine balance." Post-Olympics, he hopes to apply to a university in the United States or Europe.
"My goal for the Olympics is growth and development within the African community," he says. "We're still so far behind, that to close the performance gap is unrealistic, but to have development, and to hopefully get sponsorship into the sport in South Africa and Africa as a whole, that would be the perfect outcome."
Australia
Australia will send one male and one female climber to Tokyo: Oceana Mackenzie, 19, and Tom O'Halloran, 28.
Australians have made their mark on the international scene for many years via hard climbing and colorful figures like Chris Webb Parsons, who appeared in the Vail Bouldering World Cup finals in 2011 with his head shaved tonsure-style after losing a bet. Still, the country has never fielded hosts of competitors like European and Asian nations have.
Australia, like South Africa, is the sole country from its continent to put up an Olympic team. Australia's climbers earned their slots at the IFSC Oceania Championships, duking it out with New Zealand.
Oceana Mackenzie
The Melbourne native swept the Oceania Championships like Sterkenburg, with no falls. A climber since age 12, Mackenzie attended the Youth World Championships in 2016, and led the Youth B Female bracket at Youth Worlds in 2017, scoring first in Speed, Lead, and Bouldering. In 2018, she made semifinals at her first two Lead World Cups and first Bouldering World Cup.
She competed in a slew of World Cups in 2019, breaking into the international spotlight during the season's first Bouldering World Cup, in Meiringen, with a sixth place.
Like Sterkenburg in her final year of high school, Mackenzie has put her studies on hold.
Though she has been climbing for seven years now, she wasn't sure about her Olympic potential until recently. "People were like, 'Oh you know, keep training and see how we go,' so it was always in the back of my mind, but I wasn't super serious about [the Olympics] up until maybe 2019," she told the Australian newspaper The Age. She also discussed the mental component of the sport for her. "I love the problem solving," she said. "I am a pretty big introvert and competitive, so I love the challenge of figuring it out and then doing the climb."
She tells Gym Climber, "It feels amazing to represent my country and sport in the Olympics. I never could have imagined climbing in the Olympics a few years ago. It's going to be super exciting."
Tom O'Halloran
For O'Halloran, competing in a Olympics is a lifelong dream come true. "I was 8 when the Sydney Olympics were run in 2000," he tells Gym Climber. "We didn't have a TV, so we went to a friend's house to watch the opening ceremony. I didn't know what the Olympics was. I just remember sitting on the floor watching it. There were all these people waving flags, wearing track suits, looking super happy. The moment my dad explained it to me, I was like, 'Whoa. I want to be a part of this.' I didn't know any of the athletes, but just watching how [the Olympics] brought everyone together was incredible."
O'Halloran, who hails from Blackheath, was a relatively strong athlete as a kid, playing a variety of sports including cricket and soccer, and was "good-ish, but never at an Olympic level," he said. When he found climbing in 2004 at the age of 12, however, he realized that he could compete at a national, if not international level. He went on to climb in IFSC Youth Worlds in 2007 and 2008, but shortly after graduating high school, he turned away from competitive climbing. "With it not being an Olympic sport, I was just like, 'Aww, whatever. It is what it is. Maybe it's cool that climbing doesn't have to be a part of that scene.'"
Currently based in the Blue Mountains with his partner of 10 years, Amanda Watts, and their 7-year-old daughter, O'Halloran works as a rope-access technician, performing high-angle assignments on sites such as coal mines, wind farms, and iron-ore processing facilities. He is a strong climber on rock, with sport sends up to 9a (5.14d) and boulders at V13, and for the majority of the last decade he has focused completely on outdoor climbing.
After leaving the comp scene in 2010, he stayed away for seven years. Upon learning that climbing would become an Olympic sport, however, he jumped back in. "At first I was on the fence about it," he says, "but I just couldn't turn that opportunity down, and I didn't want to half-ass it." After a few national comps in 2017 and 2018, he returned to the IFSC stage in 2019, competing in World Cups in Briançon and Chamonix and the Hachioji World Championships, finishing 32nd in Lead at Hachioji.
O'Halloran says that while he was at first critical of the combined Olympic format, he's changed his mind. "I think it's a stroke of genius, actually. I didn't want to do speed climbing initially. I thought, 'Speed climbing doesn't count.' But I've come around. I'm in favor of it. I think it's an awesome leveler.
"For me, the answer to the question, 'Who is the best rock climber in the world?' is the climber who can do the best across the most disciplines, not the one who is the most niche. This format gives you the ability to answer that question. It brings more people back into the mix."