Raboutou Roars to Second Place Finish at Olympic Boulder Qualifier, Garnbret Delivers Perfect Performance
Heading out the door? Read this article on the new Outside+ app available now on iOS devices for members! Download the app.
This article is free and is part of our comprehensive Olympic coverage. Sign up with a Climbing brand membership, now just $2 a month and you get unlimited access to all of our Olympic news, analysis and photo galleries, plus you'll enjoy a print subscription to 
Climbing
 and receive our annual coffee-table edition of 
Ascent
. Please 
join
 the Climbing team today and don't miss a single move.
—
The Olympic women's bouldering field was stacked. Shauna Coxsey (UK) is one contender. She won the overall Bouldering World Cup in 2016 and 2017. She has been injury-beset in recent years, but never count her out.  Akiyo Noguchi (JPN) has won it four times, in 2009, 2010, 2014, 2015. Enough said. Miho Nonaka (JPN) won it in 2018.
Brooke Raboutou (USA) can boulder (she can do it all, especially this year). She was on the podium, in third, in both Bouldering World Cups in Salt Lake City this past May, with a second place, career best, in a Lead World Cup in Innsbruck in June 26.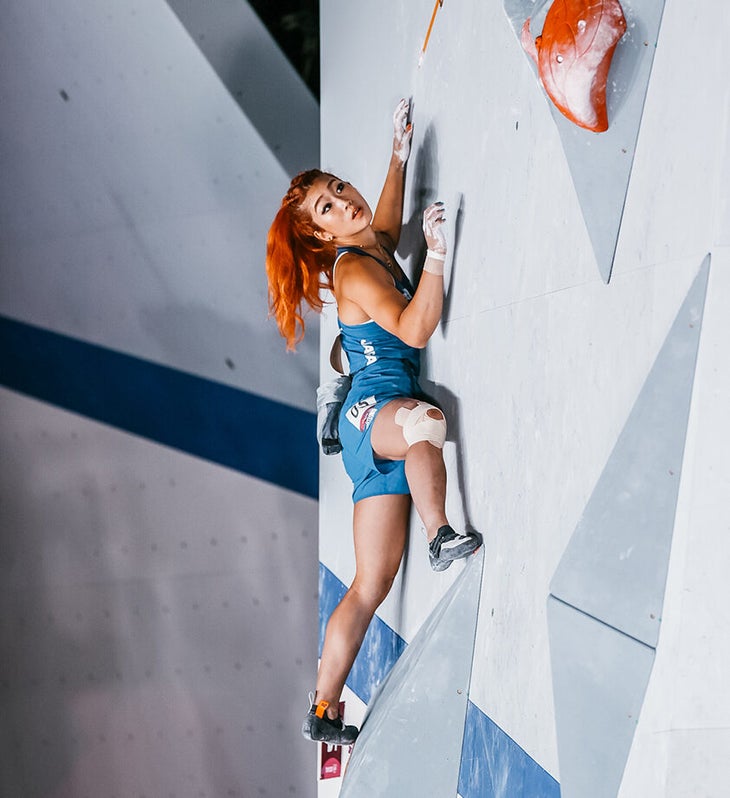 Kyra Condie (USA) is a boulderer—she was eighth at the recent Bouldering World Cup in Salt Lake City. Yes, we miss America's Natalia Grossman, who got two golds—you heard that right—in Salt Lake, but she is not in these Olympics. Sometime maybe! Paris 2024 is not so far away for any of these competitors.
Are we forgetting anyone? How about Janja Garnbret (SLO), the only climber ever to sweep every World Cup in a season. The dominant woman climber-competitor of our time and all time.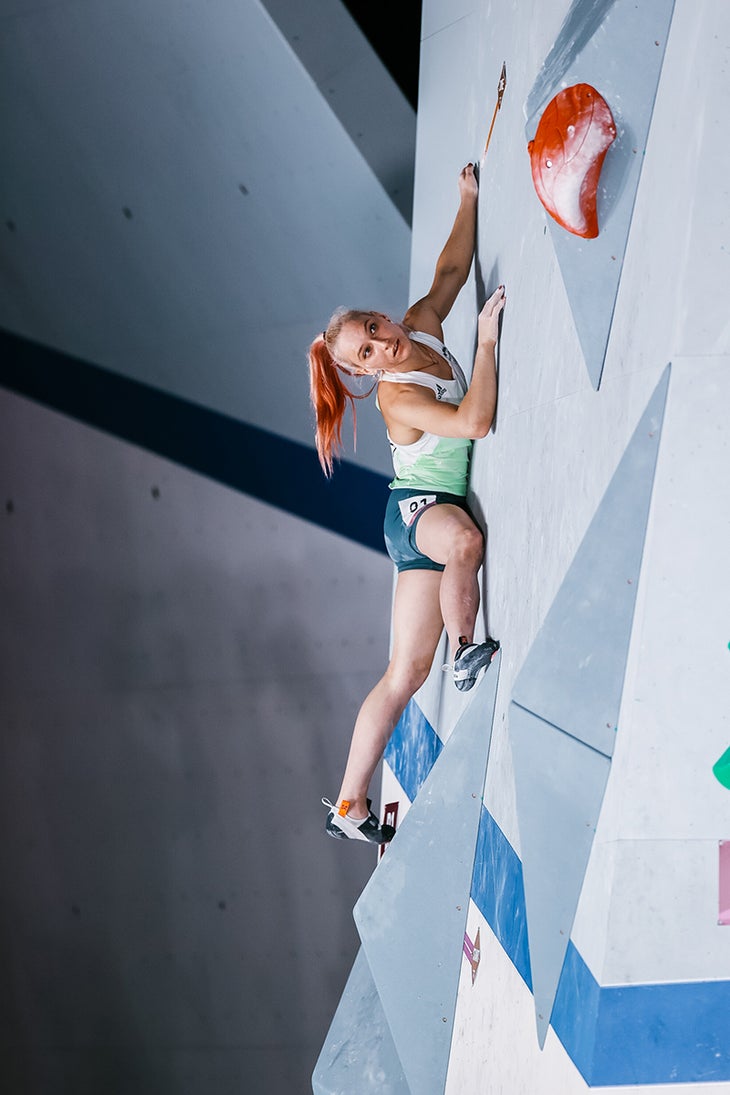 The bouldering event was second of the three disciples, all done in a day Wednesday, August 4, to determine the eight women whose combined scores will take them through to the final. Format is five minutes for as many tries as a competitor wants, then five minutes rest.
Weather in Tokyo was the warmest yet, at 90 degrees. The climbers have been practicing in warm temps, but not that warm, and you could see the heat and dampness in their faces, especially those who went before sunset.
Boulder number 1 was a balance up, with a jump right to a long crimp/match and a swing to an undercling (not great, but rounded), with the climbers' feet landing on an opposite surface and stopping the swing. Viktoriia Meshkova (RUS), a new strong presence, got a top, and among others were Oceana Mackenzie (Australia), 18, and our own Kyra Condie, with Brooke Raboutou pulling it second try. Coxsey too got it second try, as did Akiyo Noguchi, with control, and oh yes Janja Garnbret flashed it.
Number 2 was green crescents, with angular edges—but not so angular that feet and hands didn't slip and pop off. A hard undercling led to a series of sidepulls. Meshkova, 20, had the only top until one from the 17-year old Chaehyun Seo (KOR). Jessica Pilz (AUS) was almost the third when she fell off the final dish. Then Brooke Raboutou comfortably styled it, and Coxsey as well topped it. Noguchi fell from the last hold a frustrating three times, the last try with seconds to go. Janja Garnbret then floated it.
Number 3 was yellow blobs, an insecure pinch to an undercling, flashed by Laura Rogora (ITA), the first even to do it. Raboutou, arriving with two tops to her name, gave it repeated determined tries, falling off and outward from the big undercling that led to the final long bar, but having to walk away. Miho Nonaka (JPN) also had to walk from that one, Rogora's flash still holding. Coxsey arrived with two tops but was denied at the same undercling. Noguchi fell at first but then pulled it wonderfully, for her second top and only the second ascent of Number 3. Garnbret arrived with two flashes and calmly, amazingly, made it a third, for only the third top.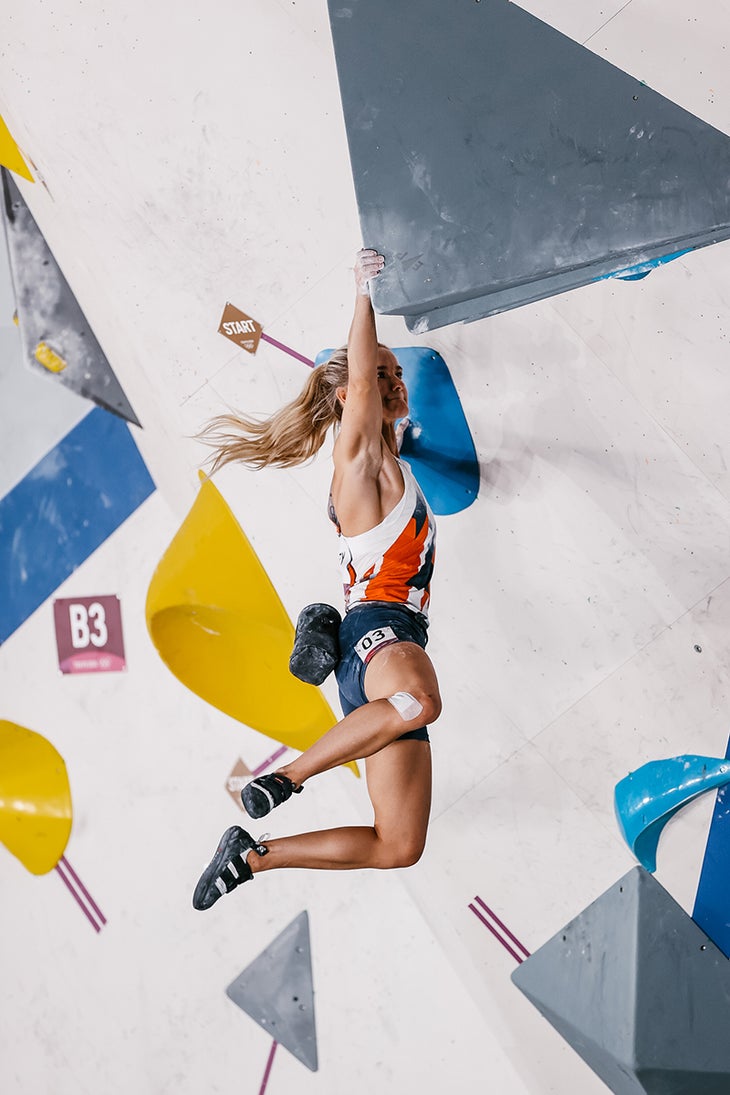 Number 4 was all power and volumes, a pocket jump to a big gray triangle, with footless and/or upside down rotations on heinously small holds for that angle. Meshokov in a star-making turn reached the top and fell off that final blob, no one even coming close until Laura Rogora, who reached the key transition, fell, slipped off the next few tries, and then regained her high point and hung on forever on an awful pinch to two finger dishes. The subsequent reach was almost attained by Chaehyun Seo, who walked away with two tops. Raboutou then, in a stunner, flashed this last one: her third top, with two of those as flashes. Miho Nonaka was turned back at the transition, with, at that point, everyone chasing Raboutou on the leader board. Coxsey attacked that one, the last of her career (she has announced her impending retirement) with a huge smile and little dance, but was turned away. Noguchi (also to retire after these Games) then stomped it to the top, barely behind Brooke Raboutou in the round with three tops and five attempts, versus Raboutou's four attempts.
The round ended with Garnbret, Raboutou and Noguchi as one, two, three. Coxsey was a strong fourth, with the young Chaehyun and Meshkova behind.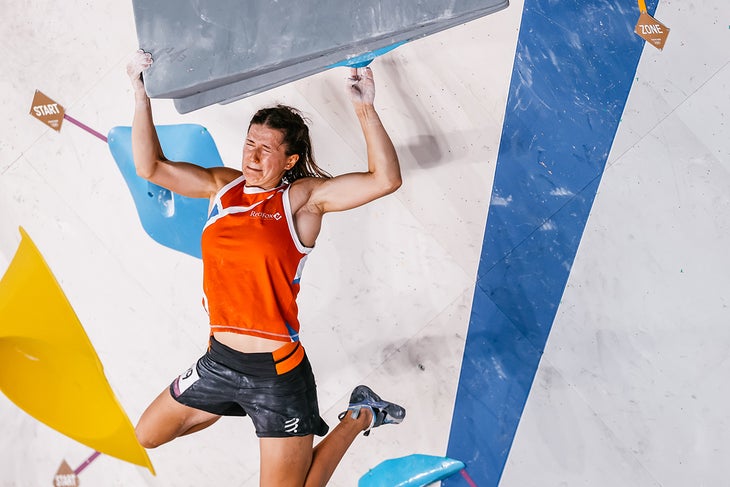 RESULTS WOMEN'S BOULDER QUALIFIER
Janja Garnbret (Slovenia)
Brooke Raboutou (USA)
Akiyo Noguchi (Japan)
Shauna Coxsey (Great Britain)
Seo Chaehyun (South Korea)
Viktoriia Meshkova
Laura Rogora (Italy)
Miho Nonaka (Japan)
Jessica Pilz (Austria)
Petra Klinger (Switzerland)
Kyra Condie (USA)
Oceania Mackenzie (Australia)
Anouck Jaubert (France)
Mia Krampl (Slovenia)
Julia Chanourdie (France)
Alannah Yip (Canada)
Erin Strekenburg (Republic of South Africa)
Iuliia Kaplina (Russia)
Song Yiling (China)
Aleksandra Miroslaw (Poland)