Russia Banned from 2020 Tokyo Olympics
Recent ruling will impact Russian climbers vying for Olympic berths
Photo: © IFSC/Eddie Fowke
Heading out the door? Read this article on the new Outside+ app available now on iOS devices for members! Download the app.
Just when you thought things couldn't get any messier with the Olympic qualification pathway, a committee within the World Anti-Doping Agency (WADA) ruled that Russia will be banned from the world's biggest sporting events for the next four years. Included in that time frame are the 2020 Olympics in Tokyo, which means that no climbers will be able to compete under the Russian flag at those upcoming Olympic Games.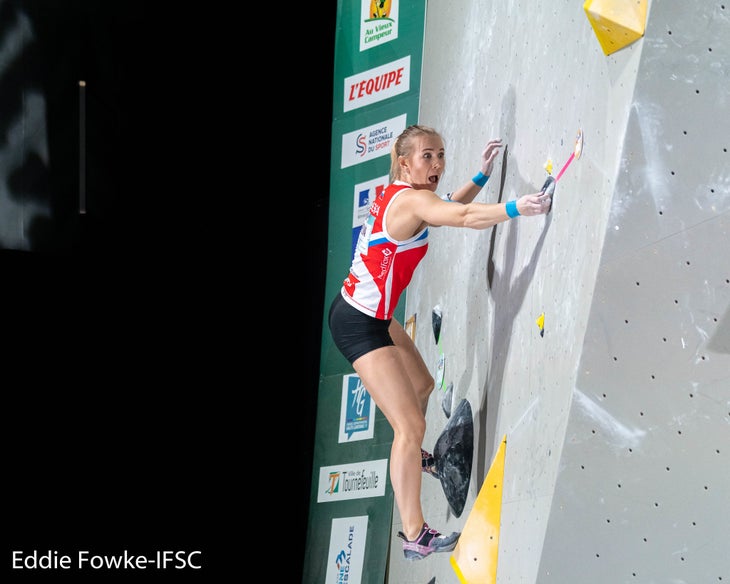 The ban comes as the latest chapter in a drawn-out narrative related to accusations of state-sponsored doping by Russia. The roots lie in a multi-part assessment on Russian doping—"The McLaren Report"—ordered by WADA and authored by a Canadian academic, Richard McLaren, nearly five years ago. Eventually WADA cited positive doping findings and alleged that Russia had instituted state-sponsored doping for a multitude of sports under the broad Olympics umbrella. Russia was subsequently banned from international competition—then reinstated—and the country's national anti-doping agency was ordered to deliver laboratory information related to Russian athletes' drug tests. However, the country was declared "non-compliant" (and suspected of woefully manipulating laboratory data) by WADA, thus prompting the most recent ban.
Russia's Prime Minister, Dmitry Medvedev, was quoted in a BBC article about the ban: "It is obvious that significant doping problems still exist in Russia, I mean our sporting community. This is impossible to deny. But on the other hand the fact that all these decisions are repeated, often affecting athletes who have already been punished in one way or another, not to mention some other points—of course this makes one think that this is part of anti-Russian hysteria which has become chronic."
WADA's president, Sir Craig Reedie, told the BBC, "For too long, Russian doping has detracted from clean sport. The blatant breach by the Russian authorities…demanded a robust response. That is exactly what has been delivered. Russia was afforded every opportunity to get its house in order and rejoin the global anti-doping community for the good of its athletes and of the integrity of sport, but it chose instead to continue in its stance of deception and denial."
WADA's recent ruling will hardly be the end of the story; Russia's national anti-doping agency will likely appeal the ban, and the saga will continue to play out in an international court of arbitration, according to the report by the BBC.
Climbers Could Be Neutral
For Russia's climbers, in particular, the ban comes as the roster of 2020 Olympians is shaping up. Russian Iuliia Kaplina was one of 12 competitors who provisionally earned an Olympic berth at the recent Olympic qualification event in Toulouse, France. If the ban on Russia stands, Kaplina, a former speed climbing world record holder, will have to apply to compete in the 2020 Olympics under a neutral flag and prove that she was faultless and completely separate from any of the country's doping. To be clear, Kaplina has in no way been directly connected with—or implicated in—any of the Russian doping accusations or findings, but she would nonetheless likely face an uphill battle to obtain neutral status. The U.S. Olympic and Paralympic Committee board recently deliberated on the possibility of Russian athletes competing neutrally, and the chair of the board, Susanne Lyons, told The Washington Post that it would be difficult for Russian athletes to prove unequivocally that they were (and are) clean—given that Russia's laboratory testing information was allegedly altered. "If the data truly has been corrupted…it's very unclear how you can decide and siphon out who's been part of the doping and who has not," said Lyons.
Specifics regarding what Russian athletes would have to do in order to prove their innocence have not yet been made available. Nonetheless, competing under a neutral flag would be nothing new for a Russian athlete such as Kaplina. Russia was banned from the most recent Winter Olympics in 2018, yet more than 100 of the country's athletes took part with that neutral national designation at those Olympic Games.
According to the country quota for the 2020 Olympics in Tokyo, Russia still had three Olympic slots that could have been filled (one slot by another woman in addition to Kaplina, and two slots by men) when the ban was declared.
Russia's Climbing Federation Responds
At the time of this writing, the international governing body of competition climbing, the IFSC, has not released an official comment on the ruling. However, Russia's national climbing federation released a statement on the ban, saying in translation that the country now held a "license" to compete in the Olympics—as opposed to merely a "candidacy"—presumably referencing Kaplina's berth: "Even if you have to perform without a flag, we all know very well that this is our athlete," said the Russian federation's president, Dmitry Bychkov. "Its results are achievements that Russia is proud of and in which the strength and knowledge of Russian sports has been invested. Representatives of other countries also understand this… Olympic debut cannot take place without representatives of Russia."
An addendum to the latest development in the saga is that Russia is scheduled to host the European Continental Championships on April 16-18, 2020, which will see the awarding of two more Olympic climbing berths (1 man, 1 woman). The Russian climbing federation noted that it is preparing, unfazed, to compete for those remaining Olympic spots at the Continental Championships and that the WADA ruling does not apply to "continental tournaments."
Stay tuned to Climbing.com for updates on the situation.
John Burgman is the author of High Drama: The Rise, Fall, and Rebirth of American Competition Climbing, which chronicles the history of American competition climbing. Available March 3, 2020.