Should Climbing Really Be In The Olympics? One Competitor Wondered.
The Games seemed too clean, too organized, too commercial to ever accept climbing and for likewise that climbers would never accept it.
Heading out the door? Read this article on the new Outside+ app available now on iOS devices for members! Download the app.
Climbing didn't belong in the Olympics. I was sure about this when I covered the announcement five years ago, though I tried my journalistic best to be impartial. But maybe my disdain came off anyway: I titled the story "Vertical Triathlon."
I'd always respected competition climbing, but the Olympics, surely, represented an entirely new level of elitism. I couldn't imagine climbers slipping easily into the bright lights, the crisp uniforms, the self-important medal ceremonies. It felt like dressing up a bear for a circus: a mockery of the grit and boldness and carefree spirit I'd come to associate with the sport of climbing. It won't last beyond its Tokyo trial run, I thought. I hoped.
But yesterday morning, the first day of climbing qualifiers for the 2021 Tokyo Olympics, I woke up early. In the past five years a lot has happened. For one thing, I've started competing, albeit in competition ice climbing, sport climbing's weirder, far less popular cousin. For another, I've watched the climbing community grow to embrace the Olympics. I've watched the sport change—and maybe for the better.
It was just after 6 a.m., and I knew the first ever Olympic lead qualifiers would be by now be in full swing. I fumbled to find the right link. Weak sunlight filtered through the broken blinds that hang just above my bed, in the van I live in because I have to. Without sponsors, it would be too hard to afford both Boulder rent and World Cup travel and training and all the other things that add up when you're trying to be an athlete, at least on the uncertain salary of a freelancer. I often wake up at 6 a.m. for practice and stare at the ceiling and wonder if it's all worth it—all this sacrifice for a weird sport that no one quite understands.
But this morning, I flicked open my phone and turned on the Olympics just in time to see the Spaniard Alberto Gines Lopez's lead run. Lopez took a deep breath and pulled onto the wall, a cubist canvas of gray volumes and lemon-lime holds, arranged to force dynos, heel hooks, and wicked compression sequences. On a huge stage, on a route that was proper hard, Lopez shone. I watched him latching one sloper after another, rotating in space with perfect control. And yet, near the top, I could hear his exhales growing strained. I could see his tendons quaking. Even from across the world, I caught myself holding my breath.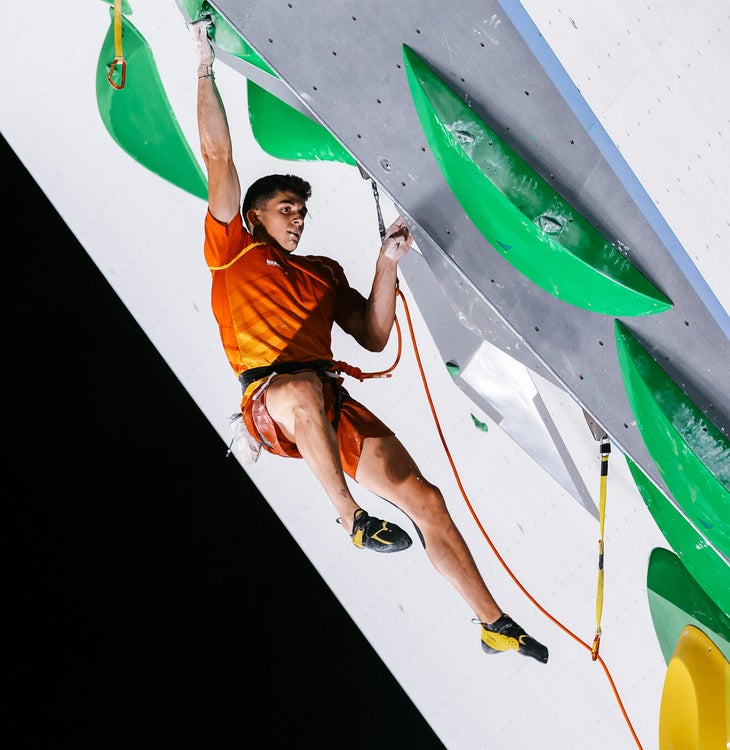 Lopez is a phenom, a favorite, and just 18. In 2016, he moved from his home in Cáceres to Barcelona to train, just a four years after he started climbing—a big commitment so early in his career. The announcers hinted at this as they cheered him on. "He's sacrificed everything to progress and to be here!" they gushed. Lopez ultimately finished third. He would go on to finals.
I kept watching, but my thoughts wandered back to what the announcers said. To that theme of sacrifice. That theme of glory.
I was right about a few things. On the Olympic stage, the lights are too bright. The colors are too flashy. But, it would be a gross understatement to claim it took no boldness or grit for those athletes to get there. And watching young upstarts like Lopez and Colin Duffy dominate, even among better-known climbers like Adam Ondra and Alex Megos, I began to think that maybe it's okay if you don't have the biggest sponsors, the biggest reach, the time and money to travel the world putting up first ascents or cutting-edge flashes. Maybe glory is a less complicated recipe than I imagined—perhaps serious dedication and a good gym are its only real ingredients.
Over the past few years, I've seen the climbing community start to come around to the idea of the Olympics, even if at times begrudgingly. I've seen my own preconceptions—about what climbing is, and what climbing should be—peel away.
Watching Team USA spend so much time in the gym this year, I've started to feel less guilty about not getting out more—a good outcome, I think, given that climbing outside can take so much time and money. Rather than making climbing more elitist, I think that the Olympics has given indoor climbing its own sparkle of validation. It's begun to level the playing field.
After the last men's qualifier, I turned off my phone and stared at the ceiling for a few minutes longer. Then, out of bed. Three fried eggs, a cup of tea. I stepped out of the van into the gravel lot in front of The Ice Coop, Boulder's tiny ice climbing gym. My teammates and competitors, some visiting from as far away as Bozeman, Montana and Canmore, Canada to train for the week, have already begun to arrive.
Toothbrush in teeth, peanut butter jar in hand, mug handle looped through two fingers, I nodded hello and stumbled toward the door. Head and shoulders plunged into the cool darkness of the gym. I could hear the bits of plywood cracking between my sandals and the concrete. Empty beer cans littered the benches. Far from Olympic, but home.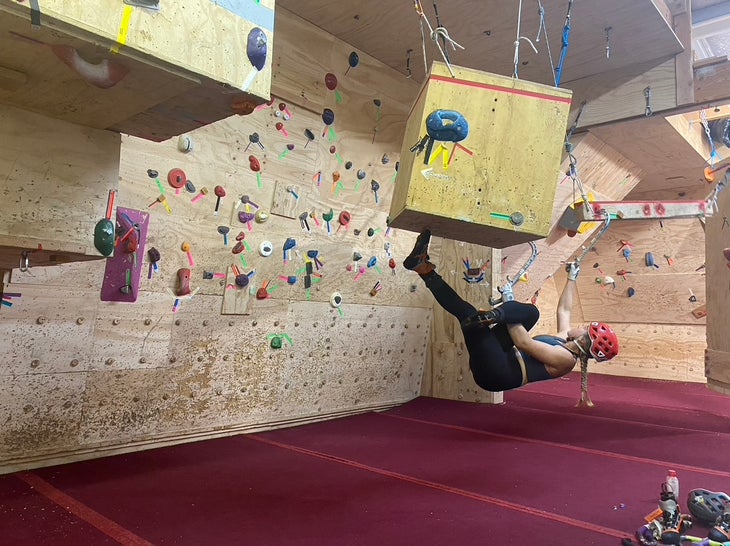 I thought about where sport climbing started—Timy Fairfield skipping school to go buildering around Albuquerque, or Robyn Erbesfield-Raboutou screwing wooden holds into the ceiling of her garage. I looked around at the Ice Coop's little woody and at the four athletes, some of the best in the world, standing in their socks and drilling holds into the plywood wall for a systems board routine they'd just invented. For once, I started to think we might be on the right track.
I put my boots on. I thought of Lopez and Duffy—and Brooke Raboutou and Janja Garnbret and all my other heroes who would be on the big stage tomorrow. I felt hopeful for our sport. And I felt proud.
I was in a gym on a beautiful morning, but this time, I didn't mind in the least.