Climbing Makes History At Olympics—Bassa Mawem Wins Men's Speed Qualifier
20 of the world's best competition climbers squared off in the sport's Olympic debut. Team USA, Colin Duffy and Nathaniel Coleman, had strong performance. Adam Ondra, while not so fast, landed in a solid position—he wasn't last—going into Boulder and Lead.
Heading out the door? Read this article on the new Outside+ app available now on iOS devices for members! Download the app.
It was the definition of dichotomy that sport climbing required over 35 years to evolve to the Olympics, but in its inaugural event tonight at 2:00 a.m. MST, the world's best climbers started and finished their runs up the wall in about the time it takes to spell Mississippi.
Climbing's journey might have been a slow fuse, but it exploded on the world stage when 20 men from 16 countries paired off in 10 heats in Tokyo to rocket up the 50-foot-high, five-degree overhanging speed wall. It was a head-to-head made-for-your-viewing-pleasure spectacular with, as critics point out, little resemblance to actual rock climbing. Still, it was beautiful to behold, setting the stage for the bouldering and lead events that will follow on its heels and determine the eight men who will advance to Thursday's medal round.
The first two climbers in the blocks—the first to ever compete in the Olympics—were  Christopher Cosser from the Republic of South Africa and Jongwon Chon of South Korea. Perhaps it was the heat and humidity at play, but Chon became the first of many competitors to slip or stumble, while Cosser set his personal best with a time of 6.48.
The rounds clicked by quickly as the climbers paired off, working through the roster with Bassa Mawem of France, a speed specialist, not surprisingly taking the lead with 5.45 seconds, a time that would hold through the second heat—the Olympians would keep their best time of two runs—and he would end in first place. His brother Mickael Mawem would also blaze up the wall in just 5.95 to finish third, a great showing for the Mawems.
Landing squarely in between the Mawem brothers was Narasaki Tomoa of Japan, a great all-arounder and excellent speed climber, blazed a time of 5.94, a near perfect position that put the pressure on other Boulder and Lead experts who needed to place high in Speed to increase their chances of moving on to Thursday's medal round.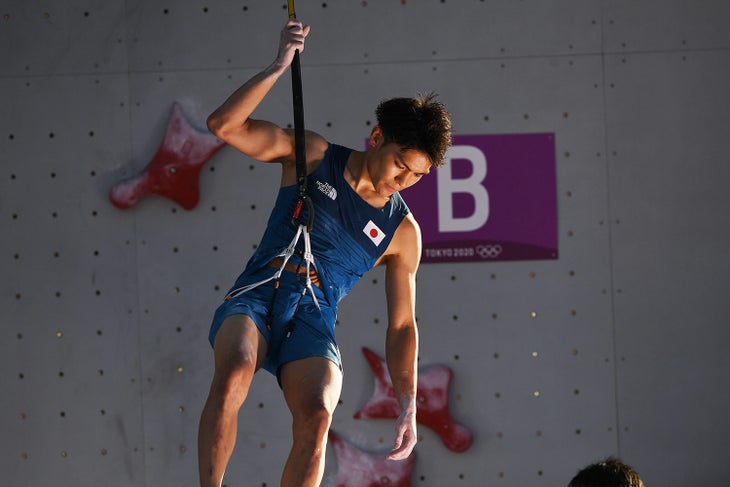 The Americans, Colin Duffy and Nathaniel Coleman also had strong performances, Duffy slapping the time pad at 6.23 while Coleman stopped the clock at 6.51, enough to set them up in 6th and 10th place, respectively.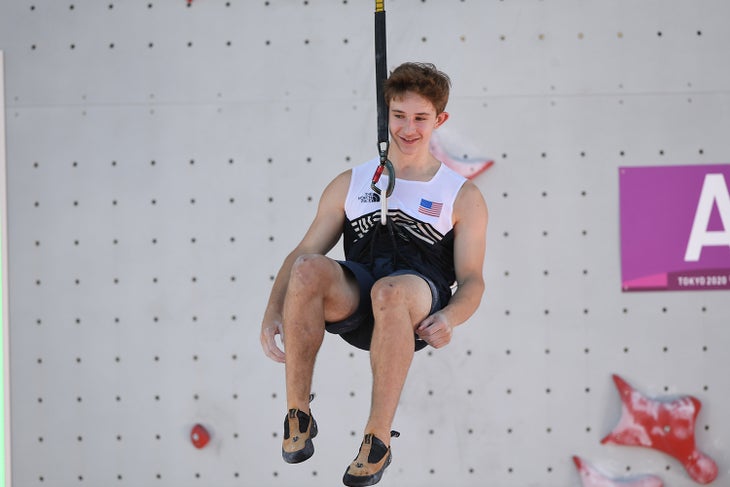 Much anticipated were the speed laps by Adam Ondra, widely considered the gold-medal favorite but he needed a good performance to set up for the Boulder and Lead events. Speed isn't Ondra's strongest discipline and a slip or stumble could have determined whether he'd nab the overall gold, or not podium at all. But, he didn't dig too deep a hole, stayed out of last place and clocked respectable times with his best of 7.46, enough to place 18th, a position that will keep the heat on him as he heads into the Boulder event up next.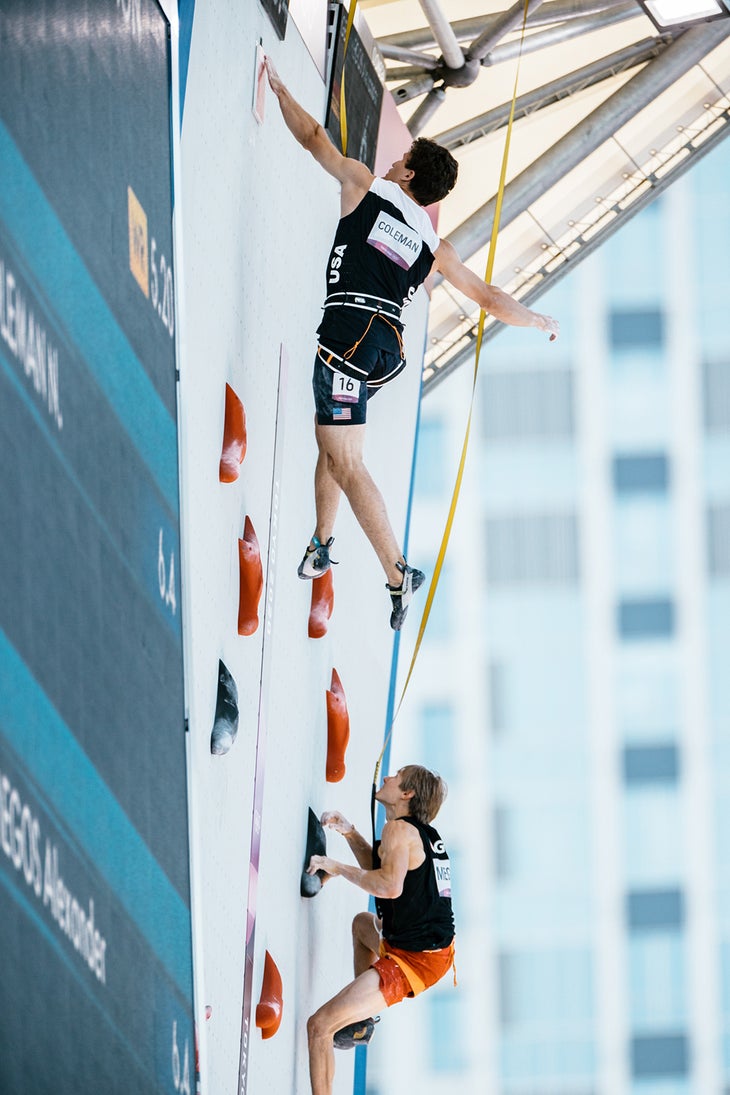 RESULTS MEN'S SPEED CLIMBING TOKYO 2020 OLYMPICS
Bassa Mawem (France) 5.45
2. Narasaki Tomoa  (Japan) 5.94
3. Mickael Mawem (France) 5.95
4. Rishat Khaibullin (Kazakhastan) 6.19
5. Jongwon Chon (South Korea) 6.21
6. Colin Duffy (USA) 5.23
7. Alberto Gines Lopez (6.32)
8. Michael Piccolruaz (Italy) 6.33
9. Christopher Cosser (Republic of South Africa) 6.48
10. Nathaniel Coleman (USA) 6.51
11. Jan Hojer
12. Jakob Schubert
13. Ludovico Fossali
14. Sean McColl
15. Kai Harada
16. Aleksey Rubtsov
17. Tom O'Halloran
18. Adam Ondra
19. Alex Megos
20. Yufei Pan