3,000 People a Day Become Climbers. We Knew Olympic Sport Climbing Was Popular, But Really?
Sport Climbing was exhausting to watch, four days of high-level focus from the athletes and spectators. It was at times a bumpy and confusing road with many forks, most generated by an oddball scoring system. Here, we present the highs and lows.
Heading out the door? Read this article on the new Outside+ app available now on iOS devices for members! Download the app.
HIGH
Unstoppable Garnbret: What can be said about Janja Garnbret's journey to Olympic gold? There was plenty of discussion in the lead-up. It was fun to theorize various hypothetical scenarios and volley around some predictions, but in hindsight, it looks like this: She was the first climber to qualify for the Olympics, way back at the 2019 World Championships; she remained the universal Olympic favorite throughout climbing's whole Olympic qualification pathway, and she ultimately delivered a winning Olympic performance in dominant fashion. Of course, she didn't need this Olympic gold medal to solidify her status as the all-time greatest; she already possessed numerous World Cup medals, multiple World Championship titles in Lead, consecutive World Championship titles in Boulder, and consecutive Combined World Championship titles too. But a shiny gold Olympic medal now becomes perhaps the most impressive prize in her marvelous trophy case. She certainly earned her Olympic medal in style too, rolling through the Boulder round, fighting through visible exhaustion to a highpoint in Lead, and concluding it all with tears of Olympic joy. Indeed, maybe there is nothing else to say about her; the gold Olympic medal says it all.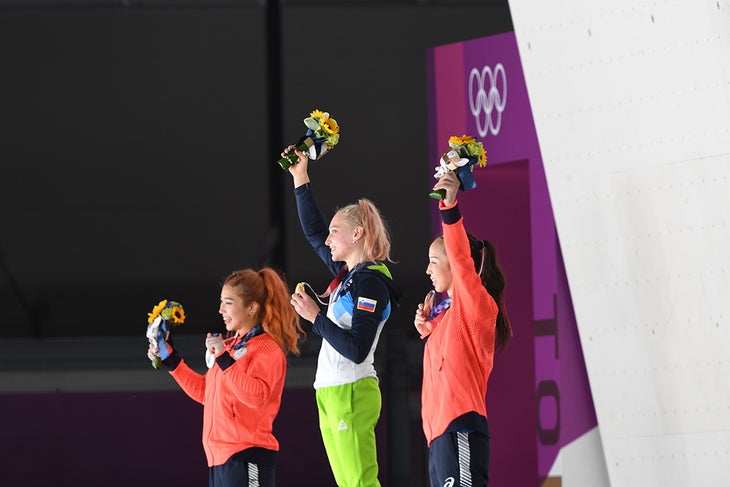 Goodbye, Noguchi: Sports don't always have happy endings, and it's often a matter of perspective. It's hard to not feel bad for 17-year-old Chaehyun Seo, who climbed beyond her years and nearly clinched the bronze medal—but instead ended up in eighth place. There are other athletes and results that I feel gutted about as well. But, on the flip side, the fact that 32-year-old Akiyo Noguchi can retire now (as she said she would) and close out her legendary competition career with an Olympic bronze medal just feels right. Good for her, because she was among the competitors grinding away on the IFSC circuit long before it was ever caught in the warm Olympic spotlight. To that point, far less people cared about competition climbing when Noguchi began her career, and she has irrefutably played a major part in the sport's growth over the past few years. The sport will miss her active participation, but her legacy will always be part of it.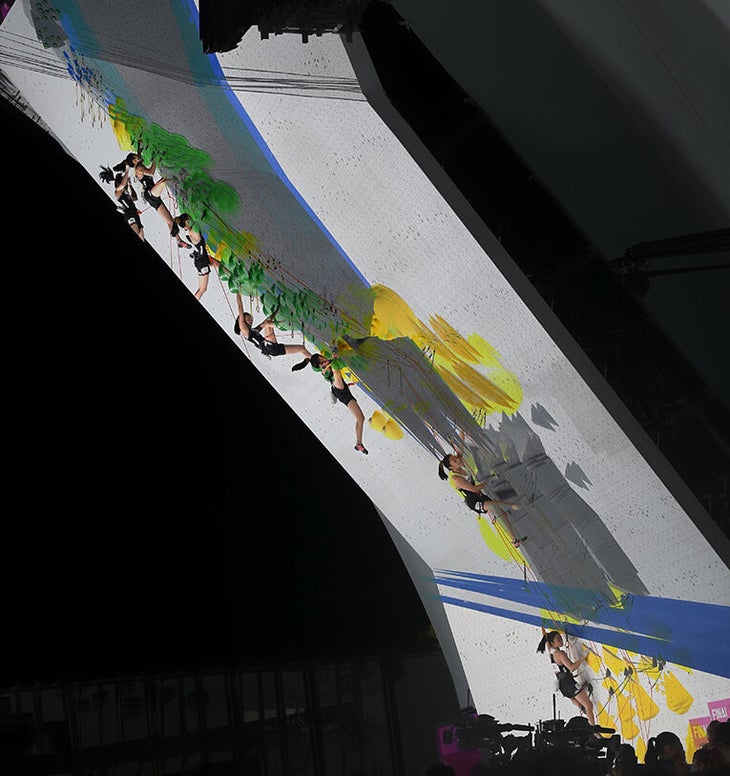 Two to tango: Aside from standing on a podium, it's hard to think of a singular Olympic act that's more revered than setting a new world record. Aleksandra Miroslaw gave climbing its iconic instance of that when she clocked a Speed run of 6.84 seconds in a race against Anouck Jaubert. That time beat the previous world record by 0.12 seconds. But it can't be stressed enough that Miroslaw needed a good dance partner to make history and found that company in Jaubert. It looked as if Jaubert even beat Miroslaw out of the start position in the historic race, which perhaps provided just the right amount of shock and distress for Miroslaw to find some reserve rocket fuel. I wouldn't be surprised if the women's world record gets broken again soon—it has been broken three times in the past two years, after all. But Miroslow's time of 6.84 seconds will also stand as an Olympic record for at least the next three years, and that's a darn good takeaway from Tokyo…even if it didn't come with Olympic hardware.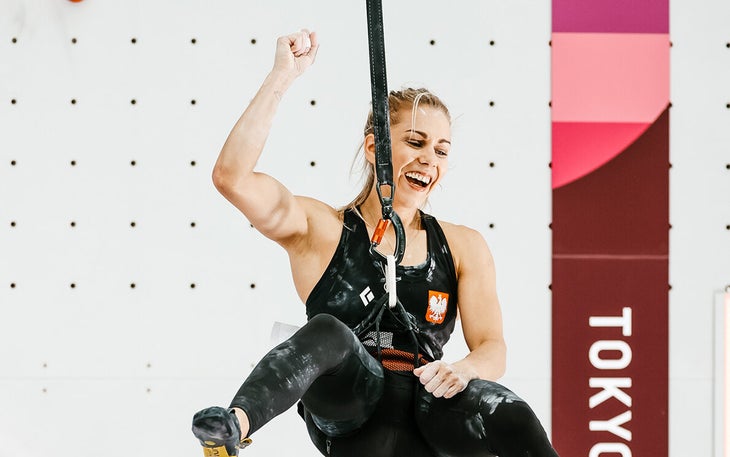 It ain't over 'till it's over: This women's Speed portion seemed to feature more come-from-behind wins than any other Olympic round. The two races that come to mind are Janja Garnbret's run against Brooke Raboutou, in which Garnbret slipped and briefly lost the lead but still managed to overtake Raboutou in the upper inches of the wall. (Their times ended up being separated by just 0.1 seconds!) And in a different race, Miho Nonaka actually beat Speed specialist Anouck Jaubert out of the blocks and led for a bit, until Jaubert seemed to find another gear and win the race by 0.25 seconds. It's incredible to think that such massive emotional highs and lows could be decided by such small fractions-of-fractions of time like that, but that's precisely what makes the Speed portion so compelling. 
Slab evolution: It used to sound like an oxymoron, but I feel like dynamic slab is a type of boulder that we'll continue to see more of in future competitions. In today's finals, the first boulder featured a methodical progression on gray prism volumes that led to a leaning palm-press jump and another hop to a volume. We saw something similar on yesterday's men's boulder, although the jump was much closer to the top. I'd imagine this evolution is partly due to the elite skill level of the competitors, on the whole, as they would all be much more likely to cruise through more traditional and old-school-style slabs. Regardless, consider me a fan, as the coordination elements add a lot to the spectator experience while still maintaining all the slabby toil for the athletes. 
LOW
The skirmishes of Speed: As thrilling as it all was to watch, there's no denying that Team USA had some rough patches in the final rounds' Speed runs. First, there was Colin Duffy's unfortunate false start in the men's division yesterday, as well as a slip by Coleman in an early heat. Both American men managed to recover in the long run, but then Brooke Raboutou fell in her opening Speed heat in a race against Miho Nonaka today. "Heartbreak for Brooke Raboutou, who came off the wall halfway up the route," the commentator exclaimed. It didn't get much easier for Raboutou in Speed, as the architecture of the bracket tournament style meant that she had to race against Janja Garnbret in the following heat. Still, a lot of credit should go to Raboutou for not getting too rattled by either of those Speed losses; she won her last heat against Chaehyun Seo—even with Seo clocking a new personal best time in the race.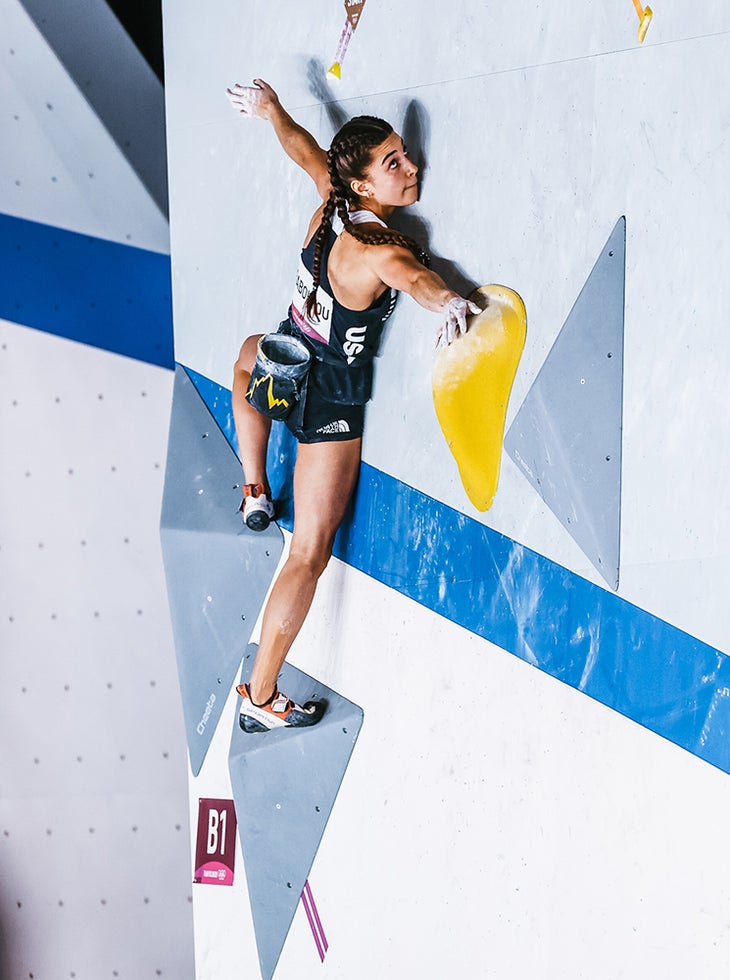 Pressure points: How unfortunate was it that Miho Nonaka sprained her right wrist in the qualifying round and then had to deal with a boulder (the second problem in the finals) that happened to necessitate a right-hand press—putting maximum force on that injured wrist? Talk about unfortunate luck with beta. In the same starting position, she had to employ an epically deep drop-knee…on a knee that had been badly injured earlier this season and was still heavily taped. Remarkably, she managed to move beyond the heinous start position and make more progress up the boulder than any of the previous finalists had. (I'm sure the silver medal also ultimately helped alleviate a little of the sting.) But I definitely winced every time she had to wedge herself in between the large prism-shaped volumes and grit through those joint injuries. 
She deserved more: It was interesting to look at Brooke Raboutou's bouldering progress from an alternative scoring perspective. She didn't top any of the boulders, but she made far more advancement on them than any other competitor aside from Janja Garnbret. Under USA Climbing's older scoring system, Raboutou's progress on the upper holds would have been scored with various additional point designations—10 points, 15 points, etc. However, with the IFSC's (and, now, the Olympics') scoring system, the only scored plastic aside from a top is the lone zone hold on a given boulder. In more layperson terms, this means that Raboutou's significant progress beyond the zone holds, although exciting, did not end up helping her score at all in these finals. I'm not advocating for a change to the IFSC/Olympic scoring system; I'm just pointing out that Raboutou's bouldering was phenomenal in comparison to almost everyone else's, especially in the upper altitudes of some really hard boulders.  
Overcooked again: Speaking of the boulders being hard, the whole set was overcooked. There was some good separation based on the zone holds, but from a spectator's perspective, the lack of tops from everyone but Janja Garnbret really slowed the momentum of the viewing experience. The competitors, too, seemed disheartened and dismayed by getting shut down so often. Even the commentators seemed to be at a loss for words, struggling to fill all the lulls in the action.

MISCELLANEOUS
At one point on the NBCOlympics.com livestream, the commentator said, "3,000 people a day take up this sport." I have no idea how the Olympics' statisticians arrived at that number, nor have I even decided whether that number seems surprisingly high or surprisingly low. I've just never before thought of climbing in a newbies-per-day context. So, take it as you like.  
Also, I liked the commentator's analogy of sharing bad beta being like copying a classmate's incorrect homework. 
Finally, it seems strange to think the Olympics are now over, doesn't it? I know I'm not the only one who feels a bit deflated…not in a bad way, just in a way where something that has occupied so much of my mind and personal excitement over the past few years is suddenly gone. I'm already excited for the 2024 Olympics, but that feels like a long way off. In the meantime, if there's anyone reading this article who got stoked about competition climbing through the Olympics and is now entering this sphere of fandom for the first time, I'll point out that there is a vibrant IFSC World Cup circuit that will pick up in September. Those competitions will be livestreamed on YouTube. The same can be said for USA Climbing's various national championships throughout the year. We'll recap them all here on Climbing.com. If the world continues to normalize a bit, attending competitions in-person is an experience that's hard to beat and I can't recommend it enough. Volunteering to help at a competition is even better. As a parting word, I'll reiterate that this is such a fantastic sport, and I'll say with all sincerity that I'm really glad you're hooked.