What If Janja Garnbret Loses At the Olympics? Unthinkable? Let's Think About It.
Slovenia's brightest star is the favorite to win gold in Tokyo, but nothing is a given. A foot could slip, she could false start in Speed, or other competitors could simply climb faster and harder.
Heading out the door? Read this article on the new Outside+ app available now on iOS devices for members! Download the app.
Even if you're totally out of the comp climbing loop, a quick Google search of articles and reportage will tell you that Slovenia's Janja Garnbret is unequivocally the favorite to win the sport climbing event at the upcoming Tokyo Olympics. The title of one article proclaims Garnbret to be the "Front Runner for Olympic Climbing Gold." Another article describes Garnbret as being "the woman to beat" in Tokyo. A profile piece by CNN calls Garnbret "one of the favorites to win gold," while another profile is more sweeping and definitive, saying that she is "Slovenia's Best Hope for Gold in Tokyo."  
You get the point. Endemic climbing media and non-endemic outlets alike consider Olympic hardware to be Garnbret's for the taking. But lost amid all the proclamations and expectations is any analysis of how Garnbret's Olympic performance—whether legendary, disastrous, or something unexpectedly in-between—might affect her legacy and the greater panorama of her career. 
So, let's take a look at some potential Olympic scenarios.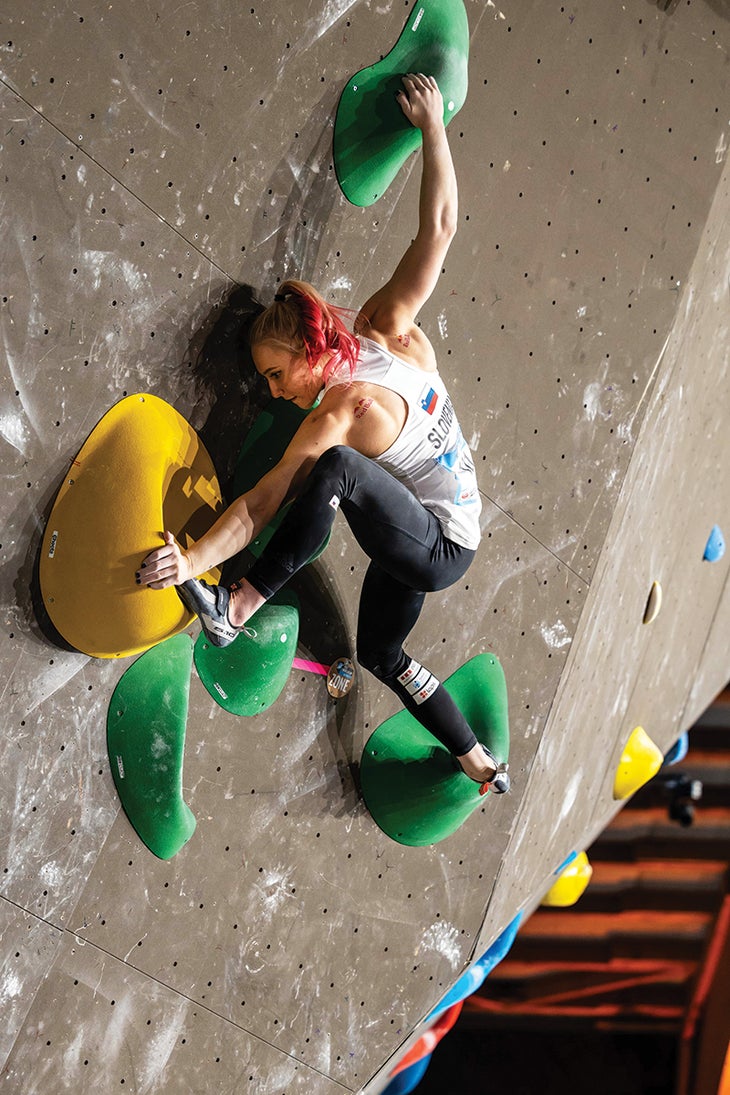 Garnbret wins at the Olympics
As stated above, a big Olympic victory is the outcome that is widely expected for Garnbret. And it's not like this prediction is materializing out of thin air. Of all the qualified Olympians on the World Cup circuit this year, Garnbret has the best results. Remember, climbing at the Olympics will be contested in the unique combined format—stringing together speed climbing, bouldering, and lead climbing. Well, Garnbret won the first Bouldering World Cup of the season, at Meiringen back in April; she won the first Lead World Cup of the season in Innsbruck in June. And even though she hasn't won any Speed World Cups to complement those other victories, she broke the 8-second barrier on a speed run at the recent Villars World Cup … en route to setting a new personal best time of 7.91 seconds. 
In other words, Garnbret appears to be in top form in all three disciplines heading into the Olympics, and it's widely agreed that if Garnbret is in top form at any event, there is practically nobody that can beat her. 
In light of all that hype, it might seem counter that a victory at the Olympics likely doesn't propel Garnbret much beyond where she already sits in the eyes of most fans. That is not to say that an Olympic win wouldn't result in great ancillary gains for Garnbret—new sponsorship opportunities, new fans, a new level of superstardom. It probably would. But many people already consider Garnbret to be the Greatest of All Time …  the GOAT. An Olympic gold medal would garnish that reputation, but to what degree? The GOAT would become a bit more GOATer, I guess. But it would also seem par for the course because we have become spoiled to Garnbret doing spectacular things (like sweeping the 2019 Bouldering World Cup season) on top of spectacular things (like winning the World Championships in the Lead and Bouldering disciplines in the same year). Eventually the accomplishments all start to blur together. 
An Olympic gold medal—prestigious, no doubt—would be yet another spectacular accolade in an already uncanny assortment. 
Garnbret loses badly at the Olympics
Let's consider the inverse to Olympic dominance—not just a drop in performance, but a disastrous series of unfortunate events in Tokyo. To be clear, I would not wish this on any competitor, but history has shown us that anything can happen at the Olympics. 
So, imagine something like this: Garnbret has horribly bad luck in a speed climbing run at the Olympics, perhaps a costly slip or a false start. This puts her in the hole in the scores, and it also gets into her head and she can't find her groove in the ensuing bouldering portion. Then, in the concluding lead portion, the route is her anti-style (granted, it's hard to envision her not adapting to any style), or perhaps there's just someone who is a little better in that given moment. Keep in mind that South Korea's Chaehyun Seo did beat Garnbret four times on the Lead World Cup circuit in 2019. 
As a result, in this hypothetical scenario, picture Garnbret near the bottom of the Olympic field, having to watch as other competitors step onto the lauded Olympic podium. How would this outcome tarnish her legacy?
In short, it would not be as bad in hindsight as it would seem at that moment. It would be shocking, for sure, and it would give the media (myself included) plenty to examine in the immediate aftermath. But eventually the dust would settle and all eyes would train on the Paris 2024 Olympics. Amid that, the three-discipline Combined format, exclusive to the Tokyo 2020/2021 Olympics, would fade into history as an important-yet-peculiar anecdote. This would help cushion any disastrous Olympic result for Garnbret too, the fact that the three-discipline Combined format—the main culprit for her Olympic struggles in this supposed situation—will be abandoned just as fans have finally acquiesced to it. 
Garnbret would also have the power to further distance herself from any calamitous Olympic result by continuing to crush on the World Cup circuit in 2022, 2023, and beyond. If she does continue to win World Cup events, she will bolster her GOAT status, as mentioned above, and people will quickly forget any uncharacteristic off-day in Tokyo. 
Garnbret does just OK at the Olympics
This is the hardest scenario to envision because we don't have much precedent or referent on the 2021 World Cup circuit. Garnbret has never seemed to be off her game this year. However, at some of those aforementioned Lead events in 2019, when Garnbret was beaten by Seo, there were some interesting results. Consider the 2019 Chamonix World Cup, when Seo won and Garnbret didn't even advance to the finals (and finished in 9th place). Or, consider the 2019 Kranj World Cup, when Seo won again and Garnbret finished in 13th. Those places—9th and 13th—might sound very "un-Janja-like," but they happened. 
Since Garnbret is not a speed specialist, it is unlikely that she will win the speed climbing portion of the Olympics. She could certainly win the bouldering portion, but a 9th (or 13th place) finish in the concluding lead portion would negatively impact her overall score given the Olympics' multiplication method of scoring. (You can read more about how climbing will be scored at this summer's Olympics here). 
Interestingly, a middling result at the Olympics could be more of a smudge on Garnbret's legacy than a calamitous loss. A disastrous score—say, dead last in the field—could be quickly justified or explained away: she slipped, she stumbled, she just had terrible luck. But a middle-of-the-road place would illustrate that she simply got out-skilled, out-climbed, and beaten by someone else rather than beaten by her own mistakes and misfortune. 
Still, at the end of the day, there will be a Teflon coating to all of Garnbret's potential outcomes … probably more so than for any other competitor. Climbing at the Olympics is such a new thing that Garnbret will not have to shoulder any preexisting Olympic legacy, nor will she be saddled with having to surpass any great climbing performances of Olympics past. That's to her advantage. Win or lose, she'll likely still be the biggest draw in the comp game.