Recap and Photo Gallery: IFSC Meiringen World Cup 2019—Bouldering
Heading out the door? Read this article on the new Outside+ app available now on iOS devices for members! Download the app.
The 2019 World Cup season kicked off last weekend in Meiringen, Switzerland, and to say that there is a lot riding on this season would be an understatement of epic proportions. Not only will every event count towards the usual World Cup championship at the season's end, but a Combined World Championship with Olympic implications looms on the calendar in August. And rankings from this World Cup season will also determine which competitors receive invitations to the Olympic Qualifying Event to be held in Toulouse, France, at the end of this year. The Olympics are already positioned to be the climax of a long, compelling narrative—and the start of this World Cup season should be taken as the opening chapter.
15 Photos From the 2019 IFSC Meiringen World Cup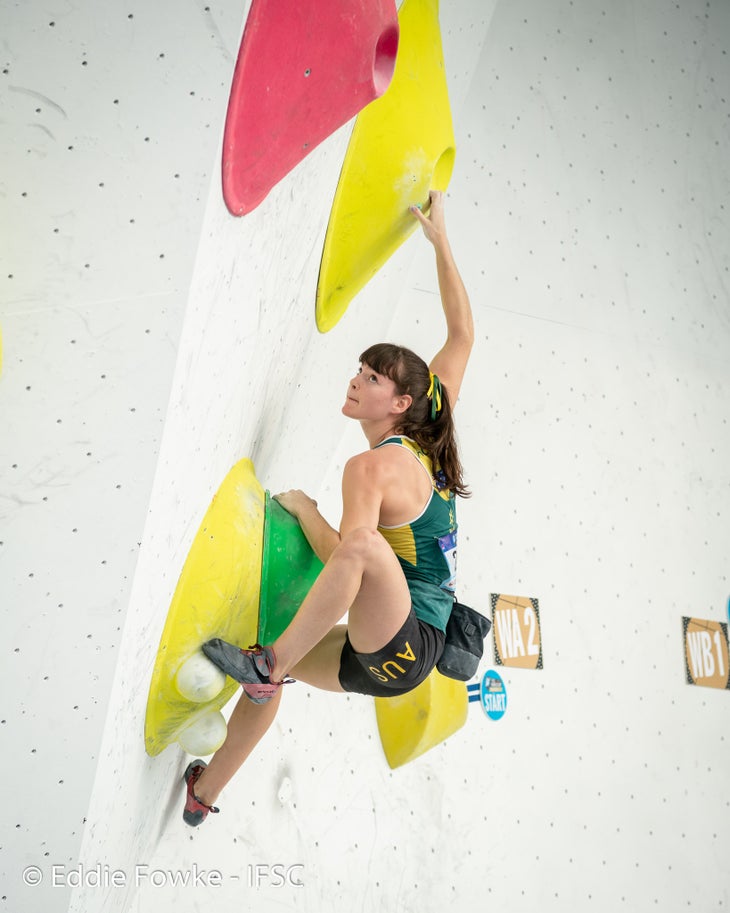 The first boulder in the men's final round involved a dynamic toe catch while mantling up from the left hand. Kokoro Fujii (pictured here) was able to do the opening move, but couldn't stick the boulder's top. He finished the competition in fourth place, flanked in the scores by a number of his compatriots—Tomoa Narasaki and Rei Sugimoto in second and third respectively, Tomoaki Takata in sixth, and Yoshiyuki Ogata, Taisei Ishimatsu, and Keita Dohi in eighth, ninth, and tenth respectively.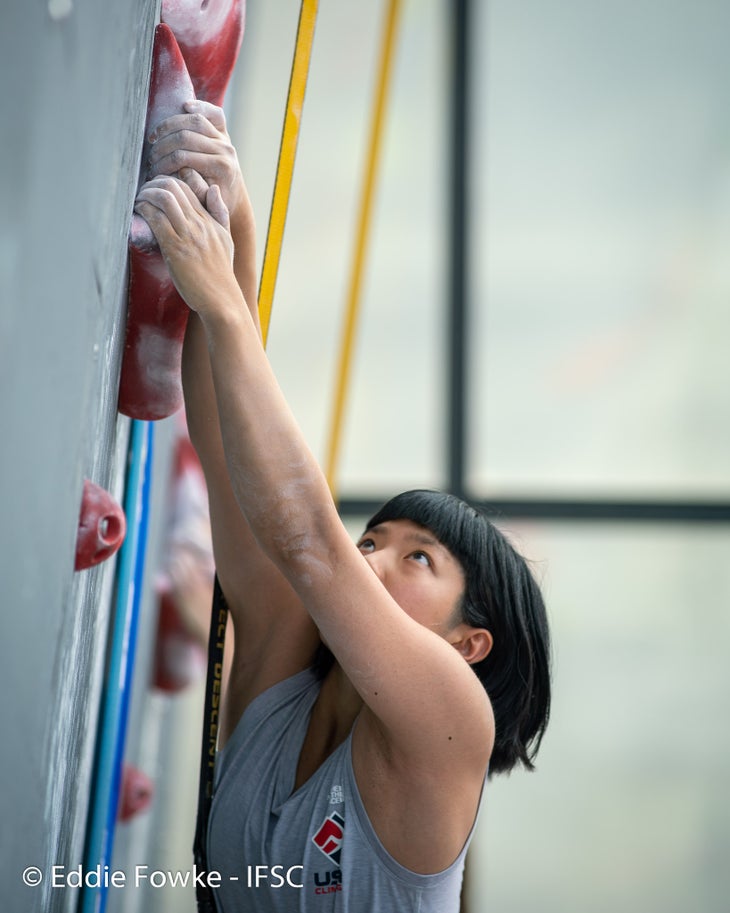 Representing Canada in the men's division at the Meiringen World Cup was Sean McColl. Although McColl did not have the best start to the season—ultimately finishing 24th—he is a perennial favorite on the World Cup circuit. And as a skilled all-arounder, he is a competitor likely to be in the mix in many forthcoming Olympic qualification events.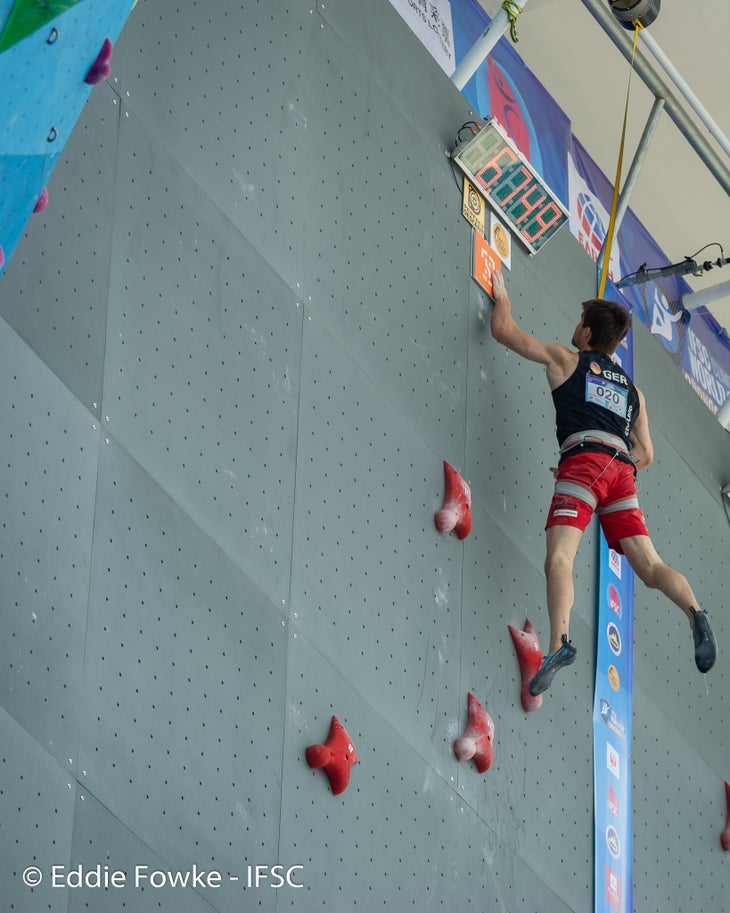 Germany's Jan Hojer, pictured here working his way through a crimpy boulder in the qualifying round, finished the Meiringen World Cup competition in 21st. As a bouldering specialist and former winner at a World Cup event in Munich, Hojer is a competitor worth monitoring as the 2019 season progresses.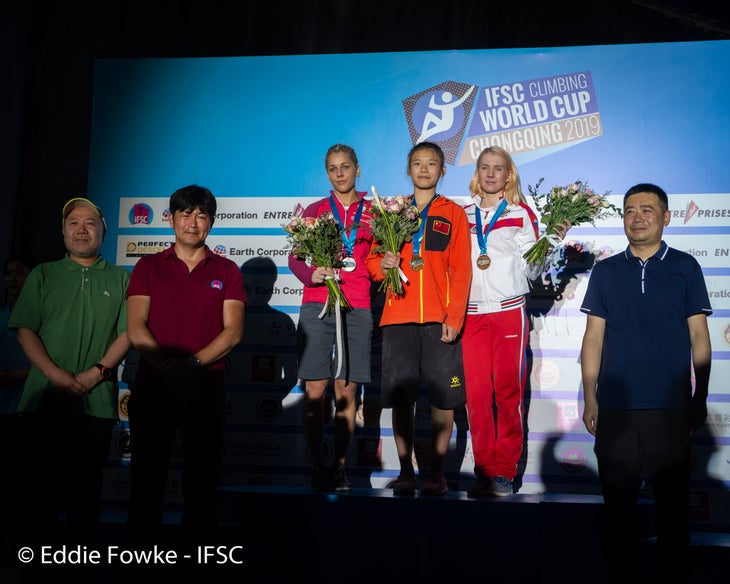 Australia's Oceana Mackenzie was the breakout star of the weekend. She placed 10th in her field of qualification, then wowed spectators and livestream viewers by topping three of the four semi-final boulders to advance to the finals. She finished the competition in sixth place—by far the highlight of her budding competition career.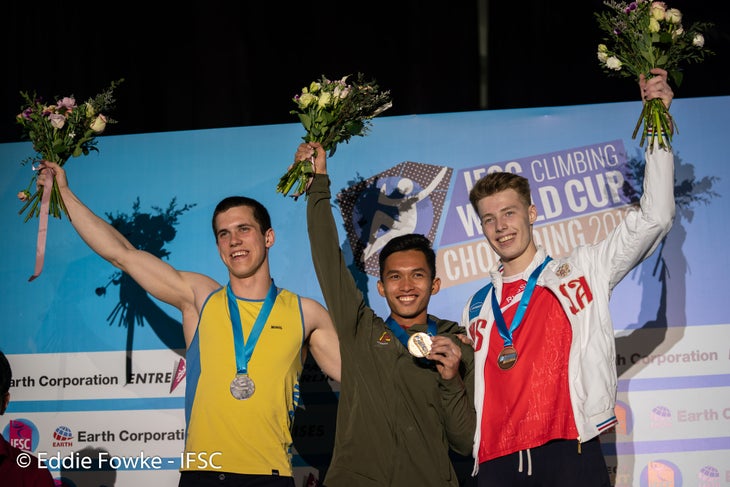 South Korea's Jongwon Chon looked impressive throughout the opening rounds at Meiringen. He topped all the boulders in the qualifiers and topped two boulders in the semi-finals. Although he made a few costly errors in the finals, he managed to finish the competition in fifth place. "I felt good and my climbing is better than last year in every aspect. I hope I'll do better next week at [the] Moscow World Cup," he reflected in an Instagram post after the event.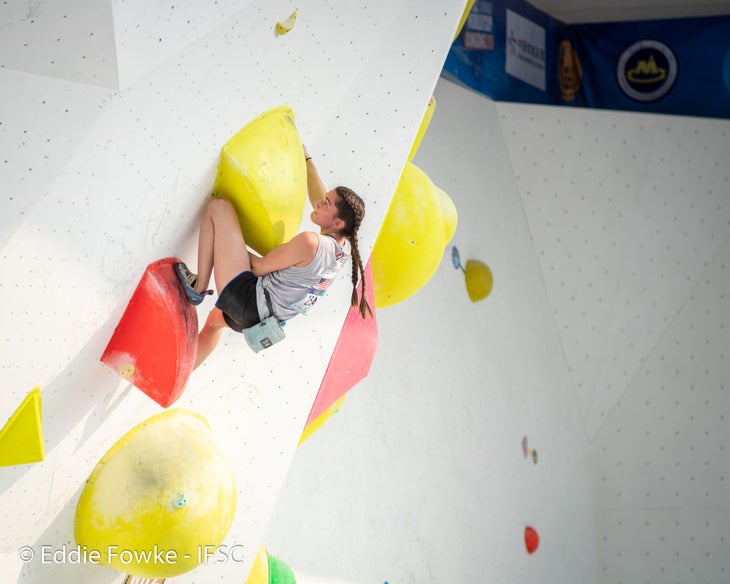 Throughout the weekend, Switzerland's Petra Klingler seemed to thrive on the adulation and cheers that she received from the Swiss crowd. A bouldering world champion in 2016, Klinger appears to be in top form this season. She finished the Meiringen competition in fifth place and should be on anyone's list as a Swiss contender for an Olympic invitation at this early stage.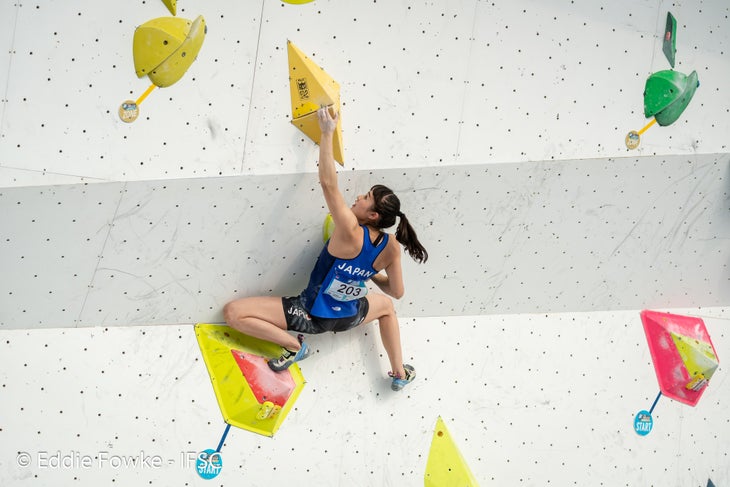 For years, women's competition climbing in South Korea has been synonymous with Jain Kim. That might still be true—but Kim's compatriot, Sol Sa (pictured here) has been garnering recognition in her own right, particularly for being better at Bouldering and Speed (and, thus, excelling at the Combined format). Sol is a veteran on the World Cup circuit at this point. She finished 17th at Meiringen—not her best placement ever, but high enough to let everyone know that she is a contender this season and could be vying for the highest podium place at any succeeding event.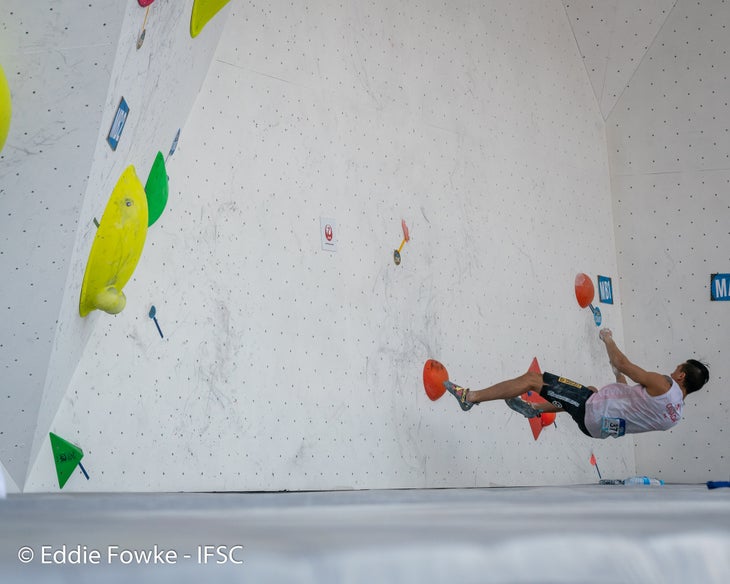 Shame on anyone who might have considered American Alex Johnson's high placing at February's USA Climbing Bouldering Nationals to be a fluke. Johnson looked just as phenomenal at Meiringen; she barely missed advancing to the final round, getting edged out by Australia's Oceana Mackenzie and finishing the event in 7th. Johnson seems prepped to participate in more World Cup events this season (and she is on the starting list for this coming weekend's World Cup competition in Moscow), which should make future livestreams must-see viewing for the American fan base.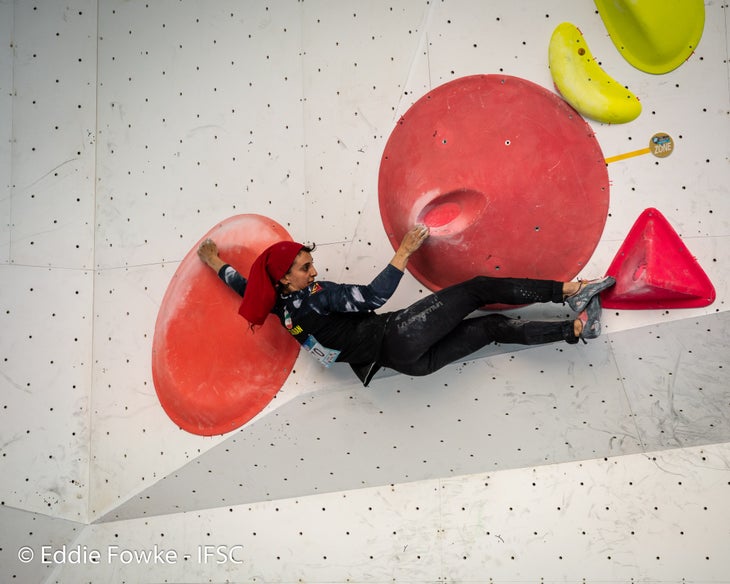 France might be a little disconcerted by its start to the 2019 World Cup season. Although generally considered to be one of the best and most consistent national squads (and the host of the 2024 Olympics, for what that's worth), the country did not have a single man advance out of the qualifying round. The French women fared a little better—Julia Chanourdie placed 17th in the semi-finals, for example. The bright spot through all rounds was Fanny Gibert (pictured here). She finished the competition in fourth place.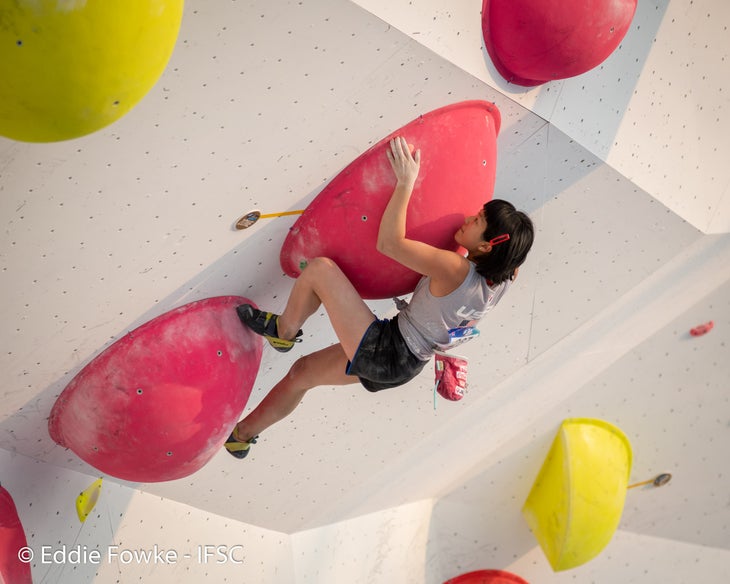 American Nathaniel Coleman did not win this year's USA Bouldering Nationals; he took second place behind Sean Bailey. But as a multi-time bouldering national champion and someone who has been participating in World Cup competitions abroad since 2015, Coleman has to be viewed as a top contender at any Bouldering World Cup event he participates in during the 2019 season.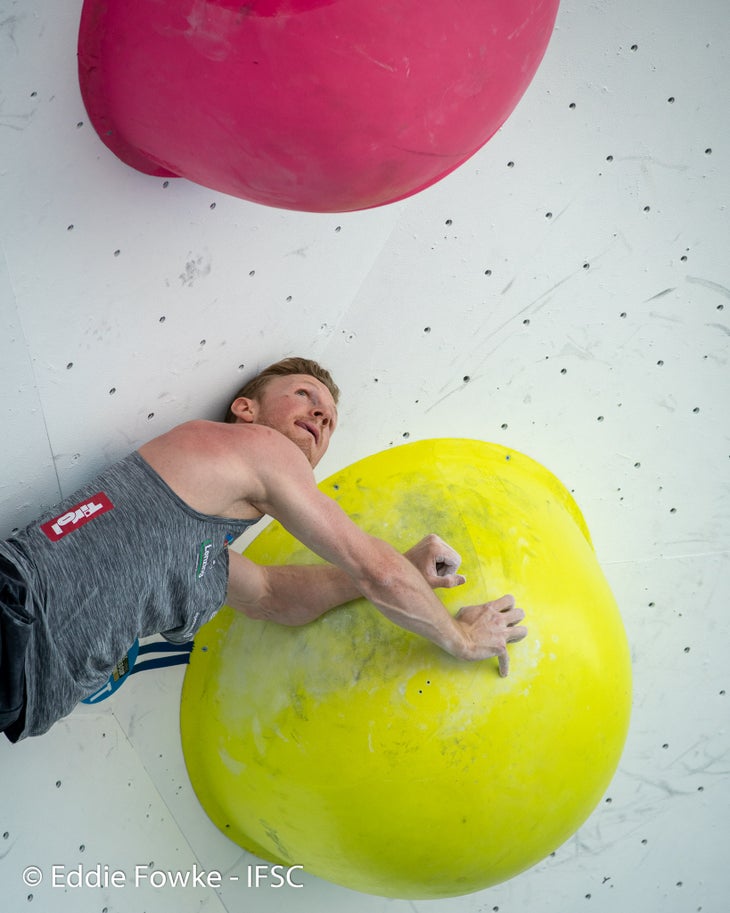 At one point during the semi-final round, commentator Mike Langley said that American Kyra Condie (pictured here), "is one of those climbers who climbs with such energy, sometimes it may be hard for her to just dial it down a little bit—just kind of slow it down and climb with control, keep breathing slow; slabs can sometimes highlight these weaknesses." Practically on cue, Condie then composed herself and topped a slab boulder. It was an illustrative send that proved Condie's ability to adapt to all styles of climbing during competition. Her season will be fascinating to watch as the 2020 Olympics come into view.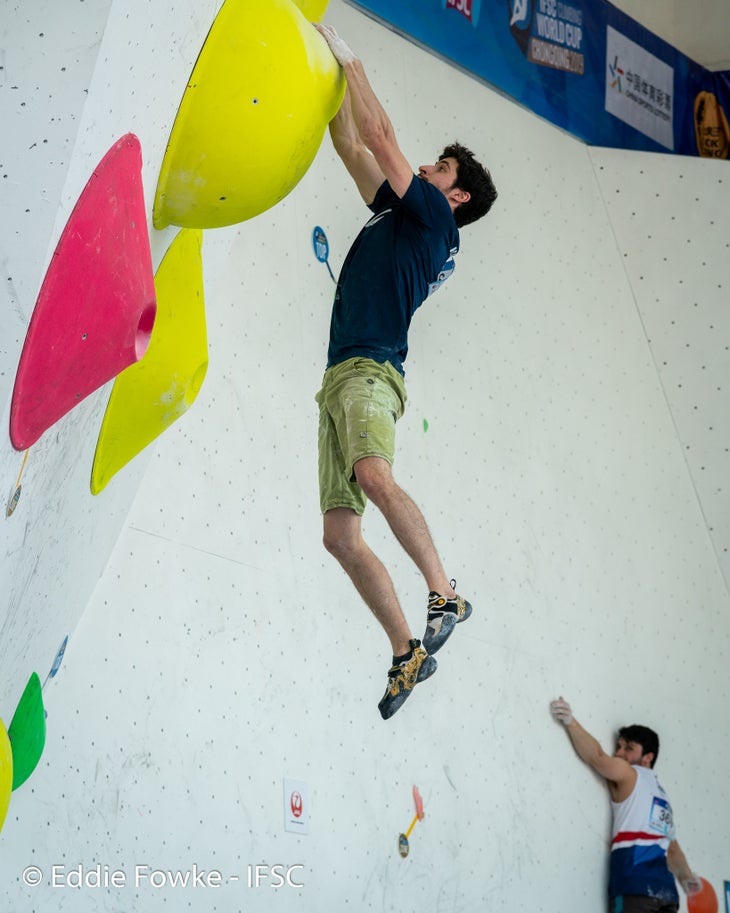 Kyra Condie and Alex Johnson were compelling in their own right, but the finals of the women's division was devoid of Americans and featured a fantastic roster that included those competitors pictured here sussing out the beta (from left to right): Slovenia's Janja Garnbret, Switzerland's Petra Klingler, Australia's Oceana Mackenzie, and France's Fanny Gibert. Not pictured are Japan's Akiyo Noguchi and Great Britain's Shauna Coxsey, who also competed in the finals.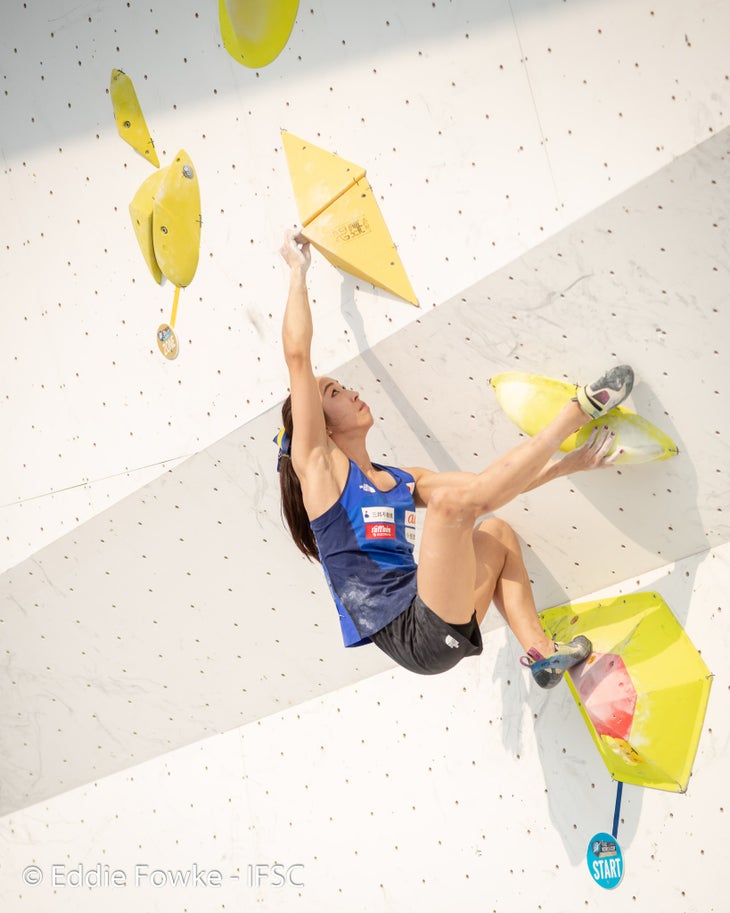 Adam Ondra of the Czech Republic was busy in the offseason, traveling around the United States and filming various videos outdoors for a "Climbing the Americas" series, among other media projects. In light of that, it would have been easy to think he was not entering the 2019 World Cup season in the best competition shape. But from the onset at Meiringen, Ondra appeared as good as ever. He finished second in his qualification field, then bested all other competitors in the semi-finals and finished the finals with the gold medal.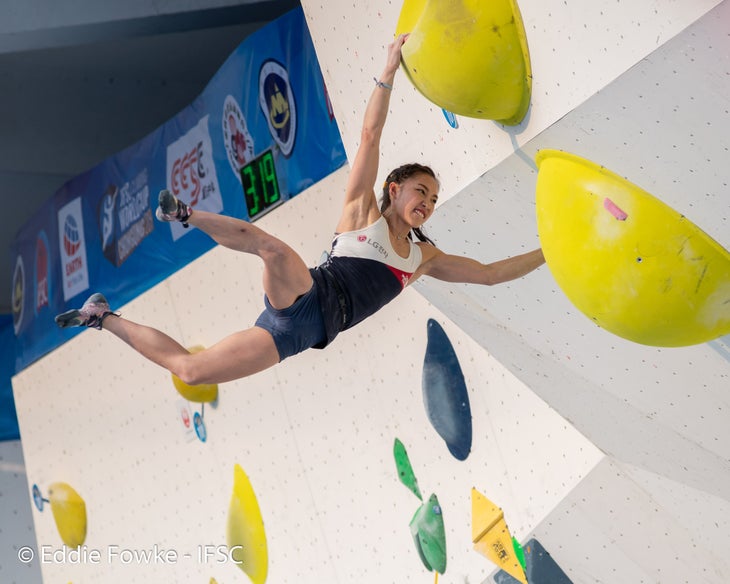 Ondra's victory did not come easily. He repeatedly found himself having to duplicate tops that had been reached by the previous competitor, Japan's Tomoa Narasaki. The nail-biting tension and close scores did not allow for a runaway victory like some that Ondra has enjoyed in previous years, but Ondra's four tops were enough to seal the win.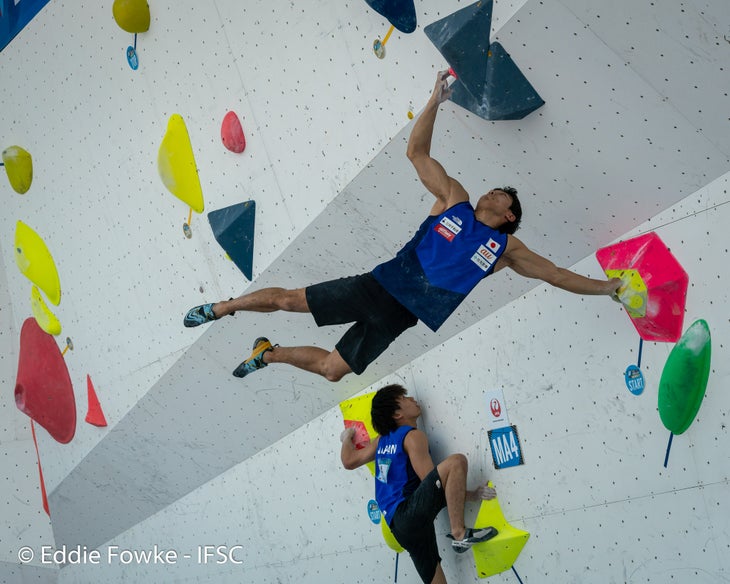 The fourth boulder of the men's final was a crack climb—rare for World Cup competition, but perfectly suited for AdamOndra's skill set. Whether that means that Ondra got lucky with the routesetting or simply demonstrated a superior depth of climbing know-how makes for a fun debate. (Ondra's left foot in this photo is wedged into the crack that he hand-jammed with ease for the win). Regardless, there is no denying that this was one of the most emotional and exciting starts to a World Cup season in recent history.
If that sounds like a lot of preamble, the commentators for the Meiringen World Cup competition, Mike Langley and Charlie Boscoe, put it more succinctly at the top of the livestream broadcast: "In so many ways, this is a career-defining season for virtually every athlete out there," Boscoe said, to which Langley replied, "Not to overstate it, but this is probably the biggest, baddest, most important season of all time in competition climbing history."
Even without all the added Olympic intrigue, the earliest hours of the weekend's competition offered plenty of drama. In a packed qualifying round—in which more than 200 competitors battled to advance—some of the most well-known names in the sport struggled. Austria's Jakob Schubert, who has podiumed in World Cup bouldering events in the past and is the defending Combined World Champion, did not make the cut to semi-finals. Canada's Sean McColl, Germany's Jan Hojer, and Austria's Jessica Pilz, all with championship bouldering credentials in their own right, also did not advance beyond the highly competitive qualifying round.
The United States sent nine competitors to the inaugural 2019 World Cup event, three of whom—Nathaniel Coleman, Kyra Condie, and Alex Johnson—had stellar qualifying rounds and progressed to the semi-finals. Johnson, who wowed fans by returning to high-level competition and placing second at USA Climbing's Bouldering Nationals back in February, continued her dramatic competition career comeback by topping the second and third boulders in the semi-finals. She barely missed advancing to finals, but her finish of 7th place was the highest of any American competitor.
Kyra Condie also had some noteworthy success in the semi-finals. She topped the first two boulders of the round—a slab and an arête—which was a feat that other notable competitors like South Korea's Sol Sa, Slovenia's Lucka Rakovec, and France's Julia Chanourdie could not do. Ultimately Condie barely missed out on advancing to finals as well—finishing in 8th place. But as the winner of the Combined at the Pan American Championships last November and the champion at the USA Combined Invitational in January, Condie is one of America's biggest hopes for an Olympic berth—and her strong climbing at the Meiringen World Cup should only bolster that notion.
As the finals got underway on Saturday afternoon, that whopping starting roster of hundreds of competitors had been whittled down to just six men and six women. As was the case in previous seasons, Japan continued to be an undeniable team powerhouse and was represented by four competitors in the men's division: Tomoaki Takata, Kokoro Fujii, Rei Sugimoto, and Tomoa Narasaki. Each competitor had his moments: Takata's quick flash of the first boulder, which included sticking an opening jump into a far toe-hook with seeming ease, was a jaw-dropping way to start the round. And Tomoa Narasaki flashed the tricky third boulder—a big mantle start, into a precarious stand on a dual-texture volume—which had gone untopped by all previous competitors.
But always in the hunt was the Czech Republic's Adam Ondra. He was able to match Narasaki's top of the third boulder, and eventually found himself facing a fourth boulder that could not have been more perfectly suited for his abilities—a collection of connected Cheeta volumes that formed a crack up the wall and forced a hand-jam. "This is about as old-school as it gets—burly hand-jamming," said an excited Boscoe on commentary, noting the rarity of crack climbing techniques in a sport that has become measurably more dynamic and parkour-esque in recent years.
Japan's competitors struggled with the jamming technique and South Korea's Jongwon Chon ran out of time while trying to skip the hand-jam move altogether. Ondra (as a noted specialist on crack routes outdoors) performed the hand-jam with ease; he flashed the boulder and took the victory in what was celebrated as a "Hollywood ending," the entire men's competition coming down to the final climber on the final boulder.
The final round for the women's division was equally as exciting, marked first by a relatively new name, Australia's Oceana Mackenzie. Although Mackenzie, a mainstay on the IFSC's youth scene for years, ended up topping only one boulder in her first finals of World Cup competition, the presence of an Australian competitor in the upper echelon of the adult field was atypical compared to recent seasons. Mackenzie is now likely to be referenced frequently in any Olympic discourse, as her home country will host the Oceania Continental Championships in April, 2020—and Mackenzie's strong showing in Meiringen essentially made her the competitor-to-beat at that event.
On the walls, the battle for victory ultimately came down to familiar names. Great Britain's Shauna Coxsey, the Bouldering World Cup season champion in 2016 and 2017, was marred by injuries last year but returned with a performance at Meiringen that exceeded expectations. Coxsey topped two of the finals' boulders and earned a spot on the podium.
The battle for first place was contested between Japan's Akiyo Noguchi and Slovenia's Janja Garnbret. Garnbret struggled early, having trouble weighting her left foot on a minuscule jib in the opening boulder of the round. Noguchi's top of that boulder put Garnbret in the rare position of being behind in the scores—but Garnbret soon found her mojo; she topped all remaining boulders, including a slab-and-undercling boulder that both Noguchi and Coxsey failed to send. In the end, Garnbret's come-from-behind rally was enough to earn first place, with Noguchi just a notch below her in second.
Of the American men, Nathaniel Coleman had the best finish in 17th place. Drew Ruana placed 35, Zach Galla placed 53, Sean Bailey placed 59, and Dylan Barks placed 80. In the scores for the women's division behind Alex Johnson and Kyra Condie, Brooke Raboutou placed 29, Margo Hayes placed 37, and Ashima Shiraishi placed 70.
The World Cup season continues with little time for ragged fingertips to heal. The next competition will take place this coming weekend (April 12-14) in Moscow, Russia. In addition to bouldering, it will include a Speed portion. Stay tuned to Climbing.com for links to the livestream.
Results
Men
Adam Ondra (CZE)
Tomoa Narasaki (JPN)
Rei Sugimoto (JPN)
Kokoro Fujii (JPN)
Jongwon Chon (KOR)
Tomoaki Takata (JPN)
Women
Janja Garnbret (SLO)
Akiyo Noguchi (JPN)
Shauna Coxsey (GBR)
Fanny Gibert (FRA)
Petra Klingler (SUI)
Oceana Mackenzie (AUS)