Recap and Photo Gallery: IFSC Villars World Cup 2018—Lead and Speed
Heading out the door? Read this article on the new Outside+ app available now on iOS devices for members! Download the app.
Enjoy competition climbing? Check out our brand new Competition channel for livestreams, event summaries, training tips, profiles, and more.
At the start of last weekend's World Cup event in Villars, Switzerland, there were 748 days left until the beginning of the 2020 Olympics. Considering that climbing's inclusion in those games has been celebrated and debated ad nauseam for the past two years, it is understandable if Olympic fever already has you feeling a little fatigued.
But the unavoidable fact is that the forthcoming games now color every international event—and this was never more apparent than in Villars. Not only was the competition the first of the 2018 lead season, but it was also a microcosm of simmering Olympics drama related to the different climbing disciplines, the varying ages of the competitors, and the national teams. When brewed together, that all made for an enjoyable blend—even if we're on the cusp of an Olympics overdose.
Gallery: 18 Photos From the IFSC Villars World Cup 2018—Lead and Speed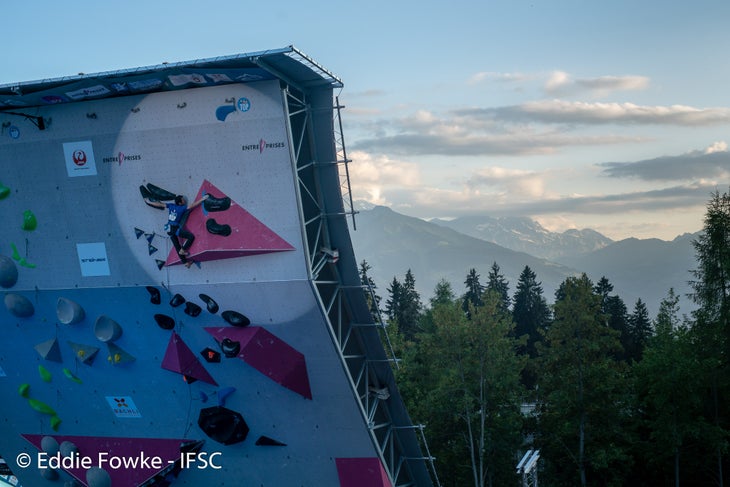 The French climber Romain Desgranges sets a high point early in Finals, with the Swiss Vaud Alps in the background. Desgranges came off the wall just seconds later, but his attempt was enough to secure the second-place spot on the podium.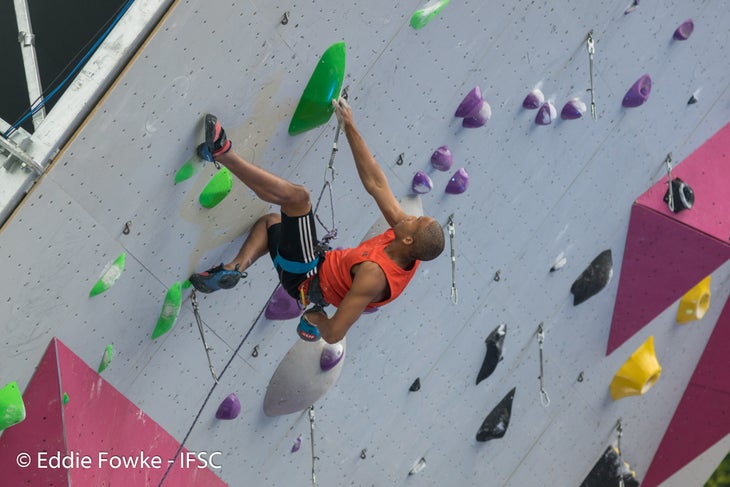 Kai Lightner moves through the Qualifiers route. While the U.S. usually sees low representation at international events, the roster is growing as we get closer to the 2020 Olympics.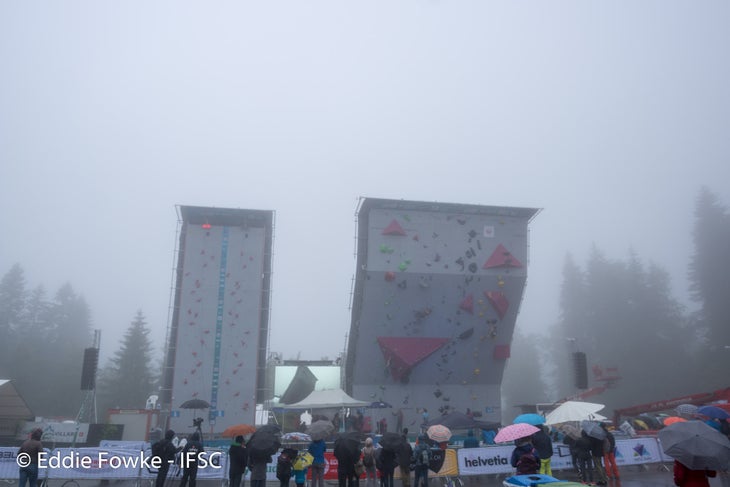 The misty, rainy weather was not ideal during Qualifiers, but the event persisted.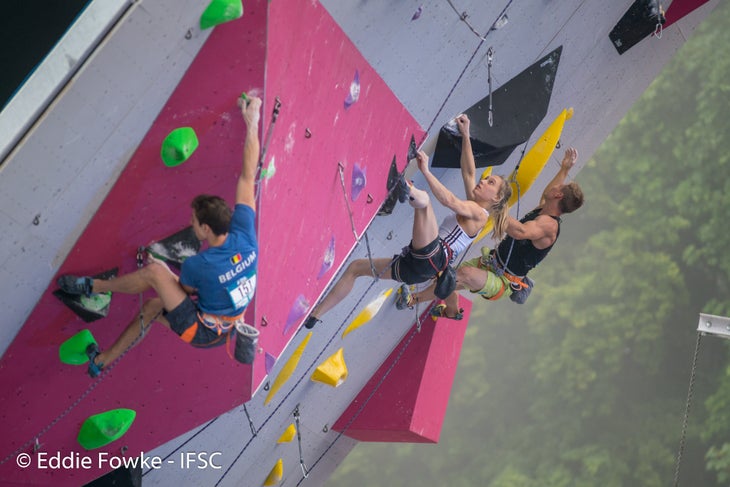 The Qualifiers saw constant action, despite the weather.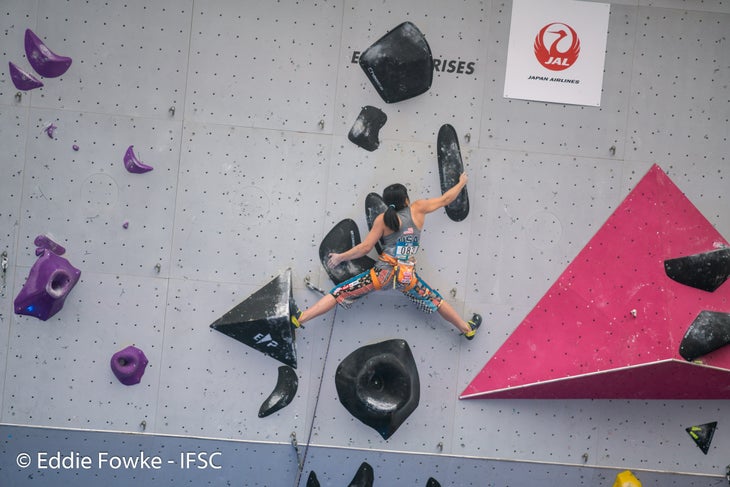 Ashima Shiraishi stems it out during Qualifiers.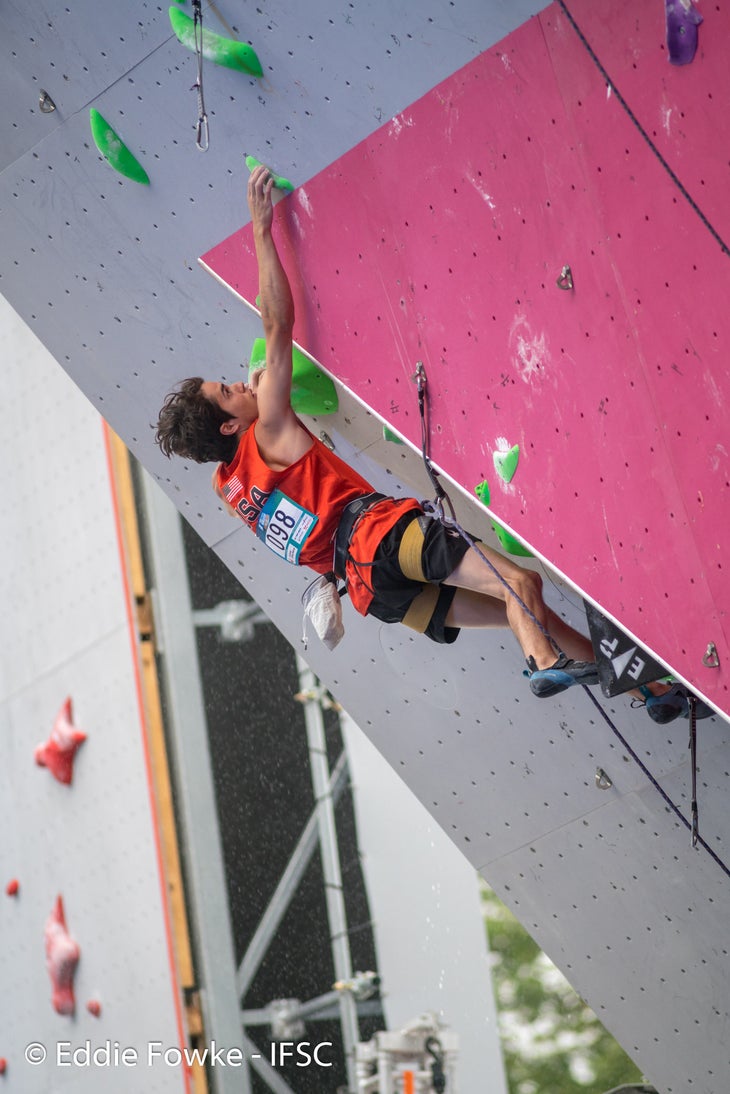 Sean Bailey, seen here in Qualifiers, was the second-best performing American male at the event, but it wasn't enough to land a spot in Finals.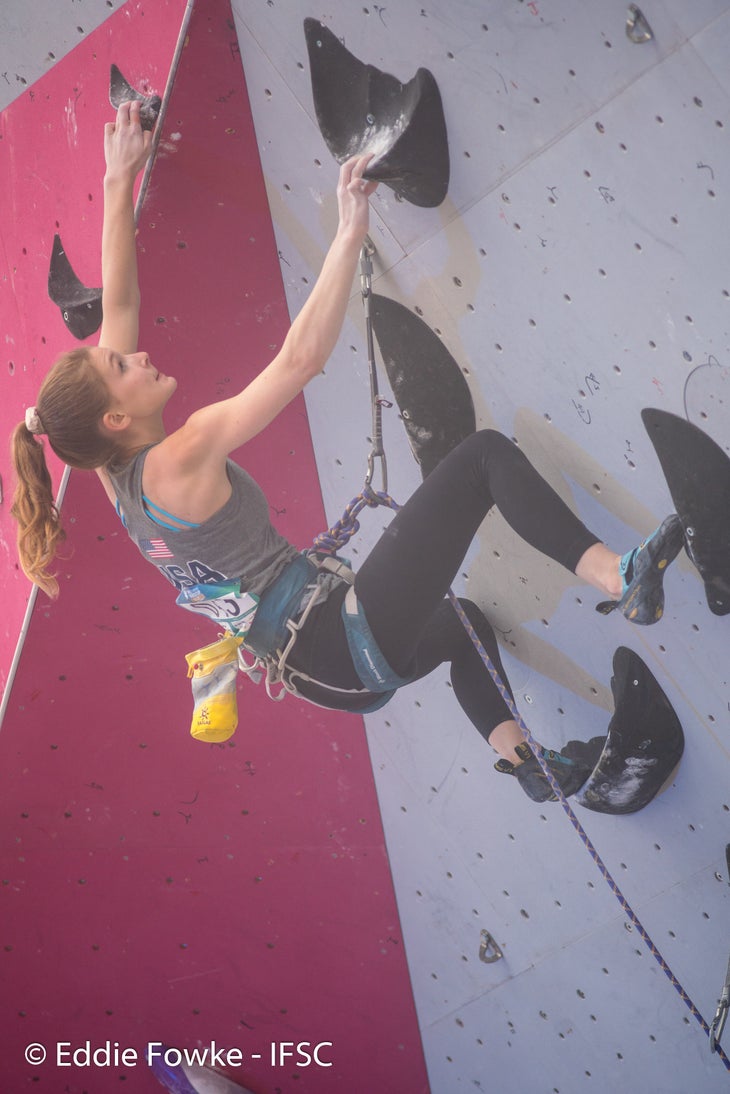 Maggie Hammer competed in both Lead and Speed, but failed to progress past Qualifiers in either discipline.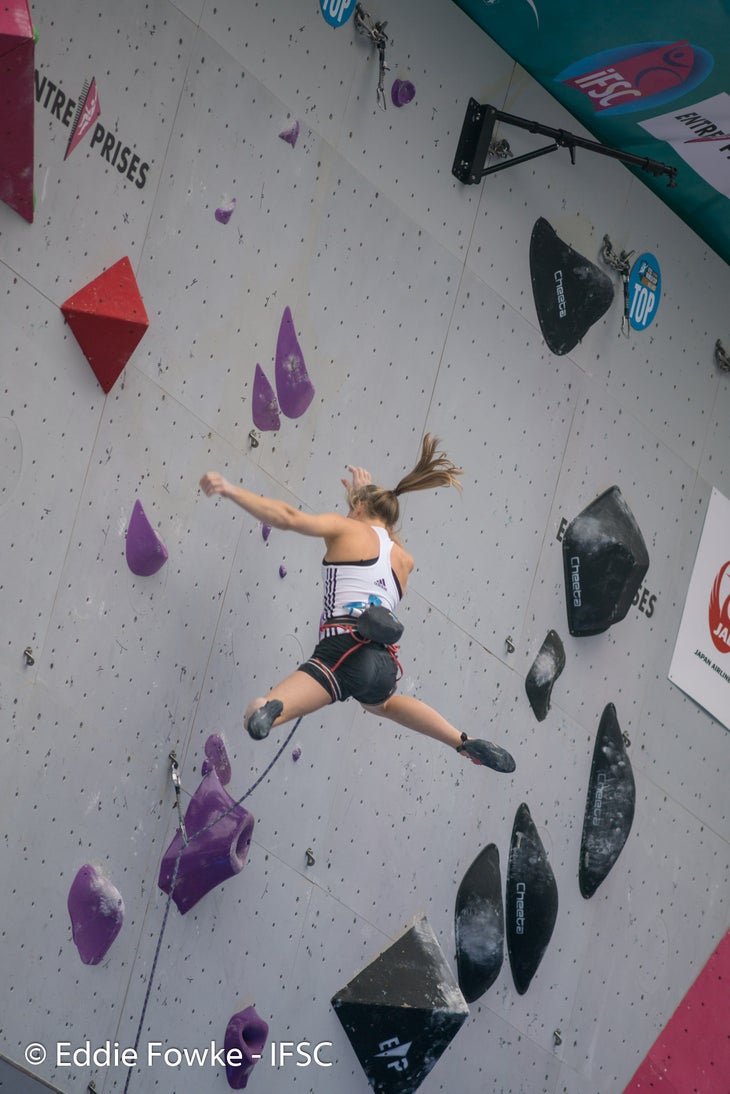 Slovenia's Janja Garnbret tests the gravity during Qualifiers.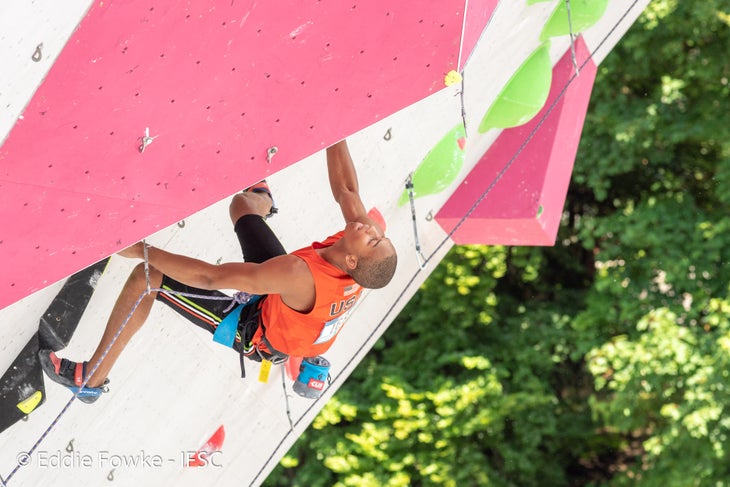 Kai Lightner's performance in Semi-Finals landed him a 25th place finish, the best of any American male.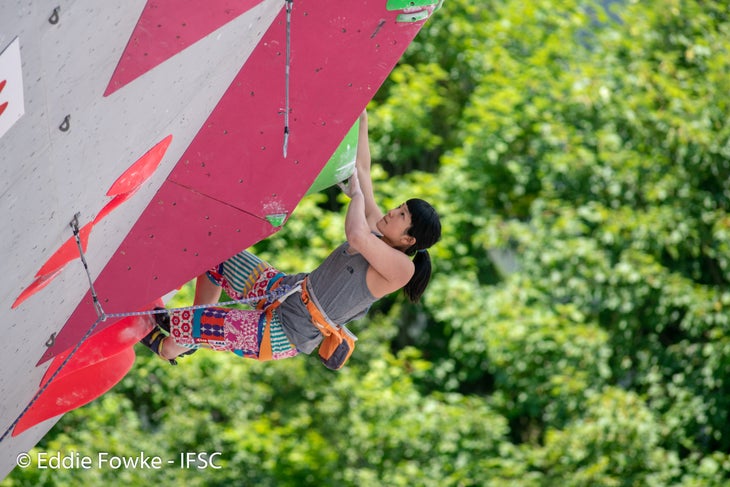 Ashima Shiraishi's Semi-Finals run was just enough to secure a spot in Finals.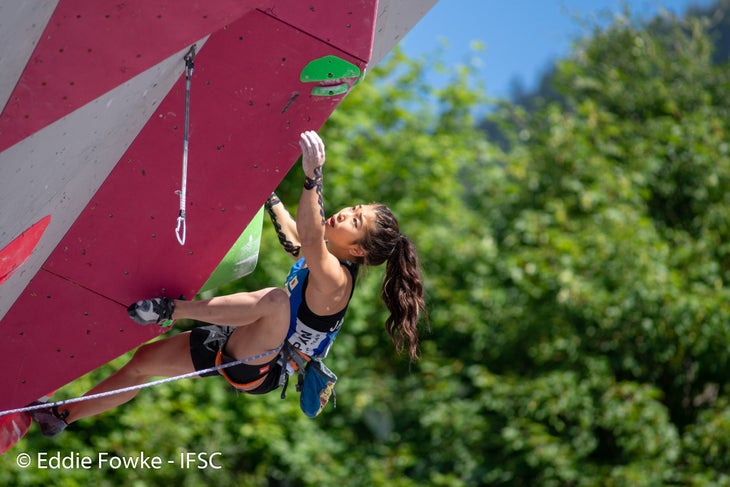 While Japan's Miho Nonaka did not podium at this event, her sixth place finish puts her in a strong position in the 2018 overall rankings, as she holds the highest score to date for the bouldering season.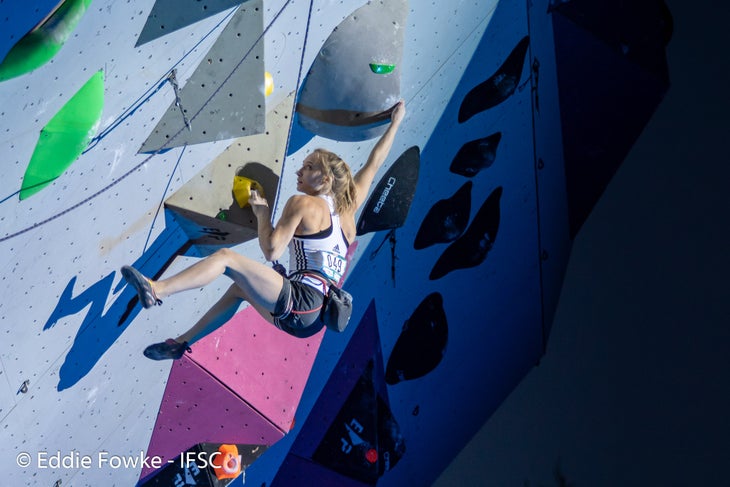 Janja Garnbret celebrated her recent high school graduation by winning the Lead competition in Villars.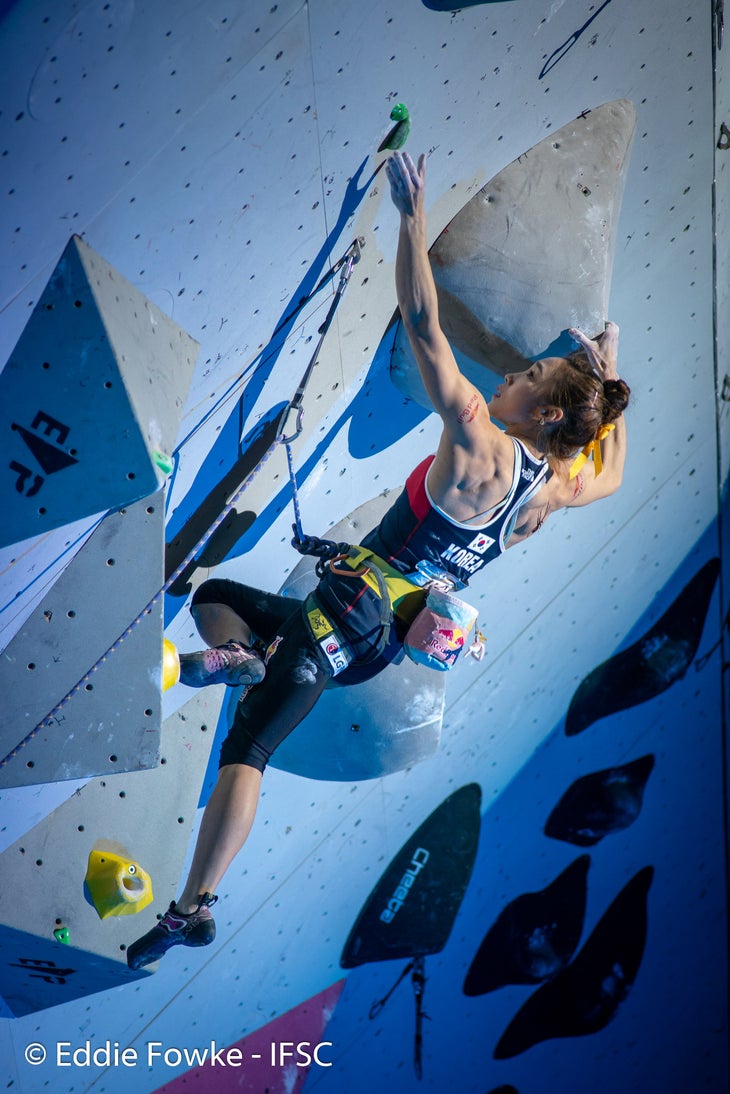 Korea's Jain Kim employed a figure-four during Finals to land a third-place finish.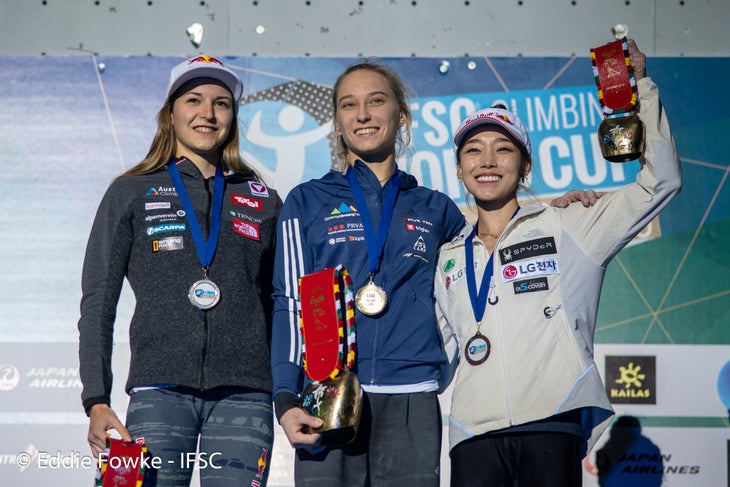 The women's Lead podium (left to right): Jessica Pilz (AUT), Janja Garnbret (SLO), Jain Kim (KOR).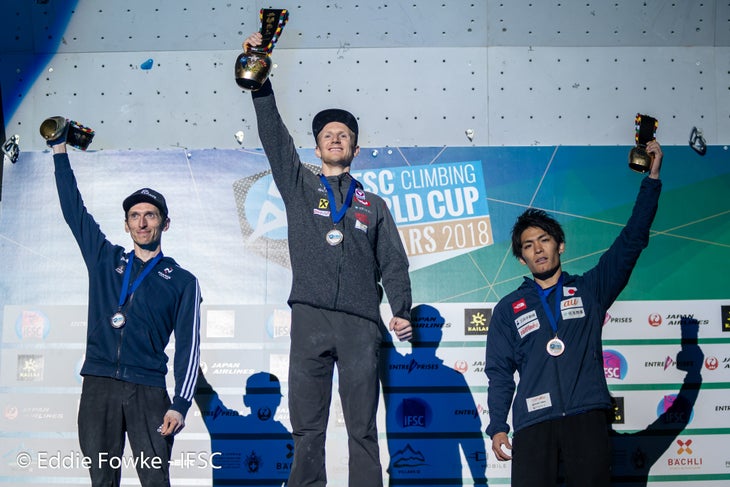 The men's Lead podium (left to right): Romain Desgranges (FRA), Jakob Schubert (AUT), Tomoa Nagasaki (JPN).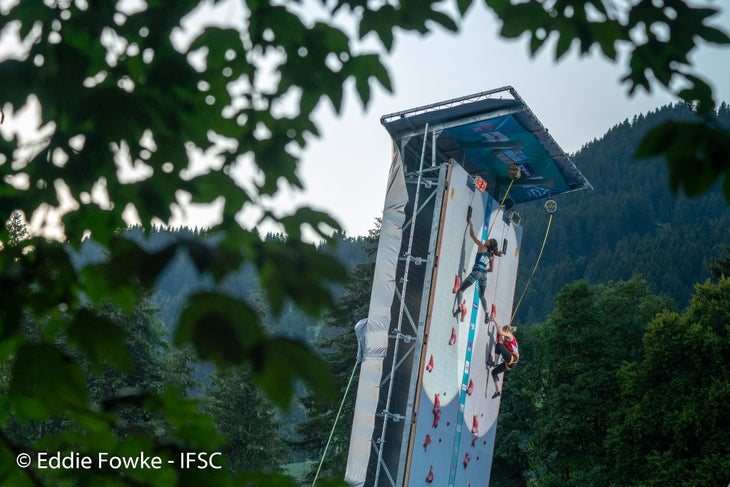 The Speed Finals, set amongst the lush Swiss landscape.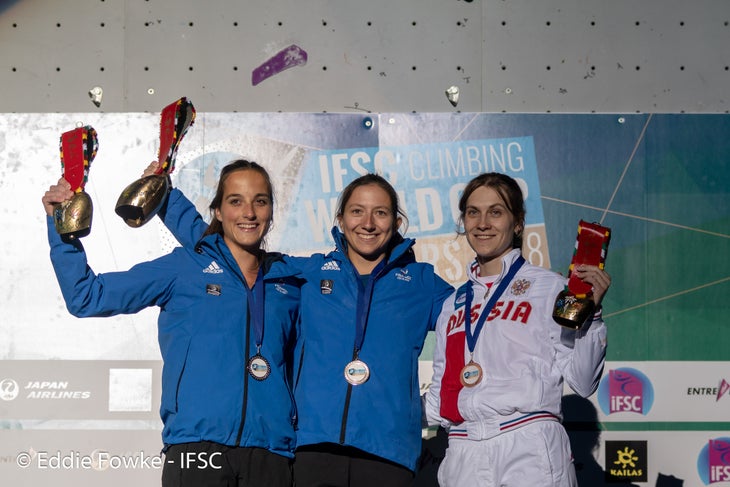 The women's Speed podium (left to right): Victoire Andrier (FRA), Anouch Jaubert (FRA), Mariia Krasavina (RUS).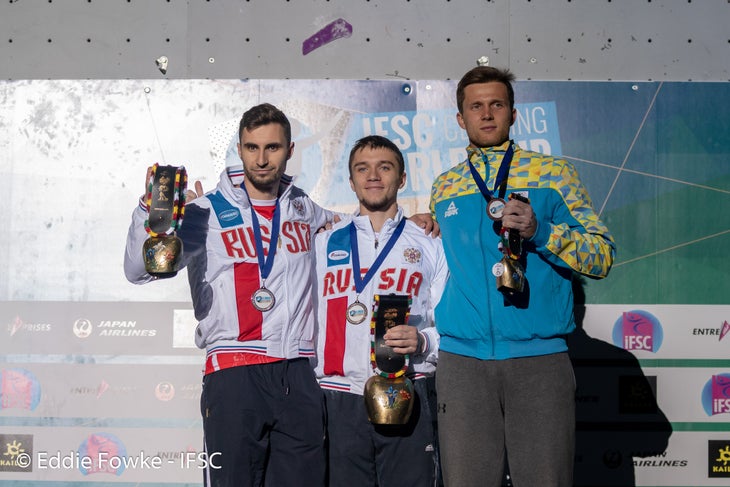 The men's Speed podium (left to right): Aleksandr Shilov (RUS), Aleksandr Shikov (RUS), Danyil Boldyrev (UKR).
The potential successes of the elite boulderers who have chosen to also participate in lead are the most compelling of those Olympics storylines. The Olympic format of combining disciplines has amounted to a buffet mindset—with many competitors wanting to try a little of everything—and the effect at Villars's rainy qualifying round on Friday was a roster with names more familiar on the bouldering World Cup circuit. Russia's Aleksei Rubtsov, Slovenia's Jernej Kruder, Germany's Jan Hojer, Japan's Akiyo Noguchi, and Switzerland's Petra Klingler, among others, all seemed keen on fine-tuning their lead skills, all sights set on 2020.
But with that narrative came some interesting questions about competitors possibly aging out of the impending Olympics, with some of the bouldering veterans like Kruder and Noguchi already approaching their late-20s. While young by normal standards, they're "old" in regards to peaking for lead competitions this season and beyond.
Then there is always a broader storyline about which team—and country—will prove most successful throughout the season. This is another topic that was inseparable from Villars's ever-present Olympics ethos. The United States, in particular, has traditionally struggled with depth on the international level. However, Friday's lead qualifying round indicated perhaps a change in the air; Ashima Shiraishi, Maggie Hammer, Kai Lightner, Sean Bailey, Drew Ruana, Josh Levin, and Timothy Kang composed a hefty roster of Americans.
Other countries were well-represented in the qualifying round too. France brought stalwart names from previous years, such as Romain Desgranges, Julia Chanourdie, and Mathilde Becerra. Slovenia's Domen Skofic, Janja Garnbret, and Mina Markovic also looked ready for strong lead seasons, as did Austria's Jakob Schubert and Jessica Pilz.
The abysmal weather cleared for Saturday's semi-final round. With a men's route that ascended thin pyramid volumes and a physical women's route that required navigating a complex section of heel hooks and laybacks, there was enough routesetting trickery to cause some surprises. Hojer, noticeably leaner for the start of lead season, fell low on the wall after misjudging his body position along the men's volumes. Kruder, as well, was eliminated early in his upward progression on the route. The performances of the American men in Semi-Finals were mixed—Lightner and Bailey placed highest of the squad (25 and 30, respectively, when all scores were tallied), but ultimately did not earn entry to the Finals.
The standouts in the women's semi-final field were lead veterans Garnbret and South Korea's Jain Kim. Japan's Miho Nonaka—typically a boulderer—also got the crowd excited by reaching an early highpoint on the lip of the headwall. Belgium's Anak Verhoeven, a 5.15 outdoor climber, fell surprisingly low when her foot popped while progressing through a series of scoopy green volumes; it was the first time in five years that Verhoeven, another circuit veteran, did not advance to the lead Finals.
Shiraishi placed highest among the American women in Semi-Finals. She fell while reaching for a crescent handhold near the headwall. Commentator Campbell Harrison of Australia offered an honest-yet-speculative assessment of Shiraishi's Olympic prospects at this point—something that many American spectators are undoubtedly curious about. "She's really, really strong and really fit—smooth climber," Harrison said. "But certain styles of bouldering, she can struggle a little bit…In a certain style, she could be really unstoppable, and in others maybe not so much."
Campbell's evaluation proved to be prescient later in the day. Shiraishi, the first woman on the wall in the Finals, cruised through the bottom series of gray sloper volumes, but fell while moving for a handhold nugget near the wall's midsection. If last year was indeed a learning period for Shiraishi on the adult international stage, one wonders if she will make a podium this year. We can only wait and see. She has had so much buzz in the United States for so many years that it is easy to forget that she has not won a World Cup event. Notching an IFSC medal or two this year—while she's still a teenager and coming off a lingering shoulder injury—would make a strong statement heading into the Olympics' season.
Other women who climbed strong were France's Manon Hily, a newcomer to the Finals, as well as Nonaka and Noguchi. The highlight of the round came when Jain Kim employed a Figure-4—a technical rarity in lead competitions—during a transition from pocket handholds to one of the volumes (1:43:29 in the livestream). The move helped Kim earn an eventual third place finish. Second place went to Pilz, who reached a highpoint of 42+. Garnbret barely missed sticking a dyno at the top but still took first place with a score of 44+.
The men's route started on the same holds as the women's—a novel idea, although the coupling was confusing during the observation period. Several competitors in the men's Finals, like Japan's Yuki Hada, Skofic, and South Korea's Hyunbin Min fell while attempting a precision lunge for an orange pocket (39:52 in the livestream). Those who progressed higher on the wall could find some rest on a volume midpoint before entering the wall's bouldery top section. Desgranges struggled with a waist-level clip and got the crowd cheering in a remarkable fight on the headwall (34.43 in the livestream). But the men's victory, with a score of 38+, went to Schubert, who almost landed the exciting sideways dyno at the route's top (46:02 in the livestream). Desgranges placed second, and Japan's Tomoa Narasaki placed third.
Schubert did not place in the men's Speed portion, which was won by Russia's Aleksandr Shikov with a time of 6.67 seconds. Michael Finn-Henry, in ninth place, was the highest ranking American man. Nonaka looked strong in the women's Speed portion, placing 23rd. The women's Speed victory went to France's Anouck Jaubert with a time of 7.98. America's Maggie Hammer placed 40th.
The next IFSC World Cup event will take place in Chamonix, France, Japan, on July 11-13. See our 2018 Climbing Competition Calendar for the full schedule.
Results
Women's Lead
Janja Garnbret (SLO)
Jessica Pilz (AUT)
Jain Kim (KOR)
Manon Hily (FRA)
Akiyo Noguchi (JPN)
Miho Nonaka (JPN)
Mei Kotake (JPN)
Ashima Shiraishi (USA)
Men's Lead
Jakob Schubert (AUT)
Romain Desgranges (FRA)
Tomoa Nagasaki (JPN)
Stefano Ghisolfi (ITA)
Max Rudigier (AUT)
Hyunbin Min (KOR)
Domen Skofic (SLO)
Yuki Hada (JPN)
Women's Speed
Anouch Jaubert (FRA)
Victoire Andrier (FRA)
Mariia Krasavina (RUS)
YiLing Song (CHN)
Men's Speed
Aleksandr Shikov (RUS)
Aleksandr Shilov (RUS)
Danyil Boldyrev (UKR)
Bassa Mawem (FRA)
Previous 2018 World Cup Events