Recap and Photo Gallery: IFSC Villars World Cup 2019—Lead and Speed
Heading out the door? Read this article on the new Outside+ app available now on iOS devices for members! Download the app.
If anyone needed an illustration of just how primed and ready Slovenia's Janja Garnbret was for the start of this year's lead World Cup season, it came near the end of the semi-finals at last weekend's competition in Villars, Switzerland. Garnbret, who was crowned the 2019 bouldering season champion last month, began the lead route with ease when her chalk bag fell from her waist. Undeterred, she continued up the wall, squeezing her way through a series of slopey pinches in the lower section and crimping her way to a high point on the upper section. On more than one occasion she grinned to herself about the chalk mishap while climbing. She ended up being the only competitor to top the route in the women's field (2:00.19 in the livestream for her full attempt), and then advanced to the finals and ascended higher than any other woman to clinch a victory. 
Gallery: 16 Photos From the 2019 Villars World Cup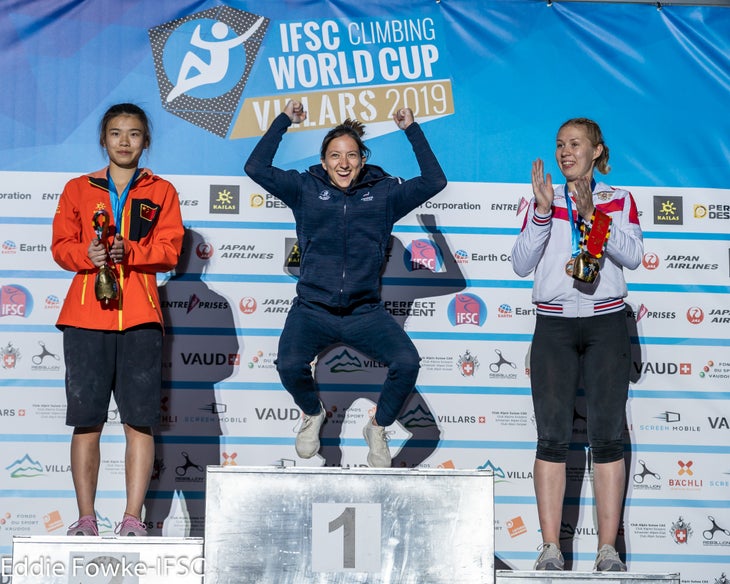 The weekend at Villars kicked off with the women's speed climbing portion, in which France's Anouck Jaubert (center, jumping for joy) beat world record holder YiLing Song of China (left) to claim the gold medal. Elizaveta Ivanova of Russia (right) beat Di Niu of China to secure the bronze.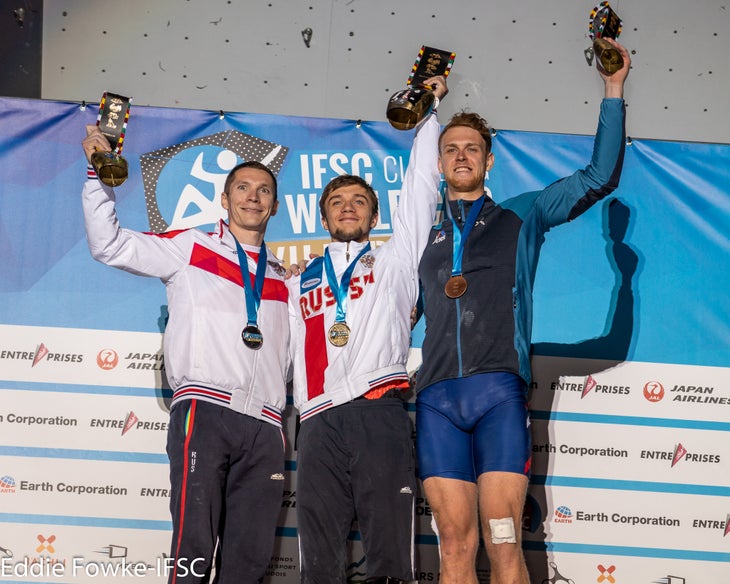 In the men's speed portion, Russia's duo of Aleksandr Shikov (center) and Dmitrii Timofeev (left) placed first and second, respectively. The Czech Republic's Jan Kriz (right) beat France's Bassa Mawem to earn the bronze.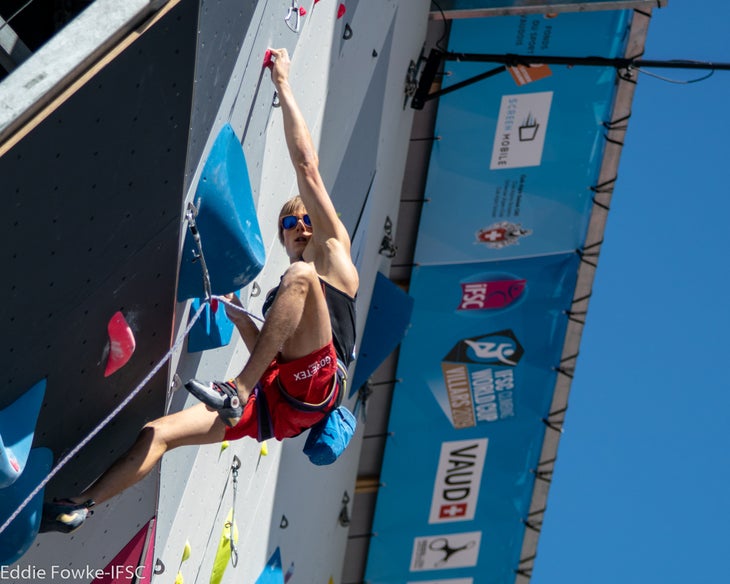 The men's lead portion kicked off with a coupling of qualification routes in the blistering Swiss heat. Germany's Alex Megos opted for sunglasses to minimize the sun's glare on the wall. It was a wise move, as Megos advanced to the semi-finals and earned a bronze medal in the finals.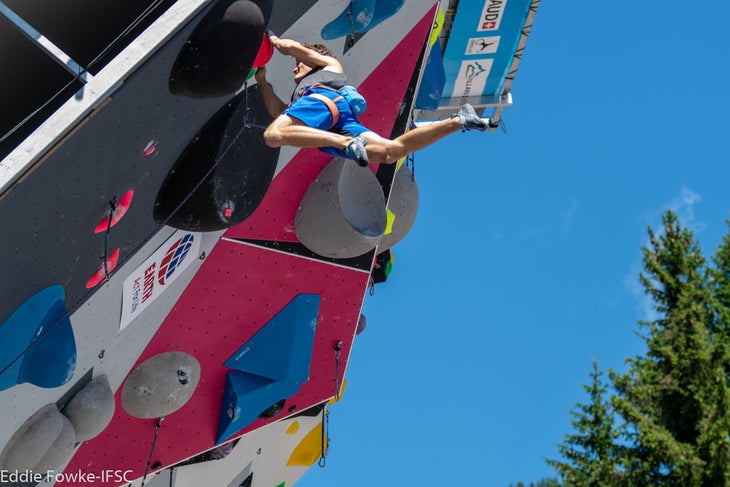 American Nathaniel Coleman, pictured here catching a dynamic move to a sloper in the qualification round, finished the lead competition at Villars in 37th place—among the better of the American team's finishes.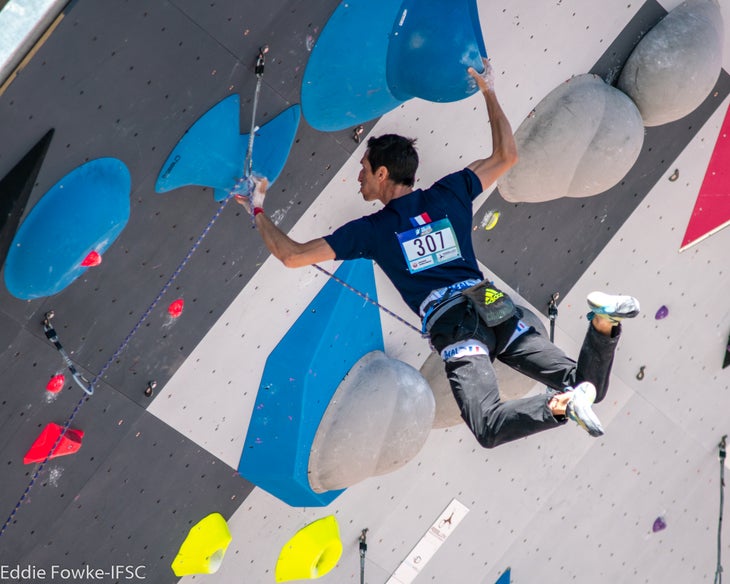 At 36, France's Roman Desgranges is one of the oldest competitors on the World Cup circuit. But his 31st-place finish at Villars proved he can still compete at the highest level.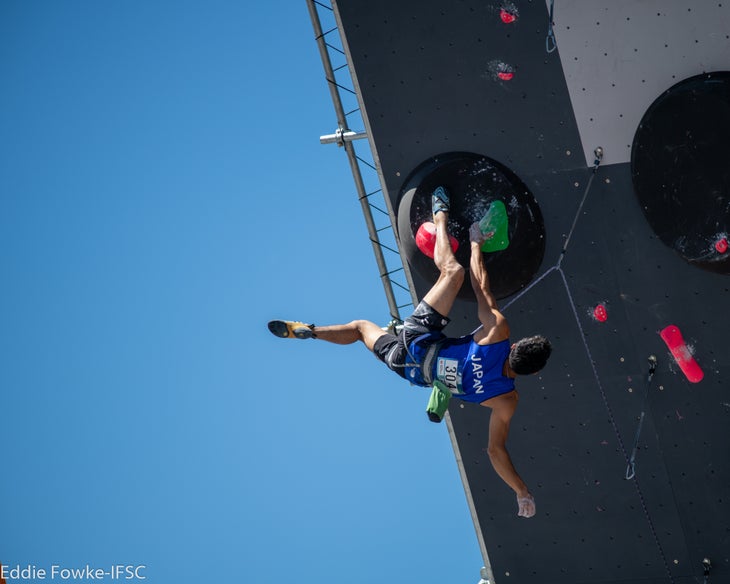 Japan's Rei Sugimoto secures a heel hook to rest midway up a route. Sugimoto, part of the remarkably deep Japanese team, finished the competition placed 13.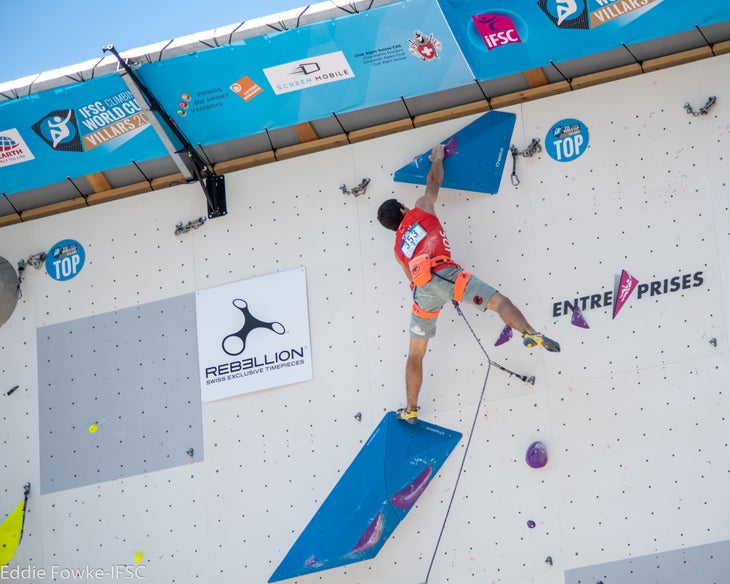 Switzerland's Sascha Lehmann topped one of his qualification routes, which was a harbinger of things to come. He also topped the finals' route and claimed victory in the lead portion to the cheers of the Swiss crowd.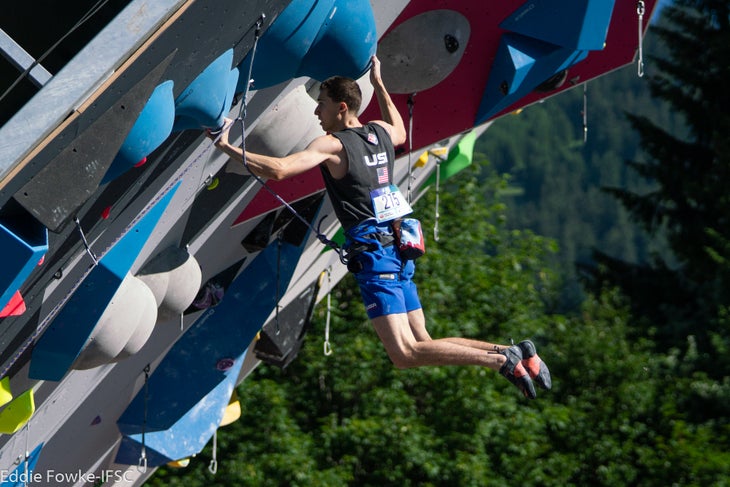 American Jesse Grupper made a big statement by placing highest of any competitor on the US men's team. He tied for 8th in his qualification group, and finished the competition in 22nd.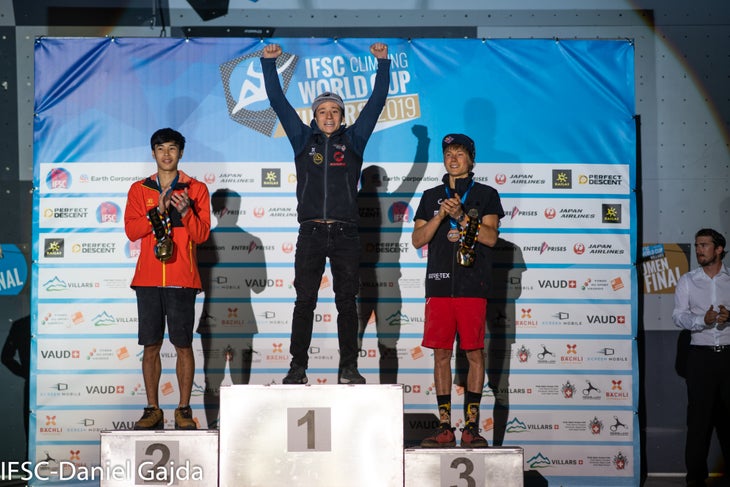 Sascha Lehmann stands victorious on the lead podium, flanked by silver medalist YuFei Pan of China (left) and bronze medalist Alex Megos (right). All three men topped the finals' route.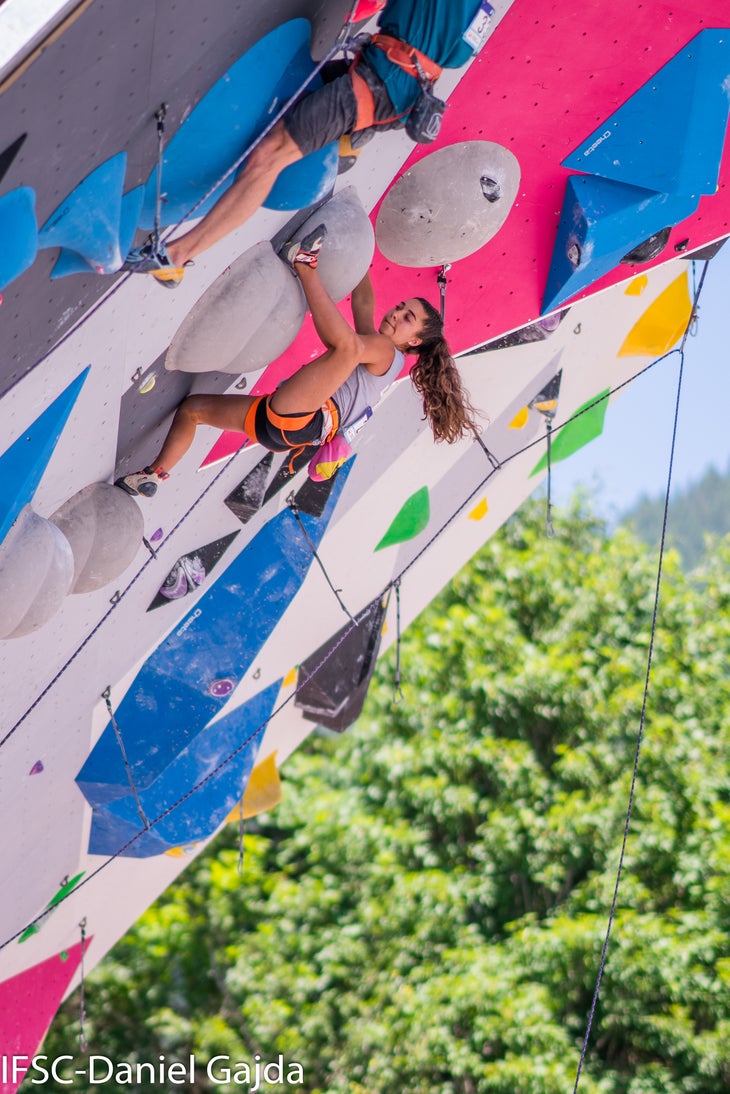 American Brooke Raboutou was the standout for Team USA. She placed 9th in one of her qualification groups, and finished the competition in 20th.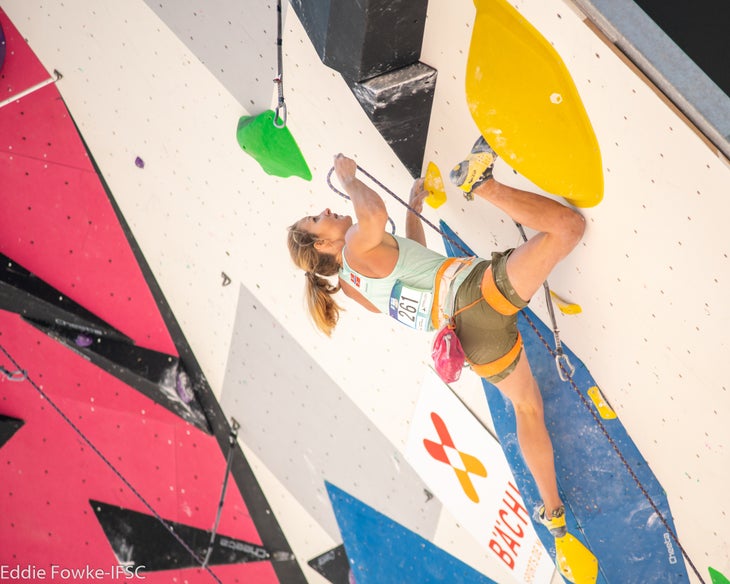 Norway's Tina Johnsen Hafsaas sinks into a deep kneebar as she clips on a qualification route. She finished the competition placed 34.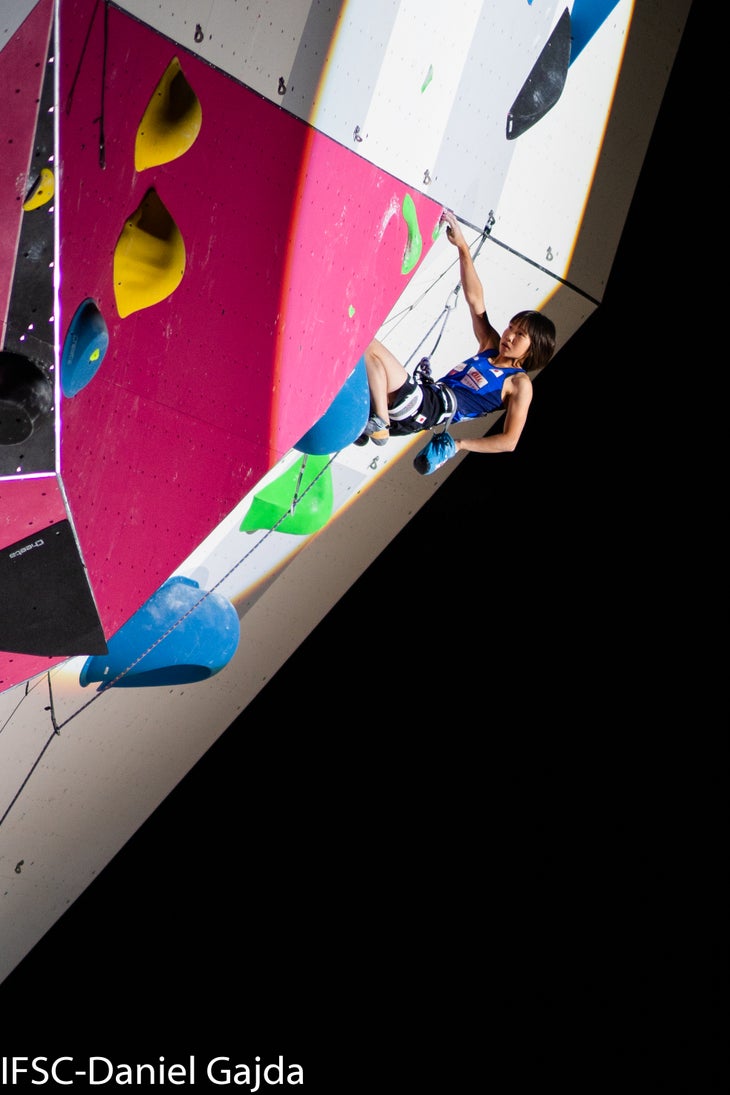 One of the big surprise showings of the weekend was 15-year-old Ai Mori of Japan. She finished the competition in third. As a member of a national squad that also includes Miho Nonaka, Akiyo Noguchi, Natsumi Hirano, Mei Kotake, and others, Mori finds herself now near the top of one of the most decorated teams in competition history.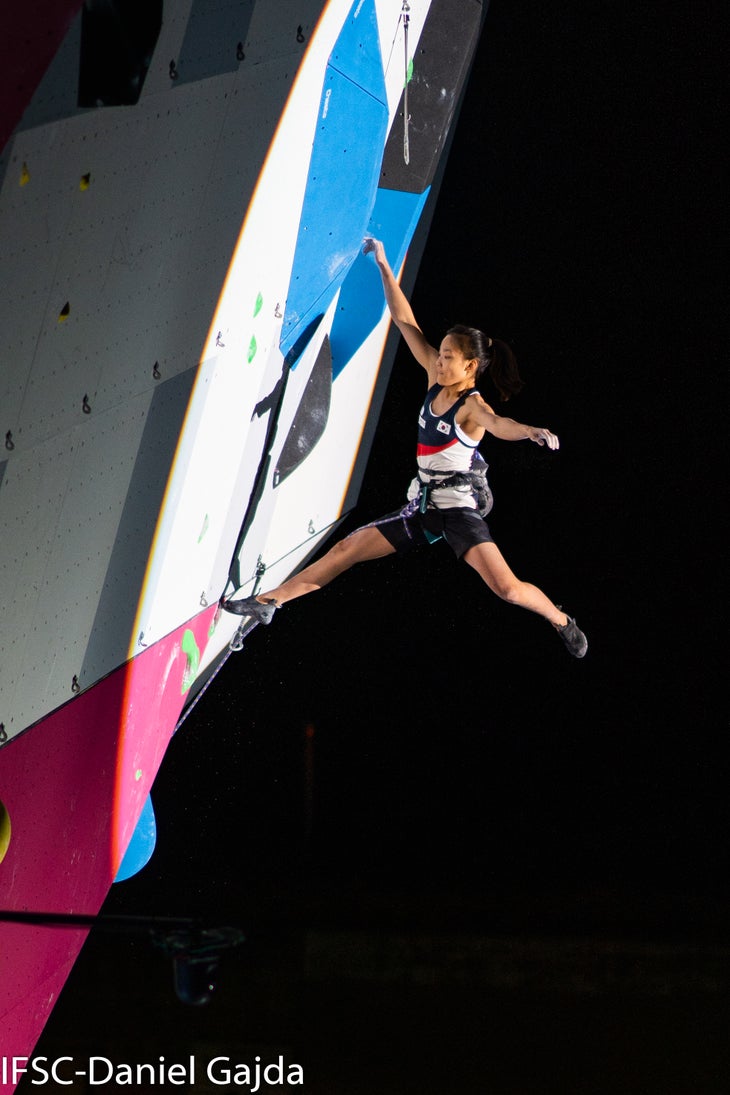 Another 15-year-old, South Korea's Chaehyun Seo, had a remarkable weekend in her own right. Seo—who admits to idolizing American Margo Hayes—finished the competition in second place. Not bad for her first adult World Cup event.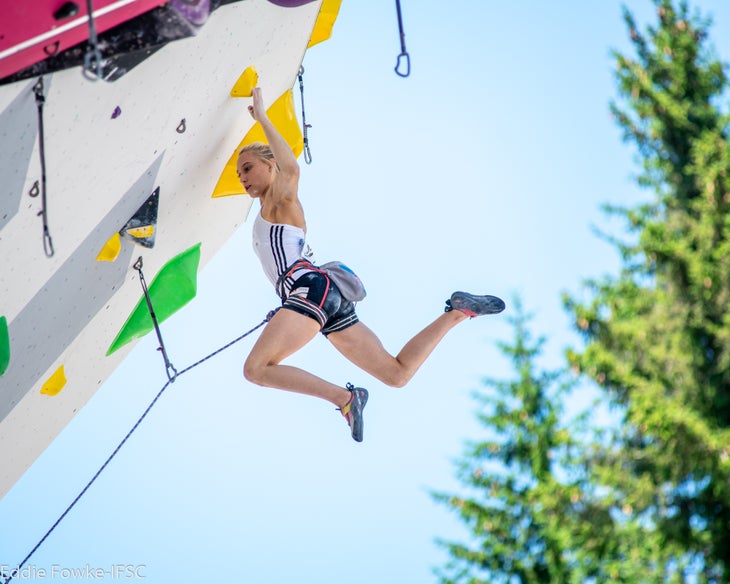 As much as the World Cup competition at Villars was a coming out party for many new faces like Seo and Mori, the competitor who performed the best was a familiar face. Slovenia's Janja Garnbret was the only woman to top any route in the qualification portion, and then she topped the semi-finals' route—without chalk. Although she did not top the finals' route, she progressed farther than any competitor and thus added another gold medal to her large collection.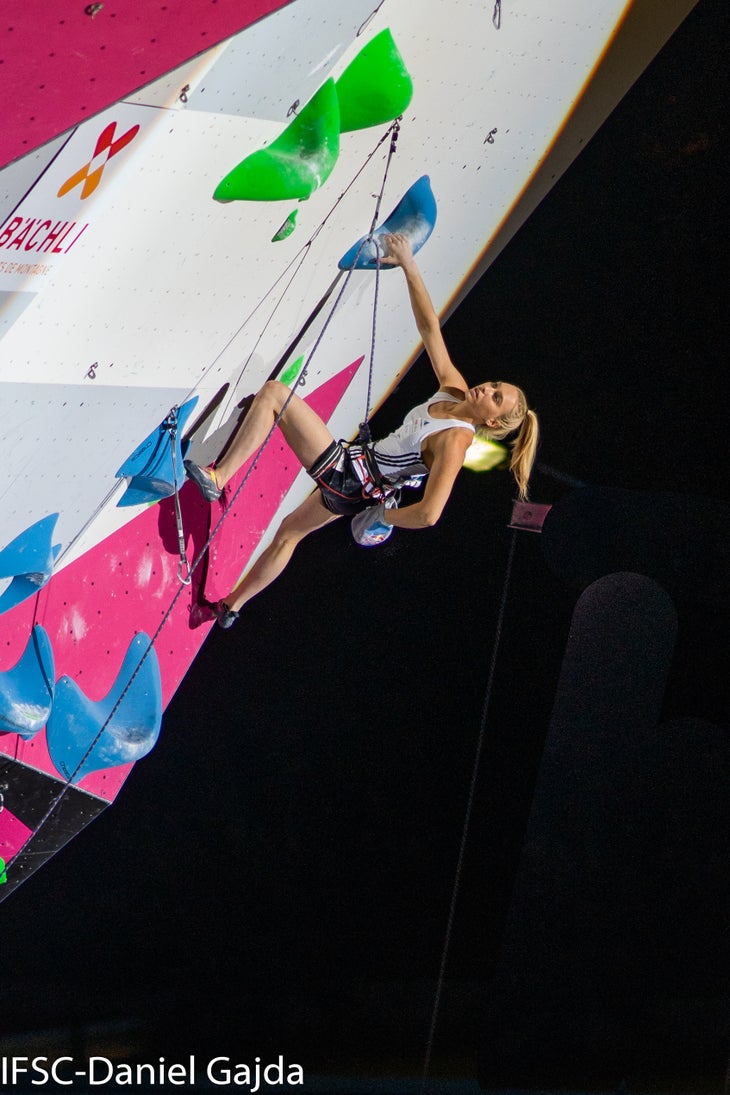 Garnbret swept the 2019 bouldering World Cup season, and she has now won the first competition of the lead World Cup season. Fans are eager to see if she can continue her victorious streak next weekend in Chamonix, France.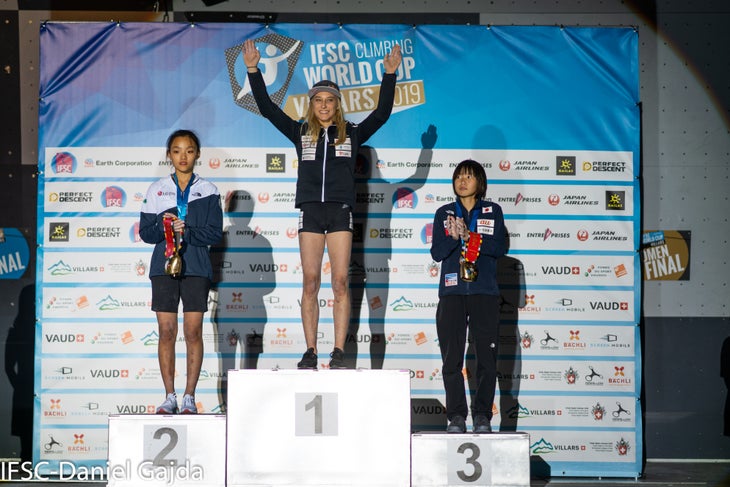 Garnbret stands in a familiar position—in the First Place spot on the podium. Chaehyun Seo (left) earned the silver medal, and Ai Mori (right) earned the bronze.
At this point, with Garnbret undefeated at World Cup competitions in 2019 and being on a fast-track to universal consideration as the greatest competition climber of all time, most of the praise and platitudes have been used up; she is a once-in-a-lifetime talent at a time when her sport of choice is peaking in popularity, particularly due to climbing's Olympics inclusion. She can climb with chalk or without chalk, it doesn't matter—she will still find a way to win.
But what is talked about less often is Garnbret's climbing style. She does not rest on her laurels. Instead, she makes risky moves on the wall, as illustrated by her unique, dynamic backwards mantle-catch at 2:20.51 in the finals. No other competitor used that beta or looked so tenuous holding the rotation, as commentator Mike Langley noted. These little moments of calculated chaos make Garnbret all the more compelling because it means every grand achievement—indeed, every victory—is the culmination of many smaller, precarious achievements. And while there is still a lot more of the 2019 World Cup season to go, I can't help but wonder if Garnbret could sweep this lead season like she did the bouldering season. The competition in Villars was a big step in that direction. And if there is anyone reading this who has not yet watched a World Cup event, it would behoove every climber to tune in because we are witnessing something truly special with Garnbret's continued dominance.  
The generational shift 
While Garnbret's ascents, chalkless as they were at times, were the biggest stories of the weekend, the competition at Villars also indicated a generational shift. 
South Korea's Chaehyun Seo took second place in the women's lead portion, with the commentators mentioning that she seemed to come out of nowhere. That's not the case—the 15-year-old Seo garnered headlines last year for sending a couple of iconic routes outdoors, and she has been a big name on the Korean youth scene for years. But Villars marked her first adult World Cup competition. Seo herself put it best on her Instagram page shortly after the competition's conclusion: "My first World Cup Villars. First semifinal, first final, and finally made my first World Cup podium."
https://www.instagram.com/p/BzmALy-nqK3/
Seo's success came as her compatriot, Jain Kim, struggled. Kim is a legend on the lead circuit and looked great in qualification, but pulled out of the semi-finals due to a finger injury. Kim is 30 years old and might still have a couple years of elite competitiveness left if she can heal up. But Seo is the rising star for South Korea—and a rising star on the World Cup circuit. We might someday look back on last weekend at Villars as the start of significant generational turnover. 
Right below Seo in the scores was Japan's Ai Mori, also 15 years old, and also a competitor who was decorated on Asia's youth scene. Mori has placed high in lead, bouldering, and speed competitions, so she is definitely someone to watch as the 2020 Tokyo Olympics (with its combined format) draws nearer.
The depth of Japan 
The men's portion of the lead competition was exciting in its own right. Switzerland's Sascha Lehmann was one of three competitors to top the men's route in the finals en route to a victory in his native country. 
Lehmann's success and the crowd's roaring response briefly overshadowed the unfortunate fact that the men's route was undercooked. Of those who did not top the route, Slovenia's Domen Skofic and Japan's Meichi Narasaki still managed to progress through the headwall and only fell when lunging for the final hold. Japan's Tomoa Narasaki, who finished in 6th, was looking solid on the wall too until he stepped on the rope with his left foot and slipped as the crowd gasped (1:13.30 in the livestream).  
Indeed, an underlying story of the men's finals, aside from the soft route, was the bottleneck of competitors from Japan. Below Meichi and Tomoa Narasaki in the scores were their compatriots, Yuki Hada and Kokoro Fujii. Fans saw the same abundance of Japanese competitors during the bouldering season. Normally, such depth would be an irrelevant observation, but with the 2020 Olympics only allowing two competitors per gender per country, it feels like there is a day of heartbreak approaching for many Japanese climbers—only a small percentage of which will see their Olympic dreams realized.
The weekend also featured a speed portion, eventually won by France's Anouck Jaubert in the women's division (with a time of 7.660 seconds), and Russia's Aleksandr Shikov in the men's division (with a time of 5.542 seconds). Japan made an impression in that discipline as well, with Miho Nonaka placing 10th—extremely high for someone who has traditionally been a bouldering specialist. There was also much talk of many competitors now skipping the fourth hold on the speed wall as a way to better their times. Tomoa Narasaki was the first to employ this sequence in competition, and so this game-changing speed beta is now known as the "Tomoa Move." 
The Americans' saga
Team USA did not have its best outing at Villars, although there were some bright spots. Jesse Grupper advanced to the lead semi-finals in the men's division and finished in 22nd place. Below him in the scores were Drew Ruana (30), Nathaniel Coleman (tied for 37), Sean Bailey (tied for 54), and Zach Galla (82)—and John Brosler placed 67 in Speed. Brooke Raboutou was the standout in the women's lead division, placing 20. Kyra Condie placed 33, Lauren Bair placed 40, and Sienna Kopf placed 60. Many of those women also participated in speed, along with Piper Kelly (who tied for 72 in the Speed portion).
It is generally accepted that the first competition of any World Cup season can be a shaky affair due to nerves, jet lag, and general rust. With an American yet to make the finals at any World Cup competition in 2019, fans would be justified in feeling a little nervous about the United States' prospects for the rest of this year's season, let alone qualification for the 2020 Olympics. But American fans should be optimistic that more members of Team USA will likely find their rhythm in the ensuing lead and speed competitions.  
The first Olympic qualification event kicks off in just one month at the Combined World Championships, at which time many questions about individual and national team inclusion will be answered. But before that, the next lead World Cup competition will take place this coming weekend (July 11-13) in Chamonix, France. Stay tuned to Climbing.com for the livestreams and coverage.
Results
Men's Lead
Sascha Lehmann (SUI)
YuFei Pan (CHN)
Alex Megos (GER)
Domen Skofic (SLO)
Meichi Narasaki (JPN)
Tomoa Narasaki (JPN)
Yuki Hada (JPN)
Kokoro Fujii (JPN)
Women's Lead
Janja Garnbret (SLO)
Chaehyun Seo (KOR)
Ai Mori (JPN)
Akiyo Noguchi (JPN)
Mia Krampl (SLO)
Lucka Rakovec (SLO)
Julia Chanourdie (FRA)
Natsuki Tanii (JPN)
Men's Speed
Aleksandr Shikov (RUS)
Dmitrii Timofeev (RUS)
Jan Kriz (CZE)
4. Bassa Mawem (FRA)
Women's Speed
Anouck Jaubert (FRA)
YiLing Song (CHN)
Elizaveta Ivanova (RUS)
Di Niu (CHN)
Missed an event? Catch up on the 2019 competition season here.