The Best New Stick Clip on a Budget
A first look at the Mountain Drifter Equipment Skyhook.
Believe it or not, decades ago it was seen as a mark of shame to carry a stick-clip. Yeah, that's how macho and dumb we were—taking giant whippers while trying to figure out the beta instead of efficiently clipping the rope up, risking pointless grounders getting to high first bolts, and using athletic tape and a tree branch were somehow "cooler." Go figure…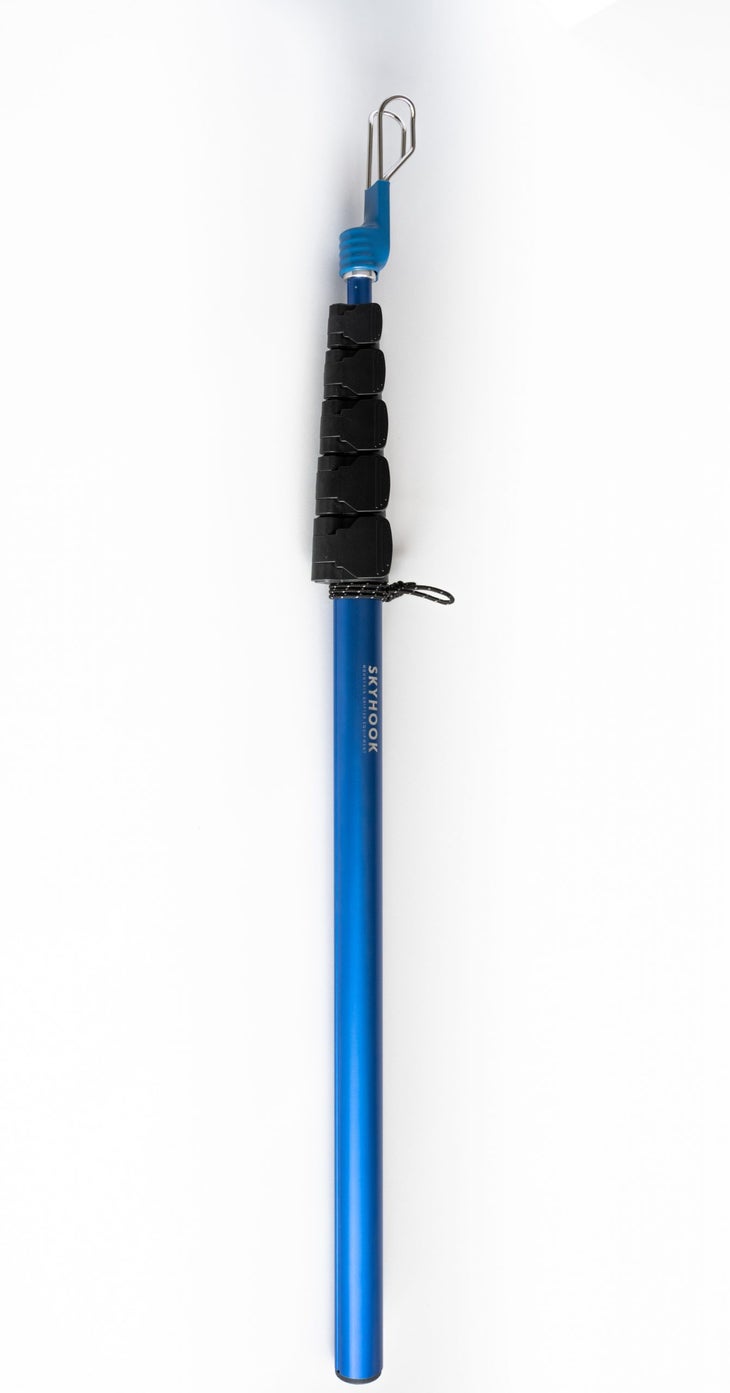 As with many things in the climbing world the thinking has changed for the better, and now stick-clips are commonplace, from the DIY painter's pole + alligator clamp rigs to commercial sticks and head attachments. The latest entry is the Mountain Drifter Equipment Skyhook, a telescoping clipper that combines snap-lock collars with a six-segment aluminum pole and the Superclip attachment that's become a fan favorite among sport climbers.
Amongst Colorado's erratic spring weather, I had the chance to test an early production model both in the gym and up sport climbing in the Flatirons above Boulder. Ever since the Pongoose came out, I've been a convert to the all-metal stick-clip, both for its rigidity when extending to high clips and for its longevity. The Skyhook seems to slot right into that niche.
First, to the clipping. The Superclip was new to me. I can now see why people dig it: It's "carabiner-agnostic," in that you can drop basically any carabiner in and it will seat well, versus other stick-clips that work best only in a certain range of carabiner size. This was a huge plus, as was the ability to drop in a bight of rope to slap into a pre-hung draw and remove a quickdraw by simply pushing up and lifting/twisting—perhaps the easiest such protocol on the market.
The stick itself is the meat of the product, and was very easy to use—the telescoping segments lock, unlock, and slide easily thanks to the plastic snap-lock collars and grooved poles. It was lightweight (the entire unit weighs 19.5 ounces) and had a good feel in hand, thanks to the wide diameter (2.9 cm) of the handle section, though you may want to add grip tape or the like to the shaft—the anodized aluminum is slippery. To really test the pole's mettle, I used it fully extended to drop draws onto my Flatirons project, up to the high first and second bolts. There was slight wobble, sure, because it's a 10-foot pole, but not so much as to be annoying.
Overall I found the Skyhook to be a well-designed, well-crafted, effective tool. It will be interesting to see how it holds up long-term given how light the aluminum is. And the Superclips are said to lose some of their spring tension over time. But with the head being a modular, screw-on, screw-off attachment (you can also screw brushes on), it's a simple thing to replace—and using the Skyhook as your base stick certainly isn't going to wear out the Superclip any quicker than using it with a painter's pole. Also, for now, a single unit is $70 via Kickstarter; if this price holds, it also makes the Skyhook one of the most affordable commercial sticks on the market.
What it is
The Mountain Drifter Equipment Skyhook is a telescoping, six-segment aluminum stick-clip that extends to 10.5' and collapses to 30", with a screw-on Superclip head
Pros
Hollow, wide-diameter metal pole is light, easy to use, and rigid enough for high clips
Superclip attachment is a fan favorite, and—since it's modular—is simple to replace while retaining the base stick unit
30" collapsed-down length makes the Skyhook easy to lash to a pack or travel with
Cons
Unit does not have a designated clip-off eye for on-route stick-clipping; you'll need to use a lanyard
Slippery pole/handle could use grip tape or the like for a more secure feel
Other Considerations
As with any stick-clip, longevity will be the main issue to keep tabs on, though the Skyhook does seem engineered to last.