2011 Gear Guide: Carabiners
Heading out the door? Read this article on the new Outside+ app available now on iOS devices for members! Download the app.
THE ULTRALIGHTS Micro-biners slash grams but not performance
There was a time when biners came in very few flavors: You had ovals, Ds, lockers, and bent gates. And all of them, with their solid-gate construction, were fairly heavy. Then the wiregate revolution hit, letting climbers shave ounces off their draws and racks. With the new millennium's push for ultralight wiregates, clippers have became so svelte (typically 30 grams—1.1 ounce—or less), using them can save up to a pound or more in a big rack. The nine ultralights highlighted here all fall in the 24-gram to 31-gram range, yet they all are rated to "full strength"—at least 20 kN along the major axis and 7 kN with the gate open. All have wire gates, and most have I-beam construction—the latter shaves weight and girth, but can also impart a small-in-the-hand fussiness when mucking around with cold hands or a crowded rack. This tradeoff, along with your intended usage, will inform how you purchase. Climbers increasingly look to ultralights for alpine and trad routes, where weight and space savings are key. But this is a versatile category, and some of the bigger biners were solid, all-around, beat-'em-to-death workhorses that also happened to weigh very little.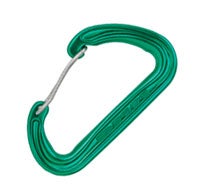 All-Arounder DMM PHANTOM $9.95, 26gdmmclimbing.com
The Phantom is a great medium-sized microlight even as it falls near the lightest end of the scale—that is, you get a remarkable amount of biner for very little heft. Testers appreciated this I-beam's long gate opening and slightly asymmetrical shape, which also yields a broad and well-rounded (smooth-handling) rope cradle. The gate has strong action, and unclipping and rack maneuvers were quick and casual. The Phantom is one of those cases where visible simplicity of design—in this case, a mild, no-frills trapezoid—translates to topshelf performance. I would use the Phantom in all clipping situations, from racking gear to sport draws to alpine routes. It also comes in seven different colors and/or a color-coded five-pack ($47.95).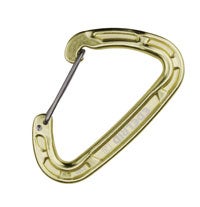 Most Versatile EDELRID MISSION $8.75, 25gedelridna.com
Looking like a prop off the set of Tron, with its futuristic I-beam "pockets" (seven in all) along the body, the Mission came in just one gram heavier than the lightest-inreview Cypher Mydas. This biner delivers amazing utility for its weight, thanks to its exaggerated trapezoid shape and deep, wide rope cradle—especially given the biner's medium-range size. The "pocket" design contributed favorably to handling, since you can get slightly better purchase on the ridges between the holes than with a homogenous I-beam. The gate opening, as I measured it, fell in the middle range for the review—a nice, utilitarian size—while the gate itself had solid, nearperfect spring-back. The Mission is a very versatile biner, great for onsight cragging but with the size and lightness to deliver in the mountain arena.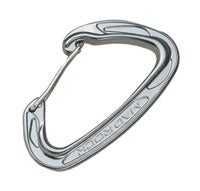 Best Value MAD ROCK ULTRALIGHT STRAIGHT WIRE GATE $5.95, 31gmadrockclimbing.com Although this biner tops 30 grams—heaviest in the review—we appreciated its value and strength. Rated at 25 kN, the Ultralight Straight Gate marks a good compromise between lightness and burl factor—even with its I-beam construction, it feels like a muscular performer that can handle the wear-and-tear of sport and trad cragging, but is also light enough to be attractive for racking and in the alpine. Testers appreciated the snappy gate, deep, beveled rope cradle, and ample gate opening, as well as the biner's easy-handling, medium size (good for gloved or cold paws). This oblong I-beam biner has a subtle convexity to its spine that made it easy to wrangle when unfurling trad draws, fussing with the rack, and so on. At a bargain price, the Ultralight Straight Wire Gate is a versatile and bomber tool.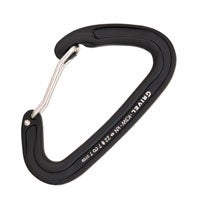 Testers' Choice GRIVEL PLUME $12.95, 28g
With a median weight and size, the Grivel Plume perfectly straddled the gap between performance and minimalism—it was the sleekest, highest performing ultralight we tested. What first struck me was the biner's ease of handling: The coating, especially on the black version, has a tacky, almost powdery feel (like primer paint) that made it much less prone to bobbling than the category's more typically slick or anodized units. The Plume's pronounced, lopsided teardrop curves provided an ample rope cradle, while the gate opening was a good, workable middling size, solid for slapping onto bolts or racking gear. Meanwhile, quick snapback and a muscular gate facilitated clipping on the quick in pumpy situations. This biner won't gobble pack space, has a "bomber" feel, and nails the size range—it does perfectly all the things an ultralight is meant to do.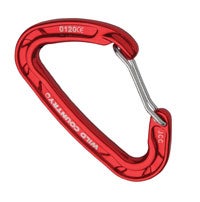 Hoody WILD COUNTRY ASTRO $7.50, 29gwildcountry.co.uk
The venerable UK outfit Wild Country sells a quiver of ultralight wiregates (Astro, Helium, Nitro, Xenon). I've been running Astro draws for a while, so I'm quite familiar with the carabiner. This is a great, middling-light clipper and lands squarely in the upper-middle ranks for gate-opening size. The nose is elegantly hooded, for minimal snag hassles, and the gate is properly stiff like a strong cup of Earl Grey. The I-beam shape is aggressive, with an innovative look that incorporates pockets of varying depths, while the rope cradle has a deep dip and smooth action. The convex spine is easy to handle, a true pleasure to clip. I'd use the Astros anywhere, from trad to sport to alpine.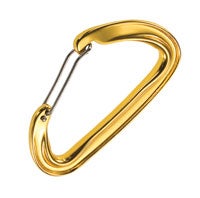 Good with Gloves CAMP PHOTON WIRE $7.95, 29gcamp-usa.com This was the largest clipper reviewed (the smallest-in-review Metolius FS Mini nearly fits inside), and thus, not surprisingly, proved very versatile. It might be the easiest of all to maneuver while wearing gloves, and it also was the easiest to slap rope into, with the review's biggest-measured gate opening. One Achilles heel of certain larger wiregates is a tendency toward "limp" gate resistance—this makes it harder to stabilize the biner while clipping the rope into it, or to push the biner open against, say, a hanger. But the Photon Wire had keen, pronounced "snap-back," and testers unanimously loved its gate action. The Photon's generous size also makes it a great "shiny metal handhold." If you don't need to ration room in your pack, this is a winning carabiner that's built to last and fluent in all scenarios.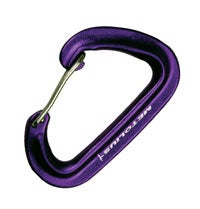 Smallest METOLIUS FS MINI $7.50, 25gmetoliusclimbing.com
I have Jimmy Dean fingers, so I'm an outlier in terms of hand and digit size. (Laptop keyboards confound me.) That said, I had little trouble clipping rope into the FS Mini, which ties for the second-lightest biner reviewed—and is certainly the smallest. Because of its keychain-biner size, the FS Mini will have detractors: It's a tough sell for gloved alpine climbing and for hangdogging, when you sometimes grab biners to clip the rope. (I couldn't open the gate with even one finger inside.) But for me, the space savings offset these issues: These biners won't eat up pack room, which likewise makes them attractive for racking cams and wires, or for extendo-sling trad draws. The FS Mini also slips into the funky, homemade bolt hangers found on some American rock. With spry, springy gate action—quite notable for its stature—it will excel on multi-pitch trad where lightness is a must. The welcome Jet Set ($43.50) has six biners color-coded to match six Metolius cam, nut, and hex sizes, from blue (No. 1) up through green (No. 6).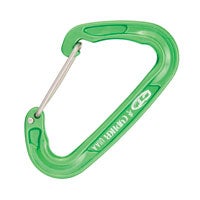 Lightest CYPHER MYDAS $10.95 polished, $11.95 anodized, 24glibertymountain.com
The lightest biner reviewed, the slim, airy Cypher Mydas nonetheless had a capable feel and middling size that testers appreciated—the biner is just (just) large enough not to weasel from your grip in clutch situations, and the gate opening was ample and avoided snaggage. The Mydas' I-beam construction is quite aggressive but still reliable in the hand: The three super-recessed I-beam pockets made for good grabability along the ridges and declivities, without compromising strength. As with all ultralights (and especially at this super-slim level), the key consideration is intended usage: Are you slapping these on fixer draws for a roadside, biner-abusing siege-fest, or are they incorporated into your alpine trad rack? For the latter usage, the Mydas, with its functional trapezoid shape, is a great choice, and the stiff gate action was a notable plus as well.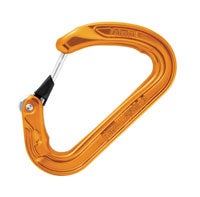 Most Innovative PETZL ANGE S $10.95, 28gpetzl.com I've long wondered why wiregates always had two wires—wouldn't they be even lighter if you removed one? The sleek, innovative "H-Profi le" (basically I-beam) Ange S is the fi rst to do so, with its unique MonoFil Keylock gate, which the company touts as lasting longer because the gate is more recessed; it also clicks into a unique see-through nose that lets you clear away ice and debris. Looking almost like a Transformer or robot's pincer hand, the Ange S was a sheer pleasure to clip: The Monofi l gate has the spring-back of a solid gate (very spry) and a welcome bit of ergonomically molded plastic on the hinge end that eases clipping. The gate opening can feel a little tight on unclipping or traddraw maneuvers, but the deep, broad rope cradle, notable on a biner that weighs only 28 grams, more than offset any hassle. It will be interesting, over the long haul, to compare the mono-gate's endurance to that of double wires; I suspect it will be bomber, and I'd use the Ange biners in every situation, from sport cragging to alpine burl.
WEAR AND TEAR
As biners get lighter and smaller, common sense dictates that the reduction in metal volume will reduce their durability. So it's not surprising that ultralights may need to be retired before their beefi er counterparts: A 24-gram thin-spined wiregate simply won't take as much abuse as a stocky 45-gram traditional biner. According to Kolin Powick, director of global quality at Black Diamond Equipment, some telltale signs of an over-the-hill wiregate include rope grooves (dangerous because they can de-sheath your cord), gate action that's "off" (too sticky, too loose, or too wobbly), bending or twisting of the gate's wires, and any "chundering" (pitting or scarring) from bolt hangers. One tip for quickdraws: Always use one biner for clipping fixed pro, letting this "bolt-side" biner endure the metal-on-metal wear. Use the draw's other biner for the rope side. This will prolong the life of at least one of your biners, while also going easier on your rope. On trad draws, where the distinction isn't as obvious, you can mark your pro-side biners with tape.