Our Editors' Favorite Approach Shoes (Updated for 2022)
This isn't a guide to 2022's newest approach shoes—it's the pairs we return to time and again.
Heading out the door? Read this article on the new Outside+ app available now on iOS devices for members! Download the app.
We focus so much on the act of climbing and what gear is essential in that arena—rock shoes, harness, rope, hardware, helmet, pack—that we sometimes neglect what's helpful for actually getting to the climb. The approach can be anything from a short scramble to the crag or a multi-day hump to a valley of granite towers and anything in between. No matter what, the best approach shoes combine the stability and support of a hiking boot with the grip and dexterity of a climbing shoe.
Building a quality approach shoe is an art—and a science. Manufacturers take wildly different materials and delicately press, weld, glue, or sew them together into a cohesive unit that should get you from your car to your climb as efficiently as possible. Before purchasing a pair of approach shoes, it's important to have a basic understanding of the materials keeping you stuck to the stone:
Outsole: Lugs (the knobs on the sole of the shoe) dig into the dirt for grip on trails. Some approach shoes have a shallow dot pattern that creates more contact between the rock and rubber, so they smear better on slabby stone.
Midsole: This is the main shock absorber that decreases impact on the trail. Two common materials are polyurethane foam (PU) and ethylene vinyl acetate foam (EVA). PU is dense and strong, with a longer lifespan than EVA, but it isn't quite as soft. EVA is lighter and cushier but less durable.
Drop: This refers to the difference in "stack height" (the measurement of material between the bottom of your foot and the ground) at your heel and  forefoot. The smaller the drop, the more minimalist the shoe, and the more you'll feel the ground beneath your feet, which helps for approaches that demand precise scrambling and technical movement. Hiking boots and traditional trail runners have a higher stack heights and drop, which provides more cushioning and support for heavy loads.
Forefoot Plate: This higher-density foam or plastic piece provides additional support and protection for the ball of your foot.
Heel Wedge: This midsole component, usually a softer foam, absorbs impact during initial heel strike to provide a more comfortable ride.
Upper: This is the top part of the shoe that adds support and guards your foot from outside threats. The upper can be synthetic, leather, mesh, or some combination to offer varying degrees of water resistance, breathability, and insulation.
Footbed: Also called the insole, it sits directly beneath your foot. This foam insert comforts and supports, molding to your foot's unique shape. If you really love a shoe, but need more arch support, for example, try an after-market insole.
How to size your approach shoes
It's easy to obsess over the climbing ability of a shoe while ignoring how it hikes. However, remember that you'll probably spend much more time hiking in your shoes than you will climbing. Size your shoes to be moderately comfortable on a five-mile hike, while ensuring that you can cinch up the laces for a tighter fit on your climb. Your toes should not reach the end of the shoe, but neither should they be swimming in an overly spacious toe box.
How to increase your approach shoes' life
Delamination, one of the most common durability issues, is the breakdown of the glue between the outsole and the midsole. Most shoe layers are bonded with an adhesive, typically a heat-activated glue held together by strong chemical bonds. The number-one cause of delam is heat, so don't leave your shoes baking in your car between climbing trips or in direct sunlight. And, as tempting as it is, don't put your feet up right next to the campfire or leave your shoes next to it to dry. However, if you experience a wagging rubber tongue coming off the toe soon after purchasing or without much wear, it could be due to ineffective contact between the glue and rubber, which is an error that occurs during manufacturing (usually from not having the two surfaces perfectly clean when gluing). Contact the company directly to get them repaired or replaced.
---
Our favorite approach shoes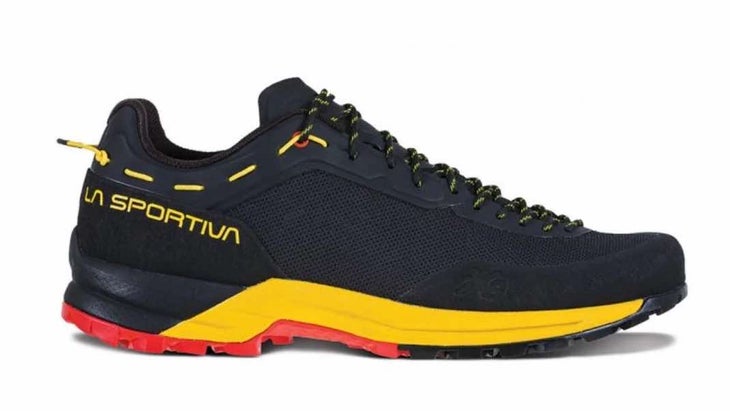 La Sportiva TX Guide
The La Sportiva TX Guide is among the best rock-climbing approach shoes one of our testers has ever worn, "and I don't say that lightly," he writes. "They are responsive, precise, and comfortable." La Sportiva describes them as a middle ground between trail runner and stiff climbing boot, and while they are certainly a supportive hiker, we find them a bit too cumbersome to throw out our running shoes for rest-day jogs. They are stiff through the midsole, yet the four-millimeter Ortholite insole and high-cushioned heel are still nice and springy. Hiking to a climb, this combination of stiffness and cushioning means that—whether hopping between rocks or accelerating on the flats—you always feel steady, while the shock absorption coddles your joints.
Price: $159
---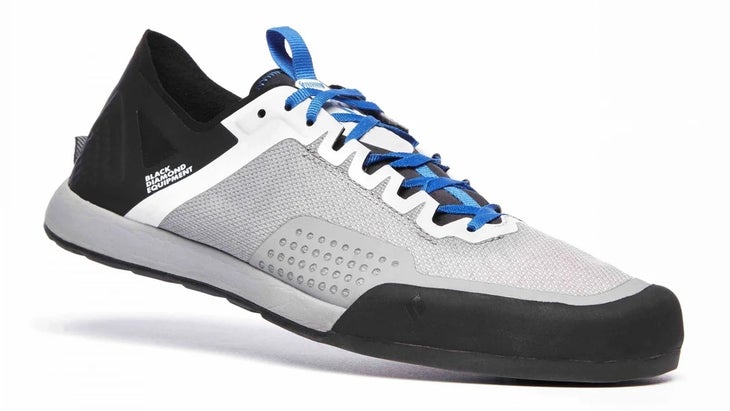 Black Diamond Tag LT
For such a lightweight approach shoe, the Tag LT is surprisingly comfortable. The comfort comes from their slipper-like feel and midsole support, which was more than one tester expected. Its sole is sticky and reliable on scrambling terrain, and it stows easily on the harness with a profile-reducing cinch strap. Overall, we give the Tag LT two thumbs up: it found the delicate balance between weight, performance, and packability, making these one of the best approach shoes our tester has ever used.
Price: $135
---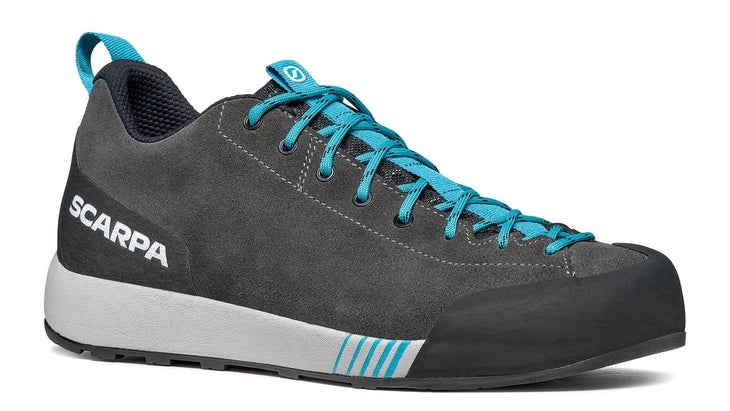 Scarpa Gecko
Scarpa's most technical, climbing-focused approacher was re-tooled for spring 2021, with an updated color palate and about 2 ounces of weight savings per shoe. Like the original Gecko, they have a soft, intuitive, natural feel on technical terrain—you can dig into fairly small footholds (up to 5.10/5.11 jibs and crimps), the sticky rand/toecaps are stable in big cracks, and, with lots of forefoot flex, the Geckos smear extremely well. On the technical side, the new Geckos score the same high marks as their predecessors; they truly are top tier for scrambling and moderate rock. The full-foot lacing is great too—you can really ratchet down fit when needed.
Price: $149
---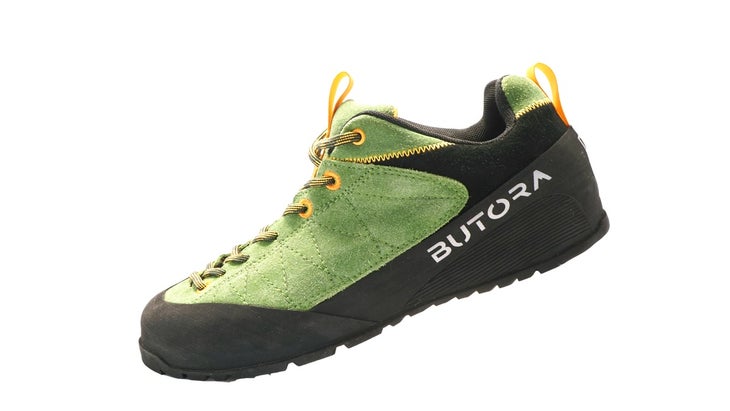 Butora Icarus
The narrow-lasted Butora Icarus combined backcountry toughness with après-climb style, making it the perfect approach shoe for alpine bouldering and alpine approaches mixed with city-time. Our tester talus-hopped in Eldorado, kicked snow steps in the high peaks, and bouldered along a crag base. "The NEO Zone flat climbing surface provided ample edging power," he said.
Price: 129
---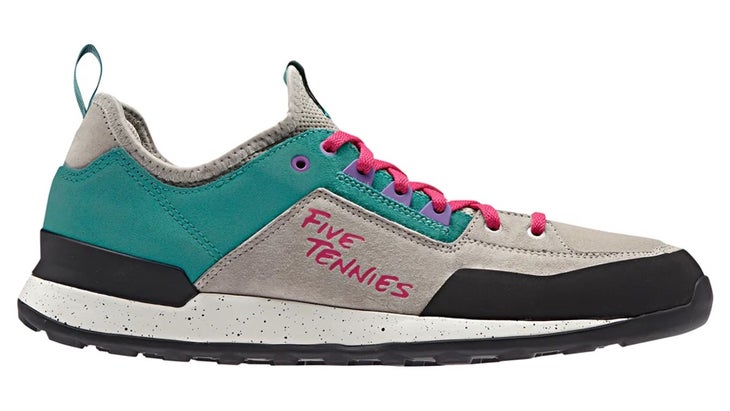 Five Ten Five Tennie
After a lengthy hiatus, the Five Tennie returned in 2019 to great fanfare. The updated version has supple leather uppers, a lace closure that comes back over the ankle (if you choose to lace through the final two holes), textile lining, an EVA midsole, and a gusseted, stretchy mesh tongue that forms a sock-like enclosure designed to keep debris out. One of tester said the tongue was his favorite feature—even with the shoes fully laced, he could slide in and out like a slipper, which was great for cragging when swapping between approach and rock shoes, or when you need to slap on some shoes and get out the door quickly. For longer, more technical approaches, the Five Tennie's sticky sole and stable edge inspired confidence and efficient movement.
Price: $125
---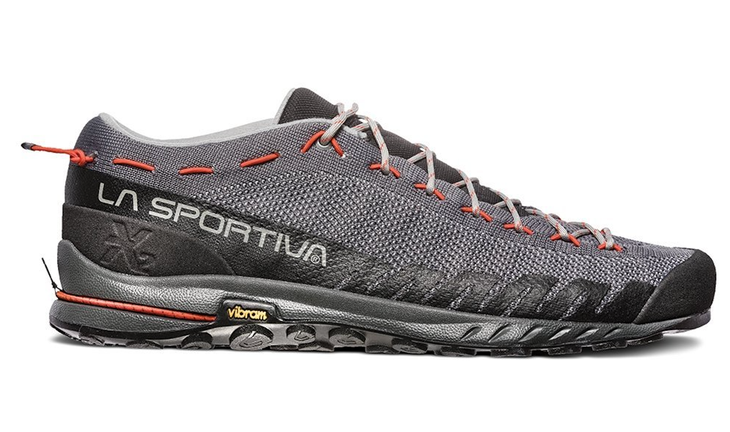 La Sportiva TX2
Scrambling approaches, climbing up to 5.6, hauling up a long multi-pitch, the TX2 shines for all these situations. "This shoe was one of the closest-fitting I've used thanks to a knitted polyester upper that really wraps around the foot and to-the-toe lacing that cranks the whole shoe securely down," one of our testers wrote. A Vibram Megagrip sole has dot rubber on the whole foot, with a flat section under the asymmetric toe for climbing, inspiring confidence where you need it most.
Price: $125
---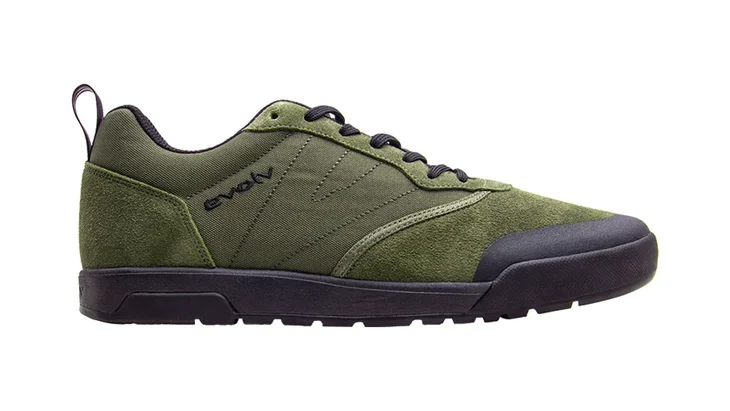 Evolv Rebel
Coming in leather and vegan versions, this light, über-comfy tennie-style approacher went gangbusters on rocky trails, slabs, and techy terrain thanks to the grid-pattern Trax Enduro sole and rubber toecap. The lining is water resistant (and the uppers have been treated), an asset for one of testers during a January approach through a foot of snow. Despite a sleek profile that's great for urban wear, the shoe also has a welcome dash of burl thanks to its compression-molded EVA midsole.
Price: 115