The Best Approach Shoes of 2023
Grippy, durable climbing footwear that will get you to the wall (and back) in comfort and style
Heading out the door? Read this article on the new Outside+ app available now on iOS devices for members! Download the app.
Projecting a climb is sometimes as much a struggle off the wall as it is on, because—unless your project is at the gym—you need to get to the route first. This could mean a miles-long off-trail jaunt across sprawling scree fields and through dense undergrowth or it could simply entail a 20-minute sprint from the parking lot on a well-packed trail. Either way, time and energy spent on an approach is time and energy wasted because you're not climbing. So investing in a solid pair of approach shoes is vital.
Approach shoes vary widely. Some, like the über-light The North Face Summit Cragstone Pro, are practically trail-running shoes, excelling during lengthy ascents below tree line. Others, like the Scarpa Gecko LT, are closer to a climbing shoe, affording superb footing on techy scrambles. Still others are incredibly versatile—they'll not only get you to the crag and back but are hip and comfortable enough to accompany you to the brewery, gym, and office.
We asked five testers to put hundreds of long, hard miles on this year's newest approach shoes. After rigorous testing, these four were our favorites.
Winners at a Glance
Most Lightweight: The North Face Summit Cragstone Pro ($175)
Best Technical Climber: Scarpa Gecko LT ($199)
Best All-Around: La Sportiva TX2 Evo ($149 in eco-leather, $159 in synthetic)
Most Comfortable and Stylish: Salewa Wildfire Canvas ($130)
How We Test
Total Tester Miles: 495
Tested In: Arizona, Colorado, California, Nevada, New York, and British Columbia
Lowest Elevation: 1,800 feet
Highest Elevation: 13,000 feet
Beers Spilled on These Shoes: 3 (at least)
These four models were distributed among five testers spanning in age from their mid-twenties to mid-sixties. Each model was tested by at least one male and one female tester. We took these approach shoes to the crag carrying heavy loads of gear and on long cross-country hikes, and we wore them for more than a few trail runs. Weather never stopped us—we headed out the door in various conditions and climes, from the warm, sun-baked granite of Joshua Tree and scree-filled gullies of Mount Whitney, California, to the mud-choked trails of the Pacific Northwest. Each model that made this list was worn for at least 100 collective miles, and every model was tested under a wide range of elevations, with a minimum of 5,000 feet of elevation gain for each shoe.
Meet Our Lead Testers
Owen Clarke is a former editor-at-large and columnist for Rock and Ice, Climbing, and Gym Climber whose writing has appeared in over 40 outdoor sports publications. He has been climbing for 15 years, and has soloed more than 100 peaks on five continents. He also thinks of himself as an avid adventure motorcyclist.
Steven Potter is a digital editor at Climbing. The only thing he enjoys more than injuring his fingers and rehabbing his shoulder is hunting for unclimbed boulders in the overlooked corners of New England and New Mexico. He rarely finds anything, but he puts a lot of miles on his shoes.
The Reviews: The Best Approach Shoes of 2023
Most Lightweight: The North Face Summit Cragstone Pro ($175)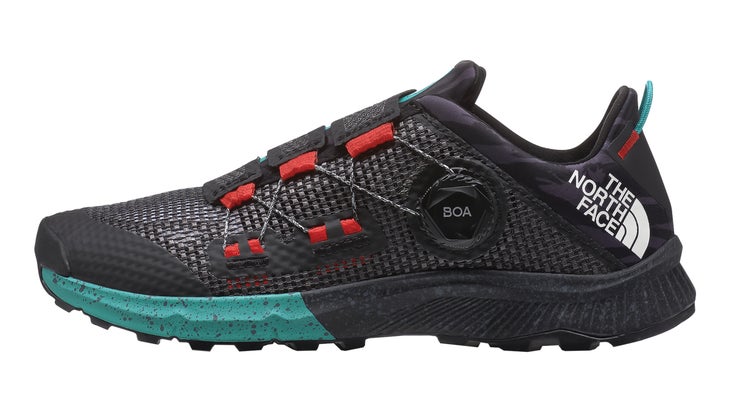 Weight (all weights listed are per pair): 9.3 oz (men's), 7.9 oz (women's)
Pros: Extremely breathable; Ultralightweight
Cons: Minimally supportive and weatherproof; Poor technical climbing capabilities
You'll either love or hate the minimalist Summit Cragstone Pro. A three-strap BOA lacing harness makes honing and adjusting fit a split-second process, and the shoe weighs a mere 9.34 ounces (265 grams). Features include a Vibram outsole, an ESS edging plate, and a soft, porous upper—so porous, in fact, that you can clearly see the top of your foot through the shoe.
That upper is what makes the Cragstone Pro unique. It's easily one of the most breathable shoes of its kind out there, which means if you want to go sockless on the approach, you needn't worry about having stinky feet by the time you arrive. On the flip side, the Cragstone lacks weatherproofing, offers negligible support, and affords little warmth. This is truly a model, then, for the diehard minimalist. With no toe rubber, it's not really viable for more than fourth-class scrambling; that said, the BOA harness provides an incredibly locked-in feel, making it a shoe that goes where you want it to go (even if it's more of a runner than a climber).
All told, the Cragstone Pro shines as a lightweight, flexible trail shoe for cross-country approaches. If moving fast and light are what you're after, this is your shoe.
Best Technical Climber: Scarpa Gecko LT ($199)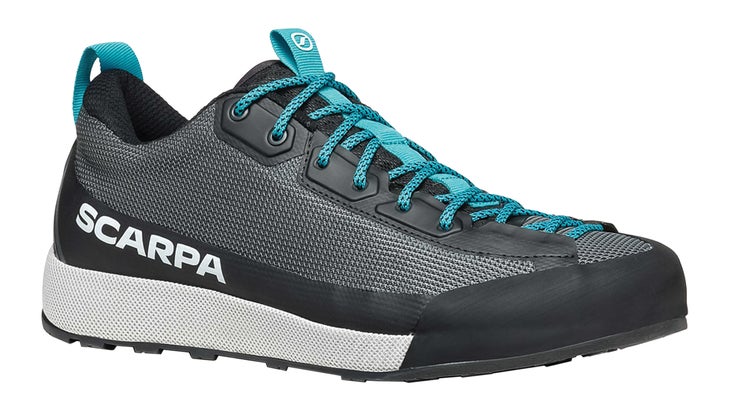 Weight: 11.3 oz (men's), 9.9 oz (women's)
Pros: Superb support and grip on faces; Allows for confident, comfortable jamming
Cons: Poor grip on trail; Lack of comfort for long hiking-style approaches
The Gecko LT—a reinvention of Scarpa's popular and long-standing Gecko—is a climber's shoe through and through. This techy, stiff, and burly model is our top pick for folks who want to hit the wall and climb moderate fifth-class routes without busting out their rock shoes. Its lightweight ripstop upper offers a blend of breathability, abrasion resistance, and protection. A flat last and grippy sole, boosted with sticky toe rubber, excels when smearing, with shallow lugs offering maximum rubber-on-rock contact. Meanwhile, the rigid, supportive build makes the Gecko LT far and away the best edger and jammer on our list, with one tester noting it gave him a "TC Pro–esque feel" during such movements—high praise for an approach shoe.
However, the characteristics of this climbing-heavy build—with its neutral last and low-profile lugs—are just what keep it from performing well on long trail approaches and soft or wet surfaces.. Tester Anthony Walsh said he loved the shoe's flat last while edging and smearing, "but this also means it doesn't 'roll' with the terrain while walking," he said. "The lugs, while grippy for climbing, lack meaningful traction while walking downhill on wet, grassy, or muddy trails."
Still, the Gecko LT is plenty comfortable for short trail approaches and even cruising around town. Aside from its first-rate climbing performance, testers appreciated the shoe's comfort and durability—specifically its ability to maintain shape and rubber over time and the breathability of the cushioned, perforated tongue. The Gecko LT hits shop shelves in September 2023.
Best All-Around: La Sportiva TX2 Evo ($149 in eco-leather, $159 in synthetic)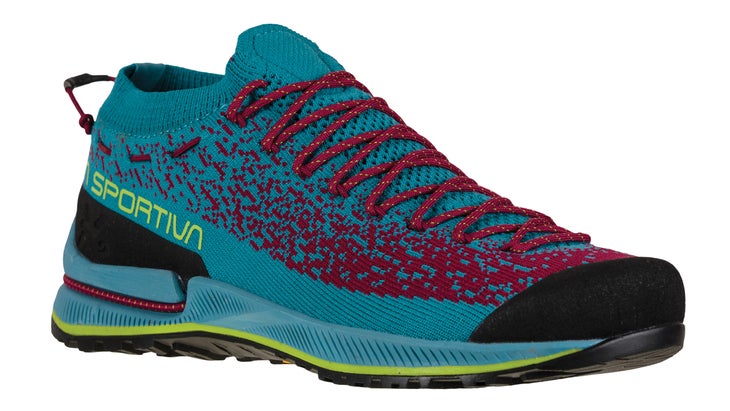 Weight: 10.2 oz / 10.4 oz (men's synthetic, eco-leather), 8.5 oz / 9.1 oz (women's synthetic, eco-leather)
Pros: Excellent grip on both rock and trail; Lightweight and breathable
Cons: Poor durability and a stretchy cuff closure in the synthetic version; Soles prone to wear
While most approach shoes fall largely on one side or the other of the hiking-versus-climbing spectrum, the agile, lightweight La Sportiva TX2 Evo lands dead center, and excels in its role here. Versions of the model are available with a traditional synthetic upper or an eco-leather upper, and we tested both. The synthetic shoe is slightly lighter and features a cuffed sleeve and snug, sock-like fit, while the eco-leather shoe is a bit more durable and has a traditional tongue and lace-up closure.
What the two share are qualities that make the TX2 Evo a master of middle ground: lightweight and techy, it grips well on both hard rock and soft trails. "This shoe is super light, which makes it feel incredibly agile on semi-technical terrain," said tester Steve Potter. "It's almost like a running shoe in that way—you feel like you can dance around." Tester Kimmie Casto seconded this, adding that the shoe felt equally comfortable "on rock and on easy-to-difficult trails."
The TX2 is comfortable and breathable and durable enough for rugged trails and talus—particularly the leather model. And although the leather version isn't sturdy enough for jamming—one tester noted wear after a single 5.6 crack route—it's a nice hybrid between the pliable synthetic model and stiff shoes like the Gecko LT. Where both models suffer is sole durability: they tend to wear down slightly faster than other comparably priced models.
Despite the snug fit of the synthetic, heavier testers remarked that the upper's soft, pliable mesh doesn't contain the foot as well as the leather upper; as a result, their feet sometimes overshot the footbed while hiking downhill. It's also worth mentioning that this shoe is relatively eco-friendly, with recycled mesh and laces, a partially recycled midsole, and a resole platform that caters to fast and simple repairs.
Most Comfortable and Stylish: Salewa Wildfire Canvas ($130)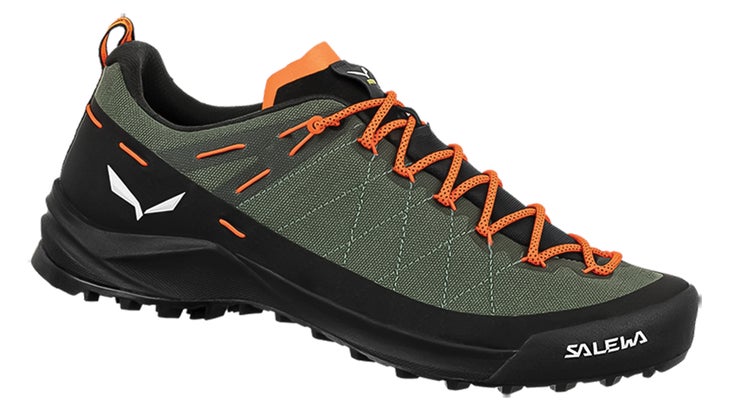 Weight: 10.8 oz (men's), 9 oz (women's)
Pros: Lacing harness that's quickly adjustable; Breathable and comfortable
Cons: Poor durability; Mediocre grip on rock
Not only is Salewa's Wildfire Canvas a reliable do-it-all approach shoe, but it's one of the coolest-looking models on the market. Vibrant neon-orange lacing is married to a recycled cotton and hemp canvas upper (available in subdued hues of brown, blue, and green), making it a real eye-catcher in the field of approach shoes.
That wide, climbing-style lacing harness runs all the way down to the toes, so it's a cinch to lock in and adjust fit, and the Pomoca outsole grips well on both trails and rock. However, the deep lugs and soft rubber mean the Wildfire leans more toward a trail or scrambler model than a technical climber, with better traction on soft dirt trails and grass than rock. The outsole, while plenty tacky, isn't particularly burly: after a few days on sharp Joshua Tree granite, one tester noted it flaking off in a few places.
In short: though a capable scrambler, where the Wildfire Canvas shines is comfort, breathability, and style. I personally tested this shoe and found it to be the most comfortable approach shoe I've set foot in. The canvas upper was among the most breathable of any model our group tested. And if you're seeking a shoe that can take you across the alpine, both on-trail and off, and will turn heads at your local brewery or rock gym, then the Wildfire Canvas is for you.
How to Buy Approach Shoes
Shop for an approach shoe like you would any other piece of footwear. Visit a local retailer to try some on, then scour the web for the best deals before you pull out your wallet. If you don't have the opportunity to try a shoe before you buy it, order from a retailer with a flexible return policy.
Use Case
Approach shoes should be comfortable and durable and offer traction on various trail conditions—mud, dirt, grass—as well as on rock. Where your ideal shoe sits on this sliding scale depends on the type of climbing you have in mind. Consider the climate and conditions of the areas where you'll wear your shoe, and gauge your breathability, weatherproofing, and warmth needs based on that.
Understand Sizing
Unlike a technical rock-climbing shoe, an approach shoe is sized traditionally. So if you're a women's size ten in your Vans or Dr. Martens, you'll generally find a good fit with a women's size ten approach shoe. Also, unlike a technical rock shoe, most approach shoes are worn with socks, like a typical hiker or trail runner. One exception on this list is the North Face Summit Cragstone Pro, which is viable as a sockless shoe, due to its porous upper and superb breathability.