Review: The "G7 HAUL PACK" Is Our New Favorite For the Alpine
Grade VII Equipment's new line of climbing packs are comfortable, durable, and climb like a dream.
Photo: Grade VII Equipment
Basics
Grade VII's "Haul Pack" series (22, 36, and 55L) are lightweight and durable multi-pitch/alpine climbing packs. The packs are designed to be hauled without stowing the shoulder straps, making for speedy approach/climb/haul transitions, and have just one haul loop. Each pack features a rope strap, ice-tool attachments, and an exterior elastic bungee cord to further increase carrying capacity.
---
Pros
Haul-bag level durability // Featherweight in comparison // Easy to load up the exterior for approaches and strip down for hauling/climbing // Waterproof // High-density foam liner makes an impromptu bivy pad
Cons
Expensive (but discounted until September 22, 2022).
---
Our Thoughts
The Haul Pack is the most versatile multi-pitch/alpine-climbing pack we've ever used, thanks to its incredible durability-to-weight ratio, low-profile shoulder straps (a must-have for climbing the steeps), and easily strippable design. Each element of the pack is built to last, from the Dyneema-laced bungee cords and custom-built outer fabric, to the super-strong Vectran-based thread. For hard alpine routes, the Haul Pack was like bringing a gun to a tickle fight.
---
Size Reviewed
22,33L
Weight
1 lb / 450 g
Price
$255
Brand
Grade VII Equipment
---
Heading out the door? Read this article on the new Outside+ app available now on iOS devices for members! Download the app.
While certainly expensive ($255, 22L; $345, 36L; $425, 55L), the Haul Packs are available to pre-order at a steep discount until September 22, 2022.—Ed.
I find equipment reviews without a real "con" to be fluffy and weak: a sign that the tester didn't use the gear enough or lacked the gumption to really speak their mind. But the truth is, from Alaska to El Cap to the Bugaboos and the Black Canyon, for the last several months, a team of Climbing testers have been trying to break the Haul Pack. We failed.
So it is with great pain that I write this glowing review.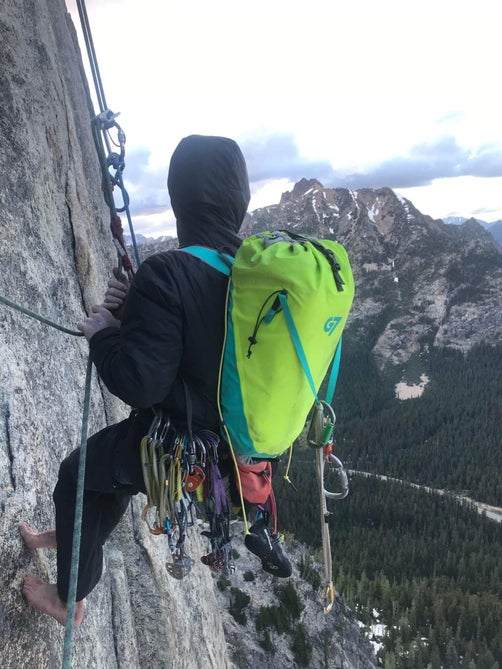 Grade VII Equipment (of inflatable-portaledge and leather crack-glove fame) have spent the last 10 years designing the Haul Pack. I visited their studio in Squamish this summer, and was struck by the single-mindedness that permeated their building. It was just packs. One type of pack actually, the Haul Pack, but tons of them: different sizes and iterations, some glowing yellow, others muddied and bloody, piled onto the standing work benches and, clearly, everyone's focus. "Textile-based product design has, for the most part, lost its art," Nathan Kukathas, founder of G7, says. "Since we own G7 and we aren't driven by shareholder profits, we have this luxurious privilege of saying 'no' to anything that we don't think is a genuine improvement over the status quo."
Here's a quick primer on the "status quo" of climbing packs, for those who don't obsess about it nearly as much as the G7 folks: A typical mid-30-liter haul bag weighs in the 1,000- to 2,000-gram range and, while strapped to your back, climbs vertical rock about as well as a duffel bag. A mid-30-liter alpine-climbing pack clocks in the high 700-gram range, climbs and approaches well, but will quickly shred if faced with any meaningful amount of hauling. The Haul Pack 36, meanwhile, weighs less than 600 grams, hugs your frame while climbing (good), and has weathered hundreds of pitches of hauling without any holes or broken buckles (even better). Thanks to G7's freedom from the "status quo," its lead designer, Tom Schindfessel, could craft each part of the Haul Pack in-house: from the tapered fit and single haul loop, to the new-school outer fabric itself.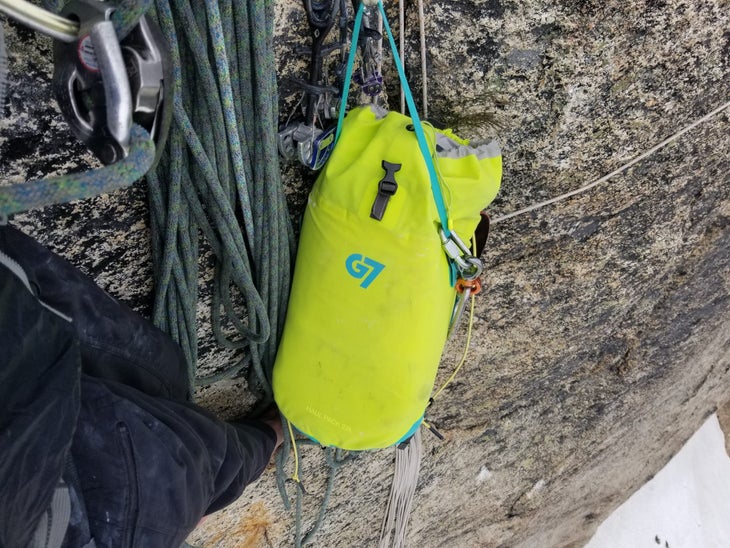 How it climbs and carries
The 36- and 55-liter Haul Packs have wide, unpadded hip belts; this webbing-only hip-belt system is also used on the Arc'teryx Alpha FL packs (Kukathas designed those, too). One tester, who brought the 22 and 36 up the West Face of Mt. Huntington, in Alaska, "found the 36 to be just as comfortable as any bag with a similar weight." We appreciated how "loaded up" the packs could get, thanks to a few low-profile additions to the exterior: a patent-pending bungee cord traces the back panel and can be pulled tight across the front to lash extra gear to and neatly stows while hauling; ice tools clip to the outside, no longer a threat to your sleeping bag and puffy; and a rope strap can be clipped or stripped with ease.
Thin bungee cords and plastic clasps are normally a death sentence for haul bags—they'll fray and bust before you top out Freeblast. Thankfully, these cords are wrapped in a slippery, cut-resistant sheath (UHMWPE/Dyneema), making them easy to manipulate and hard to break. The buckles and cord locks are injection-molded plastic and are expected to last the lifetime of the pack, and can nonetheless be easily replaced.
Inside the pack, there is a zipped, water resistant pocket large enough to keep your camera, snacks, and headlamp handy. G7 also includes a super-sticky TPU repair patch, should you ever incur a hole, and a host of replacement parts.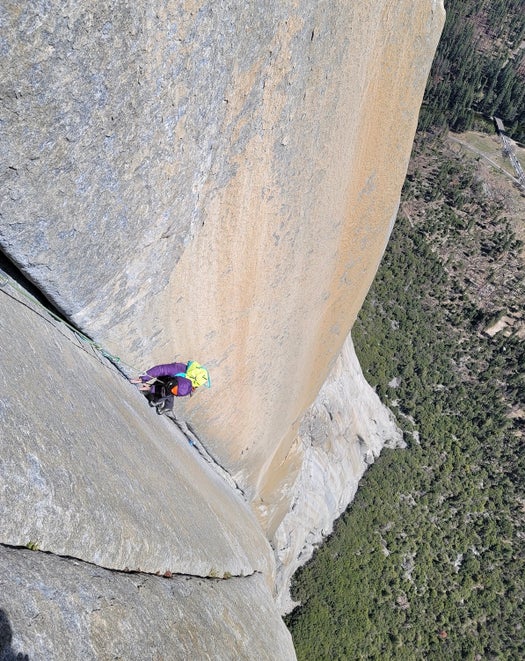 How it hauls
The Haul Pack's single haul loop (instead of the typical two) was a little alarming at first, but over many days of hauling across rough granite and limestone we learned to trust that one ultralight strap. Kukathas says G7 wanted the haul strap to outlast the pack itself, so it is bar tacked with a thin Vectran-based thread (a super-strength fiber) that sinks deep into the webbing, sheltering it from surface-level scuffs, and then covered with a laminated TPU film. The benefits of a single haul loop are twofold: it simplifies transitions and docking, and (anecdotally, at least) made the pack feel more maneuverable while hauling roofs and traversing pitches. 
The shoulder straps are intended to stay out while hauling, which is typically a faux pas, but they never snagged on our testers. In fact, the more we used the Haul Pack the more we learned to appreciate the strap-out-junk-show look: haul/climb transitions are always faster if there is nothing to pack away, and, in some instances, are safer too. Once, while climbing a steep rock route on the Stanley Headwall, in British Columbia, a vertical pitch I'd led eased into 20 meters of low-angle choss before reaching the anchor. I started hauling, thus saving my partner from seconding the techy limestone with all our kit, but stopped, suddenly, once the pack pulled over the lip. I'm going to rain death blocks on him for sure. I stopped hauling—he's a nice guy, after all—and began belaying him up. My partner topped out the vertical terrain, scooped the pack onto his back, and continued climbing to the anchors. I laughed thinking how he would have handled a strapless pig.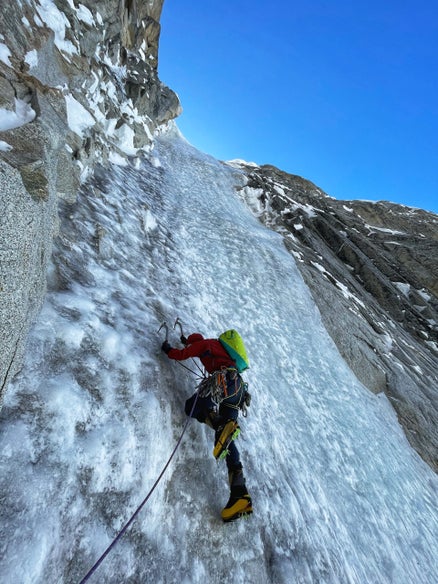 Is this review really going to end without a "con"? Maybe. It is worth noting, however, that the Haul Pack, while more durable than any other pack we've ever used, is probably mortal too. And especially at its advanced price point, I won't make this pack my daily driver—you can carry your gear in just about anything to a day crag. But when the climbing gets hard, and you want a pack that can perform at the level you've trained all year for, the Haul Pack won't be the thing that holds you back.
---
Anthony Walsh is a digital editor at Climbing.