One Belay Jacket to Rule Them All: Arc'teryx's Alpha Parka, Field Tested
The Alpha Parka is a lightweight, durable, and incredibly warm jacket designed for ice climbers and alpinists.
Basics
The Alpha Parka is a lightweight (805 grams, men's M), durable, and incredibly warm jacket designed for ice climbers, alpinists, and anyone in need of a winter-weight belay parka. It's stuffed with 850-fill down and mapped synthetic insulation in high-wear areas, coated in a Gore-Tex Infinium shell, and has a robust Hadron face fabric for weather protection.
---
Pros
Very warm // Durable // Wind and water resistant // Available in women's and men's cuts // More versatile than traditional down-only or synthetic-only belay parkas
Cons
Expensive // Elasticized cuffs have a small range of motion // Stuff sack doesn't stay closed when clipped to a harness
---
Our Thoughts
The Alpha Parka is a one-stop-shop for those needing a high-end belay jacket to match a variety of winter conditions: It's lofty and warm for cold belays and bivies; it's thoughtfully insulated with both down and synthetic materials to keep your coat from collapsing into a soggy mess on warmer, snowy days; if the wind and snow blow sideways, the Gore-Tex Infinium layer keeps out the elements; and the durable outer fabric, Hadron, keeps the whole thing from falling apart after rigorous wear. (This last point was tested extensively while seconding limestone chimneys in the Canadian Rockies—no rips!)
---
Size Reviewed
Medium
Weight
800g/1 lb, 12.4 oz
Price
$900
Brand
Arc'teryx
---
Heading out the door? Read this article on the new Outside+ app available now on iOS devices for members! Download the app.
The first time I used the Alpha Parka, I was relieved I'd packed it. The day was forecasted to begin warm enough, around 0° F, and I debated going heavy or light on belay jackets for the 1,000-foot ice and mixed route along Alberta's Icefields Parkway. There might be a lot of trail-breaking, and it's supposed to dump snow, I mused. If the day did warm up and I was working hard, I know my sweaty self well enough to realize I'd want a synthetic jacket. But the wind is supposed to pick up, too. And the climbing won't be easy—probably long belays… maybe I'm better off in a bigger, lighter down parka.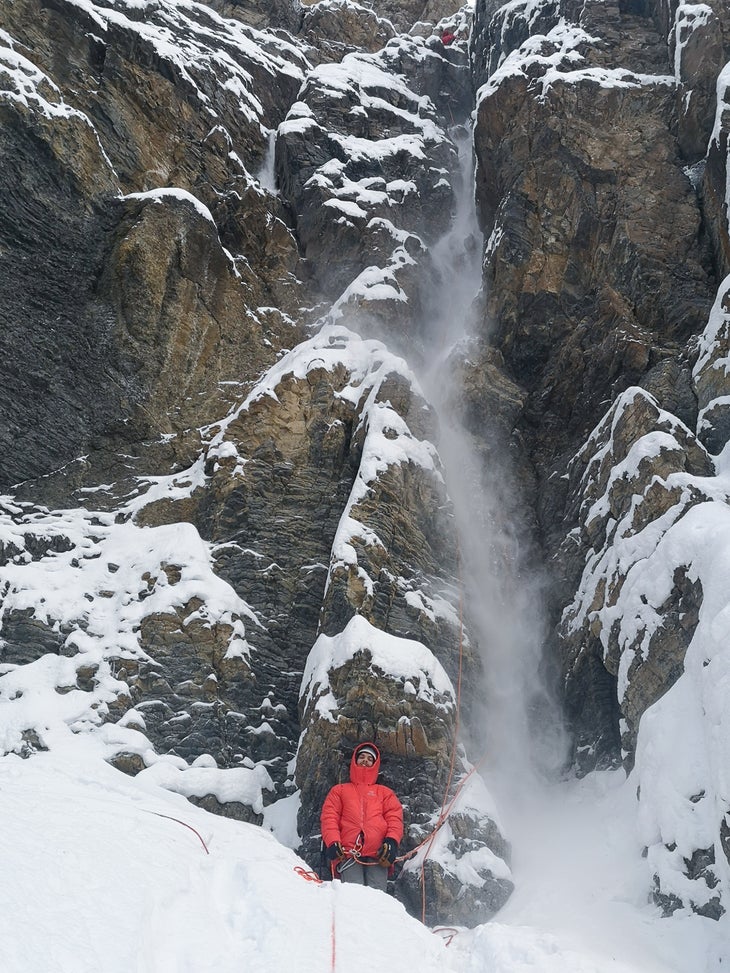 I split the difference, stuffed the Alpha Parka in my pack, and started the long drive. Over the course of the day with the Alpha Parka on, I broke trail through snow up to my chest; I stood stock-still for over two hours at an awkward, roof-capped belay while my partner led the 190-foot crux pitch on Mixed Master (WI 4+ M5); seconded said pitch while wearing the Alpha tucked into my harness; and got spat on by multiple heavy, wet spindrift avalanches. And that zero-degree forecast? Total fucking sandbag—it was properly cold. 
Despite the, erm, variety of that day (and many others like it in my subsequent two months of testing), the Alpha Parka worked like a dog to keep me warm and dry regardless of the alpine environment.
Materials
I'll admit, at one point I was a belay-jacket luddite. Cold up in the hills? Down baffles, draft tube, and hand-warming pockets, thank you very much. Stormy and humid up there? Same thing, but I'd grab a synthetic-fill puffy. It was an easy, functional system that didn't need to be "fixed." The problem with each setup, however, was that it was binary—I'd either make the "right" or the "wrong" choice. And for multi-day trips, or big routes where varying weather was expected,  choosing incorrectly meant being utterly soaked or frozen.
Thankfully, the Alpha Parka alleviates some of this stress. It's a down jacket, to be sure—the vast majority of it is stuffed with RDS-certified 850-fill goose down. But the most humid and high-wear parts of our torso—the cuffs, armpits, elbows, and shoulders—utilize synthetic insulation to prevent the loft from collapsing when those areas inevitably get wet. This was much appreciated on Mixed Master where I soaked my cuffs trail-breaking between pitches, and, unfortunately, began to sweat by the end of the rope-stretching crux pitch. Worried how I would fare the rest of the day, I inspected the sleeves and armpits at the next belay but saw no evidence of collapsed insulation.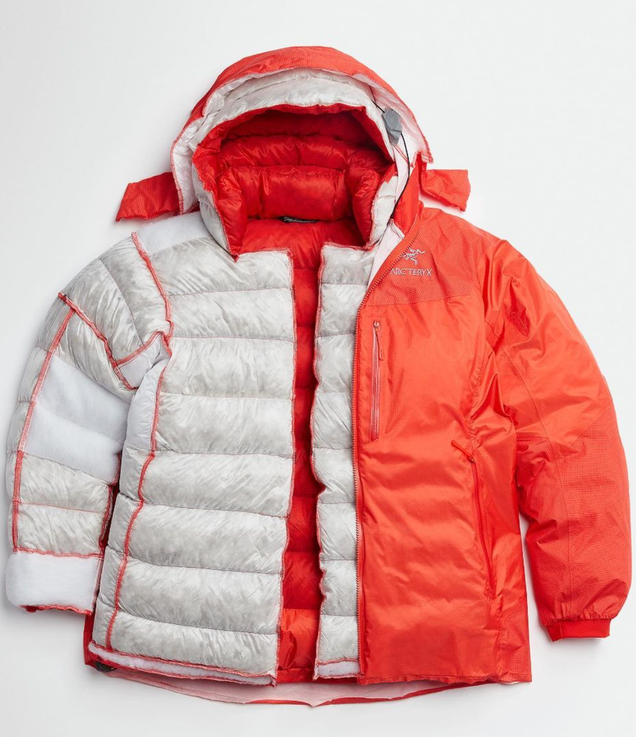 A two-layer Gore-Tex Infinium shell (water-resistant, but not a burly hardshell material) caps the lofty insulation and provides needed protection in variable weather. Even when it's properly cold (-20° F and below, in my books) and when the logical choice should be to pack the puffiest down parka you have, high-flow and south-facing ice climbs can still be a wet, drippy mess, as I found while climbing Gibraltar Wall (WI 4; 4 pitches) during a particularly vicious cold snap. The sunny, southern exposure was appreciated while flaking the ropes, but despite the -22° F temps I struggled to find a dry, protected stance to belay my partner up. I oh so cautiously allowed the Alpha to be dripped on, and was relieved to see it perform.
On top of all the insulation and Gore-Tex sits the Alpha Parka's final layer: a wind-proof face fabric called Hadron, which Arc'teryx says provides the warmth equivalent of 100 grams of down. While I can't comment on the specific 100-gram figure, I will say the jacket has noticeably less loft than my other down parkas, yet, to me anyway, the Alpha feels just as warm. Hadron also has the benefit of a "liquid crystal polymer ripstop grid": an ultra-light outer that is surprisingly hard to tear. I have intentionally worn the jacket during inappropriate moments—matching ice tools on my shoulder, jumping jacks that scrape my back against rough rock, climbing chimneys and brief offwidths—and, amazingly, have not yet managed to cause a scuff or rip. 
Gripes and Concerns
No belay jacket is perfect, and the Alpha Parka certainly has its flaws. Namely, and this seems minor until it's not, the elasticized cuffs are far too tight. I'll give Arc'teryx a point for choosing elastic over Velcro (do any parkas use Velcro anymore?), but these cuffs are so tight it's almost impossible to wrap the cuff over a large belay mitten without the focus of a surgeon. The elastic fits easily over smaller lead gloves, but that's not really the point with a belay jacket: You want a cuff that will fit easily over all gloves and mittens. Also, the provided stuff sack refuses to stay closed when clipped to a harness (the plastic cord lock doesn't seem to have the strength to resist the jacket's weight). This isn't a huge bummer for me as I usually climb with a small backpack, but for hard leads, tight squeezes, or shorter routes I would recommend buying a third-party stuff sack. 
Fit
Finally, let's talk fit. I've always taken outerwear sizing for granted as a middle-of-the-road body type (I'm 5'10", 160 pounds). I trust that I am (and forever will be) a "medium." But for those with smaller shoulders, shorter arms, or wider hips, the Alpha Parka is available in women-specific sizes. Climbing had a women's medium out with a second tester (5'4", 125 pounds), who was thoroughly impressed. Until then, she'd resigned herself to simply sizing down in "unisex" parkas, which, let's face it, almost always means it's made for a man. Instead, the women's version accommodated her hips while preventing unwanted space around her torso and neck—she said it was the first time a belay parka hadn't acted like a drafty wind tunnel at hanging belays. 
If you've got the money set aside and are eyeing up a burly, stupid-warm belay jacket, the Alpha Parka will not disappoint.