Boreal Crux Rock Shoe Review
Heading out the door? Read this article on the new Outside+ app available now on iOS devices for members! Download the app.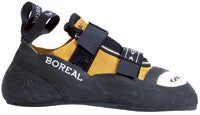 Boreal Crux, $129
Overall grade:
B+
Target climbs:
Edging-oriented
sport climbing
and
bouldering
from vertical to 45-degrees overhanging; downturned toe
Fit:
Medium asymmetric; medium to wide heel cup, medium arch and toe box, medium volume
Summary:
Boreal's Crux, an unlined leather Velcro slipper, is an edging and frontpointing machine. We found it to be very effective on small holds, both indoors and out. On dicey, just-over-vertical edgy boulder problems, the Crux felt very secure. For those who spend extended training periods in gym bouldering caves, this shoe deserves your attention — it toes onto even the greasiest jibs with aplomb. The key to the Crux design is its cupped, downturned toe, and the band of rubber up front. "The band of rubber over the toe box is designed to retain the toe box's shape for extra edging power," says Boreal's Jesús Garcia Francés. We also found the band of rubber to be a nice bonus for toe hooking.
The other big story on the Crux is the new rubber, Boreal's Quattro FX. Boreal has taken a few knocks over the past few years for its rubber's lack of stickiness. Judging rubber outside of the lab is a highly subjective endeavor, but testers with experience in Boreals did notice a change for the positive this year. "The rubber is a noticeable improvement over Boreal's previous generation," said one tester.
There are two critical factors that hold the Crux back. First, the tongue padding is just too chunky — it makes an otherwise svelte shoe feel bulky and is annoying when you're doing full-foot toe hooking. Second, the upper Velcro strap needs to be re-positioned. Instead of being oriented to cinch up the arch, it's set back toward the heel cup, apparently in an attempt pull the cup forward. We'd prefer it to work the arch.
Boreal:
www.e-boreal.com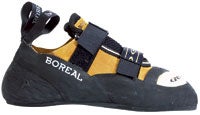 The Test ResultsAcopaBorealEMSEvolvFive TenLa SportivaMad RockMammutMontrailRed ChiliScarpa