Busting the Top 5 Myths About Expedition Climbing
Think expedition climbing sounds glamorous? Allow pros Bronwyn Hodgins and Jacob Cook to pull back the curtain.
At first glance, Bronwyn Hodgins and Jacob Cook look like they're living the dream: they're globetrotting professional athletes and a husband-and-wife team. Over the past decade, they've been everywhere from El Capitan to Baffin Island, putting up first ascents, freeing new routes, and getting deeper and deeper into the unexplored backcountry every time.
In fact, this summer the couple will spend two months in Greenland—their longest expedition yet. There they'll join four other team members to paddle 280 miles of coastal fjord systems to reach the base of a 2,600-foot big wall that's never before been freed. Along the way, they'll try for several first ascents along the cliffs that line the fjords and document the whole thing on video.
To some people, it might sound like a glamorous lifestyle. And of course there are big-time rewards. But according to Cook and Hodgins, those people have never tried packing for a multi-week expedition.
Like most high-level adventure, climbing expeditions are steeped in lore, romantic ideals—and misconceptions. Here are a few of the most persistent myths, and Hodgins and Cook's take on the truth.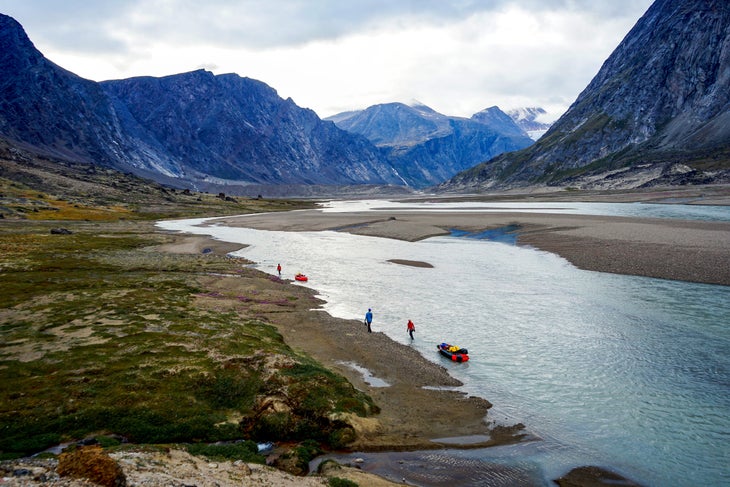 Myth 1: True adventure is all about spontaneity.

It's easy to imagine that seasoned adventurers seize opportunities as they come, buying tickets or taking off the minute they hear conditions are good. Cook says that couldn't be further from the truth. In fact, their upcoming Greenland expedition has required nearly a year of preparation.
"The amount of organization required to make these things happen is just vast," he says.
"For this trip, we had to pack for the whole thing by April," Hodgins explains. That was the only way to get it all on a container ship in time to meet them in Greenland. "To make that shipment date, the whole team was here in our house, spending pretty much the entire week packing."
The total load—all their climbing equipment, paddling equipment, and enough food to feed six people for 51 days—weighed a whopping 1,600 pounds. And the stress didn't stop once they got the cargo onto the boat. A few weeks later, their shipment missed a connection—a mishap that cost Hodgins and Cook about $5,000. (Apparently that's what it costs to air-freight 1,600 pounds from Halifax to Newfoundland at very short notice.)
"If it had missed that boat, we'd have to push the expedition back two weeks," says Hodgins—which would mean doing weeks of transportation planning all over again.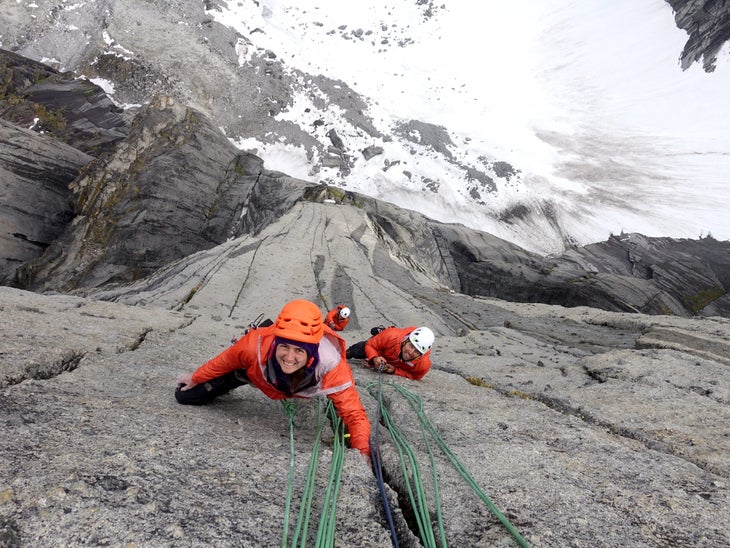 Myth 2: Climbing skill is of the utmost importance.

"People think that being a functional expedition is just about having the most skilled people climbing-wise. But in reality, the bigger part is being able to work well together in stressful situations," Cook explains. That's true on the approach and on the wall, but it's just as important during the prep phase. After all, packing and prep take nine to 12 months; the expedition itself takes only two.
"There's a lot of tedium and admin and just sheer hard work before you even leave," Cook explains.
For example, the week before their gear shipment deadline this April, Cook says he packed from the minute he woke up to the minute he went to sleep. Meanwhile, another team member inflated and inspected all the boats. Someone else sat in a corner, furiously spreadsheeting. Others measured out food, nearly 1,000 meals total. The last night before the shipment date, the whole crew was up until 6:30 a.m. That week—rather than any climb or previous expedition—was the real stress test for the team, Cook says with a laugh.
Myth 3: Logistics is a sport you can do off the couch.
OK, so expedition climbing takes a lot of prep. But that's something anyone who's decently dedicated and organized can do, right? Wrong. According to Hodgins, those packing and logistics skills take years to develop.
"[Jacob and I] started with smaller-scale expeditions, then slowly moved to more-remote expeditions," Hodgins explains. "Now we're here. In some ways, this trip has been eight years in the making."
During that time, Hodgins had to learn everything from how to manage transportation and shipping logistics to how to coordinate with insurance and rescue teams. That's because you can rarely count on your rescue insurance to actually coordinate a rescue, she says; for real peace of mind, you have to establish a relationship with the locals on the ground. Otherwise there's no guarantee anyone will know where or how to find you when you need help.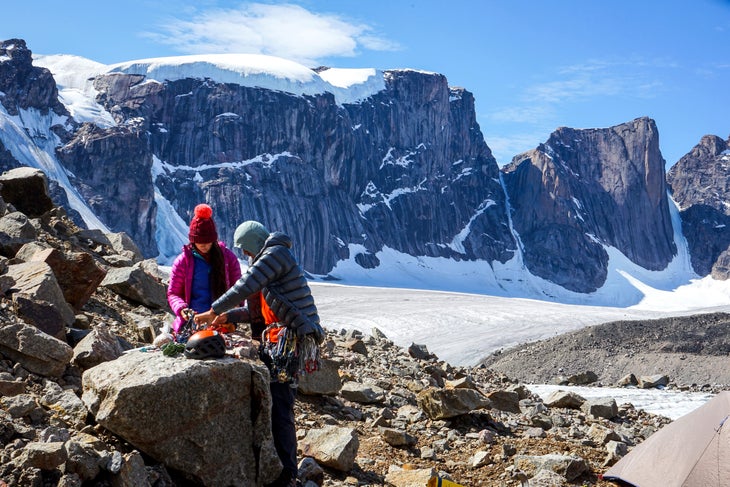 Myth 4: Expedition climbing is romantic.

Many climbers dream of finding a supercool, superstrong significant other they can travel the world with. But every dream has its realities, Cook and Hodgins say. The reality of this one? Climbing as a couple is really hard.
"The thing with climbing is that it's scary and stressful and uncomfortable a lot of the time," Cook explains. When you're with a new friend or loose acquaintance, there's a natural stop in your brain that keeps you from unleashing your stronger emotions. That's because deep down, you know your friend would call you out for losing your cool. But when you're with someone you're really close to—like a sibling or spouse—those subconscious brakes aren't as strong, because you know that person will still love you. "It's almost like you have permission to take out your stress on a significant other because it'll be OK later," Cook says.
"I do the same thing," Hodgins says, "But we've worked on it for a long time." Now they're able to communicate more effectively. And when they do lose their cool, they can laugh about it later.
"Plus, the flip side is that we have a different kind of bond from doing a lot of big, scary climbs together," Cook says. "I deeply trust Bronwyn with my life when it matters. And that's a different kind of trust. So I think we're really lucky in that way."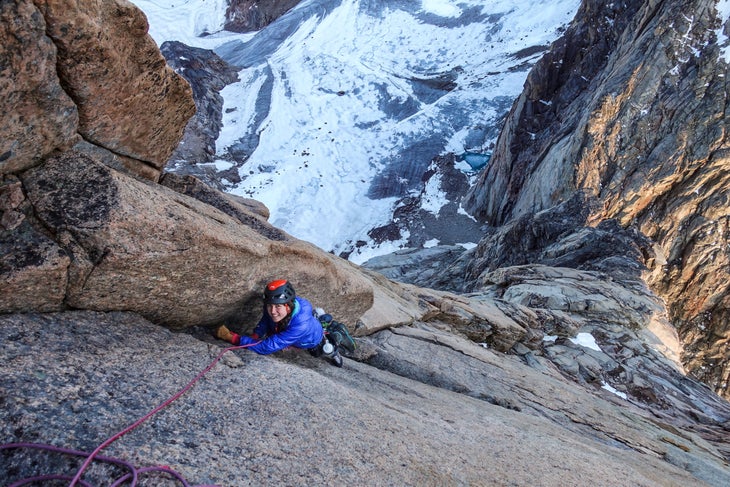 Myth 5: The more layers, the better. 

For most people, packing for a two-month trip would involve dumping their entire wardrobe into a suitcase. But for an expedition, Cook recommends taking the opposite approach.
"You have to have a single clothing system that's versatile and works well in a variety of environments," Cook says. By trial and error over numerous expeditions, both he and Hodgins have settled on a system that works in nearly all conditions. They tweak a few things for summer climbing versus Arctic trips—adding a lighter-weight baselayer here or a thicker shell there—but for the most part, they stick to a single, do-it-all kit.
To start, Cook says,"I have these merino-wool Rab Forge baselayers on the top and bottom. I live in those for Arctic expeditions. Then I have some soft-shell pants—the Torque Pant—which are great because they're water-repellent but also quick-dry and really breathable."
"He's been wearing the same pants for a decade," Hodgins laughs.
"Then I have a Filament Hoody as a midlayer, and then a thin insulated jacket I'll climb in, the Xenair Alpine, which is synthetic so it stays really warm even if it gets wet, and it packs into a pocket and clips onto a harness."
Hodgins says her system is pretty similar. She wears Forge baselayers, soft-shell Incline Pants, and a midweight puffy. She adds that they each carry a big insulated parka—lately the Infinity Alpine Down Jacket—for setting up camp and belaying in cold conditions. Then they'll both have sunshirts—something like the Rab Force Hoody—to prevent dehydrating sun exposure on long days.
"On top of that, we bring two full sets of rain gear," Hodgins says. "We both carry the Phantom, which is this superlight rain shell. It's basically clipped to our harnesses or in our backpacks on every climb we ever do." They each carry a beefier Gore-Tex shell as well, for rainy days on the approach or in base camp. Cook takes the Latok Pro shell, and Hodgins brings the Muztag Pro.
Aside from socks and undies and a few extra baselayers, that's basically it, Cook says. After all, when you have a dialed system of durable, versatile layers that are designed to work together—as all these complementary Rab pieces do—you don't need a ton of stuff. "It means my clothing doesn't have to be a hard part of my packing list," Cook explains.
And that frees him and Hodgins to focus on the other elements of their pre-expedition logistics. Like getting that 1,600-pound package to Greenland on time.
More than thirty years since our founding, we continue to find inspiration in the untamed spirit of the mountains where we climb, the friendships we forge on the peak and our enduring mission: to awaken the climber in everyone and equip them for the ascent. Nothing fancy or over-engineered—just honest, hard-working pieces that you'd rather repair than replace. By climbers for climbers.