Climbing Gear Guide 2015: Alpine
Heading out the door? Read this article on the new Outside+ app available now on iOS devices for members! Download the app.
Weight, versatility, durability, and weather resistance are of the utmost importance in the high country. Here are 12 products that meet and beat all the requirements.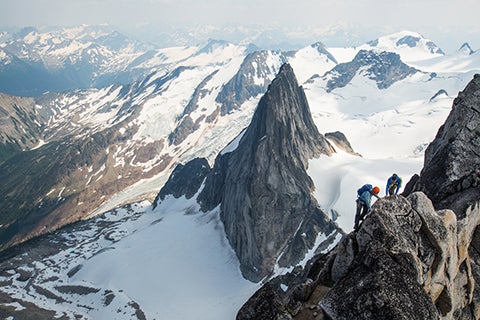 Trango Catalyst 9.0$260 (70m); trango.com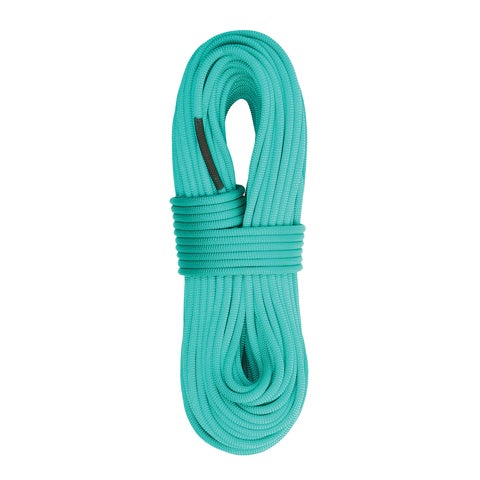 Most versatile and durable skinny rope
We filed this under alpine because of its top-notch dry finish, light weight, and safety-increasing Unicore technology, but don't pigeonhole this cord. Our testers used it for redpoint burns in Smith Rock, Oregon, then long routes in El Potrero Chico, Mexico, followed by five-pitch trad climbs in Eldorado Canyon, Colorado. "There's nothing this rope doesn't do really, really well," one tester said. "Clips like butter, knots perfectly, unties easily, stands up to abrasion—shall I keep going?" It has one of the highest fall ratings for a rope of this diameter (7 UIAA falls), and at 55 g/m, it weighs in at 8.5 lbs. for the 70-meter version. The Duo Dry finish proved to be incredibly water resistant at drippy ice crags in Vail, Colorado. Certified for single, half (aka double), and twin use, this is the cord for you—no matter your chosen disciplines.
Hanwag Friction GTX Boots$380; hanwag.comBurly, budget-friendly boots with maximum comfort "When faced with hiking and climbing 10 miles wearing these straight out of the box, I immediately surrendered to getting major blisters," one tester said of a climbing trip to Germany. "I was pleasantly surprised when they fit perfectly and were extremely comfortable from the get-go, thanks to the super-flexible upper. Blister count: zero." With a specialized clamping system at the ankle, the double adjustment allows for some serious fine-tuning in the fit, as you can change the foot and ankle independently. Leave it loose for the hike in, then tighten the foot for vertical ice. Vibram rubber and a lugged sole made them great for long approaches and sticky enough for technical slabs. The North Face Shadow 40 + 10$179; thenorthface.comHaul-it-all minimalist pack Load this up with all your gear for a night at basecamp, approach the line the next morning, and then climb to the summit of a long alpine route—all with this versatile pack. One tester rocked it for more than 1,800 technical feet in the Tetons, plus miles-long trail approaches. Forty liters and the ability to extend to 50 offer plenty of space for climbing gear, food, water, and the multiple layers necessary for the ever-changing conditions of the alpine during shoulder season. The roll-top opens quickly for fast access to the inside—a necessity since it doesn't have any outside pockets or a lid—and it sheds precip like water off a duck's back. Remove the framesheet, hipbelt padding, and interior sundries pocket to save weight, and use the side compression straps to make it stable for climbing.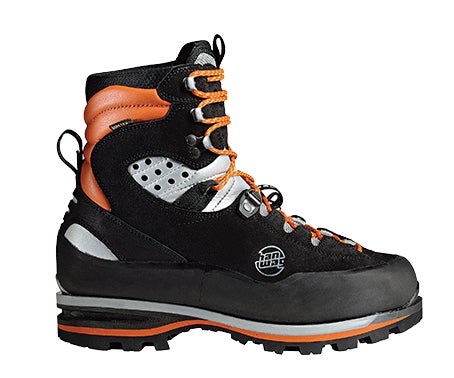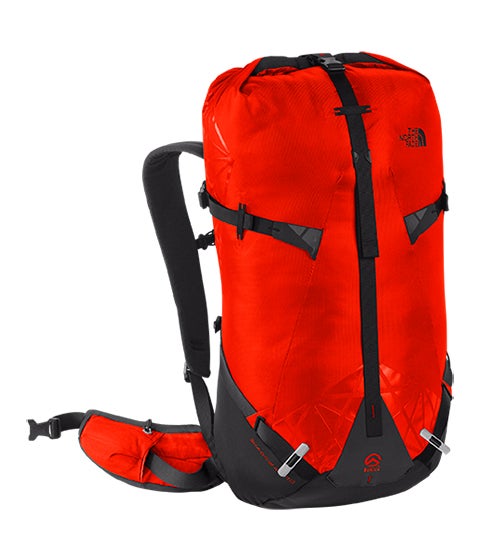 Black Diamond Stone 45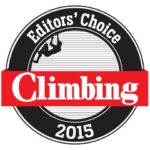 Comfy full-access pack
The well-built suspension system offers stability and comfort on approaches without adding too much weight to the total package, and a side- access zipper doubles ease of use. See the full review in Climbing Gear Guide 2015: Editors' Choice Awards.
Tech Tips: Alpine Calculating Approaches
Getting on a route early enough is crucial to success in the alpine, and most of the time an hours-long approach stands between you and the base. To estimate the amount of time needed for an approach, use the following calculation for a conservative figure: 1 hour for every 1,000 feet of elevation gain + 20 minutes for every mile traveled. That means an approach that climbs 3,000 feet over 5 miles will take about 4 hours, 40 minutes. Keep in mind this is for trail travel only, so if you're boulder-hopping or trudging up talus, it could take much longer.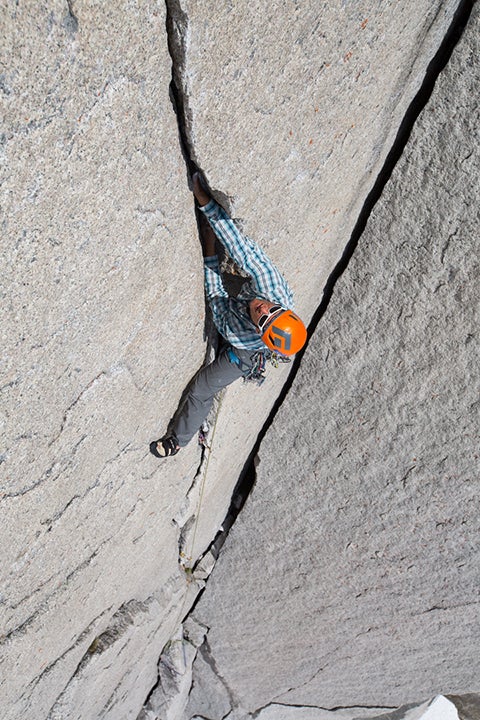 Trango Raptor$175; trango.com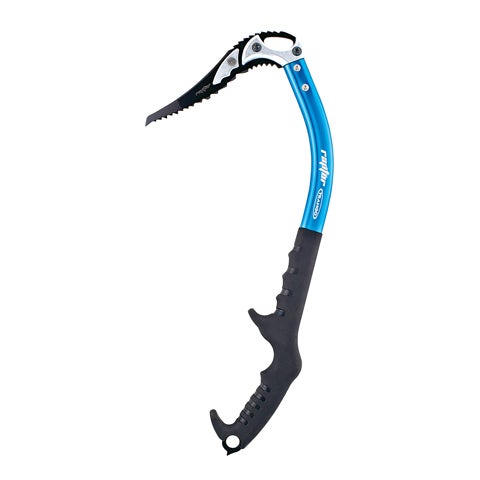 High-performance bargain tool
"You get what you pay for" didn't become an overused consumer cliché for nothing, but the Raptor will have you backtracking. "This tool competes with my go-to tools that cost almost twice as much as these," one tester said after two weeks of ice and mixed climbing in the Northeast. "Now I feel silly for shelling out so much dough!" Testers loved the simple, streamlined design with a small curve in the shaft and an offset handle (meaning it's angled slightly backward), which offered a solid amount of sticking power with each moderate swing. The pinky rest made the tools comfortable and easy to use without over-gripping, and the ergonomic double handle made matching hands and technical movement a breeze. Important update from last year: Designers made the main handle slightly larger so big-pawed ice climbers will fall in love with these, too. Nitpick: The removable head weights have Phillips- head screws; testers would have preferred the more standard, field-friendly, dime-size flathead.
Mountain Hardwear Scrambler 30$130; mountainhardwear.comFully waterproof Compact hauler Light and fast is your mantra above treeline, and the Scrambler 30 embodies that ethos. It weighs in at just 1.5 lbs. and—major bonus—it's waterproof. "A low-profile design and protection from rain and dripping ice make this pack my one-and-only for alpine missions," said one tester who wore it all along the Eastside of the Sierra. The waterproofing comes from OutDry, a membrane that keeps the main compartment sealed, and a seam-taped lid. This pack has a chest strap, waistbelt two outer pockets, gear loops on the sides (smart!), and a rope strap on top, it perfectly carries climbing essentials.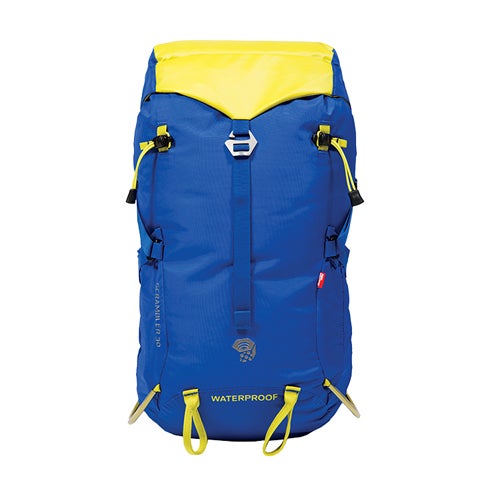 Edelrid Wing harness$70; scarpa.com/edelrid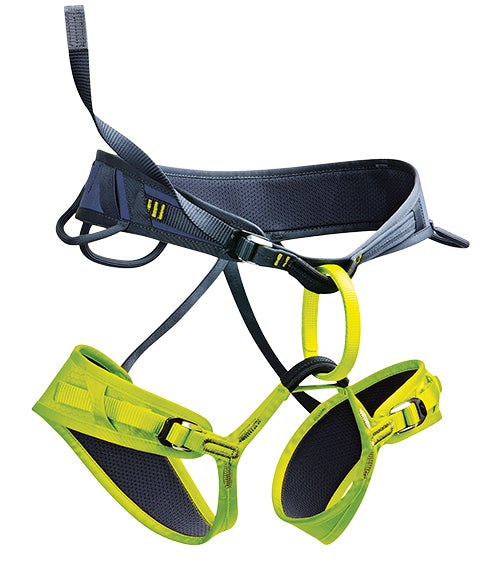 Barely there harness
There are a few imperatives for all alpine gear; pack small, be light, and work so well you forget it's there. Edelrid's new Wing harness nails all three without sacrificing comfort. "It folds as flat as a shirt and dissappears in your pack," said one tester after a week in Wyoming's Wind River Range and a summit of Switzerland's Matterhorn. "And it's comfortable to wear while scrambling, hiking on approaches, or in between pitches." Credit a laminated, 3-D design that wraps your waist and legs with wide swaths of padding, while adjustable leg loops—rare in a harness of this weight class—ensure a custom fit.
Beal Opera Unicore 8.5$220 (60m); libertymountain.com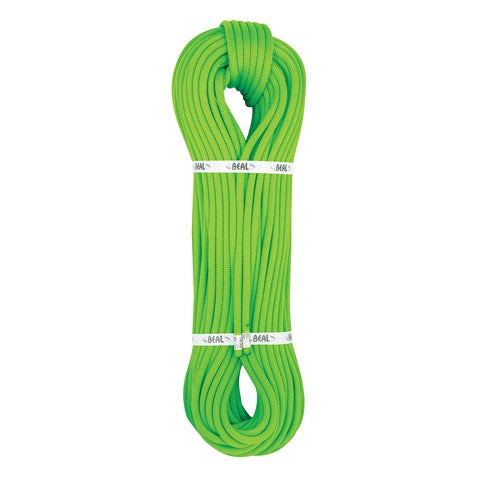 Light, skinny, dry rope
Touted as the lightest single rope in the world, the Opera 8.5 weighs in at a mind-bending 48 g/m—that's 7.4 lbs. for the 70-meter version. Rated as a single, half, and twin, its uses are endless, and our testers "took this rope for multi-pitch alpine to ice toproping to redpoints of mixed routes." We don't recommend making this your workhorse cord, but it stands out for alpine with its airy weight and incredible UIAA-certified Golden Dry treatment. "After full days in Ouray's Box Canyon getting clobbered by falling ice and dipping into the river, the Opera was still bone-dry at the end." Plus, Unicore keeps the core protected if the sheath gets cut.
Tech Tips: Alpine 3 Crucial Lower Body Stretches
Long hikes and equally lengthy routes can be hell on a climber's body, so stay fresh by doing these three stretches after a day in the mountains. Hold each for 20 to 30 seconds, longer if it feels good.
Lizard Pose: Get into a lunge with back leg straight; bring both hands to the ground inside your forward leg. Drop farther into this until you can weight elbows and forearms on the ground.
The Figure 4: Lie on your back and bend one leg so its ankle is on the other leg's knee (should look like a 4). Reach your arms through to the non-bent leg, and pull both legs toward your chest.
Pigeon Pose: Sit with one leg in front, bent 90° at the knee with the outside of that leg flat on the ground. The other leg should be straight out behind you with knee, shin, and top of foot on the ground. Lean forward for extra stretch.
Free Range Stud$99; freerangeequipment.com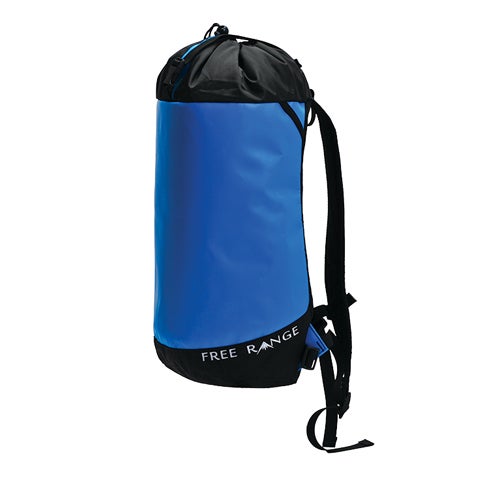 Haulbag durability in a bullet pack
Testers stumbled upon this pack in a small gear shop in Bend, Oregon, and had to check it out for the Stud's haulbag aesthetic and durability crossed with its leader-pack size and structure. "And that's exactly what you get," one tester explained, "full-on burl and resilience with the compactness and simplicity of a pack that's quite enjoyable to wear while climbing." This 20-liter hauler has one large compartment with an internal zipper pocket, but "the sleeve extends past the main body of the pack so you can stuff quite a bit more in there, then stabilize it with the top strap that doubles as a rope-carry system." The backpanel has breathable mesh and a removable bivy/sit pad that provides rigidity, padding from gear, and flexibility, a great combination for climbing long hours and squeezing through tight chimneys. And at almost 1 lb. exactly, it won't weigh you down.
Grivel Tech Machine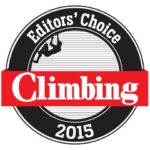 Perfectly balanced high-tech ice tool
The flatter angle of the pick combined with the aggressive backward angle of the handle worked together to give testers more leverage and power with every swing. See the full review in Climbing Gear Guide 2015: Editors' Choice Awards.
Petzl Summit Evo$170; petzl.com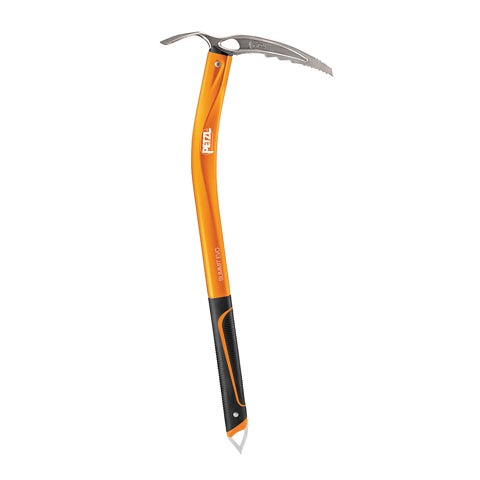 Mountaineering axe with steeper performance
"This tool perfectly bridges the gap between a classic, straight-shaft axe for mountaineering use and an aggressive, curved-shaft tool for steep, technical ice," one tester said. "Plus, the rubberized grip provided better handling and precision when the snow got steep." An aluminum body keeps the weight down at 14.8 ounces for the 59 cm version (52 cm and 66 cm also available), but a stainless-steel head puts some weight and thus power behind every swing. A sharp, slightly bent adze allowed for super-fast step-chopping and anchor-digging, while a pointed spike at the bottom cut into a frozen, tightly packed snow layer like a warm knife in butter. "Take this if your route is mostly glacier and snowfield travel peppered with a few short, steep sections."
Brooks-Range Alpini Bivy Sack$250; brooks-range.com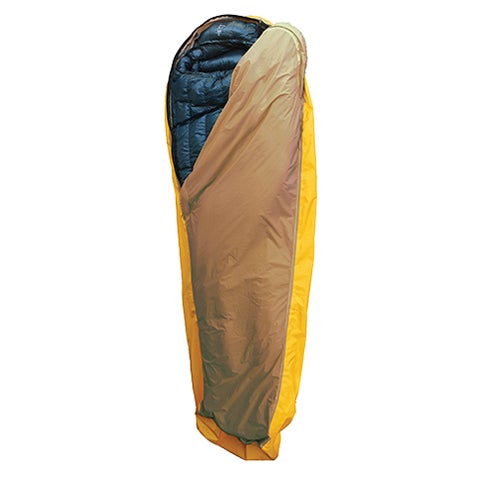 Durable, carry-everywhere shelter
"Waterproof in sideways rain, completely rugged, no trade-offs for the light weight, and pretty roomy," one 5'10" tester said after using the bivy sack in the Adirondacks of New York and the Sierra Nevada mountains of Spain. With 40-denier nylon on the bottom, no water leaked in, even when sleeping on a mossy, wet ground, and 15-denier nylon on top cuts weight and sheds water easily, thanks in part to the fully taped seams. The large zipper opening made it easy to get into and out of, and it provided a nice, large ventilation option for muggier conditions: "No condensation here! Can't say the same for my partner who was in a tent, though," the tester explained. It weighs in at just over 1 lb. and packs down to the size of a 20 oz. water bottle, giving you no reason not to carry it for every alpine adventure. //