First Look: Mystery Ranch Scepter 35L
Look no further for the perfect climbing pack
In the world of climbing gear, packs are the unsung heroes. They need to have ample space for all of your gear, the organization to make that gear easily accessible at all times, and they've got to make hauling it, often over long distances, comfortable. That's no small feat, and too often packs that excel in one category do so at the expense of another. With its new Scepter 35, Mystery Ranch has considered seemingly every scenario to deliver a sleek and comfortable package that ticks all the boxes.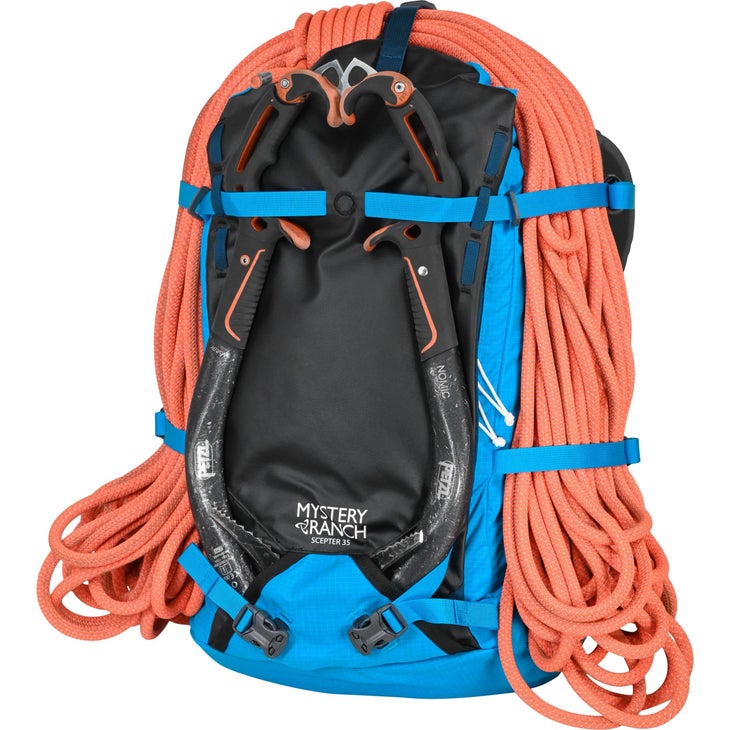 The pack's main compartment is large enough to house all of your equipment, layers, snacks, and more, while providing unobstructed access through both a top-loading flap and a side zipper. A small zippered pocket at the top provides just enough room for the small items you want to get to quickly like keys or your wallet. Ice tools stow easily and securely on the pack's front thanks to a smart, glove-compatible webbing adjustment system. A dedicated buckle adorns the top of the pack for easy and balanced rope carrying and there is even a dedicated sleeve for avalanche safety equipment. If that's not enough, Mystery Ranch provided extra long side straps so you can attach your pad, boots or bivvy equipment to the outside. 
Once loaded, the Scepter is a pleasure to carry. The telescoping yoke allows you to dial in the fit for your torso and for even more customization, you have the option to remove the internal frame sheet and hip belt. Should you leave the hip belt in place, it won't cause you any headaches while climbing—it was designed to play nice with your harness and will accommodate ice clippers for racking screws or to carry tools while on the move. And for those who need more space or are planning multi-day expeditions, there's a Scepter for you too: Mystery Ranch offers the pack in a 50L size featuring all of the same smartly designed perks.