Heading out the door? Read this article on the new Outside+ app available now on iOS devices for members! Download the app.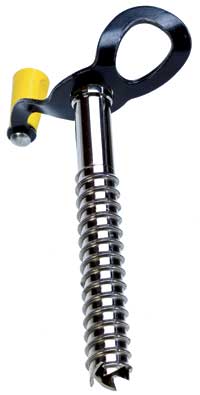 Ah, winter … for many, it means dark days pulling plastic, waiting for warm temps and golden sun to return, and perhaps harboring a hankering to head for Joshua Tree or Hueco. But for others, winter is spelled f-u-n. Sub-zero temps, brittle ice, horizontal snowfall — if terms like that get your adrenal glands revving and your hands grasping for tools, then it's time to check out what's new in gear for this season.
Grivel Helix ice screw
Grivel's 360 screw came out number one in our ice-screw review back in 2002, and for good reason. It churns into ice like a Bosch Bulldog tears into stone. A few folks, however, were left wishing the crank were a bit less bulky. Enter Grivel's Helix ($52, 6 ounces for 15cm size, 20cm also available), which uses the same tube as the king-of-the-heap 360, but features a unique new crank that puts the cranking knob on one side of the screw's axis and the hanger on the other.
The result is a screw with amazing bite right from the first turn. The cranks of other screws place leverage in one direction off the screw's axis, but the Helix's balance keeps it dead center. While it lacks the placement options of the 360's folding handle, this screw still keeps a relatively low profile on the ice. Like all screws, the Helix racks best with its own brethren, but it still plays nice when slapped into a mixed rack. If you're looking to start your first ice rack, or augment your existing one, the Helix definitely deserves a place there. — Matt Stanley Grivel: 801.463.7996, www.grivelnorthamerica.com
Click here to buy now from MountainGear.com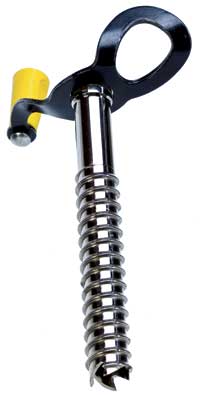 Mammut Ice 45 pack Carrying around all the pointy, sharp stuff necessary for ice climbing requires a well-designed holster. Mammut's new Ice 45 pack ($165, 2700 cubic inches, three pounds, five ounces) handles the job well. The durable nylon fabric lasted my entire '04-'05 ice season, plus a couple overstuffed-with-cams Indian Creek trips, without a puncture. (Note: Screws, crampons, and other pointy objects should never be hastily thrown into the pack, for the sake of your pack, the pointy objects, and your own longevity.)
Thanks to Mammut's new internal-frame, aluminum-tubing "Butterfly System" suspension, the Ice 45 comfortably carries loads up to 40 pounds. The pack's sack is a lightweight, svelte design that eliminates the need to take the scissors for a trimming mission. Should you need to lighten it further, however, the waist belt, back pad, and aluminum frame are removable, dropping the weight to a very trim two pounds, five ounces. The lid is fixed — it would be nice if it floated for expansion room — and contains two compartments, one with a key clip, sealed with water-resistant zippers. The sack's white interior lining conveniently brightens up the inside, which helps when you're digging to find your stray energy bar that may have settled to the bottom.
The ice specific pack is designed to handily carry both leashed and ergonomic leashless handles, from the double-stacks of the Petzl Ergo and Grivel Racing Wing to the more radical dogleg of the Simond Coyote. There is no crampon attachment, which conveniently negates, in my mind, the need to cut off a clumsy pocket. It's better to keep the pointies in a durable, puncture-proof pouch. Other features include a hydration pouch with shoulder-mounted tube clip, compression straps, and bungees mounted under the lid for overloading.
The Ice 45 also fits within requirements for airline carry-on baggage; don't, however, use that as an excuse to try waltzing though security with leashless tools strapped on the outside — you'll surely be arrested.
— Luke Laeser
Mammut: 800.451.5127, www.mammutusa.com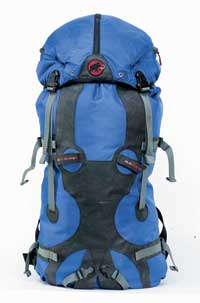 Backcountry Access Tracker DTS and Barryvox Opti 3000 Avalanche Beacons
Insurance is a nasty thing. You don't ever want to use it, but you don't want to be without it either. That's why savvy ski mountaineers and climbers routinely wear avalanche beacons when chasing alpine lines. The question, however, always comes down to, "Which one?"
According to the fine print and the technical specifications, there are differences between brands and models. The bottom line, however, is that if one of your party is caught in an avalanche, any beacon is better than none — except if you don't know how to use it or the batteries are long since dead. Thus, in generic terms, if you need a beacon, get one — any one — because they all work.
If range matters, get a beacon with greater range (Ortovox F1, M2, X1, or the SOS F1-ND). If price is your guide, get the least expensive. If special features are your thing, get the one that rings your bell. Personally I like the extra features of the newer digital beacons (Arva Advanced, Arva Evolution, Barryvox Opti 3000, Pieps DSP, Ortovox X1, or the Tracker DTS). They can make it easier to pinpoint where to start digging for a buried buddy — again, as long as you practice. That's the crux of beacons these days. Even experienced searchers have been known to freeze when a real avy occurs.
Ease of use then becomes paramount when panic sets in. That's why, even though I personally prefer the Barryvox Opti 3000 ($300) for its fancy, switchable real-time audio signal (good in multiple victim scenarios), I want you to have a Backcountry Tracker DTS ($310), 'cuz I don't believe you really know how to use that thing if I'm the one buried.
Click here to buy now from MountainGear.com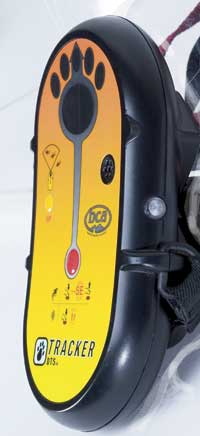 The DTS was the first digital beacon on the market, and it still sets the standard for ease of use. To switch it to receive mode, just hold the big red button down for a full second. The red LEDs flash the letters SE, for search, and then you just sweep the entire path zig-zag style (20-meter strip width) until you pick up a signal. From there it's pretty intuitive. Five LEDs show what direction to move, and the numbers show how far away you are. When you get within three meters, slow down to pinpoint the closest location. Then dig like mad. In the case of multiple burials, some of the other beacons have features that help out. But the bottom line with all beacons is practice, practice, practice. Several ski resorts that now offer practice ranges for this sort of exercise. Do it.
— Craig Dostie
Backcountry Access:303.417.1345, www.bcaccess.com
Barryvox/Mammut: 800.451.5127, www.mammutusa.com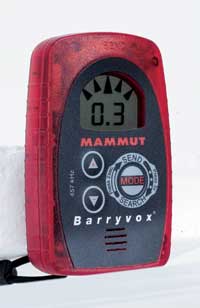 OR Zealot Jacket
Light just keeps getting lighter. Not long ago, bringing an emergency rain jacket meant either carrying a full-bore, heavy shell or else a ridiculous coated-nylon poncho. I frequently opted to forego carrying anything
and often suffered as a result. Not anymore. The new breed of ultralight shells leaves little excuse for not bringing one. One of the lightest, yet best performing, is Outdoor Research's Zealot ($199, eight ounces for size large).
Weighing slightly more than a can of tuna (the gold standard of comparison), the Zealot crumples into the size of a baseball, yet still possesses all the key minimum features of a shell: a solid hood, two drawstring closures (on the hood and waist), and
a zippered chest pocket. The zippers are waterproof, and the seam-sealing is immaculate.
The Zealot is made of Gore-Tex Paclite, which is Gore's lightest three-layer fabric. Although it shed water fine, I was a little dubious about how well the Zealot would breathe, as it lacks pit zips or mesh pockets for ventilation. No worries: The Zealot transferred moisture as well as any shell I've used. The only problem I encountered was with the squirrelly front zipper, which required some tinkering to get into the zipper carriage. Lightweight, waterproof, breathable — the Zealot's a winner. Anybody want to buy a used poncho?
— Ted Callahan
Outdoor Research: 888.467.4327, www.orgear.com
Click here to buy now from MountainGear.com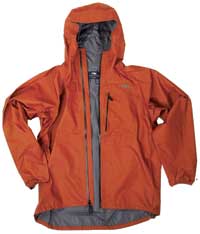 C.A.M.P. Divax ice tools
Perhaps the first rule of testing ice axes should be to do so while following. I, however, broke in my C.A.M.P. Divaxes ($170 per tool, 1 pound, 3 ounces per 50cm tool; 57cm also available) leading a moderate pitch of water ice and promptly scared myself silly. After recovering from my adrenaline rush, I pondered the tools and wondered whom to blame.
The error was mine. The Divax is a great tool and I grew to love it over the next months of use. For the experienced ice climber it does takes a few pitches to get used too; the narrower shaft and lighter weight — C.A.M.P. designed it as a "women's" axe — make for a different swing that relies more on wrist flick than a heavier tool. But while some might deride the tool as a "chick flick," several of my male friends tried it and were equally impressed.
Being a guide, I took the Divaxes with me on several introductory ice days. Novice ice climbers on WI3 to WI4 floes quickly took to these tools — and the sport — much faster than with the other tools available. While the wrist flick often seems to be the skill that takes the longest to develop in a swing, Divax-armed first-time ice climbers quickly picked it up and consistently got solid sticks.
If you are looking for a tool for steep alpine ice routes, the coupling of light weight and strong technical performance make the Divax a no-brainer. The adze works well for mellower mountaineering as well. Add to that the performance on water ice and you have a good all-around tool. Note: For the men in the audience, don't be afraid to be a Diva yourself — you just might find you like it. For those with small hands, whatever gender, the Divax is a great option.
— Majka Burhardt
C.A.M.P.: 877.421.2267, www.camp-usa.com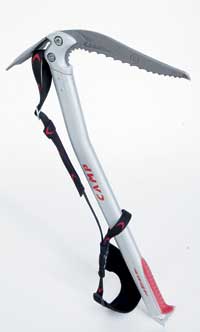 Cloudveil Enclosure Parka
Cloudveil's Enclosure Parka ($245, two pounds, four ounces for size medium) is cut for function, not fashion; don't expect to see it in an Upper West Side espresso bar anytime soon. The least bulky of the four parkas featured here, it is cut especially high, which keeps it out of the way of your harness. In addition, the Enclosure has an internal Lycra band that acts as a draft skirt, pulling the jacket in tightly at the waist and keeping it from riding up. Combined, this meant that the Enclosure had the best movement of all the parkas, and was the only one I'd want to wear on lead.
Despite having the heaviest insulation — seven ounces of Primaloft in the body and six ounces in the sleeves — the Enclosure wasn't especially warm relative to its weight, perhaps because of its tight construction. Also, the shell fabric was the least water resistant of all the jackets reviewed and was usually the first one to "wet out" under prolonged wet conditions. It has three outer pockets, and two inner mesh pockets, with dividers to keep everything in place. The hood easily fits over a helmet and all drawstring adjustments are a snap. The collar has a fleece flap that prevents the zipper from chapping your face. The cuffs are a bulky combination of Velcro and elastic.
Cloudveil: 888.763.5969, www.cloudveil.com
Synthetic Belay Parkas
One evening, while traveling through Tibet last summer, I was having tea with some nomads when the subject of my hirsuteness came up. As the children ran away laughing, holding aloft tufts of my leg hair like scalps, an elder asked me, "With all this hair, like a yak, why do you still need such a heavy jacket?" Perhaps, as he suggested, I really am reverting to a more Neanderthal state, but even the original alpine brutes depended on rudimentary clothing for insulation. Fast-forward 50,000 years to a dizzying array of styles and materials . After putting ten models through the ringer in cold, wet locations around the globe — the Cascades, Tibet, and the Chinese Pamirs — we chose the four best performers.
The classic dilemma with cold-weather insulation is choosing between down or synthetic. For all-around use, nothing beats synthetic insulation. Synthetics are hydrophobic, dry fast, and still insulate when wet. On the downside, they tend to be heavier, less compressible, and offer less warmth per ounce than down, but this gap is closing. Thus, for lower-altitude climbing, where precipitation is more variable, or for extended forays into the alpine or big-wall zone, where wet insulation spells disaster, synthetic is the way to go. Primaloft and Polarguard 3D are the most popular brands; both are excellent.
Synthetic belay parkas, unlike sleeping bags, are not rated according to temperature. Instead, manufacturers list the weight of the insulation, measured per square yard. As we discovered, this is at best an approximation of how warm (or not) a given parka will be. To increase mobility and decrease bulk, some jackets have more insulation around the body and less in the sleeves — a nice feature if you find yourself climbing in the jacket.
Like all outer layers, a belay parka needs to be windproof, water resistant, and breathable. To accomplish this, manufacturers add a durable water repellant (DWR) treatment to the shell fabric or, in the case of Nextec's Epic, coat each individual fiber with a water-repellent silicone compound.
To qualify for four-season alpine use, a belay parka needs an adjustable, insulated hood that fits over a helmet, a high collar, zippered outside hand-warmer pockets, an inner water-bottle pocket, and drawstrings and zippers that can be adjusted with one gloved hand. Other features — additional pockets, thumb loops, Velcro cuffs, and other impedimenta — just add weight and cost.
— Ted Callahan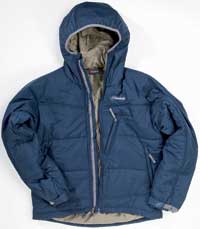 Patagonia DAS Parka
Patagonia's DAS ($265, one pound, 13 ounces) continues to set the standard for synthetic belay jackets. Thanks to its quilted construction, it is unfailingly warm, despite having only 5.3 ounces of Polarguard insulation in the body (and four ounces in the sleeves). The hood fits perfectly over a helmet — not too tight, not too loose — and adjusts easily. All of the drawstrings run through the inner liner, keeping them from getting caught in carabiners. The fabric is coated with Patagonia's proven Deluge DWR and the elbows, shoulders, and sides are all reinforced. The DAS has three outer pockets (two hand warmer and a hidden chest pocket) and the front zipper fits into a slot at the top of the collar, keeping it off your face. Downsides? The inner lining often slips under the cuffs and protrudes, getting in the way, and the mesh, inner water-bottle pockets are too big, allowing the bottle to slosh around and hang down below the hem.
Patagonia: 800.638.6464, www.patagonia.com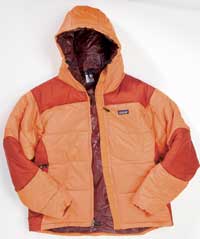 Loki Lodur Highloft
The Norse god Loki was able to assume many different shapes and, like its namesake, there is more to Loki clothing than meets the eye. The Lodur ($240, one pound, six ounces) creatively offers two hidden features: a pair of integrated mittens nested in the sleeves, and a windproof fleece face shield sewn to the hood that can be pulled over your head to function as a neck gaiter or balaclava.
The Loki mitts are insulated, have a sticky grip, and are easy to get on or off using two hands. They do add bulk to the sleeves, which takes some getting used to, and the internal nesting
system makes getting your hand (sans mitt) through the sleeve a task. When you reach up (a high ice-tool placement, for example), the mitt tends to pull the rest of the jacket up. Loki plans to add some design changes in the 2006-2007 run to address these problems, including a more streamlined nesting system and a more generous cut in the arms.
The Lodur clocks in as the lightest jacket reviewed, but this comes
at the expense of warmth; with only 4.7 ounces of Primaloft insulation, it is not designed to be a deep-freeze parka. The Lodur is one of the most innovative cloting pieces come out recently, offering a unique minimalist modular system.
Loki: 888.879.5654, www.lokiusa.com
>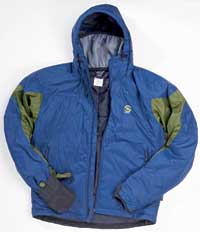 Wild Things Belay Jacket
With the famously harsh White Mountains as their test lab, it's no surprise that Wild Things would produce one of the warmest parkas we tested, with six ounces of Primaloft insulation. The most no-frills jacket reviewed here, the Belay Parka ($285, two pounds, two ounces) has a generous cut (without being bulky); fitting it over other layers was never a problem. It has two outer pockets and one inner, as well as a tightly cut, chest-height inner mesh water bottle pocket. The hood is easy to adjust, but tended to fit a bit snug over a Petzl Elios helmet; a more generous cut would help. The Epic shell fabric proved the most water resistant among all the jackets and is sewn together with a minimum of seams.
Wild Things: 603.356.9453, www.wildthingsgear.com
Click here to buy now from MountainGear.com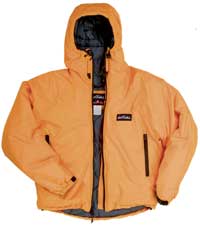 Exped Polaris and Nemo Tenshi single-wall tents
Often, new gear falls into one of two categories: An improvement on an older, proven design, or an innovative new approach that has yet to stand the test of time. In the case of the new Exped Polaris ($619, four pounds, 14 ounces minimum weight) and Nemo Tenshi ($675, four pounds, 15 ounces minimum weight) tents, each falls into a different category, despite the use of a common fabric. Both utilize the lightweight and highly breathable fabric, eVent, which keeps weight to a minimum on these two-person, four-season tents while allowing for versatility
in design and innovation.
This past spring in western Colorado proved to be a good testing ground for the fabric as the prevailing conditions tended to be wet and warm. On spring skiing excursions I alternated use of these two tents and found the performance of the eVent fabric for single-wall structures to be as good as any other single-wall material I had used, and better than most.
The Tenshi clearly fits in the former of the above-mentioned categories, expanding and improving on the Bibler I-Tent's legendary design, which is exceedingly simple, yet very strong, and emphasizes minimizing weight and footprint. More than once, however, I've been left wondering why I even bothered to zip my I-Tent when as soon as I open the door I would find a pile of snow in my lap. The Tenshi's retractable vestibule efficiently rectifies this issue. Another simple yet effective Tenshi feature is the condensation curtain. This light, 40-denier-nylon curtain hangs near your shoulders, sealing off the remainder of the tent from the water vapor you respirate while sleeping. An optional, removable, insulated floor covers the tent's entire floor, held in place by the poles, making living space much more comfortable during expedition use.
Click here to buy now from MountainGear.com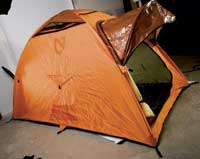 Exped's Polaris, in contrast, slots squarely in the latter category. Utilizing a unique pole sleeve and tensioning system, Exped has engineered a freestanding tube tent that delivers a great weight savings given the tent's overall size. If ever you think you might be cramming three people into a two-person tent for an alpine objective, this would be your tent of choice. A generous, permanent vestibule augments the interior space.
The tent tends to sag inward on the sides, however, unless you take time to guy them out. An optional pole fits on the inside to act as a third hoop and spreads the sag in the middle. Also, the tent's footprint would require you to chop a sizable ledge, in the event you had to do so. And while the continuous pole sleeves and tensioning system make the tent a breeze to set up, they can be a touch difficult to remove when it comes time to strike the tent, especially when temperatures drop below freezing after you have set it up.
Both of these tents provide great value in the realm of single-wall shelter. Whether you prefer the proven or the innovative, that's your choice. What you're sure to get from both is lightweight, durable shelter for big alpine objectives.
— Jeff Hollenbaugh
Exped/Outdoor Research: 888.467.4327, www.orgear.com
Nemo: 603.881.9353, www.nemoequipment.com