What Shoe is Right for You? See Paige Claassen's Flowchart.
Choosing a rock shoe from the over 100 options can be bewildering. This easy-to-use flowchart simplifies the process to get you just the right shoe.
Heading out the door? Read this article on the new Outside+ app available now on iOS devices for members! Download the app.
Twenty years ago, there weren't many retail options for climbing shoes, let alone online reviews. So when my Dad took me to get my first pair of "real" climbing shoes, we were pretty lost. It didn't help that the man running the shoe floor was unwilling to give attention to a 9-year-old girl who just wanted to try on a pair of Testarossas because "they looked the most extreme." Needless to say, choosing a new climbing shoe can be stressful. The options are vast, product descriptions are complicated, and who knows if the sales person at Dick's Sporting Goods even knows what climbing is. So how do you narrow characteristics to find the perfect shoe for your next adventure? Whether this is your first or 50th pair of rock shoes, this flowchart should help you find the answer.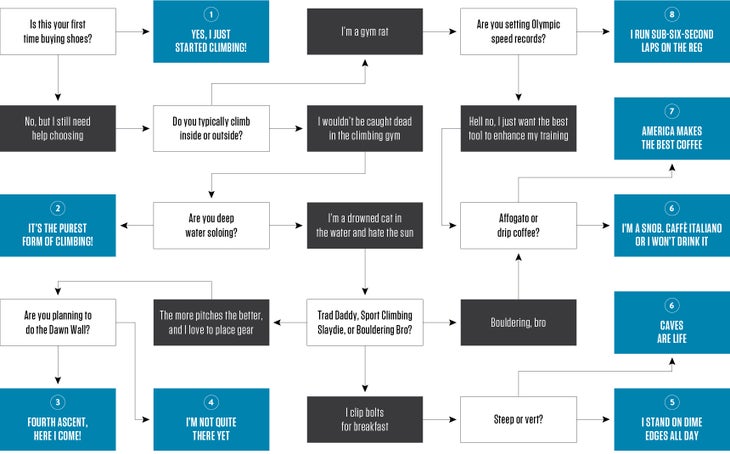 Climbing Shoe Results
With your first pair of climbing shoes, your goal will be learning to use your feet. You'll want a comfortable shoe with plenty of support in the midsole as your foot strengthens. Most brands carry a range of beginner shoes, but keep an eye out for a flat sole, as this will provide comfort and support, whether you're climbing outside or in the gym. Try sizing down one or two sizes from your street shoe, to get a feel for that snug but not painful fit.
I hear Black Diamond is bringing out waterproof shoes on April 1, 2020. Wait until then!
TC Pros are your only option. I mean, Tommy Caldwell literally made the shoe for the Dawn Wall.
Whether you're on a fun multi-pitch adventure with friends, or working your single pitch project on gear, you'll be on your feet a lot! A stiff edging shoe will provide support and precision in your toes. Lace ups are a great choice, especially if you're crack climbing, as they won't get in your way when you're jamming. Plus, the laces will allow you to cinch your shoes down for the tough pitches and loosen up later in the day when your feet are sore and swollen.
Technical climbing with thin feet demands a precision edging shoe. You'll want a stiff midsole to provide a platform for your foot when you're edging on those dimes. A slight downturn will give you some power in your toes, allowing you to pull your body to one side or the other, rather than simply standing and pressing with your feet. For sport climbing, consider downsizing two to three sizes below your street shoe. If you're multi-pitch climbing, try downsizing only one or two sizes so that your feet stay comfortable throughout the day.
So, you like fine Italian coffee and steep climbing. A downturned shoe, handmade from fine Italian leather, will be your new best friend. The leather will stretch slightly over time, conforming to your foot to give you that perfect fit. Make sure the heel cup fits snuggly, as you'll be locking into some aggressive heal hooks. And you'll want rubber on the upper for toe hooks. Downsizing two to three sizes below your street shoe should give you that sock-like fit, and you'll be sending hard rigs in no time.
You love the American way. Luckily for you, a number of climbing shoe brands manufacture their products in the USA. Here, you'll find more synthetic uppers, which won't stretch as much as leather. If you're climbing in the gym, aim for Velcro shoes, which are easier to slip on and off than lace ups.
You speed demon, you. Speed climbers tend to prefer slippers, shoes without laces or Velcro. After all, the clock starts when you begin putting your shoes on, right?
If you're serious about climbing harder grades with reduced fatigue, then improving your footwork will help you accomplish your goals—and send your projects. Climbing Magazine and pro climber Paige Claassen have teamed up to create Precision Footwork, a 7-week online LEARN course which focuses solely on footwork, one of the most crucial—but all too often overlooked—aspects of rock climbing. Learn more and sign up here.

Related: