La Sportiva Mythos Eco: Maximum Performance, Minimal Carbon Footprint
This green version of the time-tested Mythos sports 95% recycled components and more Earth-friendly leather tanning and glueing.
---
Our Thoughts
This green version of the Mythos is a step in the right direction for minimizing our carbon footprint without sacrificing quality.
---
Size Reviewed
41
Price
$145
Brand
La Sportiva
---
Heading out the door? Read this article on the new Outside+ app available now on iOS devices for members! Download the app.
When La Sportiva's Mythos, a low-cut, unlined, micro-lacing shoe, arrived late last century, climbers gushed over it as one of the best technical and most comfortable all-around rock shoes, ever. I reviewed the Mythos sometime around 1997 and before many of Climbing's readers were born, and was stuck by the shoe's glove-like fit and its ability to climb better and better as it shaped itself to your foot—unlike most shoes of the time, which required that you shape your foot to the shoe. The Mythos's knack to adapt to you didn't leave a micrometer of dead space around your foot. The fit became perfect, precise, and as comfortable as a rock shoe, then and now, would ever be.
But how did it climb?
Stiff at First, then Softens Up
The Mythos is stiff at first, but that first impression is misleading. Climb in the shoe and it softens, eventually reaching a stasis where it still has enough stability to edge, yet is soft and sensitive enough to feel out micro bumps—I've seen my buddy Jefe send FA numerous 5.14s in these rigs, pushing off insecure nothings as if they were ladder rungs. And in cracks, the shoe's low-profile toe and flat, supportive make it a precision weapon for any crease or cranny, from fingers to hands. On vert to slabby granite and sandstone where the game is all about foot "stiction" over brawn, I've never climbed in a shoe that could best the Mythos.
A Green, New Era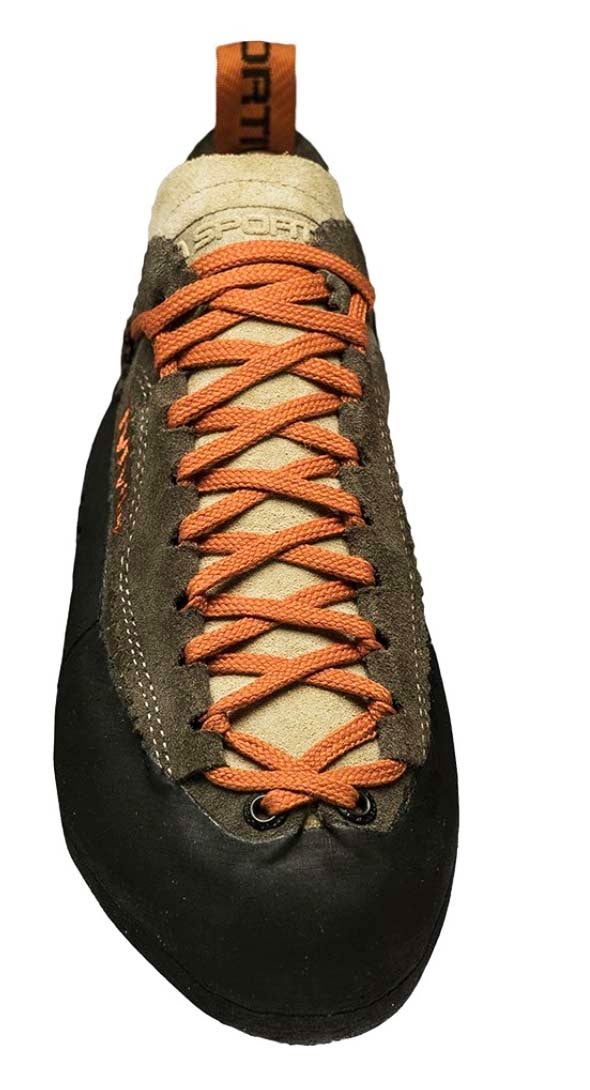 So why review the shoe again now?
Because 25 years ago, many of us climbers didn't think much about resource depletion, carbon emissions, and global warming. That has largely changed, and with that shift in attitude the Mythos went green about five years ago by becoming the Mythos Eco ($145), a retooling that uses 95 percent recycled components—the rubber is made from basically rubber floor scraps—and, aside from earthy colors, is indistinguishable for performance and fit of the original shoe. The bits on the Mythos that aren't recycled do at least use more Earth-friendly manufacturing processes, i.e., the leather uses metal-free tanning that makes is less toxic and allows the leather to biodegrade when the shoe's time on your feet has come to an end.
That Climbing is just now reviewing the Mythos Eco reflects our renewed editorial commitment to giving ink to gear with a minimal carbon footprint—we now feature a "green" piece of climbing gear in every print edition, the "Green Buy" in our Field Tested department. I'm also pleased to say that this year we are putting more elbow grease into gear testing, with more stringent review standards and a deeper reservoir of qualified testers. As a result, you'll see more gear reviews and we'll go deeper into the nuts and bolts of how that gear worked and why. We'll also review time-tested products such as the Mythos that are worth a new look. Stay tuned.