What's in a Quickdraw?
What to look for in buying your first set of draws, and a list of some of our favorites.
Heading out the door? Read this article on the new Outside+ app available now on iOS devices for members! Download the app.
Sure, those draws come in neon pink and they match your harness, but why are they that shape and size, and does it matter? 
Prior to Otto Herzog, a.k.a. "Rambo," climbers in the early 1900s could attach rope to rock by tying and untying slings around the rope and protection, which was pitons or a rock horn. Rambo, crafty German that he was, took notes from a piece of equipment used by the Munich firefighters. Copying the gadget, he produced the first climbing carabiner, a simple steel loop with a spring-loaded gate. Since that first one, subsequent iterations over the last 100-plus years have produced our modern and beloved carabiner. And the quickdraw? That came when climbers stopped clipping one carabiner into another carabiner into a bolt. According to John Bachar, the Stonemasters called that "carabiner climbing," and Colorado legend Jim Erickson decided it was cumbersome. In 1972, he tied off nine inches of 5/8" webbing to two carabiners and called his creation "UrQuickdraws."
Modern quickdraws are simple, game-changing devices. But take a look in any gear shop and you'll notice you have choices. Everything from the shape, nose type and angle, and gate style varies from one carabiner to the next. Is it best to go for a beefy sling or a thin one? A wire gate or a solid one? And what the heck is a Screamer!? 
As long as you're buying from reputable sources, all quickdraws are plenty strong to catch your falls. But there are still major differences in functionality and purpose. 
Carabiners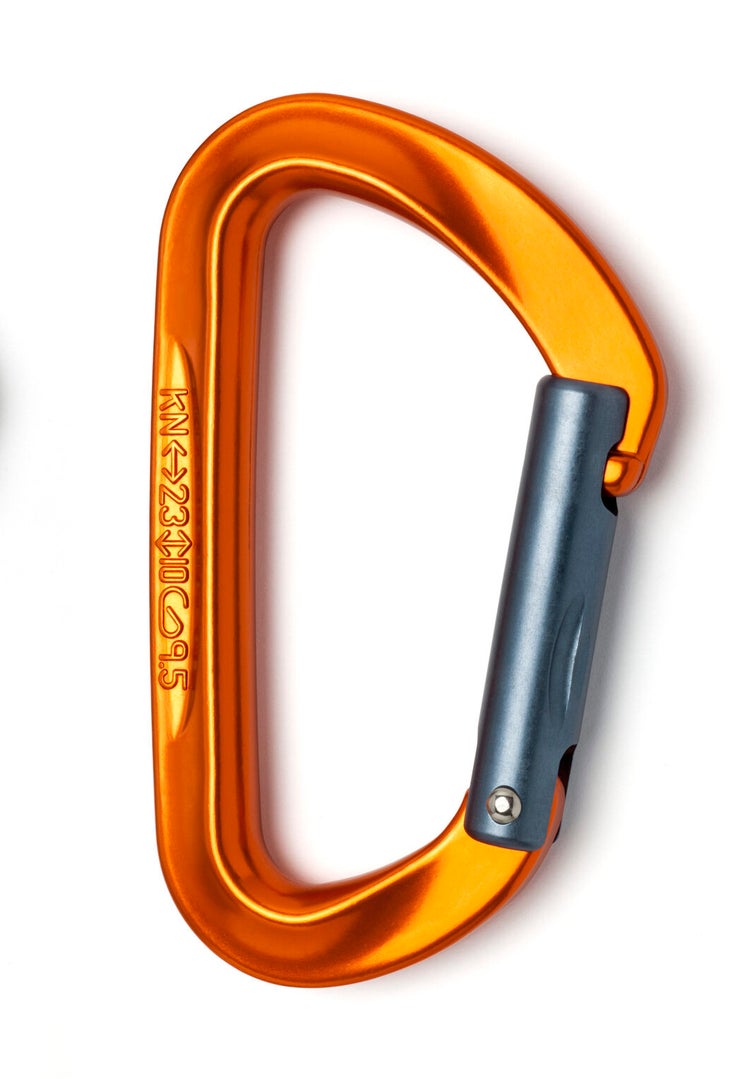 The first thing to look for on your carabiner are the acronyms CE or UIAA, both of which will tell you that the carabiner has been tested and deemed safe for climbing. Following those acronyms, all carabiners will have a set of three numbers indicating the kilonewtons of force the carabiner is rated to handle. The first number (23kN in the above example), which sits next to the arrow that would imaginarily run straight across the letters and numbers, indicates the kilonewtons the carabiner can take if the force is parallel to the spine, or along its "major axis." This is the intended direction of force for carabiners and, accordingly, has the strongest rating.
The next number indicates the carabiner's perpendicular force rating, i.e. the force it can withstand along the "minor axis"—climbers call this cross-loading. This number (10kN in the above carabiner) will often be one third of the first number because carabiners are not meant to be turned horizontally when the climber falls. They are still rated, however, to withstand climbers' biggest whips.
The last number (9.5kN again) is the force the carabiner can withstand while the gate is pushed open, but still hanging along its major axis. This number will resemble the minor axis rating or may even be slightly less. While atypical, climbers do occasionally fall when a gate is slightly open, sometimes due to a protruding rock feature.
To meet modern standards, carabiners must be rated at least 20kN along the major axis and 7kN along the minor axis and the major axis when the gate is open. Those numbers came about via a little trial and error and the German military, who discovered that parachuters jumping out of planes could withstand 12kN in a full-body harness. Engineers did engineering things to determine that the belay side should withstand 8kN, so that's 20kN in total. The minor axis and the gate open standards were determined after a series of field accidents where carabiners were failing at 6kN.
Shape and Weight:
Rambo's initial carabiners were heavy. In the 1950s, French alpinist Pierre Allain created the first aluminum varieties. Today's versions are mostly made with an alloy of aluminum, which is lightweight and pliable, and zinc, which adds strength. Steel carabiners, despite their weight, still have modern applications in gyms and as fixed anchors, since they are more durable. 
The initial carabiners were forged into ovals. Allain created his carabiners in the "D" shape, an improvement for its weight and strength. It was Yvon Chouinard who popularized the design, however, when in 1957 he began forging D-shaped carabiners and selling them from the back of his car. These days, the two main carabiner shapes used for draws are D and "asymmetric D". The D shape is the strongest, however the asymmetric D is the more common choice because the asymmetry allows for a larger gate opening and easier handling. 
If you're an alpine or ice climber and need to save weight, you can also purchase micro or nano carabiners for your draws. These will be much lighter, obviously, but they may also be more difficult to handle, particularly with a gloved hand.
Gate and Nose Type:
Gates are either wire or solid, with solid gates typically being slightly heavier. Solid gates are available with non-keylock (hooked) nose and keylock noses, with the nose being the part of the carabiner that the gate closes onto. Here, although you may pay more for it, opt for a keylock nose, as the hooked version is more likely to snagging on gear or bolts
When using solid gates, climbers should be wary of gate flutter, which occurs when vibrations from the rope cause the gate to open and close rapidly. Gate flutter is rare, but it happens, putting the climber at potentially serious risk. Alternatively, wire gates are far less likely to flutter, and on top of that they're less likely to freeze, making them ideal for alpine and ice climbers.
The caveat with wire gates is that they're often fitted with a hooked nose, which is prone to snagging on bolt hangers and slings. Gear manufacturers have tried to fix this with nose shrouding, which is a flair around the nose that helps prevent snagging and even makes accidental gate opening less likely. Even just a little bit of shrouding can go a long way in preventing accidents.
Both solid and wire gates come in straight or bent shapes. Straight is safer because it's less likely to be pushed open if wedged against something. Many climbers, however, prefer bent because it makes clipping easier.
Ultimately, since all the safety differences are relatively small when it comes to gate and nose type, you should consider the feel of the clipping action. After many years using draws that theoretically were great but sucked to clip, this editor recommends you purchase the draws that have a clipping action that feels good to you.
Nose Angle:
Carabiners can have a smooth flat curve leading to the back spine or be sharply angled. The more dramatic the nose angle, the higher the snag potential, so smoother is better in terms of safety. Still, some climbers may prefer a sharp angle because it means the carabiner is less likely to flip.
Slings (a.k.a. Dogbones)
Slings used for quickdraws, most often referred to as dogbones, can range from thick and beefy to thin and wispy. If you're sport climbing, you'll likely want the former, unless you'd like to save on weight, which is nice when placing draws while onsighting. Thick slings are nice for projecting, since they make it easier to grab the quickdraw to make a clip. 
Slings come in various lengths: most often 12 centimeters, 18 centimeters, and, for the alpinists, 60 centimeters. For the "alpine" draws, climbers usually opt for a thin sling that can be doubled-over to produce a draw that is just under 18 centimeters, making the full length optional as needed. Sport climbers, too, might find this ideal if the rope goes over sharp angle changes or around aretes. Most likely, you'll want a mix of dogbone lengths so as to customize your draw choices to each specific route. 
Bonus: A Screamer is a sling sewn up with stitches that are intended to bust under impact, resulting in dispersed force. The standard Screamer may reduce impact load by 3 to 4 kN, making them ideal for situations with less-than-ideal protection.
Assembly
If you order your draws, chances are you'll need to assemble them yourself. Remember that bent gates are for clipping. If you're sport climbing, you'll add a "keeper" (a rubber encasement that goes over the end of the dogbone) to this side as well, as it serves to prevent the carabiner from flipping over. Make sure you clip the carabiner through the dogbone AND the keeper—the keeper alone will not hold your weight. 
Oftentimes, to help you know which carabiner is for clipping and which is for the pro, the clipping carabiner will be brightly colored, but it's best to check the manufacturer's site if you're not sure. 
When to Retire?
Don't forget to regularly inspect your gear after putting it to use. Retire the carabiner if sharp edges are forming or if the gate feels weak. Even if your carabiners are not yet sharp, play it safe and buy new ones if you notice part of the metal has shorn away, as this surely means the strength is compromised. Also, if your dogbone starts looking fuzzy or like forlorn alpine tat, then it's time to toss.
Some of Our Favorites
Petzl Spirit Express Quickdraw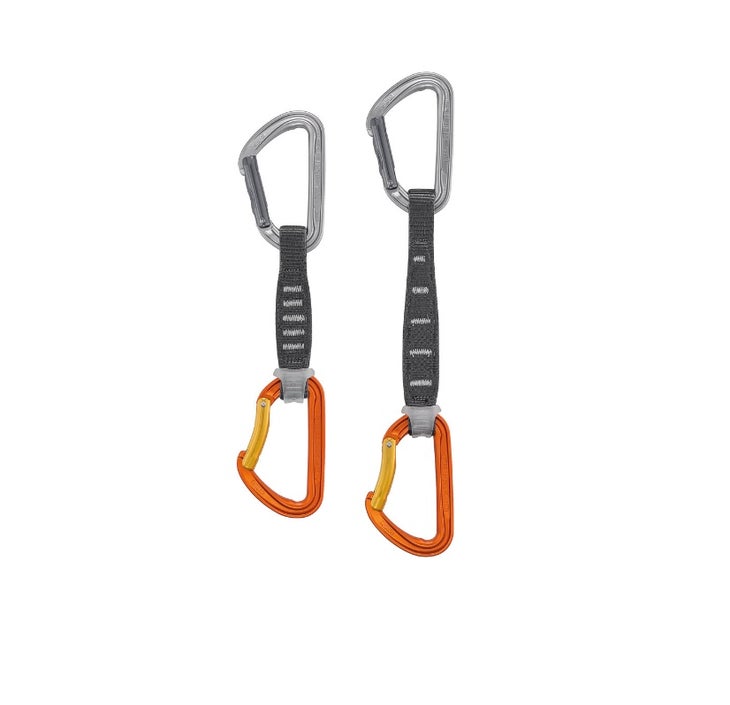 From our reviewer: After using draws that are hard to clip and tend to nosehook on the rope, I was overjoyed by the Spirit Express. This is one of the best draws I've used and maybe THE best. I initially thought that the bar-stock bent gate instead of a hipper wire-gate biner for the rope-clip end was quaint and maybe a mistake, but the outside of the gate has been flattened to give a wire-gate effect, and the arm of the carabiner under the gate drops steeply so the rope lands deep in the basket first try. This gate, like the one on the top (bolt-clip) carabiner is a keylock and one of the better designs. The nose is narrow and almost pointed so it slips through just about anything you'd want to slip it through without snagging or wrestling. [Continued here.]
Price: $19.95 – $20.95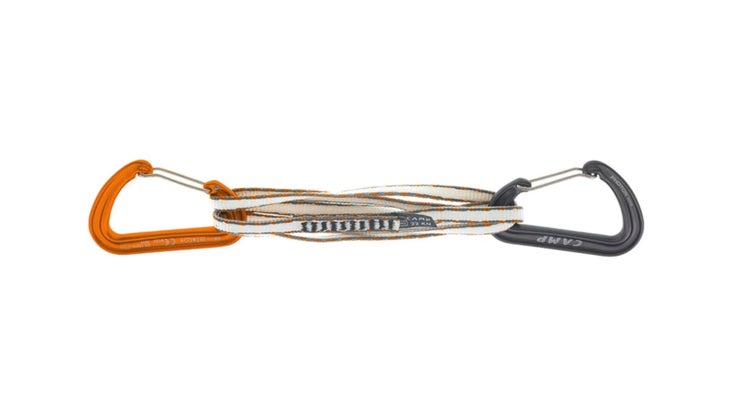 From our review: There's something to be said for not over-designing a piece of climbing gear: Things can always get lighter and sleeker, but is that always a plus?
To me, CAMP's Alpine Express Draw is a great example of equipment that strikes that happy medium between weight and handleability. CAMP has lighter and more expensive alpine draws in its arsenal, but the Alpine Express performs better than those in trad and alpine climbing of all stripes. Between its lightweight 60-centimeter Dyneema sling, and its two lightweight—but not too small!—Photon Wire carabiners, it has become my go-to alpine draw of late. [Continued here.]
Price: $100 for four
Gear Guide 2020: Black Diamond Hot Forge Hybrid Quickpack 12cm Review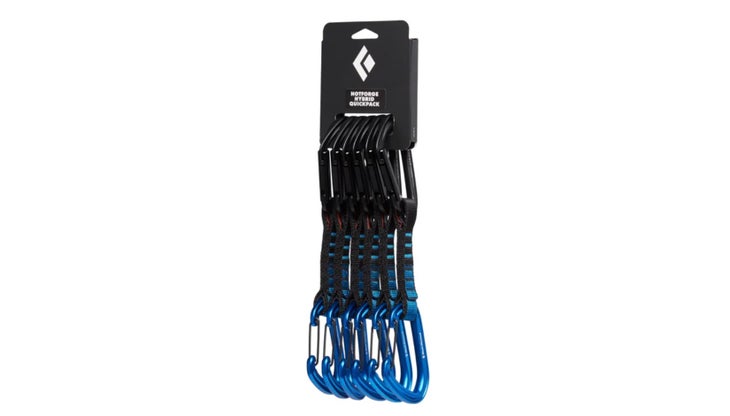 From our reviewer: Last autumn, I punted on a route due to fumbling with a sticky-gated draw then pumping out—arrrggghhh! Smooth gate-action is a must at your limit, and BD has nailed it with these draws, which have the über-fast-clipping, redesigned HotWire wiregate on the bottom—I never bobbled once, even on limit sends. I dug the "hybrid" aesthetic, too: A Hot Forge solid-gate biner on top made for easy visual distinction from the rope-side biner, which is bright blue to make a good clipping target. Best yet, the six-pack-o'-draws only weighs 21 ounces—they're incredibly light. [Continued here.]
Price: $19.95 – $20.95
Editors' Choice 2018: Edelrid Bulletproof Quickdraw Review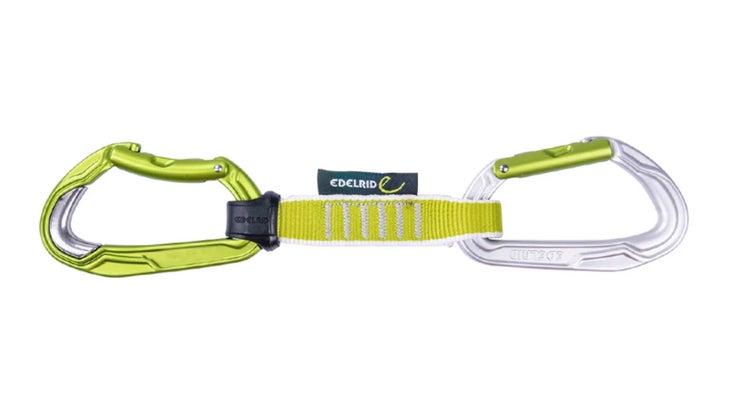 From our reviewer: Raise your hand if you're tired of either a) Clipping sketchy, grooved "fixed" draws or B) having to retire a beloved draw because of rope-side-biner grooving. Edelrid has come up with an ingenious solution with their new Bulletproof Quickdraw: The top biner is a nice, smooth-clipping Bullet biner, but it's the bottom biner that counts—the keylock closure Bulletproof clipper with a steel insert where the rope runs. Having the one bit of steel keeps the 12 cm draw light (4.1 oz) while seriously reducing wear and tear. The rope runs smoothly too; I used these to my great satisfaction in Boulder Canyon, while leading as well as at anchors on a fixed rope for solo-TR'ing.
Price: $35.95
Edelrid Mission II Extendable Quickdraw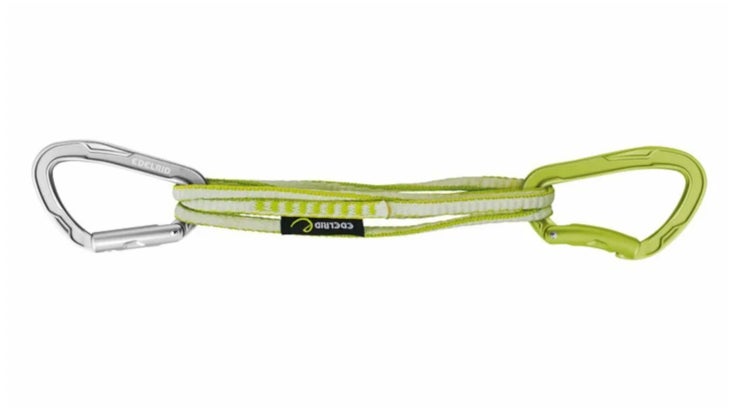 From our reviewer: Edelrid makes top-shelf, innovative, hard-wearing climbing gear, and the Mission II Extendable Quickdraw lives up to the company's standards. It found a quick place in both my sport and trad kits as a reliable trad draw: light, easy to clip and unclip, easy to extend, and easy to knot the sling—say, in a clove hitch to keep a carabiner fixed and not have it rotate around the sling. I've used them consistently on routes of all stripes to extend tough clips or to reduce rope drag, and they're still going strong after months of banging them against the rock. Sure, they're a little more spendy than slapping some old carabiners you have lying around on a sling (the same sling used here sells for $12.95), but the extra money is worth it for the top quality and reliability with the ensemble and the clippers. [Continued here.]
Price: $35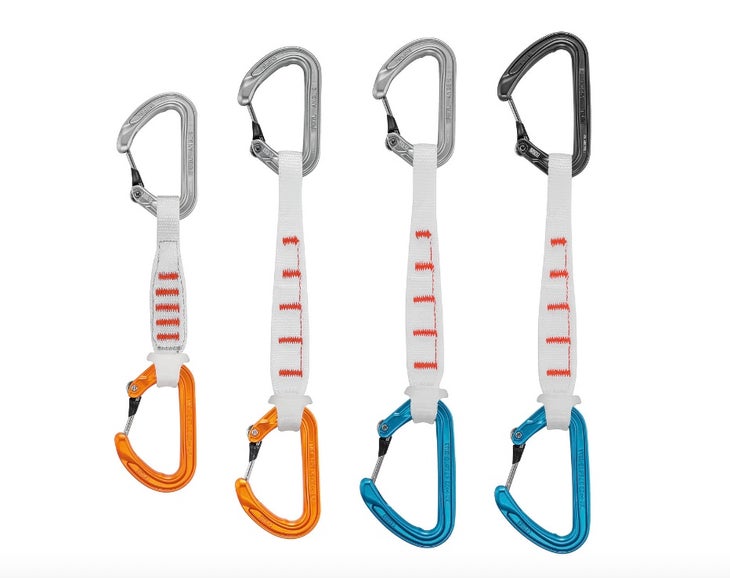 From our reviewer: Petzl's Ange Finesses are my year-round quickdraw choice. Be it backcountry rock, deep-winter ice, or hanging on a sport proj, these quickdraws are light, easy to clip, and won't snag—the three true tests of a worthy quickdraw. Available in 10- and 17-centimeter lengths, in a combination of ANGE S (small) or ANGE L (large) carabiners, these featherweights clock in between 63–78 grams and are incredibly compact.
The MonoFil Keylock gate (a single-wire wiregate) is easy to clip and easy to clean thanks to its smooth, low-profile nose, and retains a burly strength rating of 22 kN (major axis), 7kN (minor axis), and 10kN (open gate) for the ANGE L. The Finesse's dogbone is more user friendly than a typical ultra-light draw: rather than the typical narrow-but-deep dog bone, the Finesse is wide and easy to grab, but paper thin when viewed from the side, like the body of a fish. This construction keeps the weight down and the usability high, though it lacks the torsionality rigidity to use a dedicated dogging-draw. For anything else, however, the Finesse is top notch.
Price: $26.95 – $27.95