Valandre's 5° F Sleeping Bag Is One of the Best We've Ever Tested
The Bloody Mary's laundry list of features makes it much more than "just" a winter bag.
Pros
Interchangeable draft collars // High-quality down with excellent warmth-to-weight ratio // Connectable, one-handed hood and collar cinch system // Comes in three sizes
Cons
The myriad features come with a slight weight penalty and less packability than more minimalist bags
---
Heading out the door? Read this article on the new Outside+ app available now on iOS devices for members! Download the app.
The engineers at Valandre must surely be fans of Socrates. "Better do a little well, than a great deal badly," he said, and so has Valandre done for the last 40-odd years, as they've focused on producing some of the best down jackets and sleeping bags around. Their Bloody Mary sleeping bag is no exception.
As a three-season bag, the Bloody Mary became my go-to choice for all but the dead of winter: crisp autumn nights, spring campouts in the snow, and one unfortunate, blizzarding weekend that left me tent-bound thinking: Rock season can't be over yet. While my full-crimping fingers numbed out many times that day, the Bloody Mary kept me comfortable and dry the rest of the time—as any worthy sleeping bag should.
The Bloody Mary is perhaps one of the most versatile sleeping bags I've owned, thanks to its three choices of draft collar, a full-length zipper, and adjustable mummy hood. If, like me, you tend to adjust and re-adjust throughout the night, you've surely felt hard-won warmth escape through your bag's collar as you flip again onto your shoulder to block out your partner's chainsaw snores. In the winter, this means trouble. In the Bloody Mary, Valandre's "Marie Antoinette collar" zips into the back of the bag at neck-height and sticks to Velcro on the front, providing a comfortable, neck-wrapping tube of down to eliminate heat loss. When paired with lightweight insulation like Patagonia's DAS Light Pants and Hoody, this configuration enabled me to use the Bloody Mary in much colder conditions than advertised, down to about -8° F, while trying to avoid bringing a heavier, warmer bag on various winter outings. For warmer nights, you can swap in a half collar—or, in summer, go with no collar at all. Speaking of which, a head-to-toe zipper provides much-needed ventilation for warm-weather bivvies, yet can be quickly zipped up (read: snag-free) and is lined with a generous draft tube once the night wears on, clear and cold.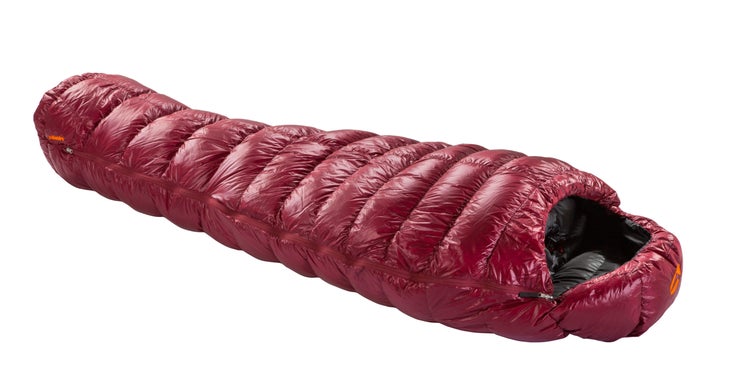 These features come at a price, of course, and the added zippers, Velcro, and fabric mean there is a slight size penalty when stuffing it into your pack. The added bulk certainly isn't a deal-breaker—the Bloody Mary still only weighs 2.6 pounds and packs down to eight by 10 inches—but it's something to consider when preparing for your fast-and-light dreams.
An important, final feature to note is the quality of Valandre's insulation itself. The 850-fill down is sourced from the famously durable French grey geese—the ones that, twice each year, fly up at 24,000 feet with temperatures as low as -60° F—who prepare for their migration by eating and storing energy in their fat, liver, and feathers. It's during this stage that the down is harvested, ensuring maximum warmth in your down products.
I certainly can't operate at 24,000 feet as well as a grey goose can, nor do I have any desire to visit -60° F, but the Bloody Mary certainly brings out the best in me. A good night's sleep can do that to a grump.
---
Anthony Walsh is a digital editor at Climbing.
Read more field-tested reviews: