Review: Black Diamond Hot Forge Heated Chalkbag
Heading out the door? Read this article on the new Outside+ app available now on iOS devices for members! Download the app.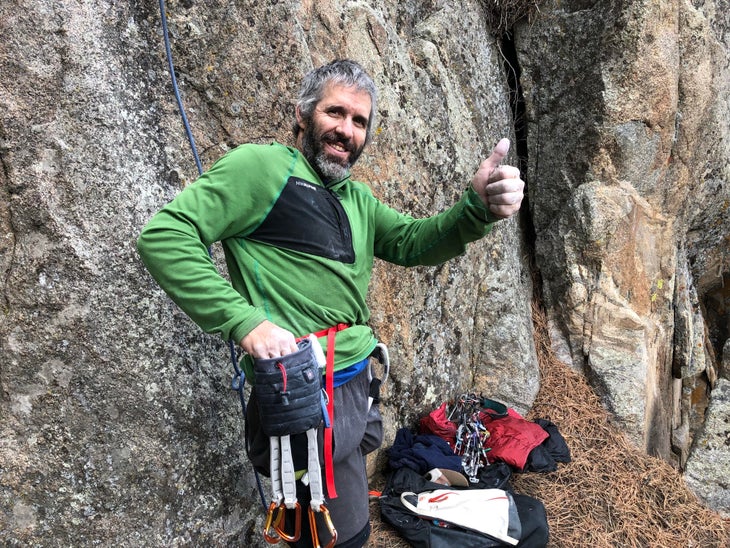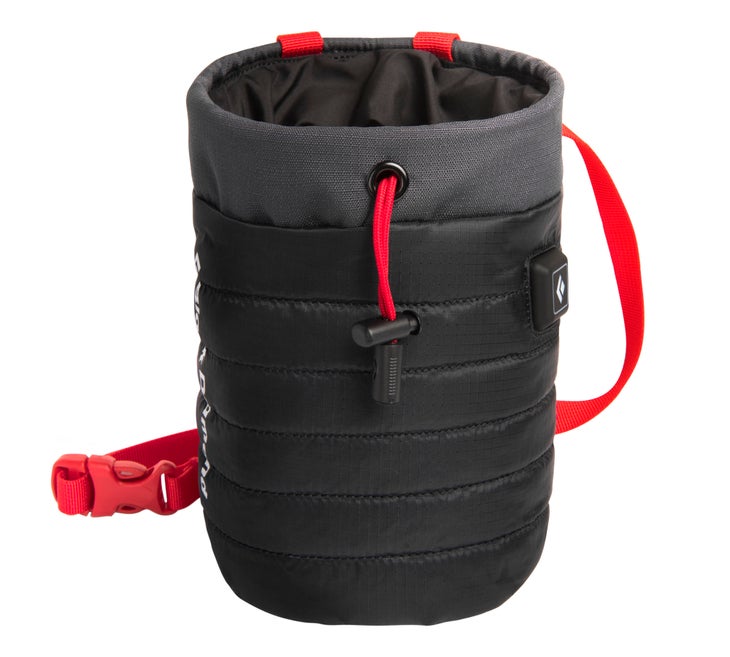 I'm just going to say it—this heated, battery-pack-powered little chalkbag might just be the biggest game-changing climbing invention since the kernmantel rope or the cam. No joke, no lie, and let me tell you why: No more numb fingers. No more dry-firing off cold, slick rock. No more stupid, barely-useful, waste-creating hand warmers that die after an hour or just get the tips of two or three fingers warm. No more warming little rocks over a campstove and sticking them in your chalkbag. No more sticking your fingers on your clammy neck or in your stinky pits to warm them up at jug rest. Kiss all that rigmarole goodbye, because this one key piece of gear has you covered for cold-weather rock climbing now and forever.
If you live in a cold or alpine environment, then you know the issue: On days when it's chilly enough to stick to the rock for harder climbing, with temps in the 40s and 50s, it's a fine line between "crisp" and "grippy" and "Oh shit, a cloud just came in and the wind kicked up and now I can't feel my fingers anymore and the day is over because I have the flash-pump from hell from grabbing cold rock." It's a common problem here on the Front Range of Colorado, where in the winter months we get plenty of days that are sunny and mid-50s down in town, but in the high-30s, windy, and cold, often with a sun-blocking mountain-wave cloud, up in the canyons. Basically, we all deal this problem in North America. And that's not to mention perennially shady routes, like north-facing walls and overhanging caves, or alpine rock climbs at altitude like those on the Diamond or the Incredible Hulk, where the rock never gets that warm to begin with.
And we don't all have great circulation—mine is getting worse with age, and I know plenty of climbers (my wife included) with Raynaud's syndrome who stop climbing outside in winter because of the reduced circulation in their icy-white hands. So what better, really, than a heated chalkbag—I mean, skiers get heated boots, so why not the same for our precious climber hands and fingers?
Black Diamond, using tech from their heated Solano gloves and Hot Forge jacket, has pulled off this genius idea with perfection. The chalkbag has a removable lithium-ion battery pack that plugs into an included wall charger. Charge it up, slip it into a zipper pocket with cable attachment on the back of the bag, plug it in, and you're ready to go. A little button on the side of the bag lets you control the on/off function and select from three gradations of warmth that emanate from a heating pad inside the bag: red (hot; battery lasts 2 hours), yellow (warm; battery lasts 4–6 hours), green (lukewarm; battery lasts 6–8 hours). On a cold day, you can cook the bag up nice and toasty on red, keeping the top lid closed, open it and dip your hands in to warm them before you launch, then scale down to yellow or green as needed as you climb—the button is easy to adjust on the fly.
I first used mine on a typically gray, blustery early-spring day in Boulder Canyon in conditions that would have typically seen me throw in the towel, numb-fingered, flash-pumped, and angry at life. Instead, I was able to stay on the rock and take down two thin, crimpy climbs without issue using the yellow setting, warming my hands before I climbed and again at each rest. Two days later in Clear Creek Canyon, we started climbing on a mild, sunny 70-degree morning, then a fast-moving gale whipped in with howling winds, sideways rain, etc. The rock went from buttery to freezing in minutes. No problem—boom, I cranked the bag up to red and kept on pulling, and my hands felt great. OK, sure, they eventually opened as I tried my project, but it was because I was pumped, not because of frost-nipped fingers and cold, wooden forearms. Two days later, again in Clear Creek, I busted out the bag on the perennially shady roof of Brennivin, and its cold, sunless crack was no match for my chalkbag-heated hands. As I shook out on jug and jam rests and dipped into the bag, my hands would be newly reheated as I brought them back onto the cold rock, and the circulation in my hands stayed consistent and reliable.
The big news with the chalkbag is the uniformity of the heating. I have never cottoned to hand warmers, which due to their small surface area overheat one small part of your fingers while excluding the rest of your hand, IMO creating a contrast that was almost worse than not using them. Not so here: the heating pad is a solid 2" x 4" and warms the inside of the bag uniformly—and it's on the front of the bag, right where you dip, so you contact it directly as you fingers go in. Moreover, the heat is always on and doesn't fade away, like those stupid little warmer packs that suck (have I mentioned how much I hate these?). And with 80g Thinsulate insulation the bag does a stellar job at retaining its heat.
The only consideration is that the battery pack adds some weight (the bag weighs 6.2 oz with the pack in; the pack itself weighs 2.9 oz), though of course you can always take the battery pack out for times when you feel that ounces matter or it's warm enough not to need the heating function. Still, lug up a few extra ounces and have warm hands that actually work or fret over weight and have numb hands that don't function—which would you choose?
To me, this bag is a secret weapon for cold-weather climbing, a one-ring-to-rule-them-all tool that finally gives you some say in how your hands feel, and hence how you perform, on cold, crispy days—the days we need to send our hardest, when those small, conditions-dependent crimps and slopers finally become usable. I really, really, really love this thing. If it were a person, I would ask it to marry me at the end of our first date and we would be in love forever and never, ever argue and never need counseling or anything. We would just chill together and climb. So sure, you can borrow mine, but you can't keep it—not even if you pry it from my (no longer) cold, dead hands.
$59.95, blackdiamondequipment.com