Review: Boot Bananas Original Shoe Deodorisers
Heading out the door? Read this article on the new Outside+ app available now on iOS devices for members! Download the app.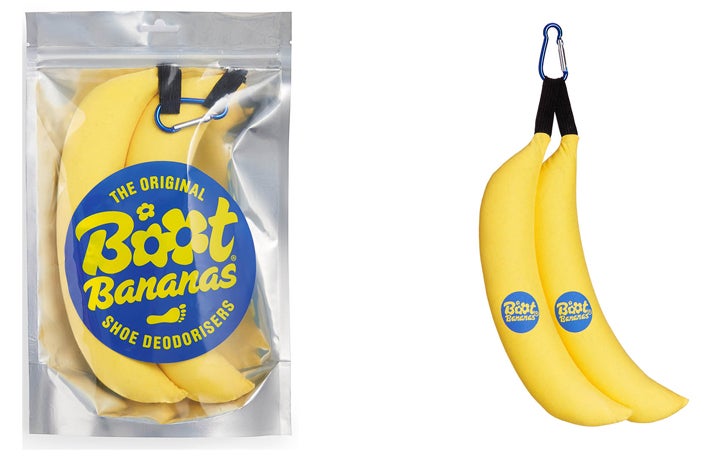 I'm one of those weird—or maybe not so weird—climbers who hangs on to rock shoes forever. Like, I'll buy a few pairs of my favorite brand, model, and size, then resole them for all they're worth because I love them, trust them, and know how they feel on the rock. Sometimes it's up to three resoles, until the uppers are little more than a faded, floppy sock and there are so many holes in the toes and rand you could strain pasta through 'em. This, of course, also means that my older shoes smell funky, as in a near-lethal odor if you get too close on a hot day. Conscious of this, I even started washing my feet after a morning gym session because I knew, if I was going to yoga class that day, that I'd be getting stares of watery-eyed horror from my mat-mates doing Downward Dog next to me.
Climbers have had various hacks for stinky shoes for years, including putting them in the freezer (doesn't do much—just stinks up your freezer), washing them on the cold cycle (kills the odor for a bit, but isn't so good for the shoes' delicate construction), and adding things like talcum powder or odor-absorbing boot powder to the footbed. While this latter solution might work OK on street shoes where you're wearing socks, they aren't so great for rock shoes, which you need to wear barefoot for maximum sensitivity. What you get, instead, is often a gunked-up footbed or even one that degenerates because of chemical reactions between sweat, the uppers/liner, and the drying agent.
Boot Bananas are a simple yet elegant tool that meet our needs with older, aromatic rock shoes and sidesteps all of the issues above. They are designed and manufactured by a couple in the UK. As Alex, a model maker and one half of the team, writes on their site, "We'd just moved into our first flat together and the smell of Phil's [her partner's] climbing shoes had become a problem he could no longer hide"—we can all relate. They thus came up with a formula of deodorizing salts and minerals, and then the idea for a "banana" that serves as the container/dispenser—something that slips into the shoe and releases the odor-killing agents, but doesn't get powder everywhere and is reusable from one pair of shoes to the next.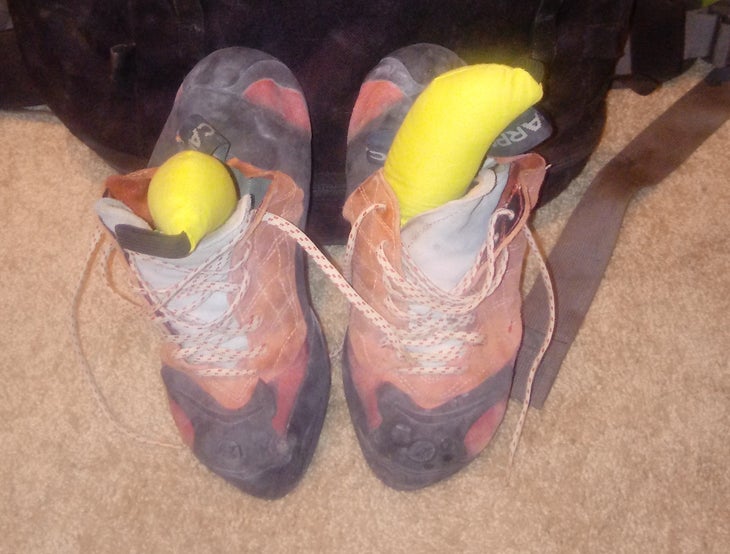 As someone with sensitivity to chemicals and chemical aromas, I've been grateful for the simplicity of the ingredients—bamboo charcoal, baking soda, the volcanic mineral zeolite, and tea tree, lavender, and lemon oils. Everything you need is there, and nothing more—and there's nothing harsh or caustic that could damage your shoes. The bananas themselves are also very easy to use: Slide them in and out of the shoe as needed, and then clip them back together and store them in their packaging when not in use. With a couple of old pairs of Scarpa Instinct lace-ups I've had in rotation for nearly a decade (!), the Boot Bananas have done a wonderful job of rehabilitating my kicks, aroma-wise. I have one pair I (now without embarrassment) keep in my gym bag and another I sometimes bring to the cliffs, and when the shoes are not in use at home I've been refreshing them with the Bananas to great effect. When you pick up ye ol' Instincts now, it's the Bananas you're smelling, not my funk-ay feet, and my dogs smell much less horrible after a sweaty session in the Instincts as well—a tinge of the Boot Bananas aroma left on the skin, but not an overpowering amount. And the scent is certainly, with its dominant notes of lavender, way preferable to my natural stank.
These are an ingenious little invention—for those of us with sweaty feet or who climb in hot climates or who keep climbing in shoes well past when most climbers would take them off life support, Boot Bananas are a must-have. They last about six to 12 months and even turn brown like a real banana as they age—how cool is that?
£14.00, bootbananas.com