Review: Denali: A Man, a Dog, and the Friendship of a Lifetime, by Ben Moon
Heading out the door? Read this article on the new Outside+ app available now on iOS devices for members! Download the app.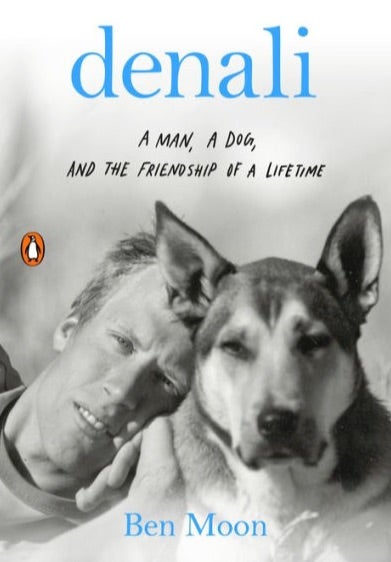 I lost my Plott hound Clyde last May in one long, endless day that blurred into night that blurred into day again. I'd had Clyde since he was two months old, a small, pug-nosed ball of brindle-furred, squeaky love who grew—all too quickly—to become a tall, long-limbed, long-snouted, lope-gaited 80-pound hound dog. Clyde made it to age 14: quite old for his size and for his breed, and having lived a life full of travel, time at the rocks, and the love he soaked up from us, his family, and his many close friends. If Clyde had known you since he was a puppy, he would freak out at the sight of you, dancing and howling and baying "Woo-woo-woo" until he'd received enough ear scratches to calm down again. Clyde was my anchor through years of diabolical iatrogenic health issues; on more than one occasion, the thought of leaving him alone was enough to keep me from ending my life.
When Clyde went, it was quick, and natural, and it was his time. He told me with his eyes in the month leading up to his death and especially on his final day. I stayed up with him all night until he passed, his flanks heaving under my hand then flexing imperceptibly as he panted a final fusillade of shallow breaths. The next day, not knowing what to do with myself, I stuck to my plans to go climbing and navigated the slick granite of the South St. Vrain Canyon, Colorado, in a surreal haze of mortal terror and fatigue. And a grief that has not—at least in its intensity, though perhaps with lessening frequency—ebbed to this day.
Clyde, to me, had been everything. If you're a dog lover, then you know how profound the loss of a canine companion can be, a grief as deep-rooted and gut-hollowing as the loss of a family member or best friend. And if you're not a dog lover, well, then, may God help you.
Ben Moon, the American climber, adventure photographer, and cancer survivor, has penned a masterful memoir, Denali, that strikes all the right notes, whether you're a dog lover, a climber, or both. (Given how many dogs we see at the cliffs, there seems to be plenty of overlap between the two populations.) Based on his viral video of the same name, this 275-page book details Moon's life to date, from his off-the-grid upbringing in backwoods Michigan, to the lost, depressive years of his early 20s, to his rise as an adventure photographer, to his peripatetic lifestyle as a hardcore climber and surfer. But front and center throughout are the themes Moon so heartbreakingly detailed in his video: namely, his diagnosis of colorectal cancer at only age 29 and epic road back to wellness, all supported by his pit bull-husky mix, Denali, a handsome, roving, mischievous, and playful dog who was Moon's constant companion in times both good and bad—and who, in a way, served as Moon's interpreter for a baffling world.
"Sometimes the difficulty of expressing my feelings to other humans in the moment leaves me anxious and paralyzed," writes Moon. "Those swirling feelings are calmed by simply stroking my pup's ears. I love the way dogs offer love and support without needing to question me before I have an answer, and their soothing sighs of contentment."
Moon writes with a straightforward, engaging style that pulls you onto the page—I tore through the book in four nights. He's also unflinching but often hilarious in his depiction of the depredations of colorectal cancer and his life, post-treatment, with a stoma, "Earl"—if graphic depictions of shit and puke are too much for you, then you may want to flip past these sections. But then again, you'd be cheating yourself, because this is the reality of cancer, and Moon is unsparing in his depiction of the disease, which perhaps, more than any other health condition, lays bare just how dependent we are on the secret workings of our glands, organs, muscles, bone, and sinew. And just how fragile we all are and how quickly imperiled with the mutation of a few cells.
The latter third of the book is where the deepest heartbreak begins, as Denali ages and begins to experience health problems of his own. In the same way that hound was once there for human, Moon rallies to give his furry friend the best final month of his life, and we learn how much work—but also pathos and joy and celebration of life—went into the making of the film Denali, as Moon and friends take Denali all over Oregon to the rocks, surf breaks, and outdoor haunts where man and dog formed memories together. In the final chapter, "Denali Lives On," we are comforted to see Moon 15 years later, cancer free, climbing, surfing, shooting photos, and making fresh memories with a new canine companion, Nori. This is life as it should be lived: with a dog at your side, chasing adventure, ever-cognizant of the brevity of our time here and the pricelessness of unconditional love.