This Might Just Be the Ultimate Home Training Wall
Photo: Courtesy Boone Speed
Heading out the door? Read this article on the new Outside+ app available now on iOS devices for members! Download the app.
Home walls have taken off over the last year. With fewer  climbers going to the gym, more climbers are kitting out their garages, backyards, basements, living rooms, and sometimes, bedrooms, and app-driven training boards are the gold standard for these home training spaces. The standardized hold sets, with LED lights built into the wall, and crowdsourced, app-supported routesetting, offer ample challenge and variety to support both fun and intense sessions.
This fall Grasshopper Climbing entered the board, ahem, game with their new Grasshopper Board. Grasshopper was founded by the legendary climber Boone Speed and Jeremy Huckins, a boulderer and engineer. The company originally launched with a line of adjustable climbing-wall frames (not reviewed here). Their new Grasshopper Board complements the frames to offer a complete home climbing gym (they may also be used with existing, fixed walls like the one in my garage—a 40-degree wall). The board comes in two configurations: The Ninja set, which I tested on my wall, includes 165 holds that fit on a 7'x10' board, perfect for those with limited space; the Master set includes 192 holds for an 8'x12' board and is sized like other boards—e.g., standard MoonBoard and Tension Board—you might find at a gym.
The Grasshopper Board was designed with Josh Larson, a level 5 routesetter and the head coach of USA Climbing. His expertise shines through in the hold set and the layout. The board finds its niche by offering more variety and gym-style movement than other options, while still providing an ample strength and power workout for training for outdoor projects.
For the Ninja set in my garage, our testers ranged from 5.14 trad and sport climbers, to professional route setters, to 5.12 climbers, to myself, a moderate climber returning from a five month break post-surgery. We have all been testing since November 2020, during the long, cold Colorado winter. Here's what we thought.
Holds
Holds are the most important element of a standardized climbing wall, and Grasshopper's plastic holds get it just right. The shapes are fun and interesting, with quite a lot of variety of sidepulls, slopers, pinches, and underclings. The holds are divided into three sets that can be purchased individually: The blue "Flow" hold set, yellow "Engage" set, and the black "Power" hold set. The Flow set provides 10 two-sided jugs in the Ninja setup along with footholds and two large jugs. The two-sided jugs can be grabbed from the top or used as an undercling; they're the easiest holds on the wall, offering warmups, rests, or as the name implies, flowing movement around the board. The Engage set offers a number of identical medium-sized holds along with more footholds, an undercling jug, and a big flat hold for the top of the wall. These gently incut holds are comfortable under the fingers and start to add some difficulty as the wall steepens. The Power holds make up the majority of the layout. They include a range of sizes and shapes—sidepulls, slopers, underclings, pinches, edges. A handful of the holds are large enough to match on, and the two enormous black underclings offer a powerful grip, but also tricky toe-catches and smears. Most notably, the holds are fun. The three sets feel more like what you'd see in your gym's bouldering cave than on other boards. One tester called them the "most interesting and entertaining I've seen on a training board so far."
Testers praised the texture and friendly shape of the holds. The grit seemed to land in a Goldilocks middle ground that didn't shred skin, but provided just the right amount of grip. One tester was particularly impressed with how well his smears stuck. Another tester praised the ergonomic shapes: "Grasshopper created a hold set that isn't tweaky but will still challenge finger strength. The shapes encourage and allow for moves that train body tension and open-hand strength in ways that, while possible, are more challenging on other boards."
One thick-fingered tester did note that he was unable to get all four fingers and a thumb wrap on the smallest crimps. He would have preferred a little more width in those cases.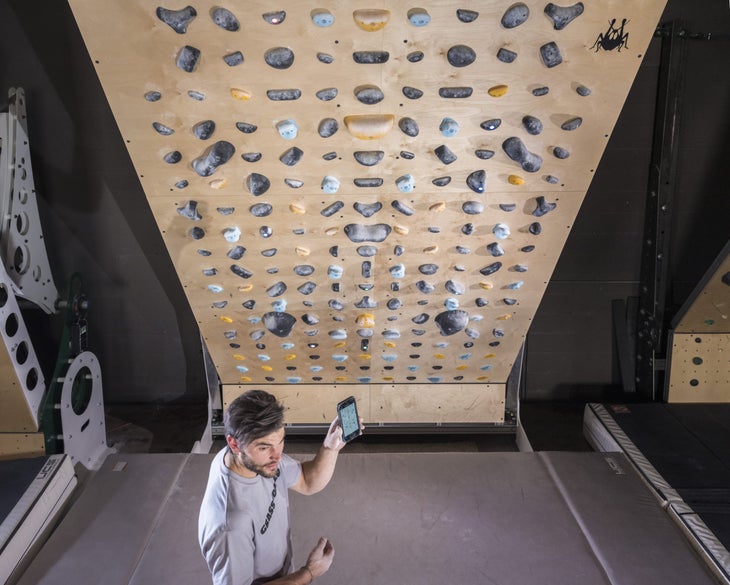 Problems (and Routes!)
As of press time, there are 541 climbs for the Ninja set and 1419 for the Master set. When we first installed the board in November 2020, there were around 100 problems for the Ninja set. New lines are going up at a steady pace after just six months on the market. At this rate, you'll never run out—and of course you can set more problems yourself. The problems encompass the full range of grades, but start skewing toward the harder grades as the angle steepens, as you'd expect. At 10 degrees, there are currently 20 V0s, while at 40 degrees we had seven V0s to work with and 26 V5s, for example. (A significant number of problems are still listed as projects at this time, meaning they were originally set at different angles and have yet to see an ascent at our current angle, hence they have not been graded and aren't included in those counts.)
The Grasshopper Board works on an app, designed by Aurora Climbing, that gives you the unique ability to set "routes"—animated problems that trace circuits along the board. The LEDs change on a timer, allowing you to climb up and down all around for an endurance challenge. As of press time there were 10 routes to choose from, the easiest being 5.11b at 35 degrees. Route creation is a bit of an art, requiring trial and error to determine which LEDs should turn on and off at the right time for a proper pace. It's a fun addition with limited implementation so far. Still, it's nice to have the 5.13a Boone Speed route IN TO IT as an aspirational project I can work in my own garage.
Difficulty
One thing all of our testers agreed on is that, at 40-degrees, these problems are hard—and the grades, as with all the app walls, are sandbagged. If you pair the board with one of Grasshopper's adjustable climbing walls, the holds are shaped to work at all angles and would offer problems of all grades, allowing for a gradual increase in difficulty. This would be the ideal scenario for the board. On a fixed-angle wall, you should know what you're getting into. The Flow and Engage hold sets do offer warm ups and generally easier—but not easy—climbing, but the majority of the holds are from the Power set, which is geared toward hard bouldering. This set includes some larger sidepulls, underclings, and ball-shaped slopers that offer manageable difficulty at the right angle of pull, but the majority of the Power set is quite tough at a steep angle.
One tester, an elite-level climber, said, "At 40 degrees things people were calling V1 just aren't even close, more like V6." Independently, another tester came up with the same V1 to V6 figure, and the general sentiment about sandbagging was echoed among all testers. That's not to say the difficulty is a bad thing. The board offers amazing limit-bouldering opportunities in a small space, and you'll never run out of projects. But if you're not climbing at least V3 outdoors, consider a gentler angle (or get the adjustable wall if you have the space).
Layout
Our testers found that the Grasshopper Board offered versatile movement, more so than any competitors. "When it comes to fancy-footwork moves like toe hooks, bicycles, and heel hooks, the Grasshopper is the only board I know of with options to train these techniques effectively," said one tester.
Testers also praised the mirrored, symmetrical layout. This allowed them to train both sides of their body evenly and address weaknesses. One tester didn't mark a problem as complete in the app until he had completed both versions. The layout also lets the board double as a systems wall for learning and practicing specific movements. 
Notably, the Grasshopper Board does not use kicker holds. Speed explained that this is to remove the advantage a kicker panel provides to tall climbers. We had a mixed opinion on this. What Speed says is true, and the lack of kicker allows the board to fit in exceptionally small spaces—you could fit the Ninja-sized board in your bedroom if you wanted to, and by the looks of Instagram some people have. On the other hand, with a slightly larger space, not having a kicker fails to maximize the climbable area. For example, my garage ceiling is 8-feet, 9-inches, and I couldn't extend my wall any further out without running into the garage-door opener. A 10-foot-long, 40-degree board with an eighteen-inch kicker provided me with the most climbable surface for my space. It'd be nice to have that extra move or two a kicker could provide since it is a smaller wall, not to mention the traversing possibilities along the lower third of the wall, to create longer problems. Of course you can add your own kicker holds, but I'd like to see this added as an official option in the future so it can be utilized in the app.
LEDs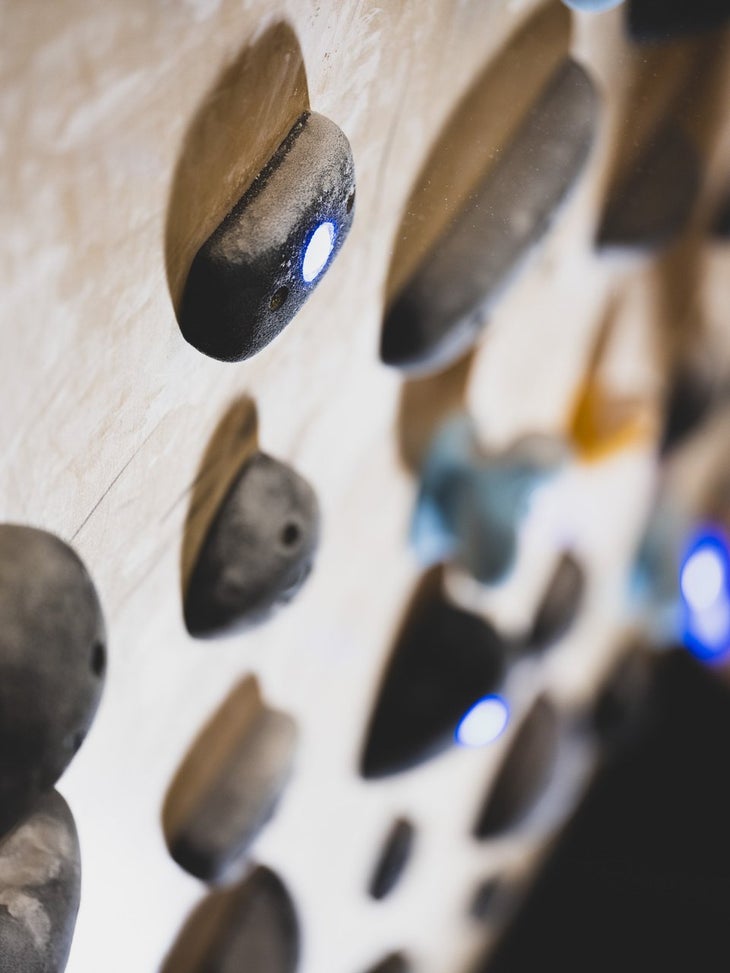 One of the standout features of the Grasshopper Board is the LED lights. Instead of drilling separate holes in the plywood below each hold, the LEDs sit inside their respective holds. A lens is fitted into the center of each to amplify the light. "This is how LED systems should be set up on all boards; this is the next evolution for all training boards," said one tester. The praise was universal. The lights shine bright, and you never have to lean out to locate a light below a hold on the Grasshopper Board. In fact, the LEDs are so bright that some of the holds themselves glow when lit with certain colors.
Installation
The Grasshopper Board offers two installation options: The holds can be bolted into T-nuts, with the LEDs set into their own holes below like on most standardized boards. Or the holds can be set with screws, with the LEDs mounted in the bolt holes. The latter option adds to the setup time as more care must be taken to ensure the correct angle of each hold, but it eliminates spinners and provides the excellent visibility mentioned above. This was a welcome change on my garage wall, where the uninsulated space and volatile temperatures of Colorado otherwise require me to retighten the holds every session—literally—to avoid spinners. The screws were a game changer, and I'd highly recommend going with that option. Lenses add additional time to the installation as well, but it's not difficult work, just tedious.
One tester, a professional routesetter, did suggest that he'd prefer T-nuts and bolts in a gym setting, as holds could only be rescrewed into the same holes so many times. For gyms that frequently remove holds to wash them, this could become an issue.
App
Aurora Climbing created the Grasshopper Board app—they are the same people who created the current Tension Board and Kilter Board apps. If you've used either of those boards, you'll know what to expect. Connecting to the board via Bluetooth and finding problems is easy. All available problems show up in a sortable, filterable list. Custom lists can be created via tags. Problem creation is straightforward—just click on the holds you'd like to use until the LEDs light up with your desired color, then publish it or save as a draft so you can fine-tune or claim the first ascent. Animated routes, discussed above, are a nice addition, and I often appreciated the beta videos, which can be linked to problems via Instagram. It'd be nice to see Aurora add shareable lists in the future.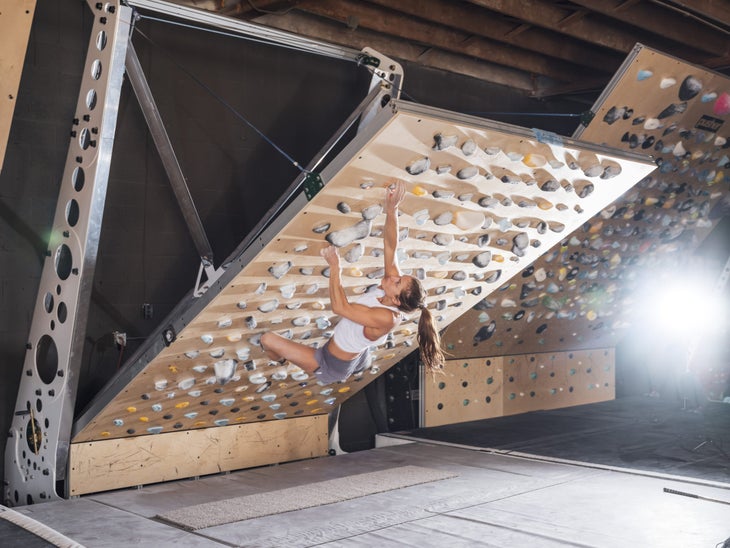 Overall Impression
The Grasshopper Board is a standout training tool for home and commercial gyms alike. Those with the space and funds for an adjustable wall will get the most value out of the board, but it's a great option for anyone looking for a board that offers challenging training opportunities and gym-style movement, with the short "Ninja" layout accommodating climbers with small spaces. The holds are expertly designed, the LEDs set a new standard, and most of all, it's fun. Bonus: At $3,500 for the full Ninja set, it's also one of the cheaper board options.
Price
$3500: Ninja 7×10 set—165 holds + LEDs

$3950: Master 8×12 set—192 holds + LEDs
Pros
Large variety of hold types and sizes

Fun and allows for gym-style movement

Ample problem count for a relatively new board

Holds are well-designed to take advantage of adjustable walls

Excellent texture

LED design offers supreme visibility

Mirrored, symmetrical design perfect for addressing weaknesses

No shortage of hard projects to train strength and power

Route feature enables endurance work in a small space

Cheaper price point than most boards
Cons
Grading is very sandbagged

Not approachable for novice climbers at steep angles

No kicker option

Smallest crimps felt narrow for climbers with thick fingers
Website
Find more information and purchase at grasshopperclimbing.com.