Review: Petzl Laser Speed Light
Heading out the door? Read this article on the new Outside+ app available now on iOS devices for members! Download the app.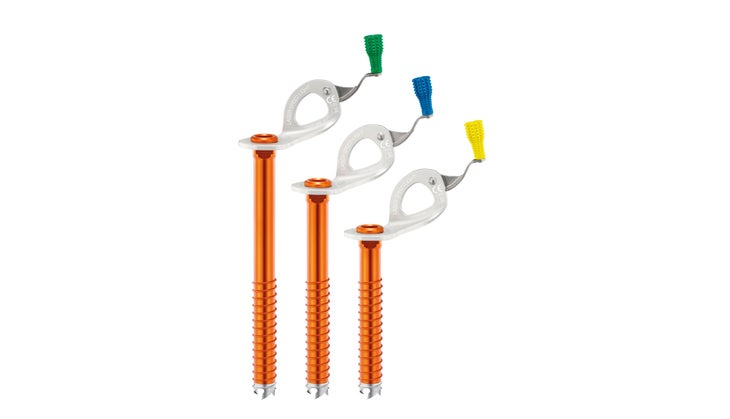 Like a gap-toothed grin, there's a lot of empty space between the teeth on Petzl's new tri-toothed ice screw, which purportedly bites into the ice better than your standard four-toother. Upon first hearing this claim, I demurred. More is always better! I thought. But after trying the new screws on ice ranging from perfect sorbet to dinner-plate dreadfulness around Colorado, I think Petzl is right: The three-toothed steel tip does feel easier to get established (the katana-like sharpness doesn't hurt either), and it veritably bores through the ice once you start cranking the lever. On one classic Elk Range WI4, Marble Falls—notorious for its eggshell-thin topout that has inspired many a come-to-God moment among climbers—I encountered aerated dry ice at the bottom and sopping-wet slush at the top. The Laser Speed Light performed dutifully in both mediums. I was particularly impressed at its ability to bite quickly into the wet stuff, which required a greater number of attempts with the traditional four-toothed screws I used throughout the pitch.
The body of the screw is aluminum, and the tri-toothed tip is more-durable steel. The 17cm screws I tested weigh 100 grams/3.5 ounces (they weigh 91 grams for the 13cm screws, and 110 grams for the 21cm screws). If you happen to have a healthy wad of cash sitting around (each screw costs $85), racking up with a full set of the Laser Speed Lights will save you considerable weight, a boon not to be overlooked on those steep WI5 routes.
The only drawback I've encountered with the Laser Speed Light is one that has dogged other aluminum screws on the market, both the forerunner to this model and Black Diamond's Ultralight Ice Screw. Something about aluminum screws, whether it's the material or the aluminum-steel juncture (there doesn't seem to be a consensus), makes cleaning dense, wet ice out of the tube trickier than it is with their full-steel counterparts.
Still, this is a minor gripe. Combined with the Laser Speed Light's ridiculously low weight, the new tri-tooth innovation makes it the screw to beat.
$85, petzl.com