Rock Shoe Review – No 222 – June 2003
Heading out the door? Read this article on the new Outside+ app available now on iOS devices for members! Download the app.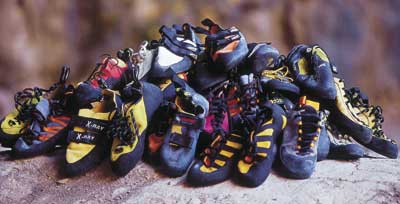 The new math: 24 shoes, 12 testers, six different types of rock. 24 new models for your podiatric pleasure
In recent years, there have typically been 10 to 12 new rock shoes entering the U.S. market. In 2003, however, there are 24 new models — as well as two new companies, Mad Rock and Roc'Terra — joining the fray. This year's batch of shoes runs the gamut from simple, board-lasted entry-level shoes to rubber-swathed steep-sport rigs.
Two novel advents are seeing greater use this year. The first is injection-molding, whereby liquid rubber is injected into a pre-formed cast to create precisely sculpted pieces of shoes such as heelcups or rands, or, in the case of the Boreal Spider, an entire integrated rand and sole. Injection-molding is a great way to create exact features on shoes, so expect to see more of this technology in the future.
The other big trend this year is the use of a "cupped" sole for better edging. Typically, the sole of a rock shoe has a slight lateral convexity, so that the ball of your boot protrudes below the edge of the sole. Consequently, edging is compromised, as the bulge can interfere with accurate foot placement. Now, using either an inwardly curved midsole or injection-molding technology, the sole of the shoe under the ball of your foot is indented inward, or cupped, so that the edge of the sole has a nice flat surface, while the ball of your foot is kept out of the way.
A dozen testers participated in 2003, edging, jamming, and smearing on limestone, granite, sandstone, and basalt from
Joshua Tree
to Red Rocks to Indian Creek to Eldorado Canyon to our humble, local chosspile semi-lovingingly dubbed "the Puoux." In the end we had two Editors' Choice winners: The Scarpa Marathon for its all-day, all-around performance, and the Mad Rock Flash for its great sport-climbing ability and rock-bottom price.
Shoes that were unavailable at test time included the Roc'terra Iguanado; and the Southwest, T-Rocks, and Altia from FiveTen. For a complete guide to rock-shoe technology and buying what's right for you, consult Climbing's 2003 Gear Guide.
The test results
Click on the manufacturers listed below for the review
Boreal
FiveTen
La Sportiva
Mad Rock
Mammut
Red Chili
Roc'terra
Rock Pillars
Saltic
Scarpa
Triop