Unsent: 5 Pieces of Climbing Gear I Wish Existed
Photo: Photo Illustration by Claire Eckstrom
Heading out the door? Read this article on the new Outside+ app available now on iOS devices for members! Download the app.
Unsent /un-sent/ 1. To have failed so badly on a route you had previously climbed that you negate your redpoint. 2. A humor column.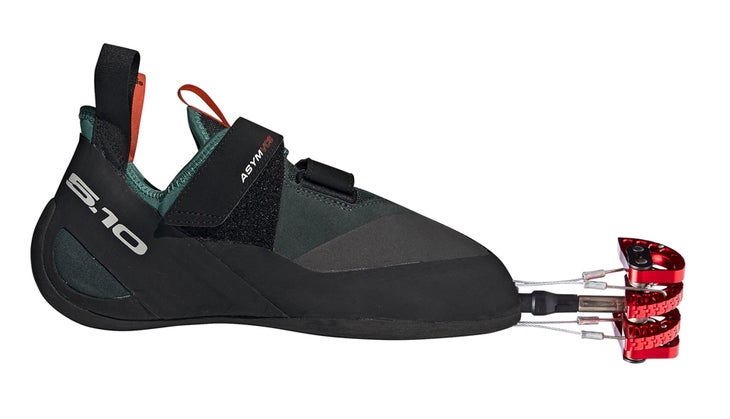 We are in a golden age of climbing gear. There is a near-infinite number of shoe options. Black Diamond has invented the heated chalk bag. Autobelays have made chatty gym partners obsolete. We are living in the future! But that doesn't mean there isn't an even greater future of climbing gear ahead, one that will make the current future look like the past. In the interest of driving innovation, I would like to submit these five product ideas, patent-free, to the gear manufacturers of today.
1. The Comfort Toprope AR App
Lead climbing is very scary. Shit gets real when you move above pro, which makes the climbing harder, which makes it even scarier. Toproping, on the other hand, is not scary. You never plummet toward the earth toproping. But many routes can't be toproped easily, and some climbers will make fun of you if you claim a "toprope redpoint." With the Comfort Toprope AR app, you never have to feel fear again. Just climb with your AR visor, and the app will display a digital toprope above you at all times. Now you're not 30 feet above a micro-nut on a death slab—you're mock-leading that X-rated puppy. No big deal. (Digital rope not load bearing; clip lead protection and do not call "Take!" above pro while using the app.) The digital rope may not hold a fall, but it will make you feel safer, which if you think about it, kind of makes you safer. For an extra $2, download the Lowball add-on, which makes the ground appear as if it's always two feet away for highball bouldering or big-wall free solos.
2. The VNGA Wearable
The fitness world is rife with wearables. They tell you everything from your heart rate, to blood-oxygen saturation, to sleep quality and more. But none tell you what you need to hear most when struggling on a crux: "Good job." While belayers can provide encouragement, as soon as you pull a roof or climb around a corner, you're out of sight and out of luck. That's where the Vertical Neural Gumption Augmenter (VNGA) comes in. It clips to your shirt and monitors your vitals to see when you're struggling. In tense situations, a speaker, in a soothing robot voice, commands: "Come-on," "You-got-this," and "Do-not-for-get-to-breathe." International settings also include Spanish: "¡Venga!" French: "Allez!" and Japanese: "Gamba!" The VNGA can even sense when you've whipped and will tell you "Good-effort-bro. You-were-robbed," as well as sense when you've clipped the chains to tell you that it's proud of you and that it loves you.
3. Hot Fudge Heated Food Bag
Summit beers are OK, but how about a nice, fresh summit biscuit straight out of the oven? (Though who wants to haul an oven up a multi-pitch route? And where would you hook up the gas?) The Hot Fudge Heated Food Bag uses technology borrowed from Black Diamond's Hot Forge Heated Chalk Bag. Resembling an ordinary chalk bag, this insulated, battery-powered "oven" is worn around your waist. As you climb, a heating element cooks your biscuit dough, cookie dough, or brownie batter. When you top out, open it up and breathe in that sweet, fresh-baked aroma, then dig in. Also works for when you bail or get bouted, and need to eat your feelings.
4. Lowering ladder
When climbing, it's nice to know that you are the one in control. Your actions decide if you stick it or fall. And if it becomes too much, you can always clip in direct to a bolt and call the fire department to come get you. That all changes when it's time to lower. Now you have to trust your harness, the rope, your partner .… And for newer climbers, that's easier said than done. With the Lowering Ladder, you never have to trust anyone. Just clip the giant extendable ladder to the chains, then downclimb from up to 200 feet above the ground. At the bottom, pull some string or something to release it (the engineers will figure this part out). If your partner asks if you trust him, tell him the truth: "Not unless I have no other choice."
5. Cam Shoes
It doesn't matter which shoes you wear—crack climbing hurts your feet. The thinner the crack, the more it sucks. But there is a solution: Cam Shoes, rock shoes with spring-loaded camming devices extending from the toe. The cam trigger is located inside the shoe. Bend your toes to retract the lobes, place the cam in a crack, release the trigger, and voilà, a comfy platform to stand on, available in various widths/cam sizes. Instead of a puritanical way to find the Lord through suffering, finger cracks become downright fun. Is it aid climbing? Do you use sticky rubber and chalk? Then shut up and get some Cam Shoes.
Read more Unsent. For Kevin's non-humor columns, see Noon Patrol.