Why This Vest Will Always Be in My Climbing Pack
A lightweight vest is the most versatile layer for any climbing discipline. Here's why Patagonia's Nano Air is my favorite.
Size Reviewed
Men's medium
Weight
210 g (7.4 oz)
Price
$199
Brand
Patagonia
---
Heading out the door? Read this article on the new Outside+ app available now on iOS devices for members! Download the app.
My first vest was a stroke of brilliance. I was at home on a rest day, supremely bored, and scheming the ways I could carry less weight while alpine climbing. Then it hit me. Sleeves! What useless dead weight. I sprang from the couch, grabbing scissors, needle, and thread, and sheared the loathsome tubes from my most offwidth-abused midlayer.
My genius was immediately apparent: a few hundred grams gone and a full range of motion received. I cut off the jacket's hood too, then the collar, maybe a bit too low. I threaded my needle first go, a real pro move, and bludgeoned the remaining fabric. My handiwork was magnificent.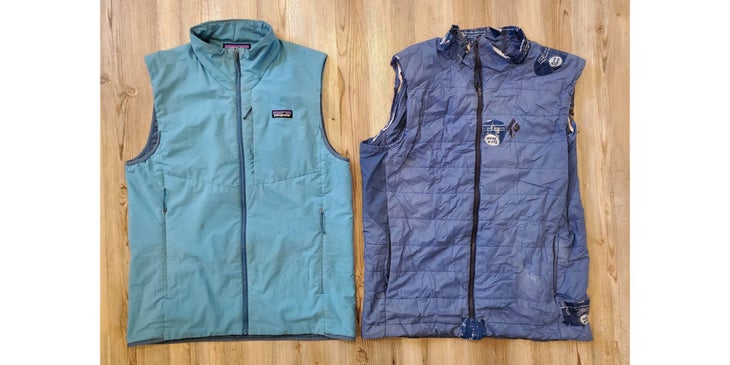 Climbing in a vest, I soon realized, was a lot like packing a lunch. Completely mandatory. In the winter I wore it under my hardshell jacket while ice climbing, flailed my arms overhead, and never had it pulled out of my harness. In the spring I redpointed limestone sport projects in the shade, my core warm and my movement unrestricted. Summer alpine climbs were a pleasure as well: jamming hands, fists, and forearms in deep granite cracks without fear of leaking precious insulation. 
But that first vest had seen better days. The zipper was busted and glued in place (I employed it like a pull over) and, frankly, my girlfriend was embarrassed to be seen with someone wrapped in so much tape. I understood. And the Nano Air Vest came to our rescue.
Like my flawlessly designed DIY vest, the Nano Air also doesn't have sleeves or a hood. It is also lighter, because it lacks the half-pound of Tuct Tape I'd splayed across it over the years, and it looks much cleaner—blood and dirt stains aside. The Nano Air Vest has a surprisingly stretchy and durable face fabric and is coated in a PFC-free DWR finish. Under the trunk, the vest is filled with 60 grams of Patagonia's "FullRange" insulation which, anecdotally, feels noticeably more breathable than most insulated mid layers I've used. (Aiding this breathability is, no doubt, any vest's ability to shed a putrid armpit's fear-sweat.) The vest stuffs into its sole breast pocket and has two more low-profile hand-warming pockets that fit stealthily under a harness.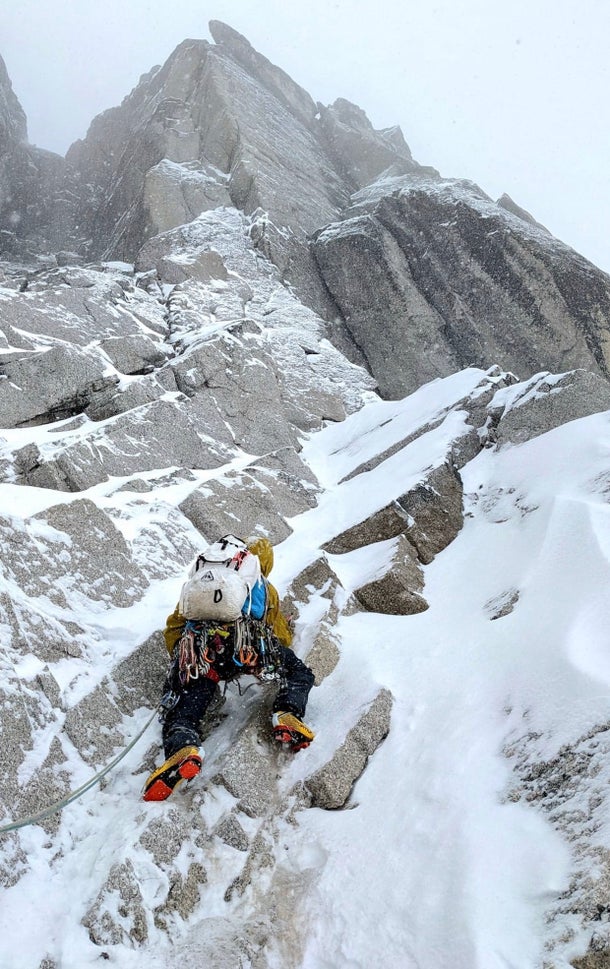 The Nano Air Vest's simplicity is perhaps its greatest asset. For example, last year, over a period of two months, I wore it on the approach to a shaded, north-facing sport crag, then while working a desperately sloping lip traverse at the local boulder field, then on a snow-covered mixed climb in the Bugaboos, then on a vertical, bolt-protected crimp fest, then on a winter alpine climb (lows of -8º F), and, finally, on chilly mornings in Geyikbayiri, Turkey, warming up slowly on its steep, tufa-ridden cliffs.
After several months of testing the Nano Air has become a mainstay in my pack—and it will remain one even once I inevitably wrap it in tape.
---
Anthony Walsh is a digital editor at Climbing.
Read more gear reviews: