How to Choose the Perfect All-Around Rock Shoe for You
All-around rock shoes, as the name implies, can do a bit of everything from slabs to vertical edging to cracks, and are supportive and comfortable enough for all-day wear.
Heading out the door? Read this article on the new Outside+ app available now on iOS devices for members! Download the app.
Question: What exactly makes a rock shoe a trad shoe/all-arounder, and how do I choose between what's available?
Answer: Before we get into what makes a shoe an all-arounder, let's throw ice water on the myth that there is such a thing as a "trad" shoe. Traditional, or "trad," climbing is an ethic, a style of ascent that is climbing from the ground up, often using nuts and cams for pro instead of bolts although some trad routes are entirely or mostly bolt protected. You might say a bolt is a bolt and once it's in the rock, it doesn't matter how it got there. This is where the nuance of style and tradition rise from the grave.
When rock climbing as we know it began roughly a century ago, you started at the base of a wall or mountain and climbed to the top, placing protection as you went. It was natural, then, to apply the same tactics to shorter cliffs. Things were more less this way until the early 1980s, when a few Frenchmen discovered that they could climb quite a lot harder by rappelling down a cliff and drilling bolts along the way. Climbs no longer had to be runout, since you could check out the holds and clipping stances on rappel, putting the bolts in logical, easy-to-clip spots instead of—as with ground-up climbing—being limited by available gear and drilling stances. This moved the emphasis away from getting up a climb without getting hurt to just having fun busting moves because there's always a bolt nearby—sport climbing was born.
So, what does the "trad" in a trad shoe mean? A shoe you wear when you climb ground up? Doesn't that definition then include all climbing shoes? A better term, really, would be "all-arounder": a shoe that's as fluent on cracks, seams, and offwidths as it is on edges, smears, and slabs.
You may think that all-arounders are mostly low-tech beginner's shoes. Wrong—many are high-end performance shoes, and some blasted hard climbs have been done in all-arounders, like Tommy Caldwell tearing up the Dawn Wall (5.14d) in a pair of TC Pros. Beginners may lean toward all-arounders because they don't know what sort of climbing they will soon dedicate the rest of their lives to, disappointing their parents, so they pick a shoe style they think will let them sample all sorts of climbing. They also go "Ouch, ouch, ouch" when they try on a pair of foot-crunching sport shoes, and go "Ahhh" when they slide into all-arounders. At this point in their young careers, the 27:1 ratio of pain/success is unknown to them, so they go with what feels good. It you are a beginner, visit this handy flowchart to find a pair of shoes that is just right for you. Sport climbers who are tired of eating bottles of ibuprofen to quell foot pain, go here.
So, what does the "trad" in a trad shoe mean?
There are two ways to approach rock-shoe performance: either by powering up your feet or supporting them. (These two schools of thought are not mutually exclusive: Many rock shoes do both.) In the former case, components of the shoe such as slingshot rands are designed to compress your feet—a tensed foot is stronger than a relaxed foot. Most sport, gym, and bouldering shoes have slingshot rands; they also have toe-down, banana shapes that drive power through the big toe and add a touch of artificial strength when your feet try to straighten the shoe. These shoes are often soft and supple so you can "feel" holds, although it's more the case that you sense the holds.
Shoes that support your feet—e.g., all-arounders—are generally stiffened with a midsole, which can range from semi-stiff to very stiff. The idea here is that the stiffer sole lets the shoe have a more relaxed fit, so it is sorta more comfortable yet still precise and powerful. The tradeoff is that all-arounders aren't as sensitive, and because they are stiff, they don't grab or paw onto holds like softer shoes do on overhanging routes.
Still, you can climb anything in all-arounder rock shoes—they just won't be ideal for everything. They do excel on vertical to slabby routes, in cracks (the midsole helps keep your feet from being crunched), and for all-day and multi-pitch wear.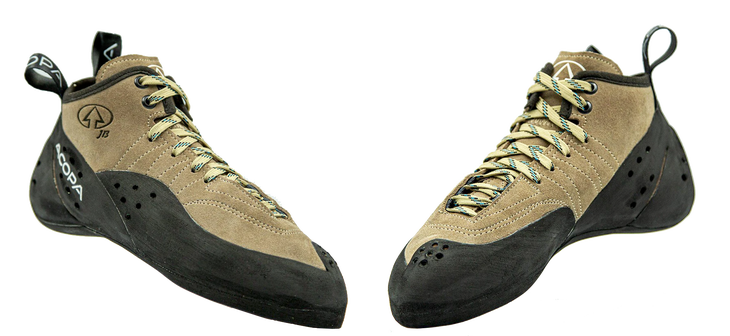 SIZING ALL-AROUNDERS
Don't size all arounders by going down a size from your street shoe, or even by matching your street shoe. Different brands use different sizing. If you are mail-ordering, sizing will be hit-or- miss. Trying on before you buy is the sure way. A proper-fitting all-arounder will be tight/snug, and let your toes lie flat or slightly bent. I fit mine on the snuggish side, even mildly painful, because the shoes will stretch. I'd rather have a few uncomfortable days, and then have shoes that fit perfectly once they have stretched, than have comfortable shoes out of the box that stretch into imprecise galoshes. Check out tips for stretching rock shoes here.
CHOOSING ALL-AROUNDERS
Pretty much everything I just wrote isn't exactly true all of the time. All-arounders can have some form of slingshot rand, very minimal midsoles, and can be slightly downturned and cambered. They can be low-topped or high-topped, all leather or synthetic. Lined or unlined.
Here's the dope on sorting it all out.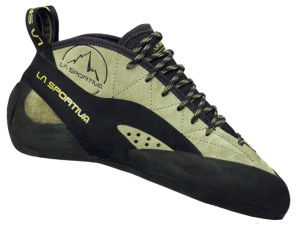 Lined or unlined. Lined shoes) tend to  stretch less and feel more substantial than unlined ones. I prefer lined shoes for the smidge more foot protection and durability they provide, and because sturdier shoes can be resoled more times. (I get three resoles, usually, out of my all-arounders before the uppers have blown out.)
High-top or low-top. Not much difference here. High-tops protect your ankle bones when you are stuffing up cracks, and probably support your feet more than low-tops, but I've never noticed one way or the other. I lean toward high-tops because I still crack climb.
Slightly downturned or flat. Completely flat shoes will tend to have stiffer midsoles, while slightly downturned ones will be softer. I err on the stiffer, flatter side for edging, cracks, and all-day use, and grab slightly downturned, softer shoes for routes that split the difference between trad and sport, and for bouldering.
Slingshot or no? A slight slingshot rand lets the shoe rebound once it is off your foot, better retaining its shape over time. A bit of a slingshot rand also pushes your toes to the tip of the shoe and grips your heel, improving fit literally from heel to toe. Remember that La Sportiva TC Pro I mentioned earlier? It has a bit of a slingshot rand, and so do the all-rounders the Scarpa Maestro, the Acopa Legend and JB—John Bachar once said that you climb better when your feet are comfortable.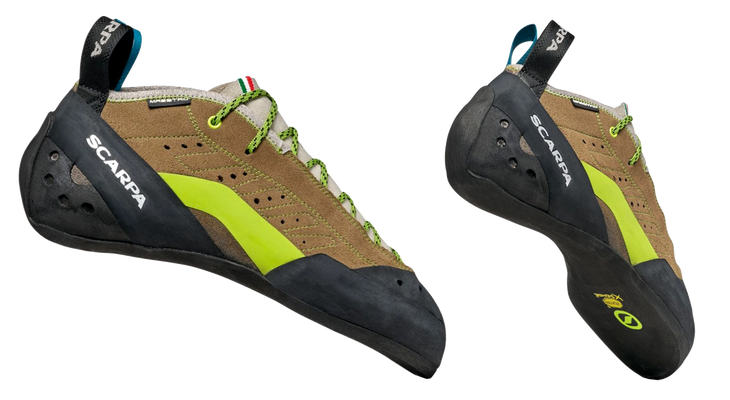 How stiff? I think I just covered this. I will add that even the stiffest shoe will wear in and get substantially softer over time. The more you wear the shoe, the softer it gets.
Leather vs synthetic. Doesn't much matter unless you are a vegan. Leather seems to hold up better, but I haven't worn every synthetic shoe so there could be exceptions.
Toe profile and bulk. Toe profile determines how well the shoe will slip into cracks. Higher toeboxes punt out of thin cracks, while thinner toe boxes slide in. Shoes with higher toeboxes usually also have a bit of a toe-down hook and slightly compress your feet—the high box allows for a bit of bend in your toe knuckles (good for edging). Most all-arounders split the difference, with the toe being neither too bulky nor too thin.
Laces or Velcro? You won't have a choice. All-around rock shoes exclusively sport laces so you can micro adjust the fit and comfort, and because laces require a tongue, which adds comfort and makes the shoe burlier.