When Should You Retire Your Rope?
Revere but replace. You'll be amazed and amused at all the other uses people come up with for them.
Heading out the door? Read this article on the new Outside+ app available now on iOS devices for members! Download the app.
Back in 2002 or 2003, my friend Chris "Chez" Chesak won a rope. Psyched! At the time he was working for the American Alpine Club (AAC), but he left and moved from Golden, Colorado, to Boise to be near his eventual wife, Sally. As a member of Idaho Army National Guard, he was deployed to Iraq for a year in 2004. One child was born, and another, and that nice 10.2mm BlueWater Eliminator sat dormant all this time, and through four times moving house.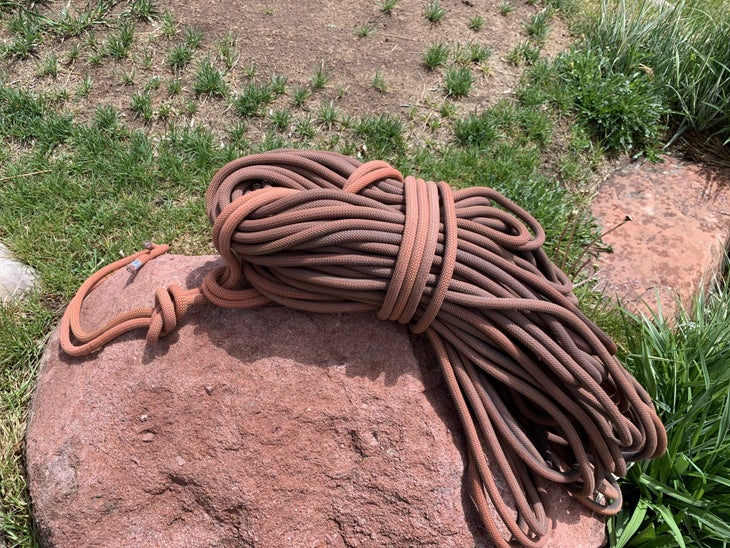 Recently Chesak, not tempted to use such an old rope but curious, contacted Mark Newell, sales manager and head of quality-control at BlueWater Ropes, Inc. (manufacturing ropes since 1969), of Carrollton, Georgia, to see what kind of strength it might even have. Newell said sure—he'd love to test it.
Many of us probably wonder about some ropes in our gear closets—old ones we used only a few times, then set aside for whatever sorry reason. Or even factory-coiled ropes still in their packaging that we meant to put in circulation years ago but somehow didn't. Now we wonder if these ropes are safe to use, or if we should recycle them and move on. Nylon weakens with age.
REI gives these guidelines for when to retire a rope:
After a fall with extreme loads or other damage: immediately
Frequent use (weekly): 1 year or sooner
Regular use (few times per month): 1–3 years
Occasional use (once per month): 4–5 years
Rare use (1–2 times per year): 7 years
Never used: 10 years
Weeks later, Newell wrote Chesak with the results of drop-testing the rope, which Chesak shared on Facebook: "The rope in 2005 was rated to 8 falls, and the sample you sent survived 5 falls then snapped on the 6th. Fall arresting impact was 8.7kN, and originally the rope was rated to 8.4kN. So all in all the rope held up extremely well despite its age. Still can't recommend it for life-safety applications, but I am honestly impressed at the results."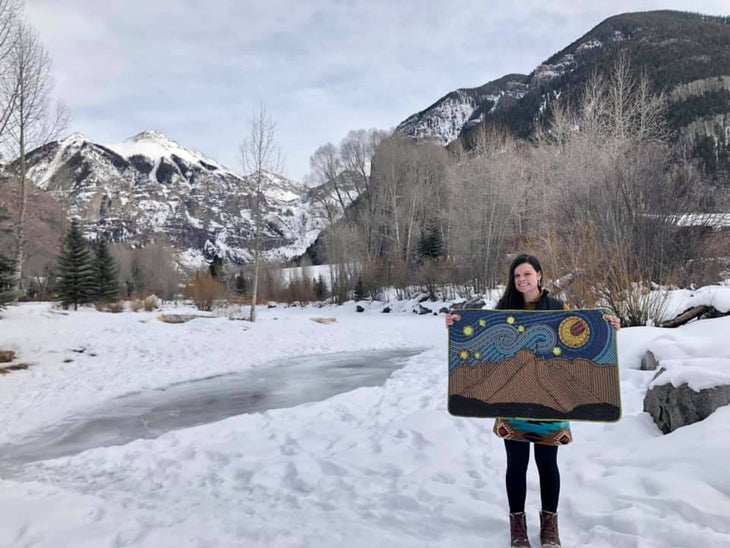 Chesak replied to him via email, with thanks: "Wow, so, roughly, it lost 'only' 38 percent of its strength over those 20 years of sitting around. I'm impressed as well."
Testing was via UIAA procedures, Newell confirms to us: "With Chez's rope we did indeed perform UIAA drop testing. We mirror the pre-defined test methods third-party certifiers use, and for drop testing it's an 80kg weight dropped about two stories past the anchor point."
Note that these are massive-force falls, not the whippers schmoes like us take.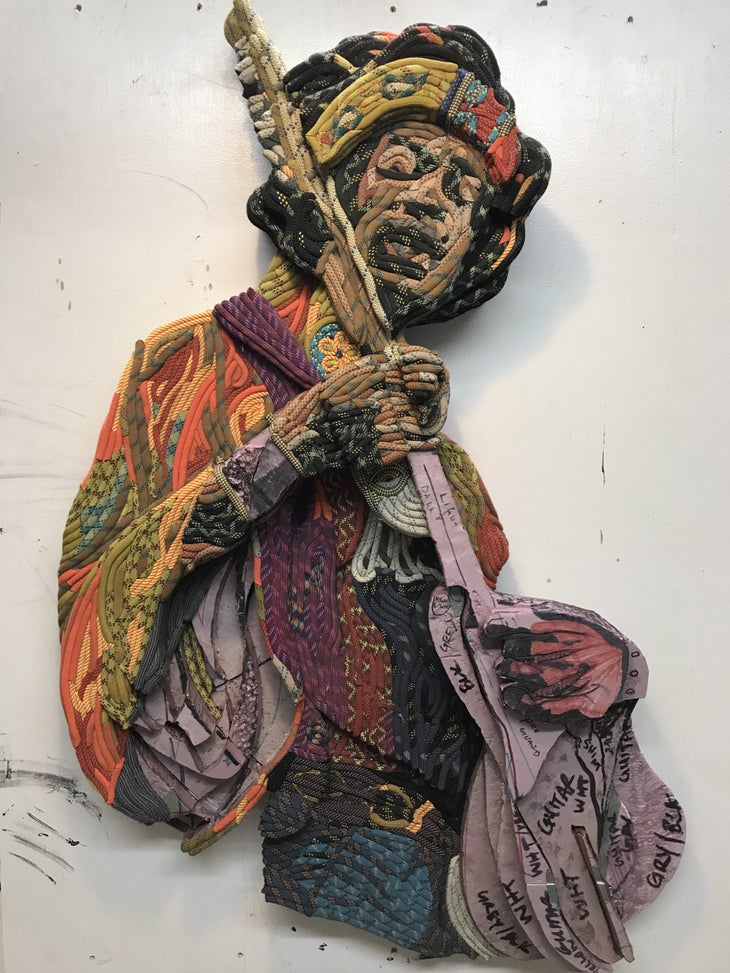 As Chez wrote in his post: "I'm impressed too. Of course, I would have been much more impressed had I actually used the rope to, I don't know, CLIMB SOMETHING over all those years. Oh well, here's to my (tiny) contribution to climbing safety."
Chezak's Facebook friends had plenty to say as well. Some marveled at stringent industry and UIAA testing practices and standards.
Nigel Gregory (UK) put in: "So my ropes from back in the day are still good! Awesome. Just don't fall off. Just like back in the day."
Ropes and anything else used in climbing are pretty darn strong. I've seen a Joshua Tree hardperson tow a car with a swami belt and then lead on it (many a climber then used a swami alone or with leg loops). Another time I came up the hill where I live in Western Colorado only to find an alarmed woman in a van, having skidded on gravel, hanging over the gully on a hard left turn. I hopped out and produced a beater climbing rope; we used it in a tow-slash-hoist when another passerby, in a much bigger vehicle than mine, volunteered to help. The rope performed admirably, cranking the little van not only uphill but backwards.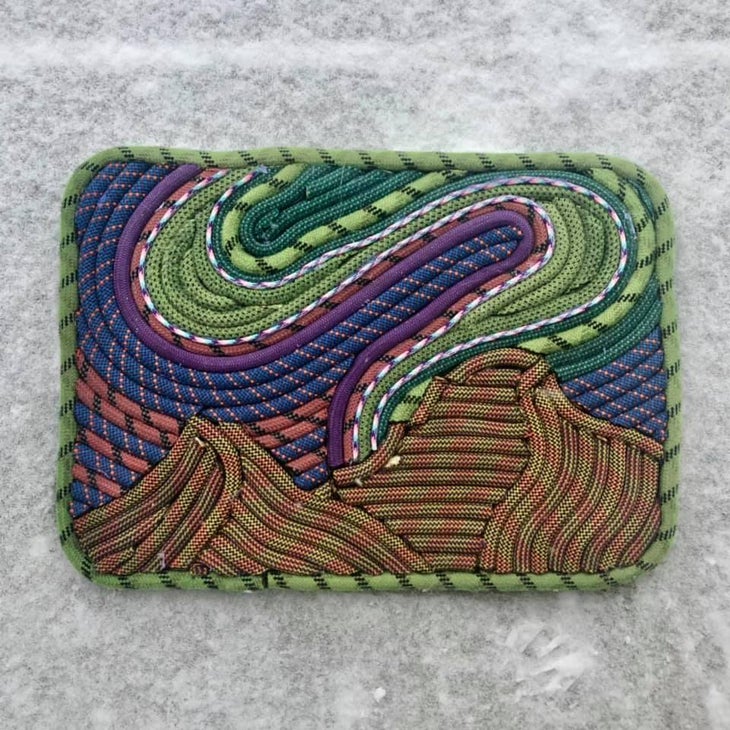 My favorite example of rope strength was when my friend Jim Gilchrist's wife, Lynn Nichols, a rancher, called him at work in Aspen and asked to use one of his old climbing ropes to free a cow from deep mud. Sure, he said. His old rope was hanging on a gear-closet peg. Take it.
He came home to Basalt to find she had used his brand-new Mammut Super Safe—"most expensive rope at the time," as he yet mourns today. It had been attached to a tractor to haul out an 800- or 1200-pound mired, mournful cow.
Jim threw the muddy rope out and drove straight to Bristlecone Sports in town for another one. The cow was psyched, though.
I once gave my dad an old climbing rope to use to pull down the top section of a tree. He must have used a ladder and cut the trunk partway, then asked me to help him haul down the top—one, two, three. A force way beyond my control—I still remember that feeling—hauled me off my feet. That falling treetop pulled us both into the air and flat on our faces in the front yard. My husband gives old ropes to his brother to use as safety lines in tree stands for hunting in Kansas.
Duane Raleigh, previously this magazine's content director, at age 17 tried to dig up a stump in his parents' yard in Oklahoma. He sawed and chopped and jabbed, trying everything, and finally tied a climbing rope to it and drove away down the street. The tree pulled, all right, zinging through the air. It could have taken his head off through the back window, but instead flew over the car and landed half a block ahead.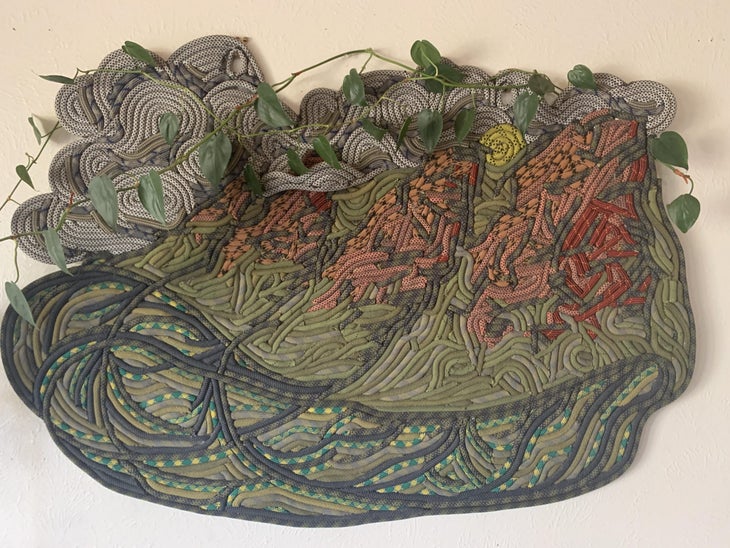 Chesak's rope, by contrast, was always the understudy, never the hero.
Climbing friends and I used to call a well-placed piece of gear "truck," in that you could hang a truck off it. I think you could hang a truck on a climbing rope. But don't. Always replace an old rope, a fraying harness, the tat at a rap station—again, nylon weakens over time, especially when exposed to the elements. To do otherwise is so-o-o not worth it. Then keep the rope around. Make a rope ladder, a dog leash, a rug; save a cow.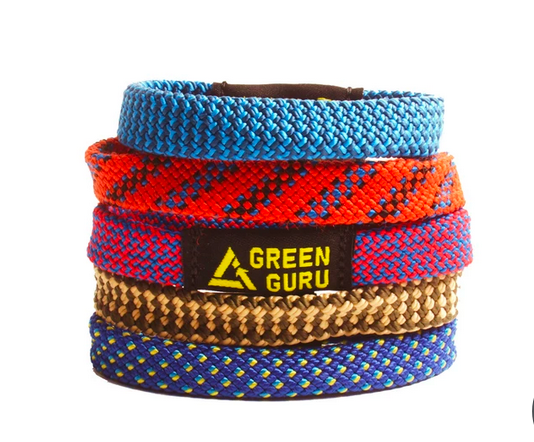 Some people make great rugs (instructions in various places including here), mats and other items. The Green Guru upcycles old climbing ropes into bags and bracelets. Among the various who make art out of used rope are Laura "The Rug Lady" Vallo of Telluride; Mick Tresemer of Boulder, who runs a consignment shop where people donate the old ropes he uses; and Jeff Lambert of Boulder, who uses retired ropes from climber friends and climbing gyms.
Also Read: