Did The Judges Cost Colin Duffy? Perhaps, But His Grit Gave A Glimpse Of Triumphs To Come
He didn't medal in Meiringen, but he showed that he could become one of the best competitors of all time.
Heading out the door? Read this article on the new Outside+ app available now on iOS devices for members! Download the app.
Years from now, when Colin Duffy will likely be regarded as one of America's all-time best competition climbers and possessing multiple World Cup medals, the final round at this year's Boulder World Cup in Meiringen might be regarded as a prophecy. He finished in fifth place and his performance was something special to behold. It revealed true grit, and perhaps gave a glimpse of World Cup triumphs to come…even if it didn't result in a medal.
Of course, it might seem strange to mark the Meiringen finals as a waypoint for Duffy. He took part at the Olympics last summer and he's a national champion. He has previously podiumed at a Lead World Cup too, and was decorated on the youth circuit. But many of those accomplishments are hard to contextualize. The Olympics' three-disciplines-combined format is a thing of the past, and national championships are limited by a predominately domestic roster. That's not a knock against any past achievements, as they contributed to Duffy, at age 18, being the leader of his American generation of climbers.
None of those events proceeded with such wildness as Meiringen, Duffy's first-ever Boulder World Cup finals. In fact, he already provided fans with some swings of emotion with tops of all boulders in Meiringen's qualification round. He struggled on the slab-like first boulder in the semi-finals, but rallied and topped the remaining semi-finals boulders. Even commentator Matt Groom noted some early fluctuation: "Had a slow start; building now," Groom said.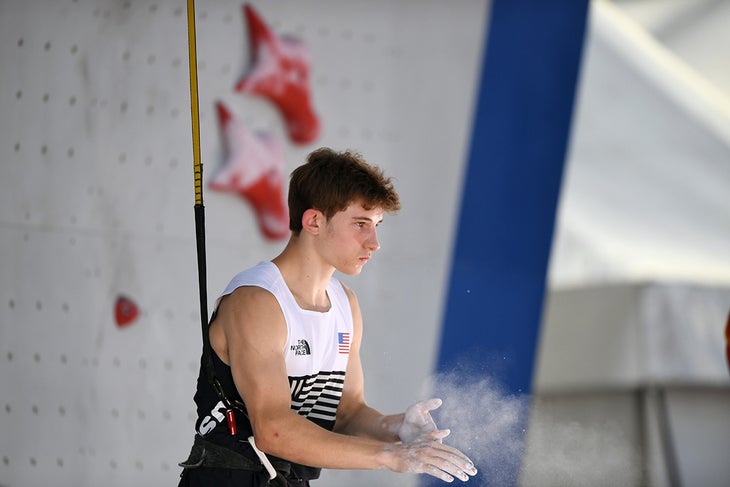 An Epic in Four Boulders
The first of four boulders in the finals required a starting swing and dynamic coordination moves, and concluded with a stand-up (overhead) press. Duffy cruised through the coordination sequences but got stymied by the press. He tried to pinch the edge of the top volume in lieu of pressing against the volume's horizontal plane, and when all was said and done, the other finalists topped the boulder and Duffy did not. But he came so close—repeatedly—and it wasn't hard to imagine him locked into that press, if only things had gone a little differently. So, let's call it an almost-send.
The second boulder showcased Duffy's creativity. Most competitors, including Duffy, initially read the boulder's beta as a dyno into a fist jam. But Duffy was the first to leap instead into the boulder's midsection, avoiding the jam altogether. He was able to graze the final hold but couldn't secure a top. Again it was an almost-send, and emotions shifted from hope to heartbreak.
The crucial plot point came on the final round's third boulder, a minimalistic bloc with a perplexing start. It took Duffy a couple minutes to figure out a workable solution to the puzzle; he tapped three points of contact onto the large starting sloper (and another point of contact onto an adjacent hold) while vaulting to the boulder's midsection. He reached the top, only to have his start deemed incorrect. (See Section 8.18 of the IFSC's rulebook) He soon topped the boulder again—but his start was again deemed incorrect. This prompted perplexity from fans as to how the judges could have allowed Duffy to continue climbing to the top instead of immediately notifying him of an again-incorrect start.
Duffy was visibly upset. But rather than get too rattled, he dialed in his irritation and topped the boulder once more—three times in total—and became the crowd favorite.
By the fourth boulder, it felt as if the competition universe had been unfairly cruel to Duffy: Two almost-sends on the first two boulders, and a trio of tops on the third boulder, yet he still hadn't nudged into the Top 3 on the scorecards. Still, he had the frenzied crowd behind him—and he wowed them by sticking the fourth boulder's opening swinging dyno. He progressed to the boulder's upper section but was not able to secure a top. Again he had come so close, and it was easy to imagine him securing the top if the judging issues on the third boulder had not zapped his energy.
Looking Ahead
Some of the last words about Duffy on the commentary at Meiringen were Matt Groom pondering, "So close to so many tops—what could have been here tonight?"
But fans would be right to aim Groom's question towards the future rather than a concluded round. Indeed, if Duffy's performance at Meiringen is viewed as a building block to later Boulder World Cup greatness, "What could have been?" becomes "What will be?" Groom hinted at this, adding, "He'll go away, he'll learn from it…and come back stronger."
We, too, expect Duffy to come back stronger. There will be less "almosts," just sends. And when Duffy is someday regarded as one of the best to ever compete, the Meiringen finals will reside in memory as the start of something phenomenal.
[Note: The next World Cup kicks off in Seoul on May 6. Following that will be two back-to-back weekends of World Cups in Salt Lake City—May 20-22 and May 27-29—featuring Bouldering and Speed disciplines. USA Climbing is offering a special 15% discount on tickets for those Salt Lake City World Cups to Climbing readers with the promo code ClimbingWC22. Discounted tickets can be purchased here.]