Janja Returns to World Cup, Duffy Takes Golds, Grossman Continues Streak, Raboutou Medals. Wow!
No surprises from Garnbret, but Team USA knocked it out of the park.
Heading out the door? Read this article on the new Outside+ app available now on iOS devices for members! Download the app.
The IFSC rolled into Innsbruck, Austria, this past week for a mega-spectacle that included a Lead and Boulder World Cup, as well as a Paraclimbing World Cup. There's a heckuva lot to talk about, but it's best to note off the top that the massive Innsbruck outing marked the conclusion of the Boulder season and the debut of the Lead season. (Some fans might note that there is a "Boulder & Lead World Cup" scheduled in Japan in October, but the Boulder and Lead portions there will be combined in the manner of the 2024 Olympics).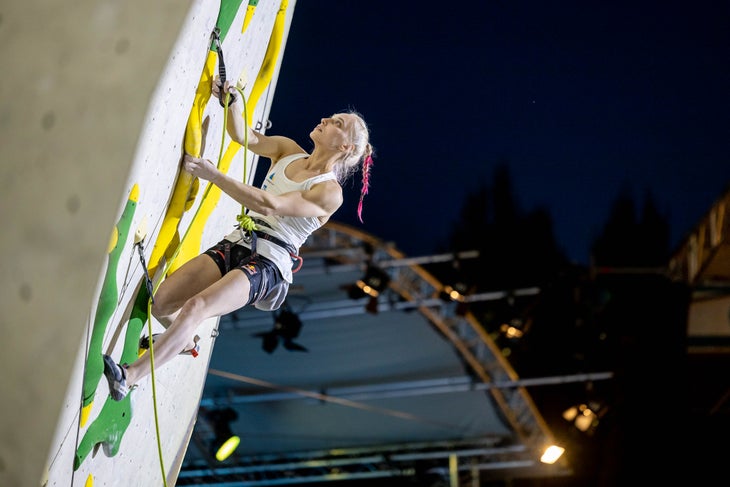 As for the Innsbruck World Cup, there were storylines galore even before the action kicked off. Several weeks ago, Slovenia's Janja Garnbret suddenly appeared on Innsbruck's Boulder registration list, prompting speculation that she would be returning from her self-imposed 2022 Boulder World Cup hiatus. That did not end up happening, as her name disappeared from Innsbruck's Boulder registration list shortly thereafter. But even the mere possibility of Garnbret's return to bouldering created some unique buzz for the Innsbruck event. And Garnbret did eventually decide to climb at Innsbruck—in the Lead discipline, which created its own thrills. More on that below.
Aside from the Garnbret-related prologue, the Innsbruck extravaganza ultimately saw several members of Team USA register for both the Boulder and Lead disciplines—including Natalia Grossman and Brooke Raboutou, two of the biggest American stars in the women's division. And in the case of Grossman, there was a big looming question of whether she could win the Boulder discipline at Innsbruck and thus extend her 2022 gold medal streak to five.
There were plenty of initial questions about the men's division too, including how Team USA's Colin Duffy would bookend his 2022 Boulder season, and whether Germany's Yannick Flohé could follow up his recent gold medal performance at the Brixen World Cup with another win.
Keeping all that in mind, let's dive into the action and discuss how it all shook out in Innsbruck.
Duffy takes control in stacked Boulder field
One of the earliest standouts in the men's division for the Boulder discipline was South Korea's Jongwon Chon, who cruised up all five boulders in the qualification round to become something of an early favorite. But there were several other men who remained tethered closely to Chon in the scores, including Japan's Yoshiyuki Ogata—the 2022 overall season winner, who also topped everything in the qualification round—and the aforementioned Colin Duffy, who finished the qualification round with four tops.
Duffy, in particular, excelled in the following day's semi-final round. He rolled through the round's first three boulders; in fact, Duffy's smooth top of the double-dyno gem of a first boulder caused commentator Matt Groom to proclaim Duffy as "ominously strong." Indeed, 18-year-old Duffy eventually found himself near the top of the pack heading into the finals, in an elite field that also included South Korea's Chon and Dohyun Lee, Japan's Ogata and Kokoro Fujii, and Germany's Flohé.
The men's final round began with Groom observing on commentary that Chon looked nervous on the mats. However, once the climbing began, Chon looked totally relaxed, and jetted through the zig-zagging route of the overhanging first boulder in approximately 20 seconds. The rest of the finalists soon followed suit and also topped the first boulder with relative ease. The second boulder, a collection of mint-colored slopers, didn't provide much separation in the men's field either, as it was too overcooked and didn't get topped by anyone. But the action picked up on the third boulder, which featured the dynamic beta of a double palm press. It took Duffy a handful of attempts, particularly to dial-in the nuanced footwork in the boulder's upper section, but he eventually topped it. Only two other men—South Korea's Lee and Japan's Ogata—topped the boulder too, but it was Duffy that was now leading the way. The last boulder featured its own nuance: a pair of two-finger pockets that progressed to a crowd-pleasing 360-degree lock-off move. It was never a gimme boulder for anyone, and Duffy specifically reached the top with only five seconds remaining on the clock. (Trust us, Duffy's outstanding send is worth a rewatch here.) And when the last competitor—Japan's Ogata—failed to top it, Duffy was confirmed as the gold medal winner. South Korea's Lee was confirmed as the silver medalist, and Ogata earned the bronze.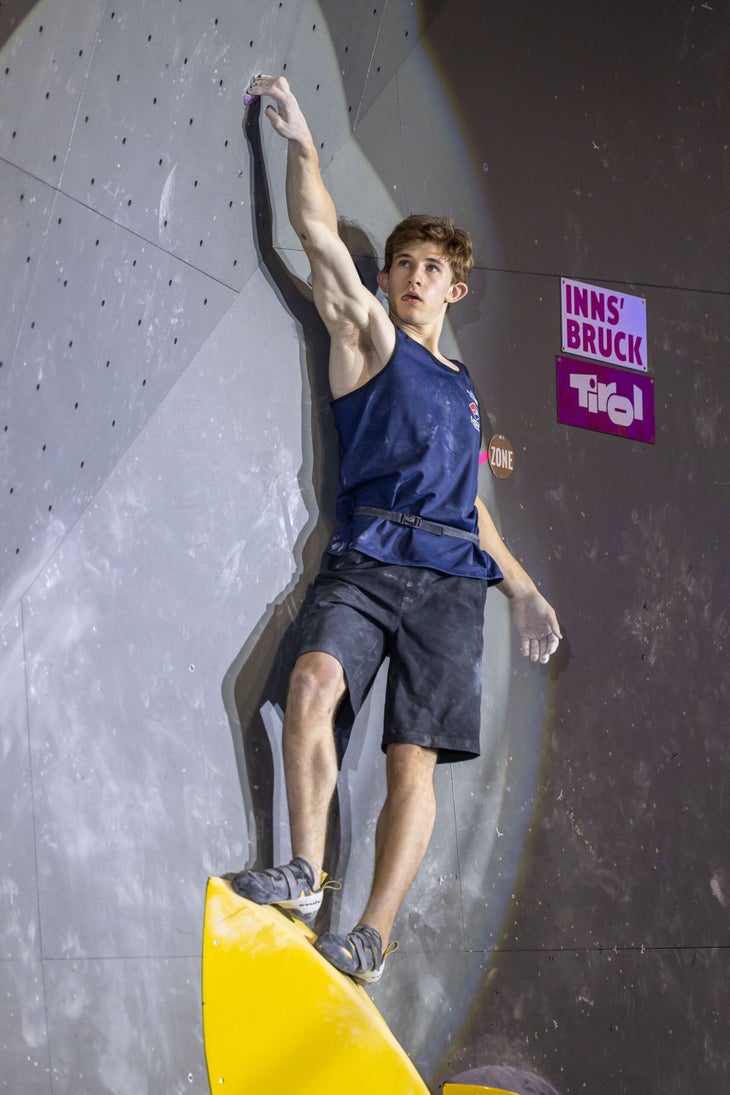 Panning out, Duffy's first-ever Boulder World Cup win was a perfect American coda for the Boulder season, which began back in late April with Duffy placing fifth at the Meiringen World Cup (and famously having to send the third boulder of those Meiringen finals three times). Beyond that, there are two facts that now standout. First, in terms of competition career milestones, Duffy is a Pan-American champion, an Olympic finalist, and a World Cup gold medalist (well…perhaps even a multi-time World Cup gold medalist, but we don't want to spoil anything here; you'll just have to keep reading). Regardless, no other American man possesses those incredible credentials. Secondly, Duffy's longtime coach at Team ABC, Robyn Erbesfield-Raboutou, can now lay claim to having coached and mentored three of the most successful stars in the history of the American competition scene in Duffy, Brooke Raboutou, and Natalia Grossman. Needless to say, that's some legendary coaching from Erebesfield-Raboutou, who is a legendary competitor in her own right. Best of all, Duffy is only 18 years old, so the sky's the limit, in terms of accomplishments yet-to-come on the competition circuit or elsewhere.
Grossman and Meul engage in epic head-to-head Boulder clash
Japan's Futaba Ito kicked off the women's Boulder discipline by flashing every qualification boulder—a feat that even some other greats like Team USA's Grossman, Germany's Hannah Meul, Italy's Camilla Moroni, and South Korea's Chaehyun Seo could not match.
However, the ensuing semi-final round, delayed by rain at one point, saw the standings change significantly. Ito was only able to top half of the semi-final boulders—whereas Grossman topped all four blocs and vaulted into the lead. In fact, Grossman was the only competitor to top the semi-finals' last boulder, a dynamic upward progression on crimps. Indeed, Grossman appeared to be in top form as a field of five other finalists steadily forged around her: the aforementioned Ito, Meul, and Seo, along with Japan's Miho Nonaka and Saki Kikuchi. (It should be noted that Grossman's American teammate, Raboutou, narrowly missed the cut of advancing to the finals, but still had a highlight-reel moment with a flash of semi-finals powerful third boulder.)
The equally rain-heavy finals quickly shaped up to be a battle between Team USA's Grossman and Germany's Meul. They each rolled through the first boulder, and then pulled away from the field by being the only women to top the second boulder, a triple-dyno puzzle that they unlocked with static beta. The third boulder, a rightward slab, provided additional separation from the field, with Meul and Grossman again being the only competitors to reach the top. This Meul/Grossman duel culminated on the last boulder, an imposing pair of prism-shaped volumes that required some chimneying and a massive leap to a tiny finish hold. (Matt Groom on commentary jokingly described the boulder's upper beta as: "Grit your teeth and leap.") Meul impressively topped the boulder on her second attempt, which gave Grossman only the slimmest window of attempts in which to also top the boulder and secure the victory. The tension was palpable, especially given the dark and rainy aura of the sprawling Kletterzentrum Innsbruck venue; but ultimately Grossman simply could not be bested on this particular evening: She flashed the boulder to win the gold medal, thus having topped every boulder in every round at Innsbruck and putting an exclamation point on a season that has been nothing short of legendary. Meul, having been such a vital part in the final round's consistent entertainment, earned the silver medal, and Nonaka earned the bronze.
Climbing has written extensively about the historical implications of Grossman's accomplishments throughout the 2022 Boulder season, particularly as she continued to add more medals to her personal trophy case. But historically speaking, winning five World Cups in a row in a single Boulder season is something that even many of comp climbing's most famous and decorated luminaries—such as Shauna Coxsey, Akiyo Noguchi, Anna Stöhr, and Sandrine Levet—never did. And the fact that victories in Innsbruck this year by Grossman and Duffy amounted to a clean sweep of Boulder gold by Team USA is a testament to the continued efforts and infrastructure of USA Climbing. Some major applause is due to all involved—staff, volunteers, parents, etc.—as it certainly takes a community to inspire, teach, and train multiple gold medalists.
Garnbret is as good as ever in Lead return
Slovenia's Janja Garnbret was one of the biggest stars of the Innsbruck show even before she did any actual climbing. But once the Lead discipline kicked off, she proved why she is widely regarded as the greatest of all time. Garnbret nestled into the top portion of the leaderboard during the women's qualification round—closely aligned on the scorecards with Austria's Jessica Pilz, South Korea's Chaehyun Seo, and Team USA's Brooke Raboutou, all of whom would remain near the top of the pack for the rest of the competition.
In the Lead semi-finals that followed, Garnbret continued to climb extremely well, belying the fact that she had been away from elite-level international competition for months. She eventually topped the semi-finals route, a meandering line that featured a mix of vein-like yellow and green edges and a crux of yellow prism volumes. But several other women topped the semi's route too—including Pilz, Seo, Raboutou, and Italy's Laura Rogora.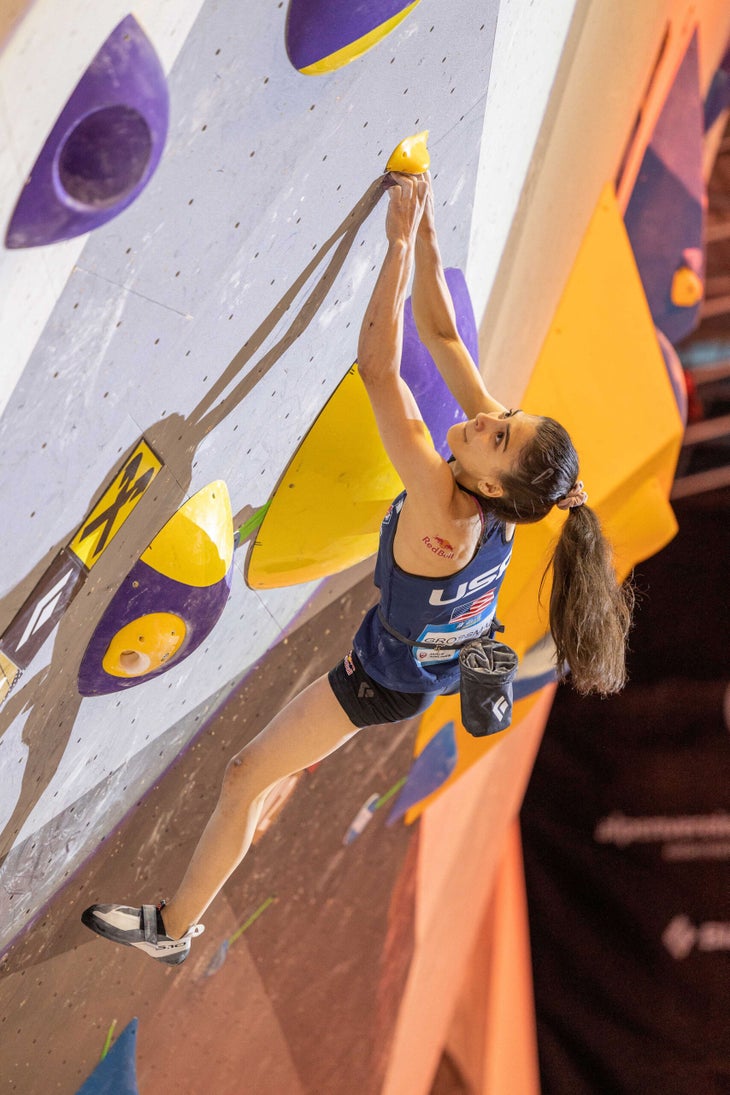 With so many tops in the semi-finals, it was difficult to gauge whether any woman held the advantage or stood out as a clear favorite. Furthermore, the finals began with a string of surprising foot slips by several competitors, including Slovenia's Vita Lukan, Japan's Natsuki Tanii, Team USA's Grossman, and Austria's Pilz. This prompted commentator Groom to proclaim at one point, "I've never seen so many foot pops in a comp!" However, Team USA's Raboutou was able to set a robust highpoint midway through the round, getting inverted on a collection of purple dishes before falling off the route with a strong score of 27+. South Korea's Seo was able to match Raboutou's mark at a slightly quicker pace, but Slovenia's Garnbret climbed next and motored through all the precarious lower sections of the route. Moments later, higher up on the wall, Garnbret cut feet in a heart-pounding dyno at the purple dishes and set a new highpoint of 39+—a score that the last climber, Italy's Rogora, could not match. As a result, Garnbret was confirmed as the gold medalist; Seo was awarded the silver and Raboutou the bronze.
It's difficult to contextualize Garnbret's win because she is such a significant and historic superstar in the World Cup universe and the victory at Innsbruck marked such a highly touted return to competition for her. Suffice to say, she continues to astound by performing masterfully when the pressures of fame and renown are at unprecedented levels. Perhaps Matt Groom said it best on commentary shortly after the gold medal was confirmed: "Janja Garnbret is back, ladies and gentlemen—I've missed her, I know you've missed her at home, our crowd has missed her, and straight away she starts off her season with a bang."
Team USA closes the show with more medals
The men's Lead division did not have any competitor with quite the same type of backstory as Garnbret, but it nonetheless shaped up to be an intriguing battle between some well-known veterans like Germany's Alex Megos, Austria's Jakob Schubert, and younger contenders such as Japan's 19-year-old Ao Yurikusa and Slovenia's 20-year-old Luka Potocar. They all cruised up the ranks in the qualification round and later found themselves clawing through a bottleneck crux section—a collection of blue volumes arranged in a circular pattern midway up the wall—in the semi-finals. That circular crux stymied several other big names and prompted early exits—Germany's Sebastian Halenke, France's Mejdi Schalck, Italy's Stefano Ghisolfi among them, all finishing with scores of 33 or 33+.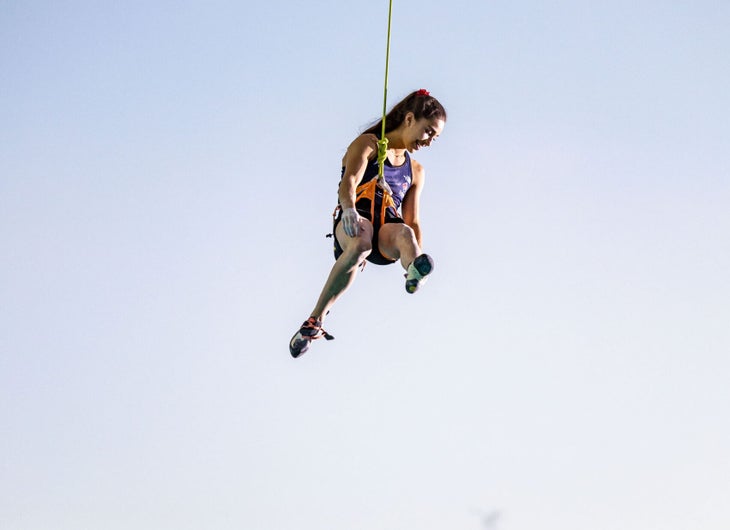 Yet, Megos, Schubert, Yurikusa, and Potocar all surpassed the semi-finals' circular crux section and fell just shy of the top on the headwall. Team USA's Duffy—just a day removed from his Boulder gold medal performance—successfully fought through that semi-finals' midway crux too, as did his American compatriot Jesse Grupper.
Japan's Satone Yoshida set the early highpoint in the men's final round, working through the route's campusy lower section and into the headwall of dual-textured spheres for a score of 36+. Yoshida's mark stood for a while, until it was matched by Austria's Schubert and eventually surpassed by Slovenia's Potocar.  But the round's most spectacular moment came when USA's Duffy fought through the dual-textured spheres, wrestled through the crimpy jibs while continuing upwards and finally took the lead with a score of 38+. The gritty performance earned Duffy the gold medal…yes, his second gold medal of the week in Innsbruck. American compatriot Grupper and Japan's Yurikusa didn't get as high on the wall, as each notched a score of 37+ before falling. Yurikusa, being faster to that identical mark, was awarded the silver medal and Grupper was awarded the bronze—a first-ever World Cup medal for each of them.
It's worth closing with a mention of how some of the other members of Team USA did throughout the multiple days and multiple disciplines at Innsbruck, since Duffy's double-gold, along with the accomplishments of Grossman, Raboutou, and Duffy, provided so many unforgettable moments for the competition at-large. Sean Bailey finished in 11th place in Lead and 8th in Boulder, in both cases missing out on a spot in the men's finals by a very slim margin. Melina Costanza, an alum of the Vertical World Climbing Team like Bailey, advanced to the women's semi-finals in Lead and ultimately finished tied for 21st place. Cloe Coscoy secured three tops in the women's Boulder qualification and then rocketed into the semi-finals, where she topped a boulder and finished in 14th place. A few additional American marks included 37th place, 53rd place, and 63rd place by Kylie Cullen, Quinn Mason, and Maya Madere, respectively, in Boulder; a 31st place in Boulder by Ross Fulkerson, and a tie for 37th place between Ben Hanna and Zach Galla.
The next World Cup will include Lead and Speed disciplines and is set to be held June 30—July 2 in Villars, Switzerland.
Results
Boulder Men
Colin Duffy (USA)
Dohyun Lee (KOR)
Yoshiyuki Ogata (JPN)
Jongwon Chon (KOR)
Kokoro Fujii (JPN)
Yannick Flohé (GER)
Boulder Women
Natalia Grossman (USA)
Hannah Meul (GER)
Miho Nonaka (JPN)
Futaba Ito (JPN)
Chaehyun Seo (KOR)
Saki Kikuchi (JPN)
Lead Men
Colin Duffy (USA)
Ao Yurikusa
Jesse Grupper (USA)
Luka Potocar (SLO)
Jakob Schubert (AUT)
Satone Yoshida (JPN)
Yannick Flohé (GER)
Alex Megos (GER)
Taisei Homma (JPN)
Lead Women
Janja Garnbret (SLO)
Chaehyun Seo (KOR)
Brooke Raboutou (USA)
Laura Rogora (ITA)
Natsuki Tanii (JPN)
Natalia Grossman (USA)
Vita Lukan (SLO)
Jessica Pilz (AUT)