The First World Cup of the Season Delivers Shock and Awe
The first bouldering World Cup of the season took place this past weekend in Meiringen, Switzerland. Here is what you missed.
Heading out the door? Read this article on the new Outside+ app available now on iOS devices for members! Download the app.
When last year's World Cup season concluded, Team USA's Natalia Grossman felt like a newly minted circuit superstar, Slovenia's Janja Garnbret was the circuit's reigning royalty, and a handful of teenagers—such as France's Oriane Bertone and Mejdi Schalck—were leading the way as the next generation of perennial favorites. That's to say nothing of the Tokyo Olympics, which shined a bright spotlight on additional stars last summer (Brooke Raboutou, Nathaniel Coleman, Alberto Ginés López, etc.) and drew in more new comp climbing fans than ever before. Much of that verve carried over into the first World Cup of the year, a boulder event that concluded on Sunday; it presented a handful of new and intriguing storylines for the season, while also showcasing many of those familiar names from last year—all packaged and presented as part of the Haslital Mountain Festival in Meiringen, Switzerland.
Garnbret's Still Got It 
One of the biggest questions heading into the 2022 season was what sort of shape Slovenia's Garnbret would be in. Citing a need for rest and recuperation from a knee injury at the end of last year (following her legendary gold medal performance at the Olympics), Garnbret chose to forego participation in the 2021 World Championships…only to emerge recently with a few beefy outdoor ascents and some well-publicized projecting of La Dura Dura. Of course, hard-hard outdoor climbing doesn't necessarily translate to World Cup success, but Garnbret proved in Meiringen that she was back in peak competitive form in the women's division.
Garnbret blasted through the event's qualification round by topping all five boulders—which she had also done at last year's Meiringen World Cup. She had some interesting company at the top of the qualification standings this year: Israel's Ayala Kerem also earned five tops in the qualification round, and a half a dozen other competitors—including Team USA's Grossman and Raboutou, and Japan's Futaba Ito—weren't far behind with four tops apiece. 
France's Bertone provided the first highlight-reel moment of the semi-finals when she flashed the round's first boulder, a dynamic coordination offering with a particularly crimpy crux, in just 15 seconds. Soon most other competitors, including Garnbret and Grossman, topped the boulder as well. It wasn't until the round's third boulder that significant separation occurred in the scores; Grossman was able to graze that third boulder's slopey top hold but couldn't control it. Raboutou, too, wrestled out the boulder's low overhead toe-hook sequence and into a stable upright position but could not reach the top. Serbia's Staša Gejo, Canada's Madison Fischer, and several other competitors managed to reach the zone hold. But only Garnbret successfully ascended farther up the taxing boulder. And in some fitting foreshadowing, at the same time that Garnbret topped that third boulder, Grossman topped the fourth boulder, equally as burly. 
As the finals commenced, it was evident that Garnbret and Grossman were not only in the lead, they also possessed the event's intangible momentum. Still, the other finalists—Bertone, Ito, Gejo, and Switzerland's Andrea Kümin—had their share of memorable moments too. For instance, Ito worked on the dynamic start of the final round's second boulder and finally stuck the move as time ran out; Kümin and Bertone enlivened the crowd with flashes of the finals' third boulder, a dihedral slab. But none of the competitors could overtake Garnbret or Grossman, who remained close in the scores and separated mainly by a single sequence in the finals—Grossman taking eight attempts to dial-in the run-and-jump start of the round's first boulder (unable to secure a top), and Garnbret ascending the boulder in just two attempts.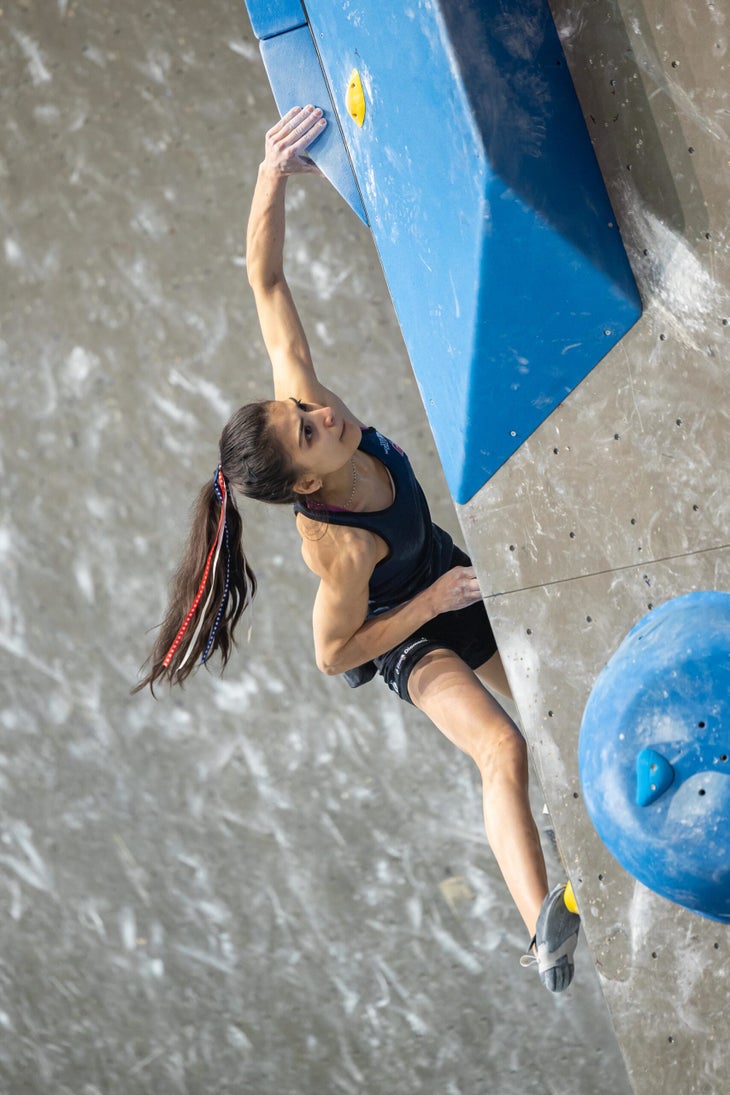 Garnbret and Grossman both had their share of flashes in the finals, including on the round's last two boulders. But the separation from that first run-and-jump boulder proved too great. Ultimately, Garnbret—with a total of four tops in the finals—was awarded the gold medal. (In fact, Garnbret topped every boulder, 13 in total, throughout all rounds.) Grossman, close behind with three tops in the finals, earned the silver medal, and Kümin, with one top, nudged out Bertone for the bronze. 
This article is free. Please support us with a membership and you'll receive Climbing in print, plus our annual special edition of Ascent and unlimited online access to thousands of ad-free stories.
Fans Left Stunned
Moments after winning, Garnbret revealed in her post-event interview that she would sit out for the remainder of the bouldering World Cup season. "Definitely the Olympics last year were a pretty hard take on physical preparation or mental preparation, so I feel like I need little bit of time off of comps, and I feel like this year was the perfect year to do that," Garnbret stated, teary-eyed from the joy of her victory. 
Fans were shocked and saddened to learn of Garnbret's impending absence from the bouldering circuit, especially following such an exciting performance in the finals (and a reigniting of her cordial rivalry with Grossman for a new season). Yet, it's hard to argue with Garnbret's logic; if the 2024 Olympics are indeed her paramount goal, the Olympics' qualification pathway will not heat up until next year. Additionally, as much as athletes' mental health has been a cultural talking point in recent years, Garnbret deserves credit for having the self-awareness and willingness to act when more rest and self-care is needed. And, it sounds like she'll return for the lead World Cup season, which is only a couple months away. 
Teenagers Shine But Can't Overtake the Veterans 
In the men's division, Team USA's Colin Duffy made a big statement early in the competition by rocketing to the top of all the boulders in the qualification round. He soon found himself sandwiched between a number of competitors from Team Japan—Yoshiyuki Ogata and Tomoa Narasaki, among them—who also vaulted near the top of the leaderboard. Duffy's American compatriot, Ben Hanna, had a stellar start to the competition as well, finishing in the the top 10 for the qualification round and advancing to a World Cup semi-final round for the first time in his career.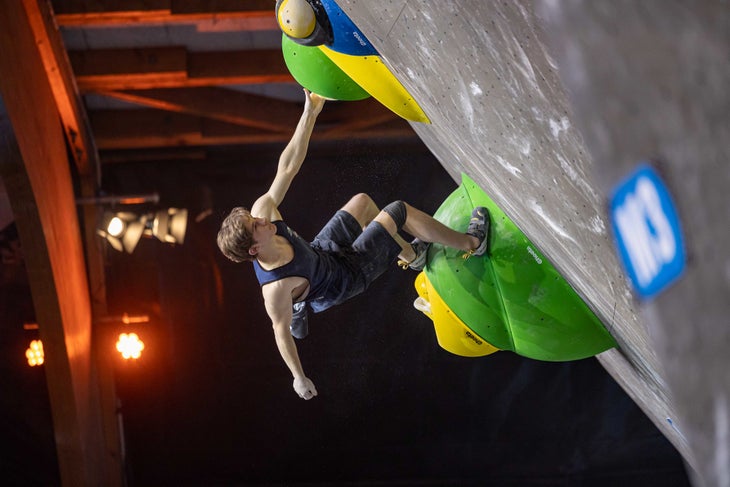 Also setting early benchmarks with strong performances were several competitors from Slovenia, including Zan Lovenjak Sudar and Gergor Vezonik. A particularly frightening moment came when Vezonik got stuck in a crack feature while doing a hand jam on one of the qualification boulders. He dangled from the crack momentarily, until France's Mickael Mawem rushed over from an adjacent boulder to help. Fortunately, the incident ended without injury.  
Like the qualification round, the semi-finals were typified by strong performances from Duffy, Narasaki, and Ogata. Duffy was able to rally from unsuccessful attempts on the first semi-final boulder, a slab, to consecutive tops of the remaining three boulders—while Narasaki and his compatriot, Kokoro Fujii, were the only competitors to top all four boulders of the round. Steadily the intrigue of the finals began to take shape: an imminent clash between Duffy, as the sole American finalist (and taking part in the first bouldering World Cup final of his career), a trio of competitors from Team Japan, and Paul Jenft and Schalck from Team France. 
Duffy found himself in an early hole on the finals' scorecards; he wasn't able to secure the stand-up press at the top of the round's first boulder. And France's Schalck, a year younger than Duffy at 17 years old, secured the only top on the round's second boulder, a dynamic ascent up a dihedral. The third boulder entailed an awkward start on a humongous sloper that stymied most competitors. Duffy did manage to secure a top—after two previous tops were deemed illegal due to faulty starts—and the crucial ascent vaulted him up the standings. But circuit veterans Ogata and Narasaki provided the only tops of the fourth boulder, a steep overhang that required a swinging dyno and a lock-off finish. As a result, Narasaki earned the gold medal; Ogata was awarded silver, and Schalck earned bronze. Duffy finished in fifth place, clearly the crowd favorite as a result of the repeated ascents of that third boulder.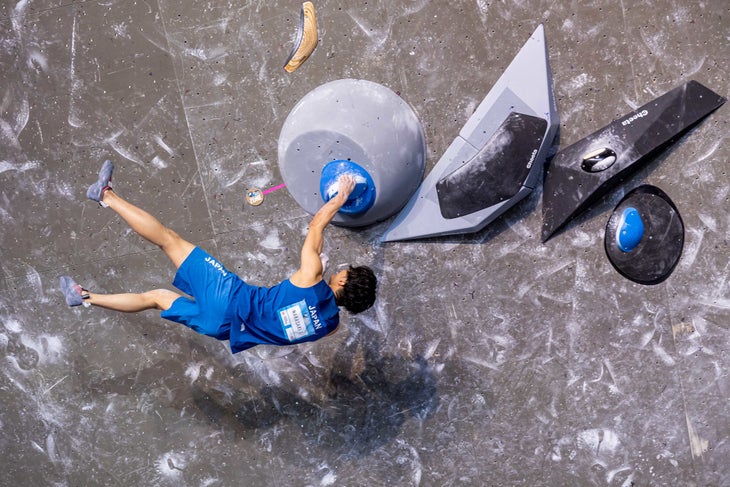 Americans Look to Make History … Again
Statistically, Team USA had its best World Cup season ever last year, and it all started with two Americans appearing in last year's final round at the Meiringen World Cup—Natalia Grossman in the women's division and Nathaniel Coleman in the men's division. 
In light of that, the start to this season was statistically identical, with Grossman and Duffy advancing to the Meiringen finals. Additionally, Team USA showed solid depth throughout the competition, evidenced by Hanna's personal best-ever performance and Coleman missing out on advancement to semi-finals by just one place in the men's standings. Raboutou, Cloe Coscoy, and Kylie Cullen finished high in the women's standings as well (12th, 10th, and 15th, respectively). Maya Madere, Melina Costanza, and Quinn Mason (29th, 43rd, 61st, respectively) all secured several zone holds—and in some cases tops—in what was universally hailed as a hard qualification scrum.
Ross Fulkerson and Sean Bailey both finished within the top half of the men's roster (27th and 47th, respectively), while 2021 lead national champion Jesse Grupper (99th place) continues to gain experience on the international bouldering circuit.  
It all bodes well for American competitors and the American fanbase as the next World Cup looms on the horizon, scheduled to begin on May 6 in Seoul. 
Results
Women
Janja Garnbret (SLO)

Natalia Grossman (USA)

Andrea Kümin (SUI)

Oriane Bertone (FRA)

Futaba Ito (JPN)

Staša Gejo (SRB)
Men
Tomoa Narasaki (JPN)

Yoshiyuki Ogata (JPN)

Mejdi Schalck (FRA)

Paul Jenft (FRA)

Colin Duffy (USA)

Kokoro Fujii (JPN)