Natalia Grossman Is Now American Climbing Royalty
With her repeat gold-medal performance in Salt Lake City, she now must rank as one of America's best competitors of all time.
Heading out the door? Read this article on the new Outside+ app available now on iOS devices for members! Download the app.
Natalia Grossman's gold medal performance at this past weekend's World Cup in Salt Lake City was arguably her most impressive this season. Not only did it feature her topping almost every boulder—the only roadblock coming on the fourth boulder of semi-final round, which no one else topped either—it also entailed her doing it all in front of a home crowd, channeling the applause, soaking in the love from 4,000 fans in attendance, calming the nerves, and ultimately becoming a pillar on which the audience could attach their own hopes and stoke.
Sound familiar? Grossman essentially did the exact same thing last year in Salt Lake City—yes, topping every World Cup boulder except one at the first weekend's competition, never looking rattled or stymied throughout all rounds of competition, and winning in supreme fashion as the city lights of Salt Lake City punched through the night sky and enveloped the massive crowd and the lofty EntrePrises bouldering walls on the main stage.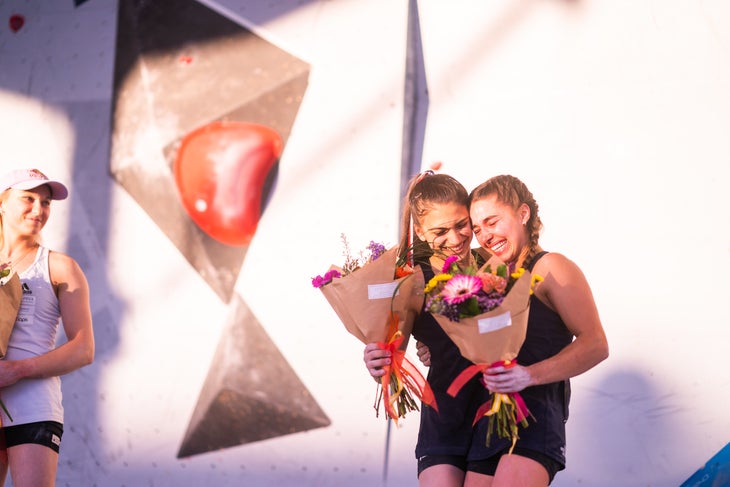 However, because Grossman now has a multi-year history of making Salt Lake City her personal theater, we should start looking at her performances in that city and her overall World Cup accomplishments with a wider lens. Grossman now has some serious history in Salt Lake City, which starts to blend into something else: A legacy. The fact is, fans can say that Grossman is synonymous with the Salt Lake City World Cups in a way that few other climbers are with respective city's events. Even Slovenia's Janja Garnbret, widely considered to be the sport's GOAT, does not have quite the heritage with her home World Cups that Grossman does. (Garnbret's record for World Cups in Slovenia is first place in 2021, 13th place in 2019, second place in 2018, first place in 2017, etc.).
Missed Natalia Grossman's 2021 World Cup Win? Watch Her Unbelievable Send Here!
If anything, "home field advantage" in World Cups sometimes skews the other way for great climbers. Expectations, nerves, and whatever else can become too hard to compartmentalize and convert to success. The legendary Akiyo Noguchi clenched World Cup gold in her home of Japan in 2009 and 2018—undoubtedly impressive, but not exactly back-to-back. Austria's Anna Stöhr won World Cup gold in Hall, Austria, in 2008, but earned second place—narrowly missing out on a repeat victory—at the same city the following year.  Statistics like that from other competitors make Grossman's gold accomplishments in Salt Lake City over the past two years even more impressive. It also prompts a deeper dive into the record books.
Natalia Grossman Just Had One of America's Best Comps Seasons. What's Next?
Why Grossman Is Now Royalty
Natalia Grossman is not the first American to win back-to-back annual World Cups on home turf in the women's division. A tip of the hat is due to those who did it before Grossman and paved the way for her current boom in popularity: Megan Mascarenas won events in Vail in 2015 and 2016. Prior to that, Katie Brown won "Difficulty" climbing events at the X Games in 1996, 1997, and 1998, all on U.S. soil. The X Games were not given World Cup designations, but those were unquestionably the marquee international climbing competitions in their day.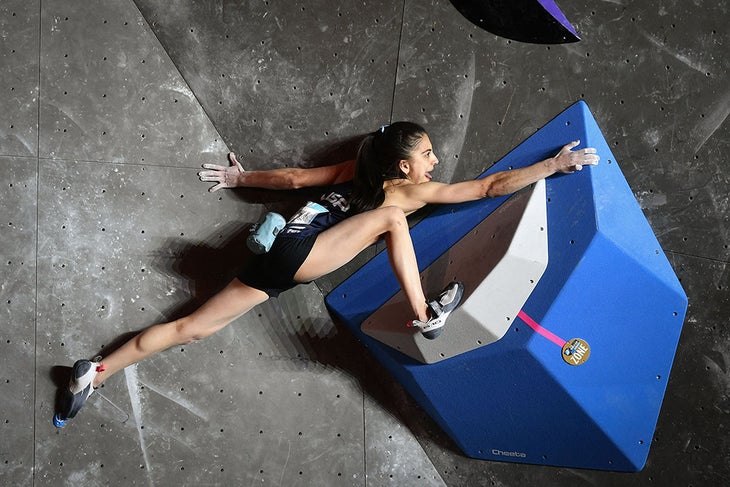 But if Grossman's consecutive yearly wins in Salt Lake City suddenly put her in the historical pantheon of Katie Brown, Grossman is—at the youthful age of 20 years old—already in legendary company.
Panning out, Grossman now possesses a total of four gold medals across all disciplines on the World Cup circuit; this ties her with Lynn Hill, whose tenure on the World Cup circuit spanned the late-1980s and the early 1990s. Four gold medals also nudges Grossman past legendary American names such as Alex Johnson and Alex Puccio (each with two), in terms of total gold medal count. Grossman also has a World Championship gold medal to her name (earned last year), which no other American woman except for Robyn Erbesfield-Raboutou has.
Grossman's connection to Robyn Erbesfield-Raboutou is noteworthy because it transcends statistics or a medal count. As Grossman revealed in a 2019 interview with Climbing, she moved from California to Colorado as a child largely to train under the tutelage of Erbesfield-Raboutou as part of the powerhouse Team ABC youth squad. "I learned about Team ABC through competitions because I had become friends with a lot of the girls who were on that team at the time," Grossman explained. "I knew that the Team ABC program was really good. So once I was older, probably about 14 years old, my family moved to Boulder so that I could join Team ABC."
In light of that, Erbesfield-Raboutou has to be seen as one of Grossman's most important coaches and mentors. The influence is noticeable too, as there are similarities to their comp climbing styles. They also share a propensity for chalking up while hanging feet-free from the wall. (See vintage footage of Erbesfield-Raboutou doing the crowd-pleasing move here, compared to footage of Grossman doing it just a couple days ago here). Erbesfield-Raboutou's World Cup gold medal count is absolutely jaw-dropping at a total of 14 from a period that spanned from 1989 to 1995, yet Grossman must also now be in any conversation when talking about the greatest American competitors of all time.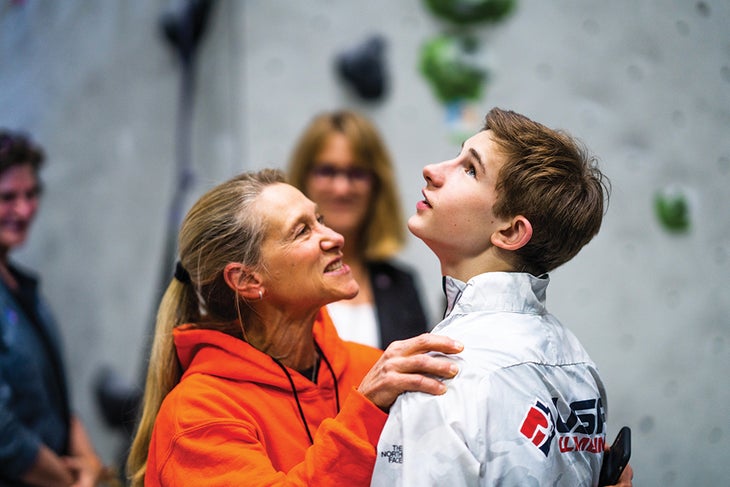 The American team is the heart and soul
It's not fair to only highlight Grossman's accomplishment's in Salt Lake City, as the rest of the American squad was far from a supporting cast to her aristocracy. In fact, Team USA had myriad accomplishments in the men's and women's divisions throughout the past weekend, so by the time Grossman pulled onto the last overhanging boulder of the final round, it felt like the perfect, climactic chapter of a tome that had already been filled with heart-racing plot points.
For starters, three days before Grossman's historical gold medal performance, John Brosler set a new American Speed record that was razor-close to the world record, and Noah Bratschi surged to a silver medal in Speed. Considering that Bratschi's hardware marked the first time in history that an American man had medaled in a Speed World Cup, the tone was set early for some magic in Salt Lake City. Emma Hunt also managed to make her second Speed final in a row—competing in the Small Final in Salt Lake and eventually earning fourth place. And Sam Watson finished in 8th place in his second-ever World Cup appearance.
As last weekend progressed, members of Team USA established many other benchmarks in the bouldering discipline: Charles Barron advanced to his first-ever World Cup semi-final, as did Adriene Clark. Emily Herdic took part in her first-ever adult World Cup. Quinn Mason had her best-ever adult World Cup finish, as did Ross Fulkerson. And Kylie Cullen tied her best-ever World Cup performance with an 11th place finish.
Grossman's longtime friend and training partner (and daughter of Robyn Erbesfield-Raboutou) Brooke Raboutou led the women's field—ahead of Grossman—by the conclusion of the semi-finals round. The coupling of Grossman and Brooke Raboutou in the scores continued into the final round and culminated in Raboutou joining Grossman on the podium. If this also sounds a little familiar, it's because it happened last year in Salt Lake City. Indeed, as much as the Utah city has now become Grossman's special backdrop, it annually brings out extraordinary things from Raboutou as well. A case could be made that no other duo of compatriot climbers on the World Cup circuit today feels as linked to each other and to their surroundings as Grossman and Raboutou when the spotlights shine on the bouldering mats in Salt Lake City.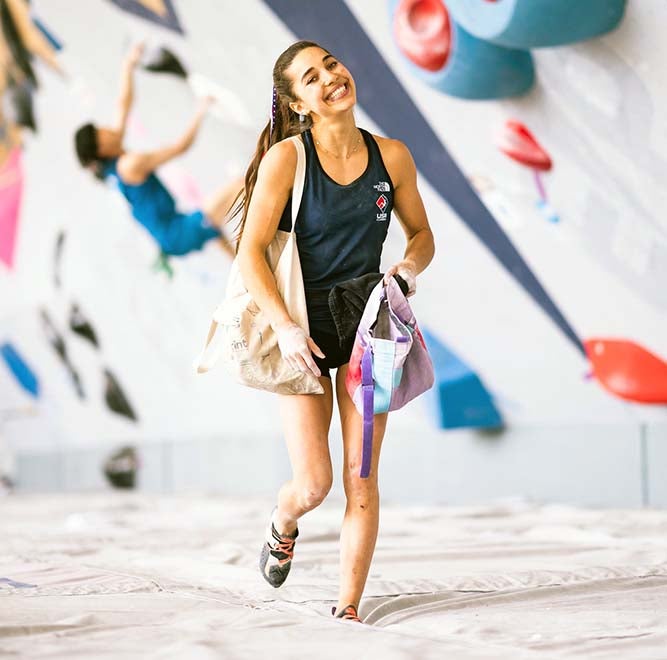 The best part of the whole thing is that we have a chance to see it all again soon, with the year's second Salt Lake City World Cup kicking off on Friday. Grossman is registered for it. Raboutou is too, as are Cullen, Mason, Herdic, Clark, Hunt, Brosler, Bratschi and all the other names that made headlines this past weekend.
And if the coming weekend is anything like the past weekend, particularly for Grossman, it won't just be exciting; it will be historic.
Women's Boulder Results
Natalia Grossman (USA)
Brooke Raboutou (USA)
Miho Nonaka (JPN)
Jessica Pilz (AUT)
Franziska Sterrer (AUT)
Camilla Moroni (ITA)
Men's Boulder Results
Mejdi Schalck (FRA)
Yoshiyuki Ogata (JPN)
Rei Kawamata (JPN)
Nicolai Uznik (AUT)
Yannick Flohe (GER)
Jakob Schubert (AUT)
Men's Speed Results
Kiromal Katibin (INA)
Noah Bratschi (USA)
Veddriq Leonardo (INA)
Ludovico Fossali (ITA)
Women's Speed Results
Aleksandra Miroslaw (POL)
Aleksandra Kalucka (POL)
Natalia Kalucka (POL)
Emma Hunt (USA)