Multiple Competitors Injured on Same Move at World Cup. Is Modern Setting to Blame?
The routes and boulder problems featured at World Cups are more complex than they used to be. Are they also more dangerous?
Heading out the door? Read this article on the new Outside+ app available now on iOS devices for members! Download the app.
Boulder One: You do a campus rose-move off a two-finger pocket out to a wide pinch where you snag a low foot. Then you jump to the next pinch while simultaneously stepping up your foot to a high volume, above where your lower hand was just a second prior. Boulder Two: You sprint across a dual-textured runway, straight up to two holds that you must leap to, both of which are rounded and thinly scooped out the middle like melted ice cream. Boulder Three: a mantel press out a corner, your foot level with your hand. You have to stand up to a sloper, maintaining tension and extraordinary balance.  
Each of those boulders were featured at the Salt Lake City World Cup last May 20 to 22. The latter injured at least three female competitors. 
View this post on Instagram
Modern competitions use the bigger, more eye-catching holds that are now available on the market. The walls are bigger, too, and more expansive. Boulder problems and even routes are made up of much more complex movements, such as those crowd-pleasing jumps or 360 rose-moves. Compared to 10 years ago, when moves were typically much more tenuous but less intricate, modern setting has helped climbing become more understandable—you don't have to know much about the sport to be able to appreciate the show. Perhaps competitions have become more exciting for the athletes, too. The mental challenge is certainly greater, with movements becoming far less predictable. 
Adam Ondra says modern comp-style bouldering "spices" things up. But is it worth it? Why did the setting change, and how has it impacted the athletes? Importantly: Is modern comp-style setting more dangerous?
Why Setting Changed
Percy Bishton is a veteran setter on the IFSC World Cup circuit. It was Bishton who headset the bouldering portion at the 2020 Tokyo Olympics. He credits the desire to test athletes as a leading force in the shift to modern setting. "We are always looking for new moves that unlock sequences for the climbers that they haven't done before," he says. "This has led to the push for new ideas, and is the primary driver for the development of what is known as modern comp-style bouldering." 
The Olympics were also a driving force. The IFSC had been vying for a spot for years. Baseball and softball, American football, even karate—those were among the 26 sports, alongside climbing, in contention for an Olympic spot, and climbing needed to stand out. This is one reason that the competition format changed, too. The four-minute-plus rule, the one that allowed climbers four minutes of climbing, plus more time if they were on the wall when the timer ran out, was tossed since it wasn't TV-friendly. In the Olympics, there were fewer boulder problems across the rounds. In sport climbing, the time limit was reduced from eight minutes to six. Overall, the pace of competitions increased, and that, in turn, put further pressure on setting.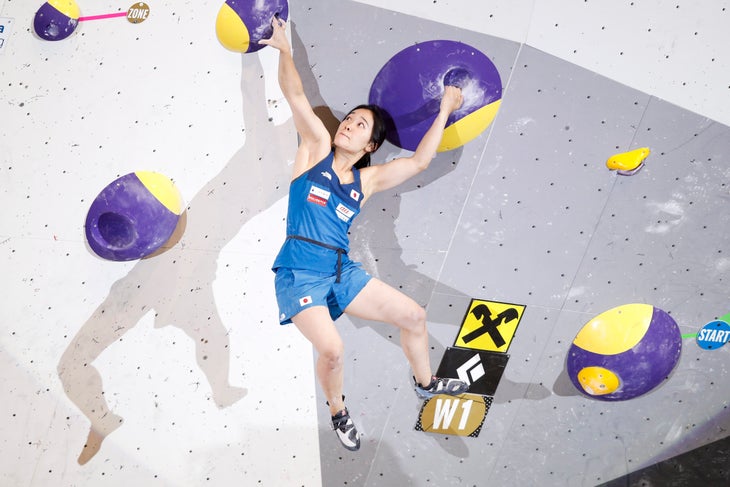 "[The] current format does affect the setting—fewer problems in each round puts pressure on the setters to make sure each boulder will produce a split ranking and this means that super hard or super complex and dynamic boulders are used more often," says Bishton. "I can't see this changing soon, and this is perhaps a symptom of climbing becoming an Olympic sport where it must be media-friendly, easily measured, simple to understand, and entertaining for the TV audience."
Adam Ondra, who has many accolades in the competition world (he has 18 World Cup gold medals!), agrees, saying, "The current format of competition dictates the setting. Within four minutes, you can only give two good tries if the boulder is powerful. Seeing someone give one try, then resting three minutes and giving it another try is a total anticlimax for the show, especially in the finals as there are no other climbers on the mats. Additionally, hard boulders do not split the ranking. You either do it first or second try, or you do not do it at all. That is leading to a 'high risk, low/intermediate difficulty (physical difficulty)' style of setting. And that means coordination moves, or slippery moves. Under current rules, this will hardly change." Ondra added that since the introduction of modern skate-style moves, those movements have become harder compared to even just five years ago. As athletes adapt to more complex moves, the difficulty of the boulder or route increases.
The Rules

Currently, the rules that pertain to the design of routes and boulders amount to less than 30 words within the IFSC rule book: 
1) to limit the risk that a fall may injure the competitor or any third party, or obstruct any
other competitor;
2) without any downward jumps.
Downward jumps are the only movement that is strictly prohibited. But for some setters, there are certain hold types and moves to be avoided. 
"Indeed, it is not only about downward dynos, but all that involves a risk during climbing, during the circuit or during the warm-up," says IFSC routesetter Rémi Samyn. Samyn was the chief routesetter for the Salt Lake City Bouldering World Cup. "By experience I would say that it is generally about lateral dynos, landings on a leg, falls on the back, risks of jamming (hands, fingers or feet), traumatic grips, aggressive holds, heel hooks at the top of the boulder, falling on a volume in a slab, a shoulder movement or an uncomfortable drop knee etc… The list is not exhaustive, you have to be permanently alert to any type of risk, including a new risk."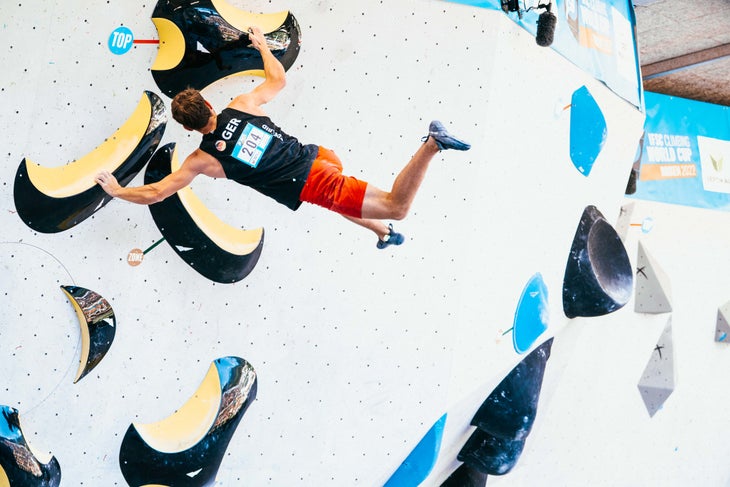 Given the wide degrees of freedom and hold types possible in climbing, there are a trove of possibilities for the setters to choose from and to be wary of. For the athletes, it means always preparing for the unknown. Still, setters, while pushing their creativity, aren't trying to reinvent the sport. According to Bishton, "If you find it on a rock, it has a place in a climbing comp." 
So, Is Modern Setting More Dangerous?
Determining whether modern setting is more or less dangerous than traditional setting is no easy task. On the one hand, more variety means athletes aren't overtraining specific moments. And, according to Ondra, that variety may encourage healthier eating habits, which brings with it a host of benefits for the athlete. 
"The traditional setting has one flop and that is that it could be useful to be extremely skinny, especially for certain body types," he says. "And with that, a lot of potential risks are involved. But if you add some big slopers and powerful moves where you have to climb with the whole body, it might reduce the weight advantage." Eating disorders have been rampant in our community for decades. Given climbing is a strength-to-weight ratio-based sport, it's easy to see why. The consequences have borne out wide and heavy, with many athletes stepping forward to discuss the long-term side effects.
Despite this major benefit, Ondra adds, "Modern setting might be better for fingers as it usually involves less brutal crimping," but "the modern style of setting is more dangerous for shoulders, elbows, wrists, and knees."
Shoulders and elbows are precisely what at least three women injured in Salt Lake City. Sienna Kopf, from the US, hyperextended her elbow and tore her ulnar collateral ligament. She will have to wear a brace for three months. She posted on Instagram: "In my opinion, this move was too physically risky and did not present the right kind of challenge for competition." 
View this post on Instagram
Johanna Färber, of Austria, also ruptured her ligament. She qualified for semis but had to withdraw from the competition following the qualification round. Her sights are on returning to competition in August. 
Jenya Kazbekova, from Ukraine, says she heard a pop in shoulder and jumped off the boulder. It was too painful for her to finish the boulder, although she was able to continue climbing for the rest of the round. 
What happened on that boulder is undoubtedly unfortunate, but Bishton doesn't think modern setting is to blame.
"I do think that many dynamic moves have a high impact on the athletes's bodies, and setters must be careful that we don't try and push the limits too far. … However, with regard to the Salt Lake comp and the women's boulder, I don't think the boulder was dangerous, but just very hard and intense," he says. "It was very unfortunate that three athletes were injured, but this is the nature of the sport sometimes. In an elite competition the athletes are prepared to push so much harder than they normally would and will do anything to get to the top, and this often leads them to push their bodies too far."
Ondra echoed that sentiment, saying, "Injuries often happen on the comps because you are well-rested and stronger than in any training session, and the body might not be ready for such a force." He added that training on modern competition-style boulders may also present a higher risk because they often involve more falling and more attempts, whereas in the past athletes might rest longer between higher-intensity efforts on the wall. Having grown up training on traditional setting, and with hypermobile shoulders, Ondra has had to adapt. "In general, modern bouldering is not healthy for me and I need to find a good way to practice it but not do a lot of volume in this kind of climbing."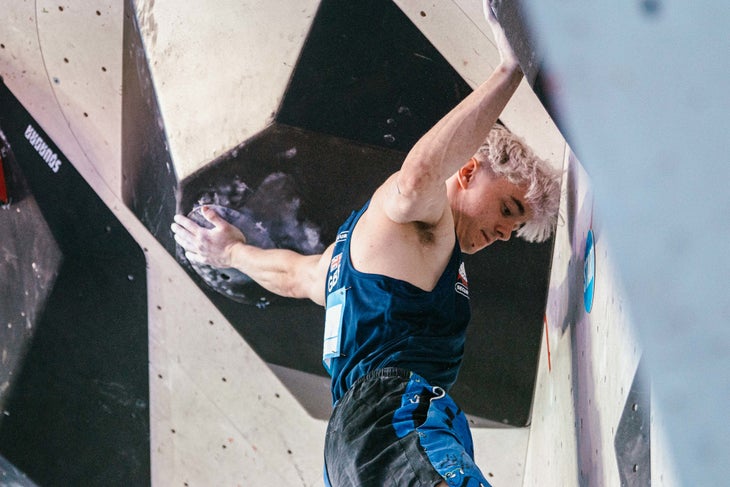 Looking at the big picture, Bishton, who set internationally for 25 years, hasn't noticed an uptick in traumatic injuries at competitions. Additionally, he can't recall any specific events with moves that have caused multiple athletes the same injury. 
Zack DiCristino, USA Climbing's medical manager and national team physical therapist, also hasn't noticed a higher prevalence of the most common climbing injuries at competitions. But he adds: "I have seen a small number of less-common climbing injuries, some due to weird falls or on moves that require less-traditional climbing abilities or skills." He said he hopes to see injury surveillance data collection be carried out to confirm or deny this. 
And even though rules, setting, holds, and walls have all changed over the years, the setters' attitude towards safety has held firm. "IFSC setters always prioritize athlete safety," says Bishton. "All movements are tested many times and any that the setters aren't happy with (with regards to safety) are changed or taken out." 
How Can Athletes Protect Themselves?
On the part of the IFSC, officials are watching. The Sport Director (previously Silvia Verdolini, new official stepping in later this month), for one, will be on the lookout for trends and possible rule modifications. And while setters will continue to do their best to set safe routes and boulders, ultimately, it's up to the athletes to do what they can to protect themselves. Exposure and practice is the best injury-prevention strategy. 
"Just like any sport, the less an athlete is prepared for the demands of their sport, the greater the risk of injury," says DiCristino. "Unlike, say, running, these demands cover a wide range of abilities, and at times, can be unpredictable. In some ways, athletes and coaches need to 'catch up' when a new move is introduced and then, becomes a trend. Not only do they need to train these areas, but also maybe include them in their warm ups (e.g. hard press moves). Certain muscle groups that were part of our 'antagonistic' training may now become more 'agonistic' in nature. I am an advocate of preseason assessments that may identify these deficiencies so that the athlete and coaches can develop them to be better prepared both for performance and prevention." 
Outside of training, no matter the style, competing at a high level is hard on the body. Athletes have to know themselves, including when it's time to move on. The good thing about our sport is that it can be a sport for life, if you want it to be. 
"The current style of setting makes me question how far I am ready to go for it," says Kazbekova. "Would I be willing to put my long-term health at risk for a result at the comp? I don't think so. Climbing is beautiful and possible even after your comp career is over, that is a privilege that most of the sports don't even have. My body and my health will always come first and I want to prove that you don't have to sacrifice everything to get good results in competitions."
Did A Friend Die Night Buildering—Or Was It Something Darker?