The Surprising Popularity of Buildering
Buildering is a discipline with a long history at the fringes and limitless possibility for the future.
Photo: BUILDERING-SPOTS/TIM JACOBS
Heading out the door? Read this article on the new Outside+ app available now on iOS devices for members! Download the app.
Practically subversive
In the 1890s, under the guise of night, a slice of upper crust Cantabrigians would climb the crenelated gatehouses and Gothic chapels that populate Cambridge, England. Their clandestine aims were exploration, and well, hell, a bit of rebellion.
During the day, the night crew mingled with future Nobel Laureates, but from dusk to dawn they charted the beta of the town's ancient buildings. Their explorations were documented in what is likely the first buildering guidebook, The Roof-Climber's Guide to Trinity by Geoffrey Winthrop Young, published in 1899.
Today, Tim Jacobs continues the tradition of chronicling buildering worldwide. He began in 2005 as a university student, became hooked, and started a website, buildering-spots.de, as a way to compile climbs around Germany.
He has since released his third guidebook on the subject, Buildering-Spots International, which features over 1,000 locales across 145 cities around the world.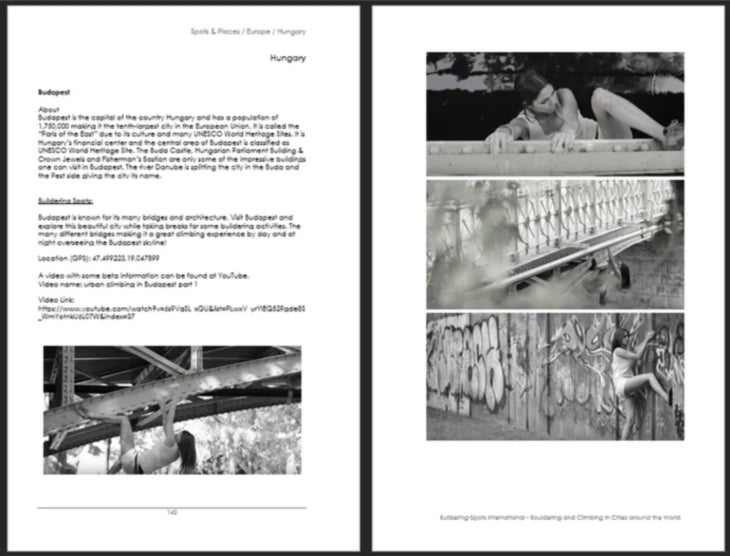 The practice of buildering, a portmanteau of "bouldering" and "building," involves scaling manmade public structures like high-rises, walls, and bridges. It began as a serious discipline.
"Buildering developed from free climbing," Jacobs says. "It was a parallel movement to alpinism," and offered a way to practice technical skills before the days of artificial walls. As climbing evolved, buildering stayed on the periphery.
Like skateboarding in the 1950s, "rock" climbing in urban spaces is a way to reimagine the city and the relationship with surrounding architecture. However, unlike skateboarding, parkour or bicycle croquet—other urban-inspired sports—buildering has remained underground and marred by a sense of the taboo.
Jacobs chalks this up to presentation: "Right now, buildering is framed as an illegal action," he says. Think Alain Robert, "the French Spider-Man," who routinely flouts the law in his daring free solo acts, and who is consequently arrested afterwards.
Buildering is not often explicitly prohibited on public property (though you should understand usage and trespassing laws in your area before going out). If you do happen to be stopped, Buildering.net has some useful advice, such as, "in most (all?) countries security guards are not allowed to detain you," and, if you are stopped by the police, "DO NOT RUN."
Buildering Potential in the Urban Space
Jacobs aims to change the perception of the sport by showcasing the possibilities.
"It can be performed everywhere in the world: It's accessible, free of charge, doesn't require new construction and there's almost limitless possibility," he argues. Further, "it can be encouraged within a legal framework." His view is shaped by the uncommon popularity of the sport where he grew up.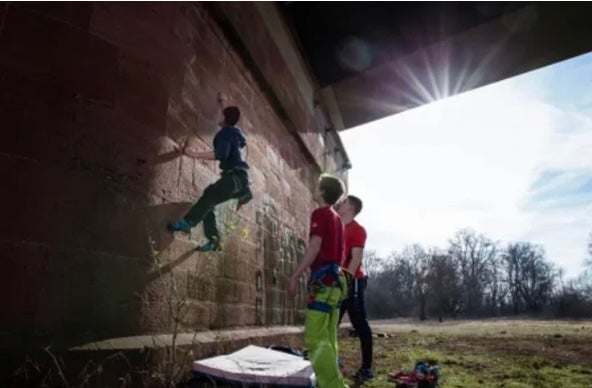 In Germany, where Jacobs is from, there are over 2,000 active builderers. The activity is legally sanctioned by the German Alpine Club (Deutscher Alpenverein or DAV, in German) and established areas can be found around the country. In Cologne, the 1,342 foot long Hohenzollernbrücke bridge features 70+ established routes, while in Berlin, anti-aircraft towers left over from WWII provide bolted lines and lower-offs. In total, there are more than ten locations officially overseen by the DAV.
Buildering may even provide an unexpected leg up for pro climbers from the urban-dense country. The ever creative Jan Hojer and uber-strong Alex Megos were both coached by Udo Neumann, the head coach of the DAV Bouldering team. Neumann was known for his unconventional methodologies, which are perhaps influenced from his time as a competition builderer.
In the modern age of rapid urbanization, reimagining how we use the concrete spaces around us opens up a world of opportunity just outside our doorstep.
"Every time I go [buildering], I'm struck by how cool it is, and how much fun it is," offers Jacobs. "I want to get the message out to try. Just try it."
Aaron Gerry is a freelance writer who spent the last year traveling and climbing (mostly in Eastern Europe). He's keen on getting into long, multi-pitch alpine climbs. Want to partner up? You can follow his travels at aarongerry.com.