Meet the 12-Year-Old Denver-based Crusher Who Just Sent V14
At just 4′ 11″, Beckett Hsin has been ticking boulders most grown climbers can only dream of. 
Heading out the door? Read this article on the new Outside+ app available now on iOS devices for members! Download the app.
A kid with a thick tuft of dark hair and large brown eyes pulled onto the wall at Movement Climbing, Yoga, & Fitness in RiNo, Colorado. He muscled into a shouldery move, rocked over his foot, and then stabbed out for the crimp. He fell just shy of it, coming off with a thud. From the ground, he placed his hands on his hips and eyed the move. He chalked up and prepared to try again.
Given his youthfulness and size—just 4′ 11″—I might not have taken note. But the kid was working the problem alongside veteran climbers Jimmy Webb and Daniel Woods, who were also struggling to stick the move. Something cool was happening. 
"They're kind of his heroes," his dad, John, later told me.
At just 12 years old, Beckett Hsin has been ticking boulders most grown climbers can only dream of. On Monday, September 12, at Lincoln Lake, he marked a new personal milestone with Spatial Awareness Low (V14).
Beckett's ascent came a week after he sent Spatial Awareness (V13). He's also sent a slew of other Lincoln Lake classics, including Sugar free Haribo (V10), Sparrowhawk (V10), Overcling Traverse (V12), and Honey Badger (V11).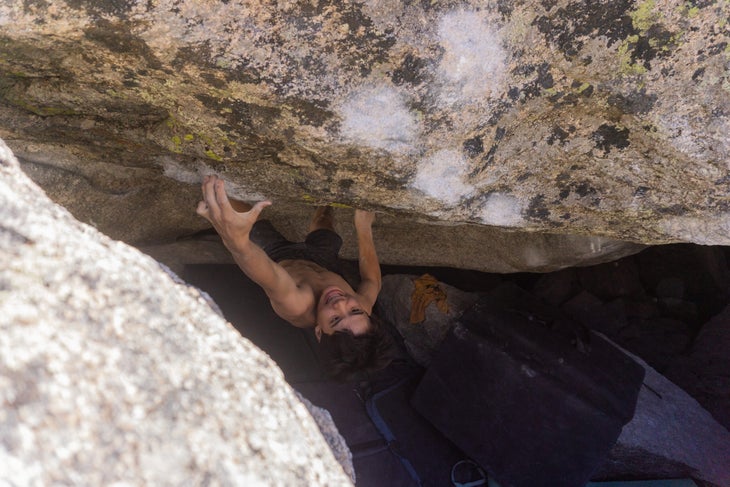 When I spoke to him over Google Meet, he was quiet and shy and incredibly humble about his accomplishment. "I feel like my send of Spatial Awareness Low is controversial," he said, "because it's a little hole that you crawl out of, and I can fit into it a little better than most people." 
It's true, due to his size Beckett can keep crawling through the space where other climbers have to diverge right. While building up the send, he dabbed a lot, he adds—he stepped off for dabs 15 or so times on the day it finally went down. "So, the way I do it's probably easier… And it has only had like two previous sends, so maybe it's not V14." 
Those two previous ascents, however, were done by seasoned pros Drew Ruana and Griffin Whiteside. The grade withstanding, Beckett is the second 12-year-old to manage it, after Oriane Bertone, who sent Golden Shadow in Rocklands in 2018.
Beckett's start in climbing can be traced back to his dad. Growing up, John was a competitive gymnast. Later, in college, he started climbing recreationally and enjoyed the natural crossovers—the body movement control, the proprioceptive demands. When his oldest son, Sam, injured his back in gymnastics, John suggested he give climbing a try. Sam fell in love, and Beckett soon followed. 
Beckett joined the competitive youth team at ROCK'n & JAM'n near Denver. At first, it was just about fun. "I kind of just goofed around a lot and ran around bothering all of the team kids," he said. But in the last few years he started taking training more seriously, with competing on the USA Team at international competitions being one of the end goals. He's well on his way—earlier this year he placed second in sport and third in bouldering in his category at Youth Nationals.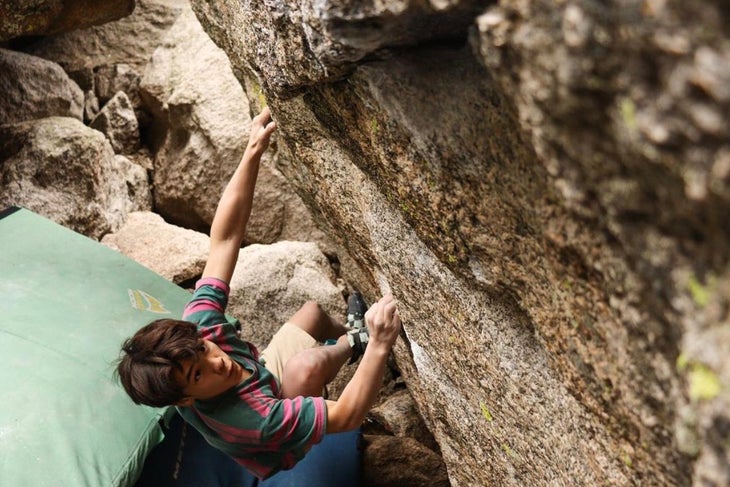 Bouldering, he says, has been his preferred discipline. But lately he's been getting more into lead climbing, something made easier by the fact that he's now actually old enough lead in the gym. With the next competition season beginning in October, he says plastic is currently the primary focus. But outside of competition season, Beckett tries to get outside every weekend. His favorite crags are Rifle, where his hardest send to date is Fluff Boy (5.13c), and Lincoln Lake. He also has a project in Boulder Canyon, Midnight Express (V14), that he's hoping to return to in the near future. His dream tick is The Game (V15), also in Boulder Canyon. But that's for the distant, far-away future, he stresses.
When I asked him what it is that he loves about the sport, Beckett said he didn't want to pick apart the reasons. "To me, it's just climbing," he said.